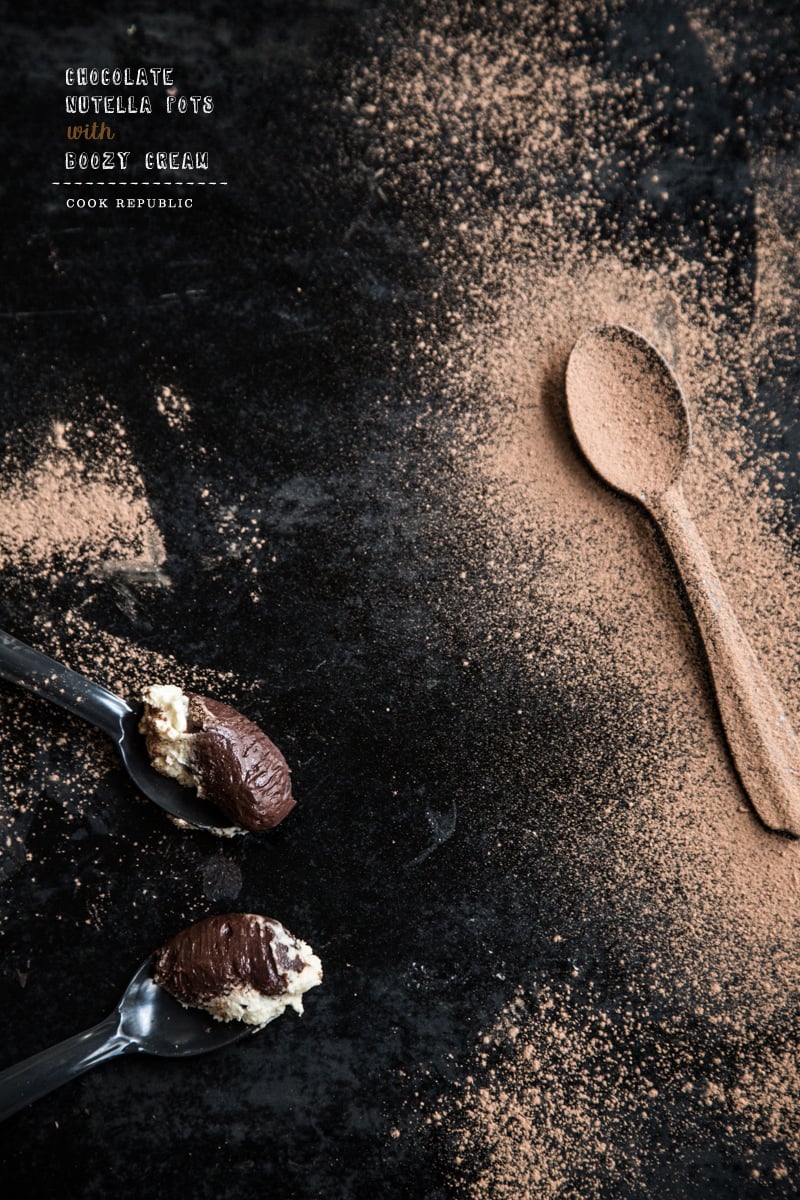 This planet is a very special place. For a number of reasons. One of them is chocolate. And the other is egg. They both make men weak and women swoon, especially if they are molten and runny. How many brown and yellow things can boast of that? We can't always buy a hug, but we sure can buy a little bit of chocolate or fry an egg.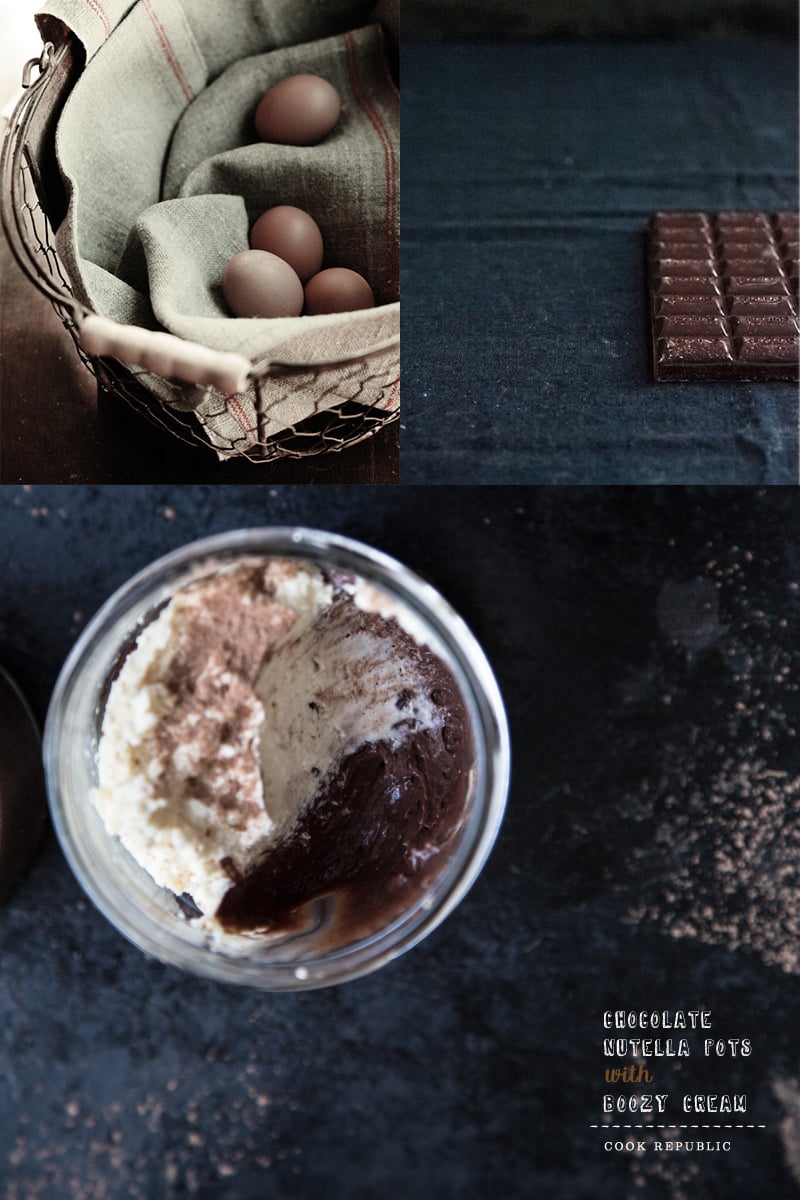 I thought hard and long about what ingredient was essential to me in the kitchen. I adore the humble egg, absolutely and completely. And then there is chocolate. The darker the better. A profound love without any fanfare (unlike the eggs that I gush about to everyone and anyone).
Where eggs are my country rough, chocolate is my silent sophistication. I cannot imagine my days without eggs and my nights without chocolate. In fact if you were marooned on an island with means to make fire, a couple of eggs and a block of chocolate; you would be set for life. Unless of course there was a man-eating tribe residing on the same island or the island was a figment of your imagination, then ...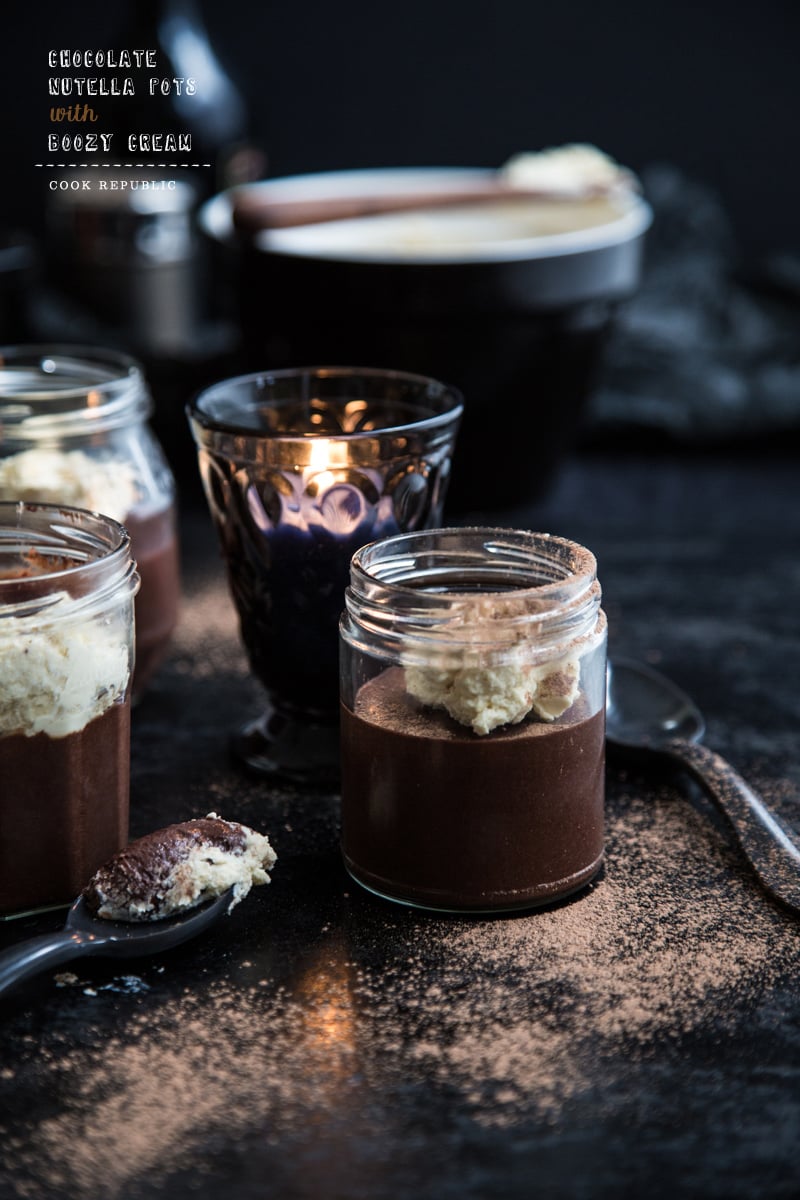 Coming back to my two essential ingredients, you can create magic with a couple of eggs and a block of chocolate. I decided to use them together to create a simple and naughty dessert perfect for a cold evening, a glass of red and a roaring fire.
If you lived in other parts of this planet where it is hot as hell and everyone is jumping in pools and eating stonefruit, you could slop a dollop of ice cream on this beauty and go at it with a spoon. I made Chocolate Nutella Pots With Boozy Whipped Cream.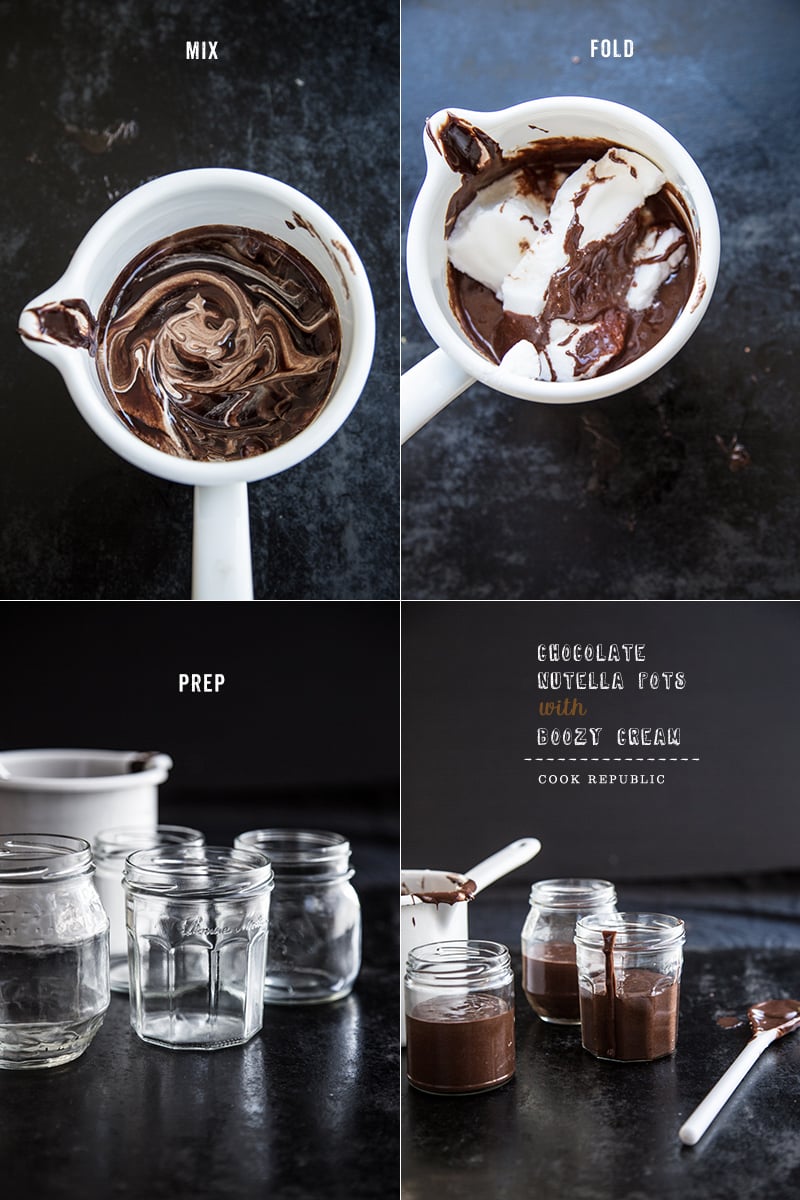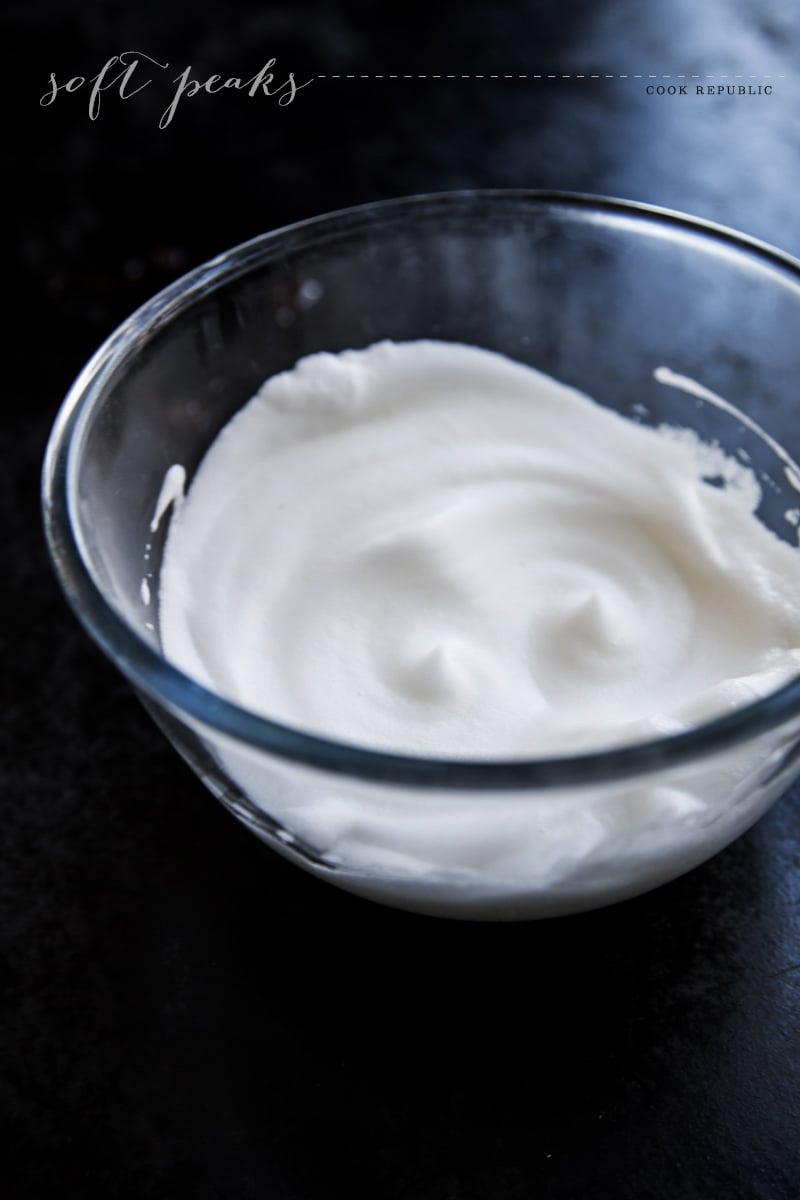 There is no baking, just mixing which is absolutely fun. Like a science experiment gone surprisingly right, the chocolate and eggs come together in the form of a gooey rich mousse set in upcycled jam jars. You could make these ahead for a dinner party or barbecue, slap the lids on and refrigerate until ready to use. Make sure you lick your spoons and your fingers too! And now for heaps and heaps of pictures of this luscious dessert, because you can never have enough chocolate or nutella pictures, right?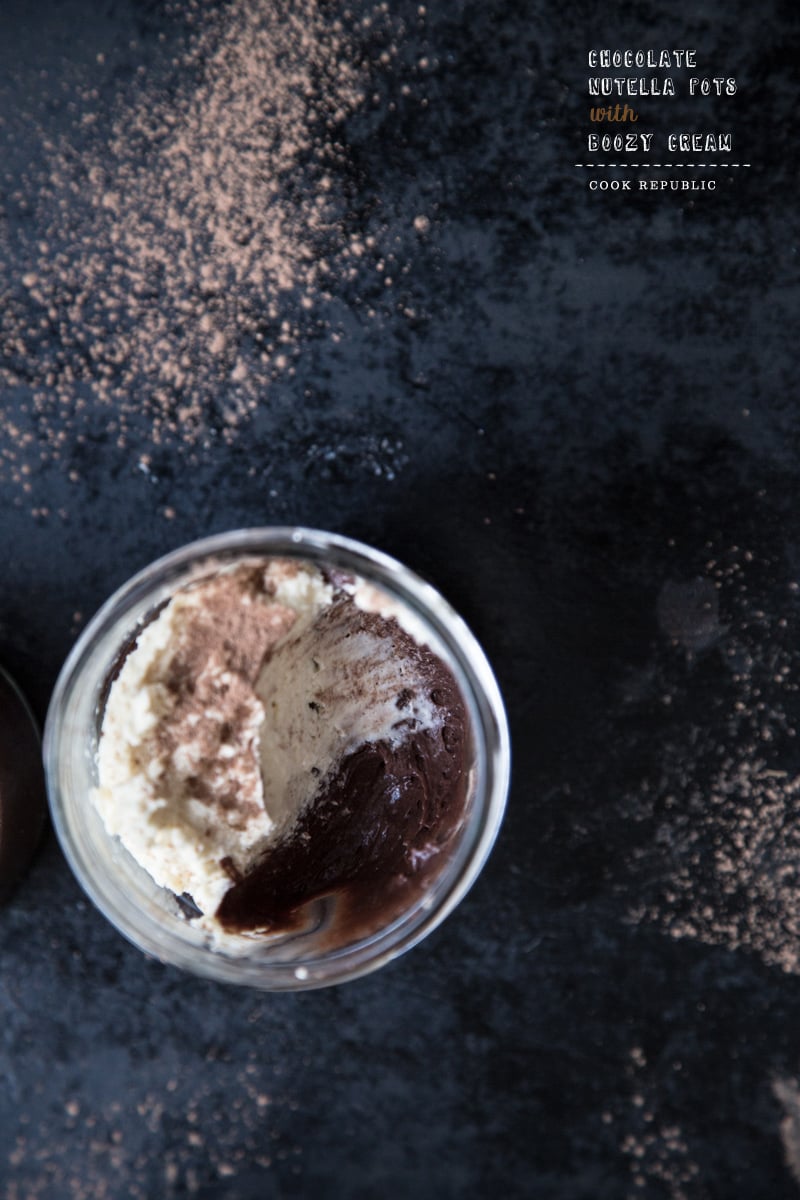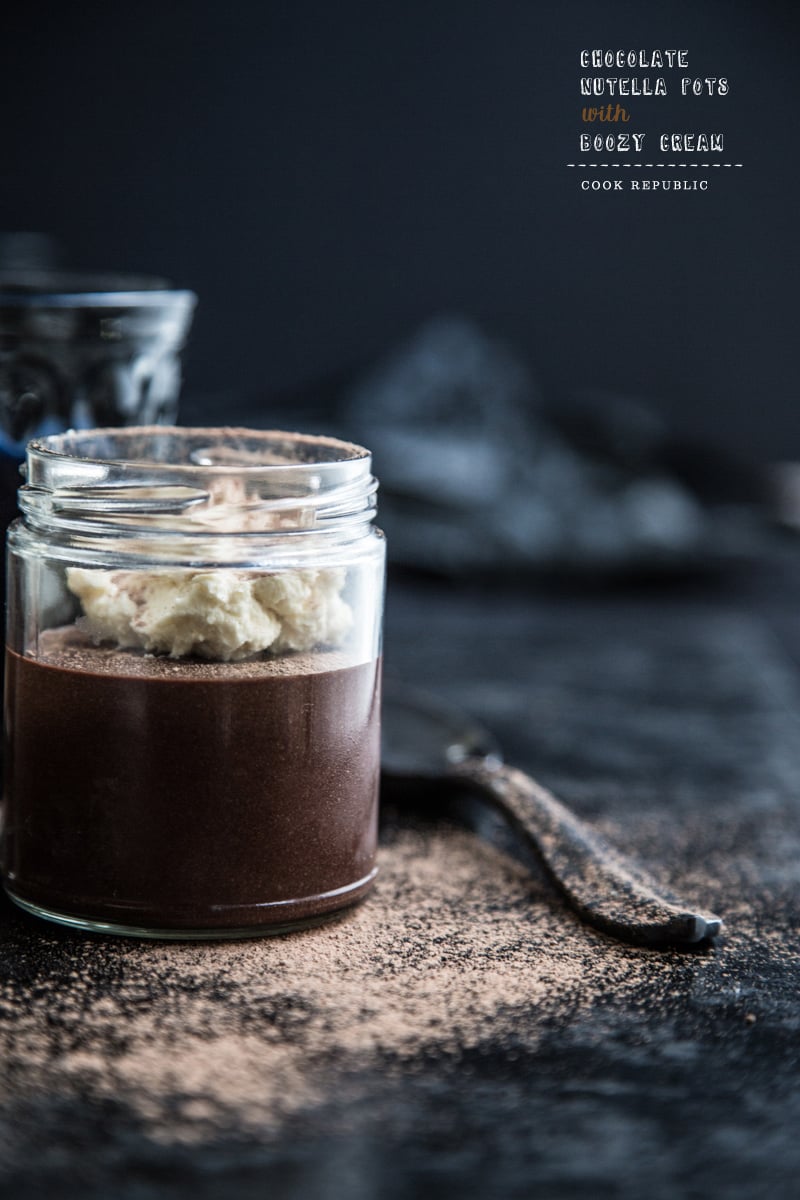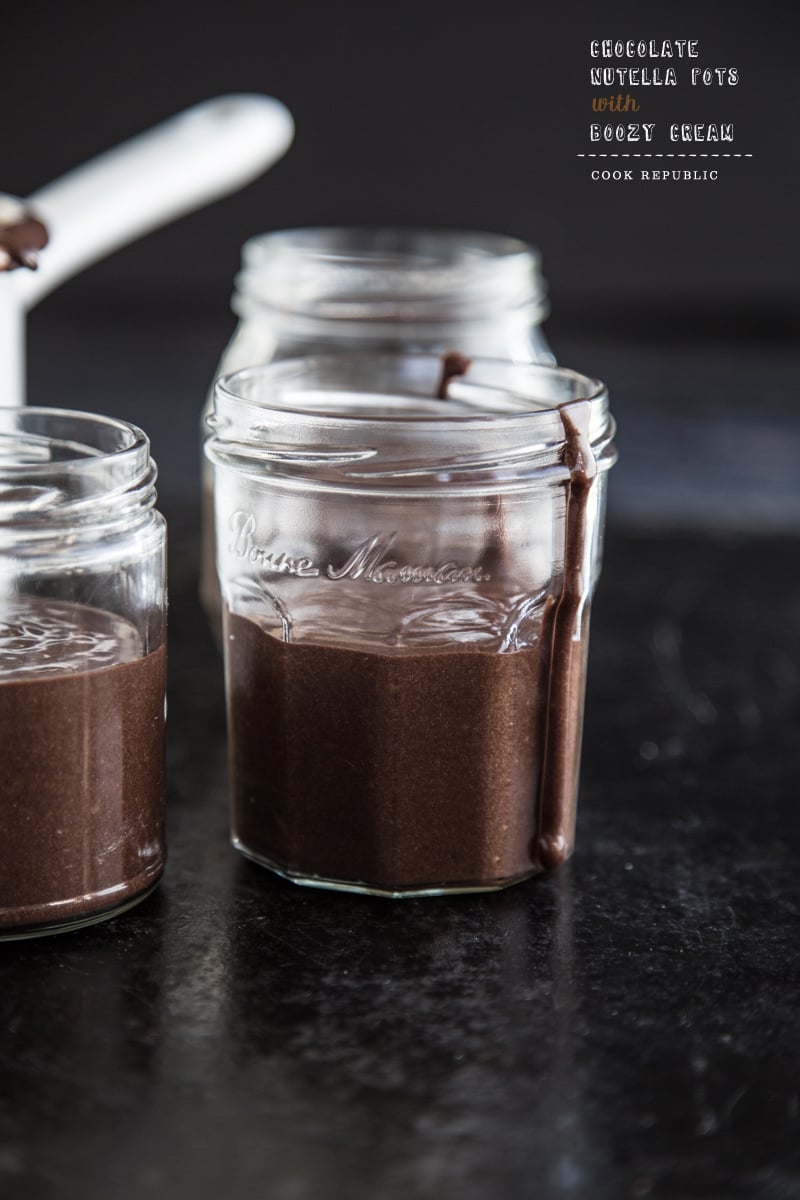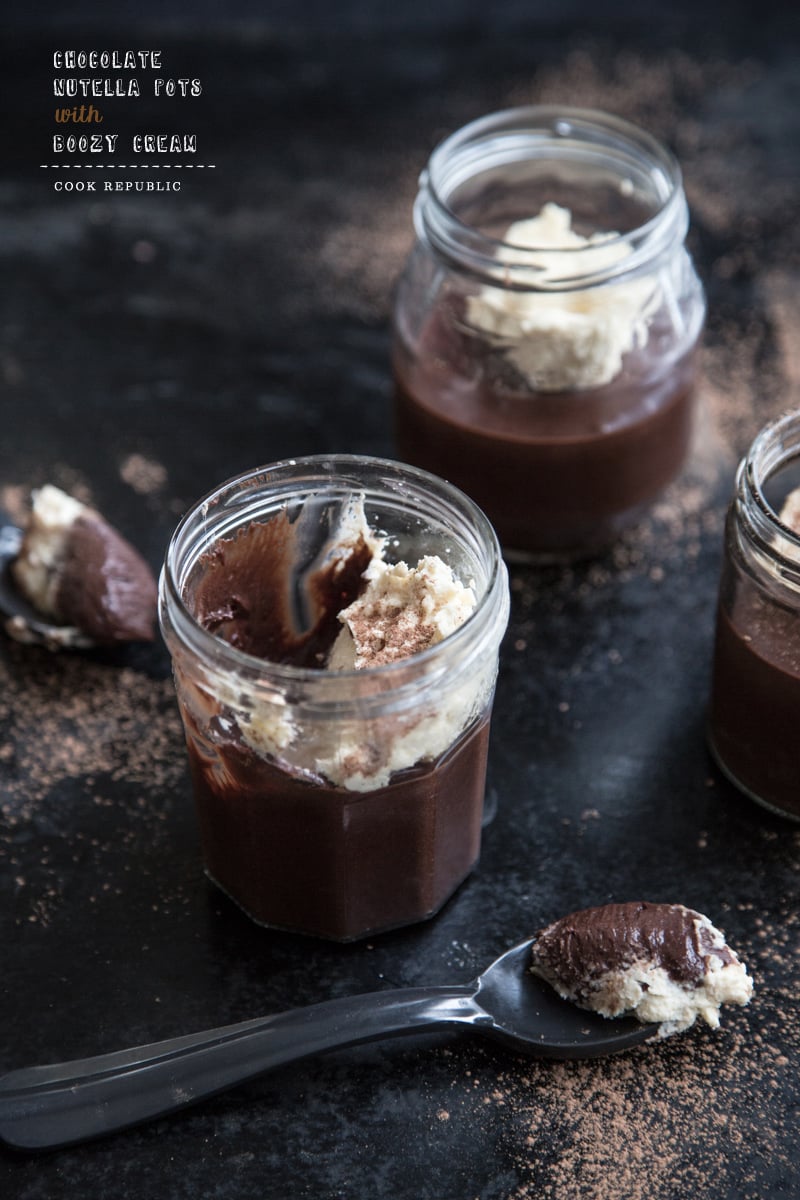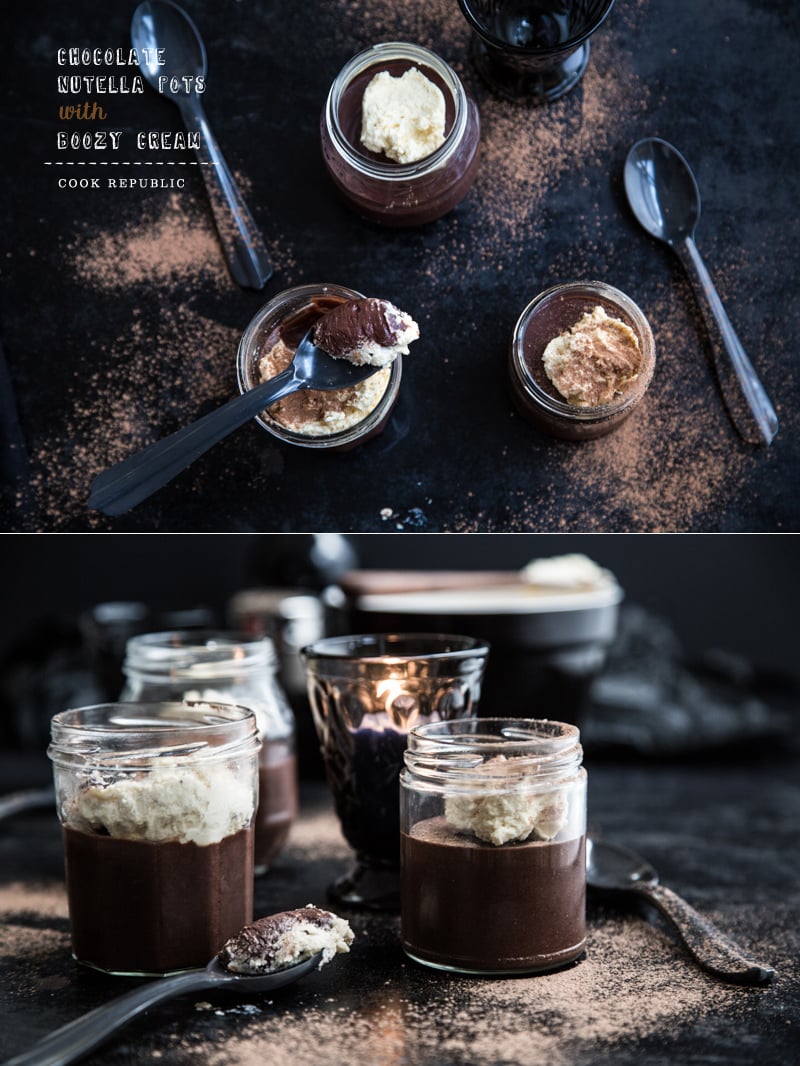 Recipe
Hungry For More Recipes? Subscribe to my newsletter. Check out Facebook, Instagram and Pinterest to see everything I share! And if you love cooking and new cookbooks, join my free Cooking Club on Facebook!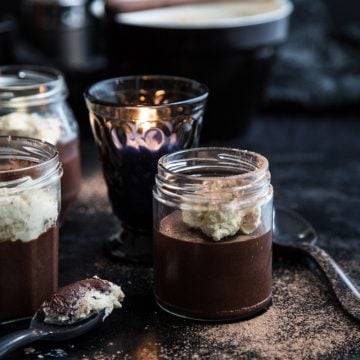 CHOCOLATE NUTELLA POTS WITH BOOZY CREAM
An easy, decadent and naughty dessert that comes together by just mixing. Chocolate and Nutella Mousse is set in upcycled jam jars and served with boozy whipped cream.
Print Recipe
Rate / Comment
Ingredients
200

g

dark chocolate

,

broken into big pieces

1/3

cup

water

50

g

butter

,

chopped

80

g

nutella

2

eggs

,

separated

1/3

cup

caster sugar

150

g

pure cream

50

g

pouring cream

2

tablespoons

icing sugar

2

tablespoons

Irish Cream Liqueur

,

(or Rum or Tia Maria or Kahlua)
Instructions
Combine chocolate, water, butter and Nutella in a heavy-bottomed saucepan on low heat. Stirring constantly for a few minutes, cook the mixture until melted and glossy. Remove from heat and cool.

Place egg whites in a small bowl and whisk with a hand blender for approximately 4 to 5 minutes until mixture is white, fluffy and forms stiff peaks.

Place egg yolk and caster sugar in a clean bowl and whisk until pale and creamy.

Add egg yolk mixture to chocolate mixture and mix with a wooden spoon until thoroughly mixed, thick and glossy. Fold egg whites and mix with the spoon until the mixture is smooth.

Pour mousse mixture in clean jam jars. Cover with lids and refrigerate for 2 to 3 hours.

Just before serving whisk pure cream, pouring cream, icing sugar and liqueur in a bowl until thick like buttercream icing. Serve on chocolate mousse.
Did you make my recipe?
I'd love to hear how you went! Tag me on Instagram @cookrepublic
Note - This post was written for Voices Of Australia 2013 Top 5 Food & Wellbeing Finalists and first appeared here.