When you are craving spicy carbs, this Vegan Penne Pasta With Chickpea And Chilli Sauce topped With Lemony Sourdough Crumbs hits all the right spots! And ready in just over 30 minutes too. Oh Yeah!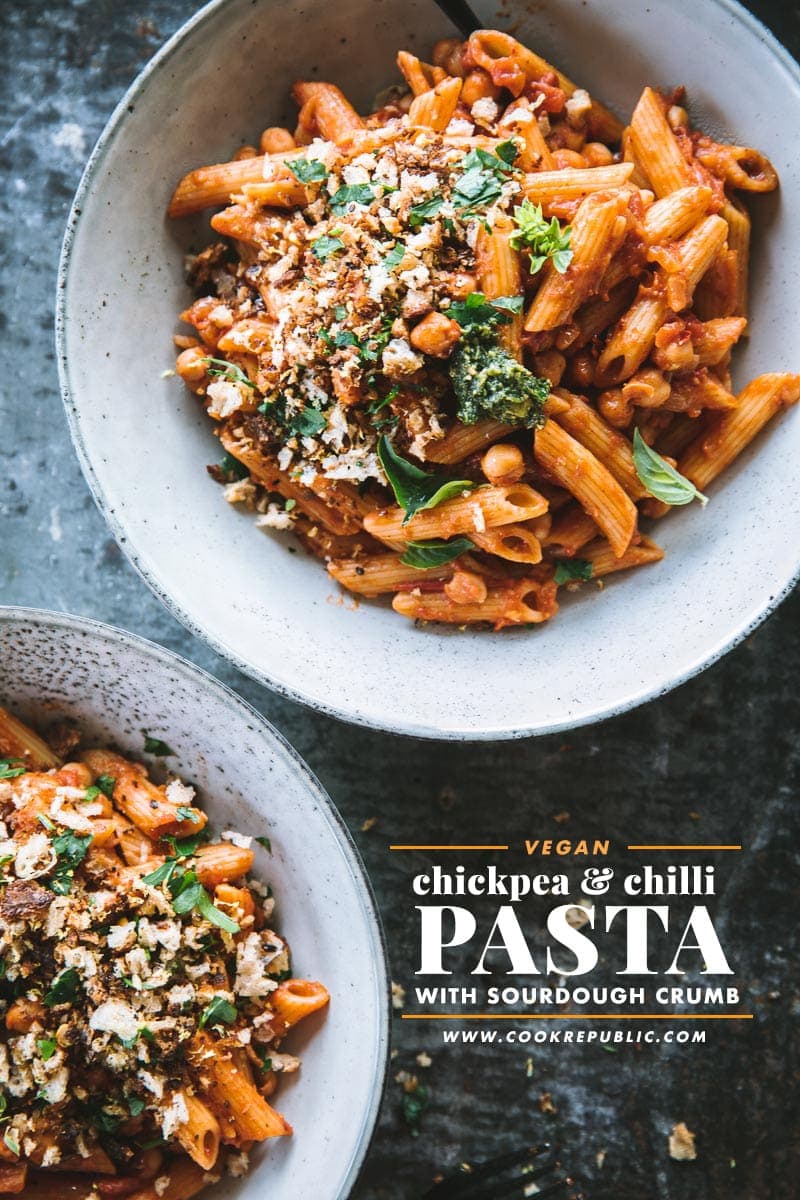 A Pantry Spicy Chickpea Pasta Is The Ultimate Comfort Food
Today's pasta recipe is one I cook a lot for myself. Just for plain old me. Especially when I am craving a level of spice that the other members of my family can happily live without. It has all my favourite things too - chickpeas, chilli, garlic and sourdough. And a creamy, spicy sauce that is a refreshing change from your age-old pasta sauce. But how does the red spicy pasta sauce get so creamy that it hugs every golden piece of the penne pasta like a warm blanket? By adding almond butter and tahini to the sauce! Yum! Clever pantry cooking at its finest.
And if you have sourdough lying around which I am sure you do (Did you see? Even Jake Gyllenhaal is baking his own sourdough right now!), then the lemony sourdough crumb peppered with parsley is the crowning glory of this Chickpea Chilli Pasta. I love eating it with my staple vegan miso pesto. Just divine!
An Italian Chickpea Pasta With A Mexican Sauce Base
Based off an original Neil Perry recipe, I, of course, made this vegan and a lot more flavourful using ingredients that you can easily find. The original recipe for this pasta calls for a salsa macha chilli paste - a spicy Mexican chilli paste not for the faint of heart. This chilli paste incorporates 3 or 4 different kids of Mexican chillies and can be spicy and a tad hard to find. I have never come across it at any supermarket or grocery store here in Australia. So, instead, I have created this pasta with everyday pantry staples that mimic the glorious salsa macha sauce with a bit of restraint.
This Chickpea Chilli Pasta recipe has a good amount of heat. On a scale of one to ten with ten being the hottest, I would place this at a solid seven. This is for your reference, so you can adjust the quantity of chilli to your liking (see foot notes). Because the recipe is inspired by the Mexican salsa macha chilli paste, try and use Mexican chillies like chipotle, ancho or guajillo along with the paprika. If you make this creamy, spicy chickpea pasta, I would love to hear how you went in the comments below. Happy carb loading!
Recipe
Hungry For More Recipes? Subscribe to my newsletter. Check out Facebook, Instagram and Pinterest to see everything I share! And if you love cooking and new cookbooks, join my free Cooking Club on Facebook!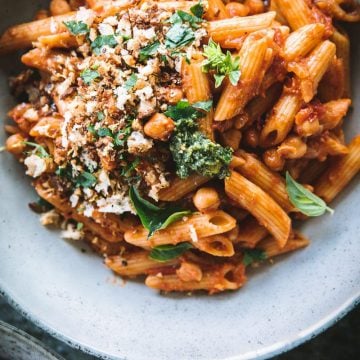 CHICKPEA CHILLI PASTA WITH SOURDOUGH CRUMB
A quick pantry dinner recipe for spicy and delicious penne pasta with a gorgeous chickpea and chilli sauce topped with lemony sourdough crumbs. Vegan and ready in just over half an hour.
Print Recipe
Rate / Comment
Ingredients
For the crumbs
1

cup

Sourdough Bread Pieces

Drizzle of olive oil

½

teaspoon

sea salt flakes

1

lemon

,

zested

2

tablespoons

fresh parsley

,

chopped
For the pasta
300

g

penne pasta

,

(dry)

2

tablespoons

extra virgin olive oil

1

brown onion

,

finely diced

4

garlic cloves

,

minced

1

teaspoon

red chilli flakes

1

teaspoon

smoked paprika

1

teaspoon

chipotle or ancho chilli powder

1

X 400g can chickpeas

,

drained

1

X 400g can diced tomato

1

tablespoon

almond butter

1

teaspoon

tahini

,

optional

1

teaspoon

sea salt flakes

Basil leaves and basil pesto

,

- to serve
Instructions
To Make Sourdough Crumb – Process sourdough bread pieces to coarse crumbs in a small food processor. Heat a wide cast iron frying pan on medium-low heat. Drizzle the base with about a teaspoon of olive oil. Place the crumbs in the pan over the oil. Sprinkle sea salt flakes. Toss constantly for 3-5 minutes until crumbs start crisping up. Reduce heat to low if you feel the pan is too hot and the crumbs are starting to burn. Remove from heat after a total of 3-5 minutes. Cool completely. Add lemon zest and parsley. Toss and mix well. This Sourdough crumb can be stored in an air-tight container in a cool corner of your kitchen for up to a day.

Cook the penne pasta according to the packet instructions. Drain all but some of the liquid in the pan. Cover and keep aside.

In a heavy-bottomed cooking pot, heat olive oil on medium. Add onion and garlic. Toss and cook for a few minutes until the onion starts caramelizing. Add red chilli flakes, smoked paprika and chipotle/ancho chilli powder. Mix well.

Add chickpeas, tomato, almond butter, tahini and salt. Mix well. Ensure that almond butter is evenly mixed in the sauce and there are no lumps left.

Reduce heat to medium-low and simmer uncovered for 30 minutes to develop the flavours.

Add cooked pasta to the pan along with 2 tablespoons of the pasta liquid. Mix well. Cook on medium for a minute or two until pasta is completely heated through. Remove from pan.

Serve hot, topped with Sourdough crumb, pesto and basil leaves.
Notes
You can substitute almond butter with peanut butter.
Make It Gluten-Free

- Substitute with your favourite gluten-free pasta.
Make It Nut-Free

- Substitute almond butter with more tahini or a pumpkin seed butter.
This is a spicy pasta, if you would like to reduce heat only add 1/2 teaspoons each of chilli flakes, smoked paprika and chipotle chilli. Alternatively, skip the chilli flakes as they have the most heat.
Did you make my recipe?
I'd love to hear how you went! Tag me on Instagram @cookrepublic