No more guessing how long and at what temperature t poach your quinces for optimum colour and doneness. I'll show you how to make Spice Poached Quince and get the most perfect quince slices to bake into cakes or top desserts and porridge with.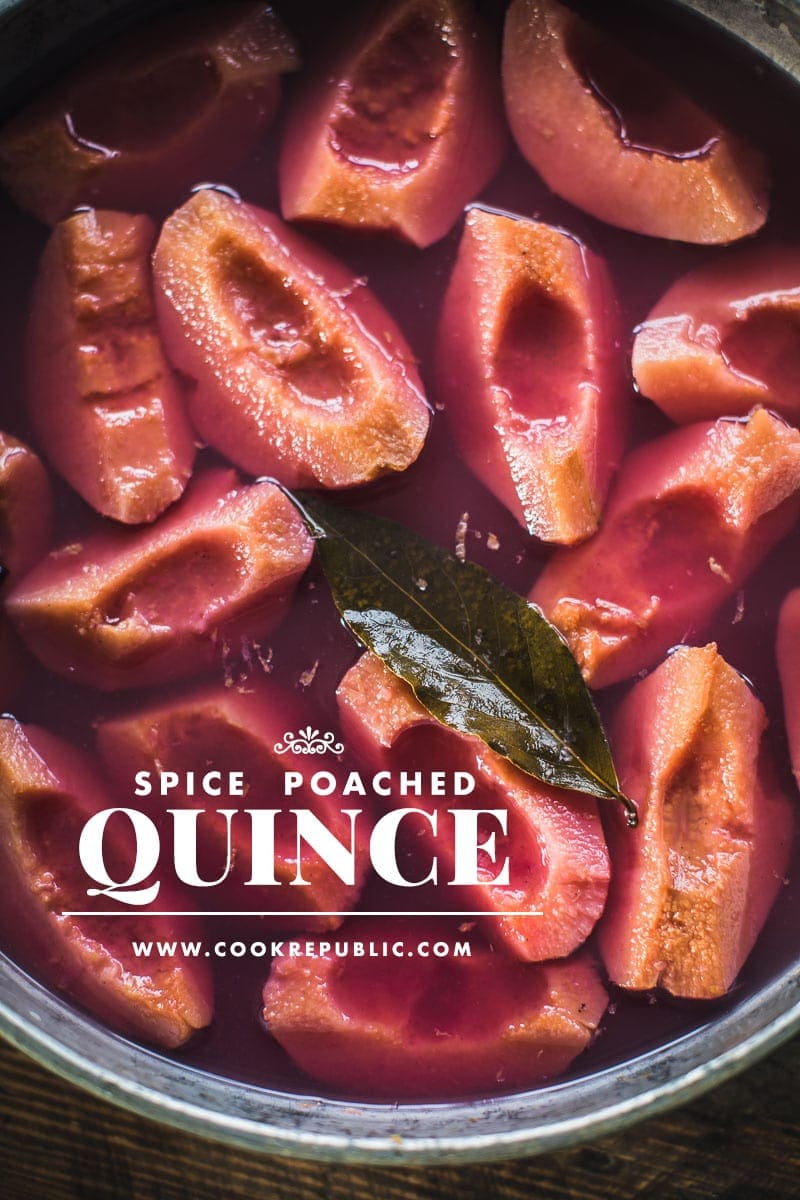 Quince - A magical country fruit.
Last week when we went for a walk, our path was laid by a red and gold carpet of beautiful autumn leaves that seemed to have dropped overnight. To me, fallen red leaves are autumn's perfect gift. Second only to big, fragrant, canary yellow quinces that pop up in my veggie boxes during the months of April, May and if I am lucky, June.
Before I moved to Australia 15 years ago, I had never come across a quince. Even in suburban Sydney, quinces are hard to come by. The only places you will find it during those autumn months is at farmer's markets in the suburbs or in abundance in the countryside where I imagine they grow wild on acreage. And that is why every country general store or cafe has jars of rose coloured homemade quince jelly and slabs of quince paste. This gorgeous fruit with that perfumed fuzzy skin, tough as nails white flesh and tangy apple aroma is truly a magical thing. When you cook it, the pale white flesh becomes a vibrant coral pink deepening to a jewelled rose-tone as it cooks more. Absolutely breathtaking!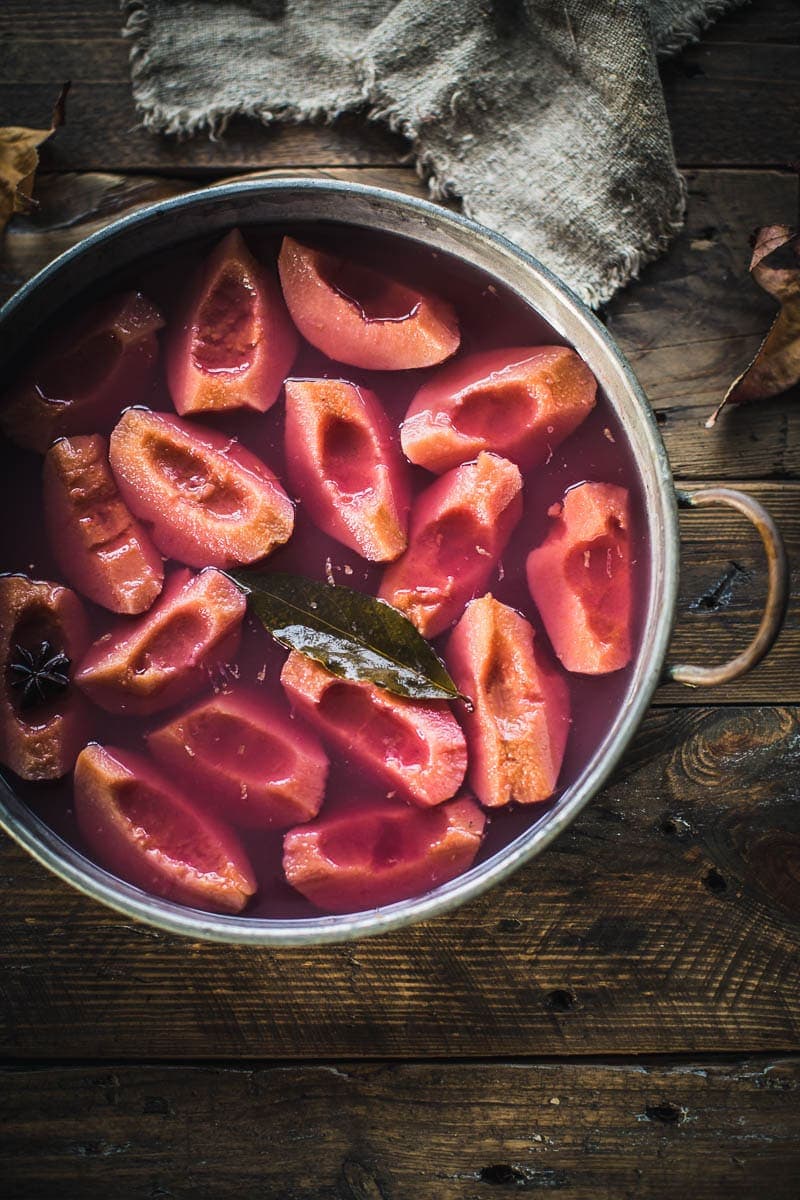 Cooking Quinces - Poaching, Roasting and Preserving
The best way to cook a quince is to poach it in a bath of sugar and spice and everything nice. Add a bit of honey for stickiness and the oomph factor of this voluptuous beauty just amplifies. Once poached, you can store in the poaching liquid in the fridge for a week or two. This can be used in desserts - cakes, puddings, porridge etc. You could also then roast it and serve it alongside savoury dishes as a burst of tart sweetness. Or you could blend the poached quince and poaching liquid, strain it, add more sugar to it and cook it down into a jelly that you could enjoy on your toast or a slab of cheese.
I find that spice poached quinces are the most versatile and the easiest to prepare. I love a good quince cake and poached quinces are perfect for topping cake batter and baking. And I absolutely love the spiced poaching liquid for creating cocktails and salad dressings. Quinces are a fiddly fruit to prepare. Because they are quite tough (harder to cut than a pumpkin!), they need a bit of care and finesse. I find using a small sharp paring knife and a sturdy chopping board to rest the quinces on - a must! I also like to use a melon scooper to scoop the core and pith out. Surprisingly, the melon scoop works much better than a paring knife and is safer too.
You can't rush a good spice poached quince. My mantra is 120C for 4 slow hours (see the recipe for covering and baking tips). It is a good thing too, as the low heat of the oven warms up my knees while I potter around in the kitchen and a slow delicious warmth percolates my soul during the cooler autumn months. It is no wonder then that I love the whole ritual of poaching quinces and baking with them. It is like one giant warm hug!
If you make the coaches quinces, don't forget to show me your pictures on social media by tagging me on Instagram @cookrepublic. And I will share recipes for the poached cake and cocktails very soon. Happy Poaching! x
Recipe
Hungry For More Recipes? Subscribe to my newsletter. Check out Facebook, Instagram and Pinterest to see everything I share! And if you love cooking and new cookbooks, join my free Cooking Club on Facebook!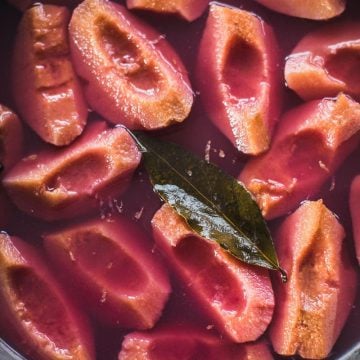 Ingredients
¾

cup

(

150

g

)

raw sugar

1

bay leaf

1

star anise

1

teaspoon

vanilla extract

Zest and juice of 1 lemon

2

tablespoons

honey

4

cups

(

1000

ml

)

water

4

(

1

kg

)

large quinces
Instructions
Pre-heat oven at 120°C (convention)/ 100°C (fan-forced/convection).

Peel the quince using a y-peeler. Place the quinces on a sturdy and heavy wooden board. Using a sharp knife, carefully cut the quinces into quarters. Using a combination of a paring knife and melon peeler, remove the pith and core of the quinces.

Add sugar, bay leaf, star anise, vanilla, lemon zest and juice, honey and water to a wide oven-safe cooking pot. Simmer gently on medium-low heat for 5-8 minutes until the sugar has melted. Remove from heat and add all the quince quarters to the pot. Ensure that the quince slices are covered with the poaching liquid. Place a baking paper over the quinces and cover with the pot lid.

Poach in a pre-heated oven at 120°C (convection)/ 100°C (fan-forced) for 4 hours.

Remove from oven and cool completely. Scoop the poached quince slices gently from the pot and into a clean glass container. Top with some of the poaching liquid. Cover with an air-tight lid and store in the fridge for up to 2 weeks.

Strain and pour the remaining poaching liquid in glass jars. Cover with air-tight lids and store in the fridge for up to 2 weeks.
Did you make my recipe?
I'd love to hear how you went! Tag me on Instagram @cookrepublic