There are so many reasons to love this Vegan Magic Curry Sauce! Delicious, easy, one-pot (or blender) cooking, freezable and a great big-batch option for meal prep days. But the most important reason why I call it the Magic Curry Sauce is that IT GOES WITH EVERYTHING! One Magic Curry Sauce - A Million Uses!! It could be a curry or a dip for roasted veggies or a salad dressing for a really delicious salad. It's brilliant!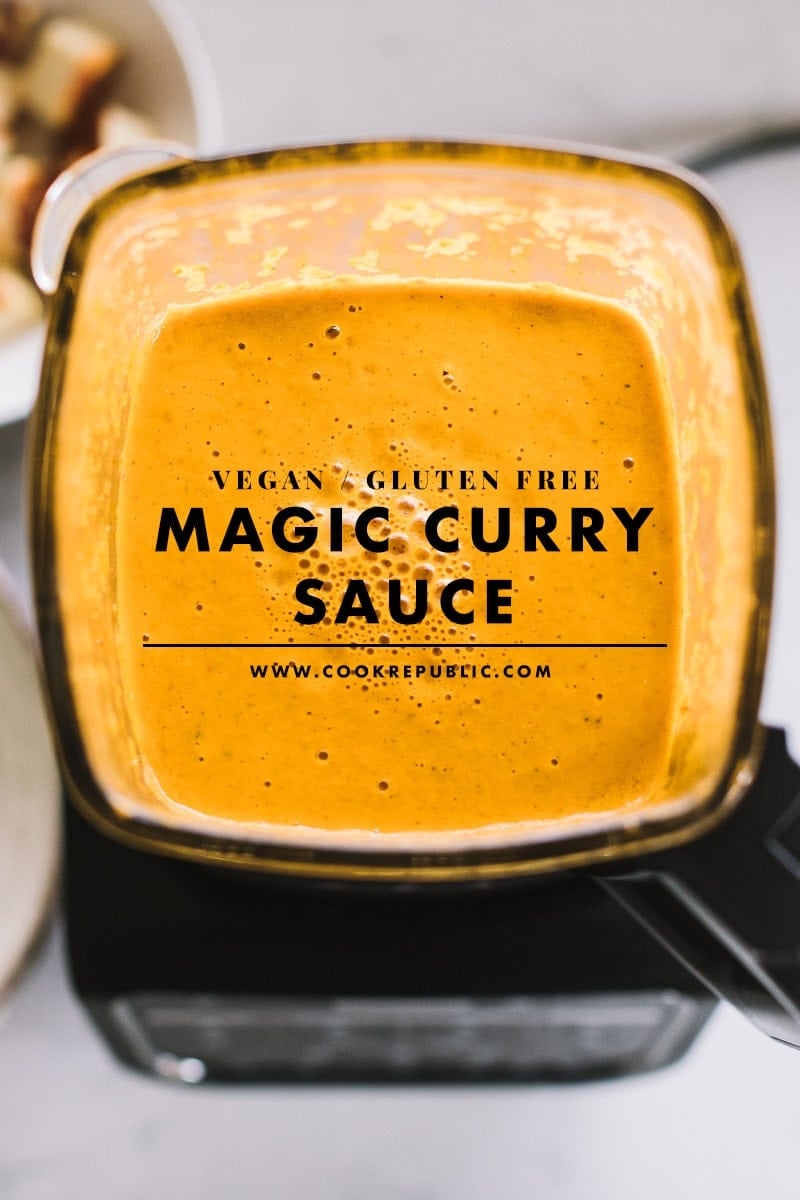 Evolution Of The Vegan Magic Curry Sauce
I have been making this Vegan Magic Curry Sauce for years, decades! It is a recipe honed to perfection, a staunch family favourite, one I can whip up in my sleep. And now, I pass it on to you. Ironically, you could say that I learned this recipe by watching my dad cook a mean chicken curry once a year when I was growing up. When I moved out of our family home, I started cooking this curry as a base for all kinds of things. Over the years I finessed it, veganized it to suit more dietary lifestyles. But I know it still tastes authentically close to the curry from my childhood. And the aroma, oh the aroma!
My curry sauce arsenal includes a knife, a pot and a blender. For years I have made the magic curry sauce in this fashion - Sauté spices in oil/ghee in a big pot, cook down the onion and garlic, add tomatoes and more spices and then blend it all in a blender. Until I recently came across the Ninja Foodi Cold & Hot Blender. And boy has it changed the way I cook!
A truly solid piece of equipment (not to mention gorgeous to look at), the super-heavy glass jug is what makes it such a workhorse. The best part - It sautés my spices and caramelized my onion while stirring and chopping. The blender then cooks it all down with the rest of the ingredient and blends it to a smooth curry while still hot. It is like magic! (In my recipe below I share both my traditional method and the Ninja Foodi Blender method for the Magic Curry Sauce)
The Science Of A Good Curry Sauce
A good curry sauce (like the one at your favourite Indian restaurant) should be creamy, smooth, thick enough with the perfect balance of spices. If you are cooking on a cooktop, this is achieved via four very important steps
1. Sautéing The Spices In Oil Or Ghee - This releases the aroma and flavour of the spices
2. Caramelizing The Onion, Garlic & Ginger - This is probably the most important step to achieving a curry that is an explosion of flavour for your tastebuds and has a silky velvet texture to boot. Caramelizing and then cooking down the onion makes them sweeter and softer and adds to the complexity of the curry. This will also give your curry a smooth texture. Raw onion makes the resulting curry too textural with a distinct crunch and tang that is not very pleasant. This is also the stage at which the remaining spices are added to release their bitterness and lift their flavour profile.
3. Cooking Of All Ingredients With Spices - This is the slow simmering and complete cooking stage of all the ingredients in the pot.
4. Blending - The last and final stage of the magic curry sauce involves puréeing the curry to the desired smooth consistency. Can be done in a blender or straight in the pot with a stick blender.
PS - You MUST follow the order of the ingredients going in the pan. You MUST!
A Magic Curry Sauce That Goes With Everything
This Vegan Magic Curry Sauce is a breeze to make and surprisingly light to eat with even with the coconut milk base. The most amount of time you will spend on this recipe is probably gathering all the ingredients at the beginning. And once it is cooked, you can enjoy it straight away or pop in the fridge (for 4-5 days) or in the freezer (for up to a month). It is one of the first things I start prepping on meal prep days because the return is so high with very little effort.
Besides making chicken, lamb and prawn curries for the family, one of my favourite ways of enjoying this beautiful Magic Curry Sauce is with roast veggies! It makes a great base for a Pan Fried Halloumi Curry (pictured) or a Paneer Curry. How about a banging salad dressing for a Roast Veggie & Toasted Nut Salad served with a dollop of spiced yoghurt? And finally, it makes the best dip for Roasted Cauliflower (pictured), which is one of my signature things to serve when friends come over. In fact, when you have different dietary preferences at the table for curry night, why not make one Vegan Magic Curry Sauce and let everyone choose their protein? Good Huh?
If you LOVE my family Magic Curry Sauce Recipe, please leave me your feedback in the comments below. Don't forget to tag me on Instagram @cookrepublic when you share your curries! Thank You! Eat Well xx
Recipe
Hungry For More Recipes? Subscribe to my newsletter. Check out Facebook, Instagram and Pinterest to see everything I share! And if you love cooking and new cookbooks, join my free Cooking Club on Facebook!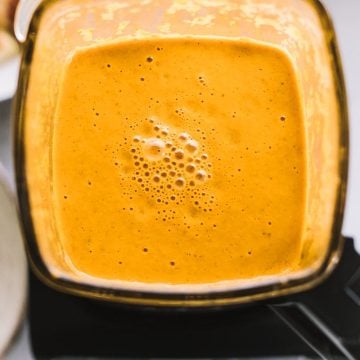 VEGAN MAGIC CURRY SAUCE
A 40-minute Vegan Magic Curry Sauce that goes with everything! Full of spices and amazing flavours, this vibrant Magic Curry Sauce is the only sauce recipe you will ever need. Freezes well and absolutely delicious!
Print Recipe
Rate / Comment
Ingredients
2

tablespoons

olive oil

2

large bay leaves

10

garlic cloves

1

inch

piece of ginger

,

chopped

1/2

green cayenne chilli

,

chopped

2

large red onions

,

chopped

1/4

cup

coriander root and leaves

8

peppercorns

4

cloves

1/4

teaspoon

ground turmeric

2

teaspoons

ground cumin

2

teaspoons

ground coriander

1

teaspoon

garam masala

1

teaspoon

red chilli powder

,

or paprika/smoked paprika

1/4

teaspoon

ground cardamom

1/4

teaspoon

ground cinnamon

4 to

matoes

,

chopped

2

teaspoon

sea salt flakes

1

teaspoon

sugar

270

ml

coconut milk

,

full cream or light

150

ml

water
Instructions
Conventional Method
Heat oil in a large heavy-bottomed cooking pot on medium heat (I use a 4-litre Dutch Oven or 4-litre Essteele or Ikea casserole). Add the bay leaves, garlic, ginger, chilli and onion. Sauté for 3-4 minutes on medium heat, tossing constantly until onion starts caramelizing. Reduce heat to low-medium and continue cooking for another 6-10 minutes, now stirring occasionally until onion is soft and caramelized.

Add coriander root and leaves, peppercorns, cloves, turmeric, cumin, coriander, garam masala, chilli powder, cardamom and cinnamon. Sauté for a minute until aromatic.

Add tomatoes, salt and sugar. Increase heat to medium and mix well. Continue cooking for 5-6 minutes until tomatoes are glazed and wilted.

Add coconut milk and water. Reduce heat to low. Cover and simmer on low for 20-30 minutes until tomatoes are completely cooked and incorporated. The curry should be a rich dark shade and you should see oil pooling around the edges on top.

Remove from heat. Check for seasoning. Cool to room temperature and then blend to a smooth sauce in a blender or blend straight in the pot with a stick blender. Add you favourite protein and warm it in a pan, serve as a dip, store in the fridge for 4-5 days or freeze in freezer-safe containers for up to 2 months.
Ninja Foodi Cold & Hot Blender Method
Add oil, bay leaves, garlic, ginger, chilli, onion and coriander root and leaves, peppercorns, cloves, turmeric, cumin, coriander, garam masala, chilli powder, cardamom and cinnamon to the jug of the blender. Cover with the lid. Select the Sauté function.

When the Sauté function finishes, pop open the lid, add the tomatoes, coconut milk, salt, sugar and water. Pop the lid back on and select the Smooth Soup function.

When done, use in your favourite curry recipe by heating in a pan with the protein of choice or freeze for later.
Video
Notes
TO USE CURRY - Curry can be used straight after cooking. Make sure you cook your protein beforehand (roast your chicken, grill your prawns, boil your eggs, pan fry your halloumi). Gently heat the prepared curry sauce in a heavy-bottomed saucepan until starting to bubble. Add your cooked protein and cook for a few minutes until warmed through. Remove from heat and garnish with fresh herbs (coriander), slivered nuts and extra chilli.
If Vegan is not a requirement, you can use ghee instead olive oil and evaporated milk/dairy milk instead of coconut milk.
If you can't find fresh coriander roots and leaves, you can substitute with 1 teaspoon of coriander seeds or an extra teaspoon of ground coriander.
Green cayenne chilli can be substituted with any fresh chilli of your preference or liking. If fresh chillies are hard to come by, substitute with red chilli flakes.
Did you make my recipe?
I'd love to hear how you went! Tag me on Instagram @cookrepublic