A non-saucy light seafood pasta brimming with lemony fresh flavours and a subtle hint of chilli is all you need on a Friday evening as you casually slip into the weekend, a chilled glass of white in hand (which goes really well with this dish). My delicious Chilli Crab Linguini takes only 15 minutes to cook from fresh crab meat and is just the most divine explosion of flavours.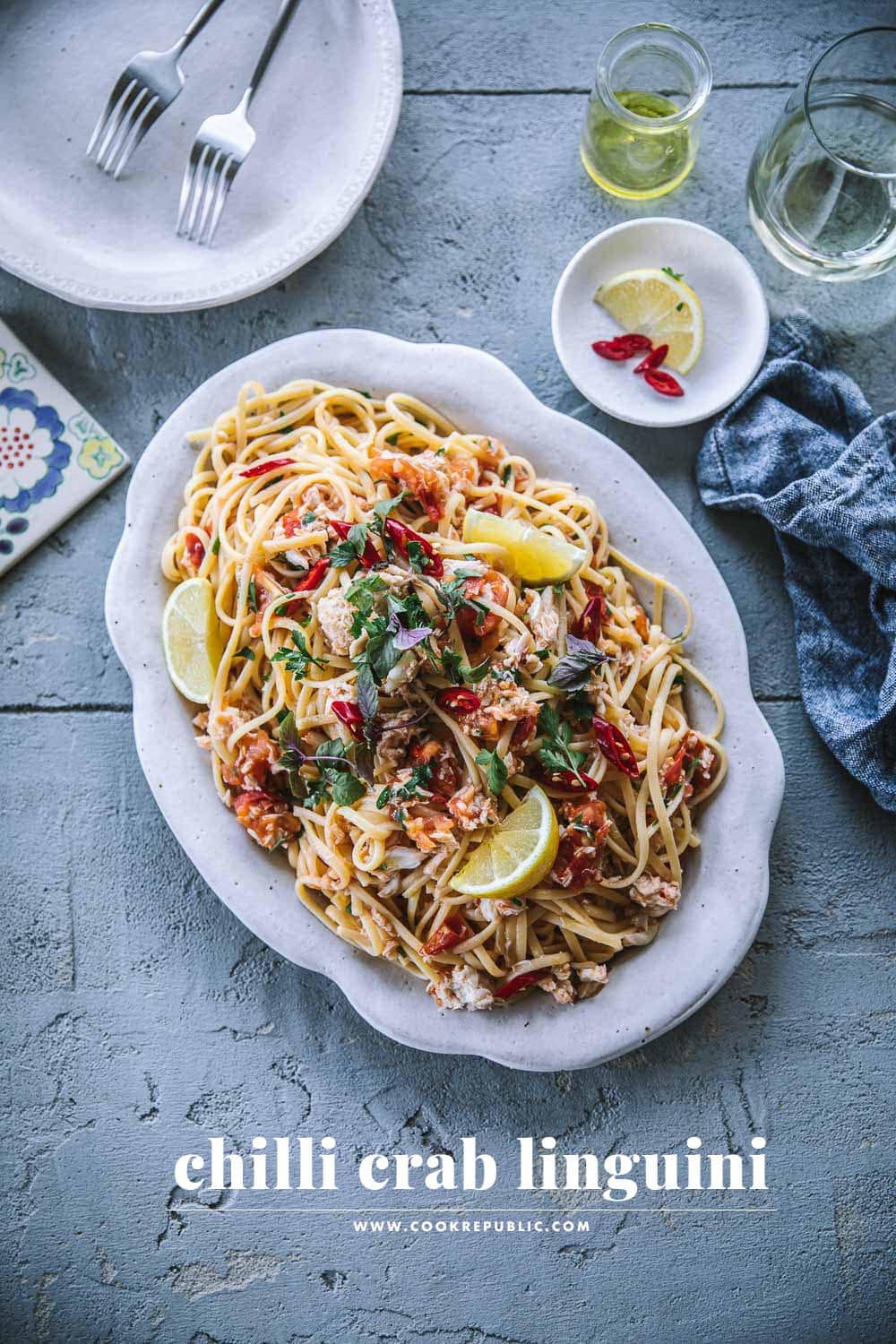 Crab is an underrated ingredient
Most delis, fishmongers and fresh seafood markets carry cooked crab packed with brine in a tub or jar. Usually, this crab is locally sourced and fresh because it's not frozen. And it is a great ingredient to add to pastas or bakes because it is already pre-cooked and ready to add to your dish. When I don't have time to cook crab from scratch or find any locally cooked and picked crab, I like to stock up on this brand from Harris markets.
It is Blue Swimmer Crabmeat wild-caught off the coast of Indonesia in the Java sea and hand-picked and packed. It is sustainably sourced and quite delicious for an occasional treat. My most favourite recipe to cook with it is my Chilli Crab Linguini - a simple pasta dish, light and refined and brimming with the beautiful flavours of only a handful of fresh ingredients. Fresh chilli slices, lots of garlic, lemon, parsley and juicy tomatoes. Absolutely gorgeous!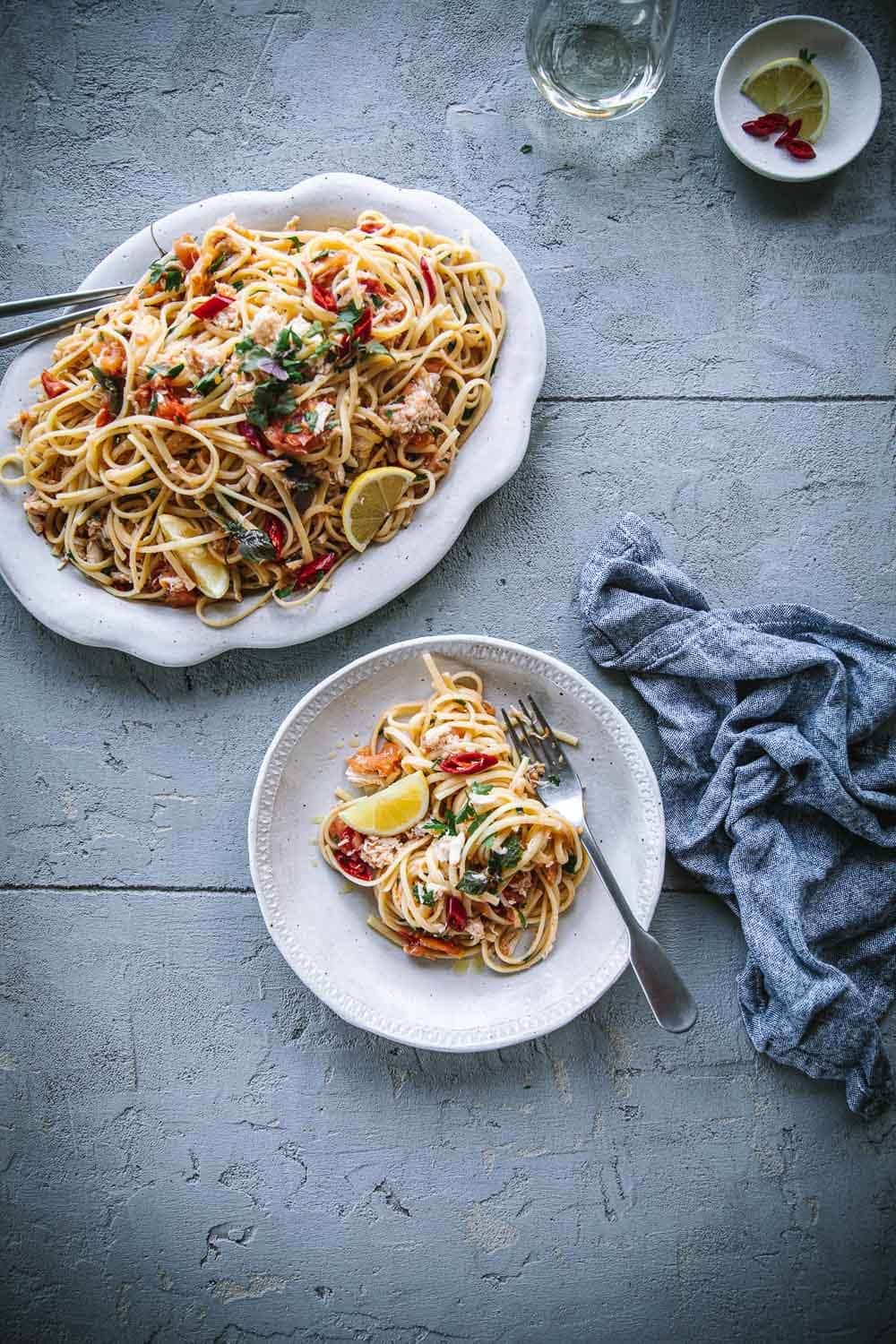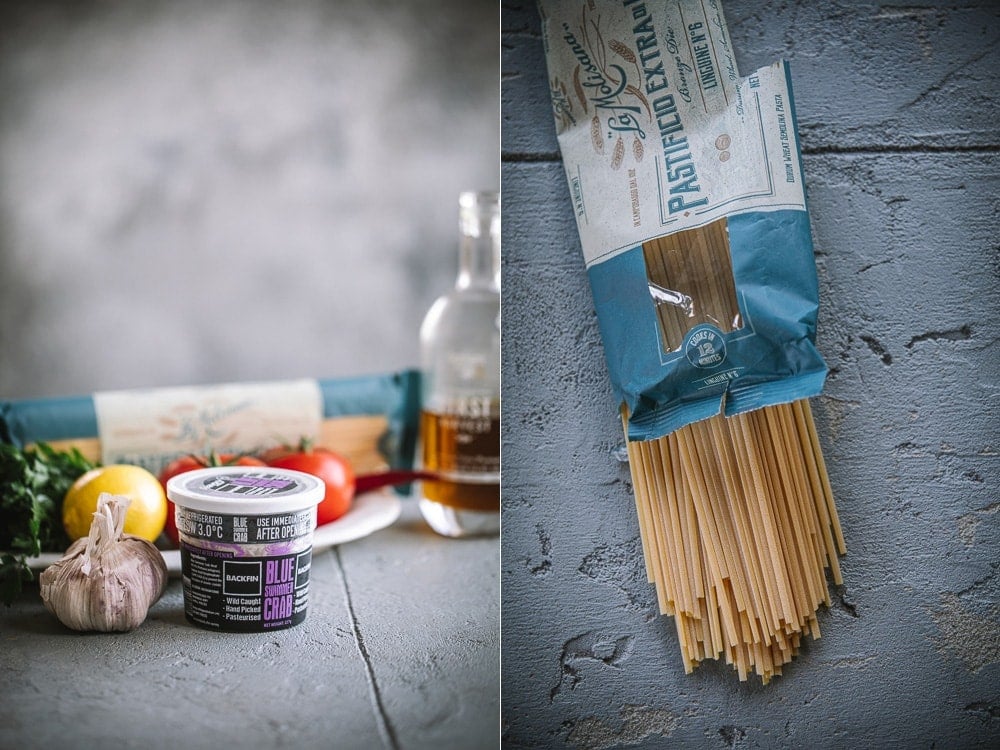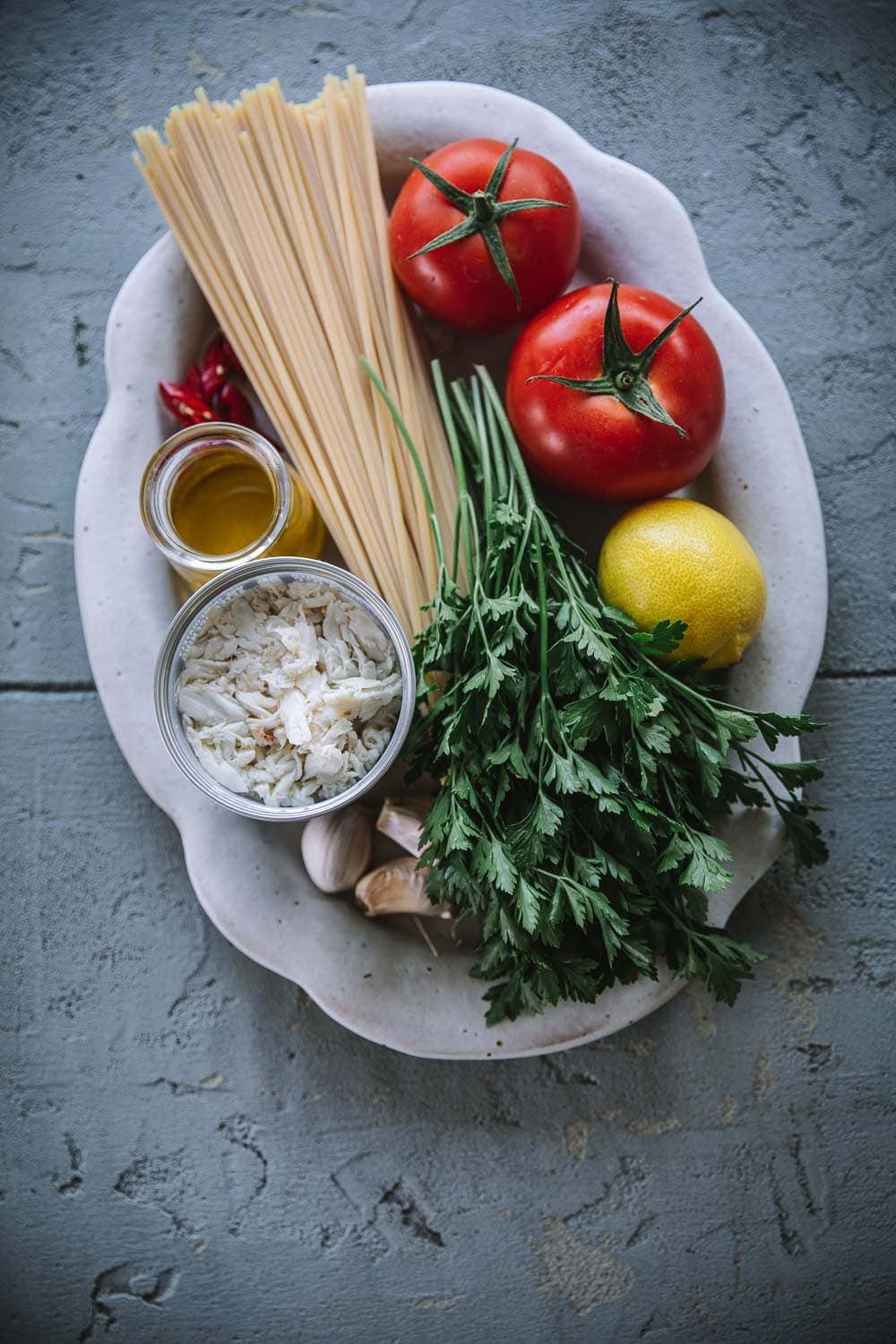 How To Cook A Crab Linguini?
A lot of recipes don't have tomatoes and those that do, simply have cherry tomatoes added to the dish. I feel these recipes to be a bit bland and I can't do bland. Even though this is supposed to be a non-saucy and light, you don't want it to be just strands of al dente linguini. The secret to this delicious pasta is a jammy tomato base where you cook down fresh juicy tomatoes on high heat with the aromatics. This creates a complex base that is more like a jam than a sauce. And when you stir your crab and pasta through it, it clings lovingly to the linguini strands delivering the most satisfying eating experience.
You simply top it up with more chilli slices, fresh lemon wedges, lots of parsley and freshly cracked pepper. Simplicity incarnate. The flavours are so robust, you don't even need cheese or pesto. In terms of the amount of linguini to use, I like to use 75g dry pasta per person. This recipe with 300g linguini will serve four (unless you have teenaged boys!). It is a great short-order dish that even the boys can throw together if you have crabmeat in your fridge. If you don't have crabmeat, I urge you to try it with freshly chopped prawn meat (green prawn meat is especially delicious!). You'll just need to flash fry the prawn meat for a total of 10-15 seconds before adding it to the dish in order to avoid the prawns sweating and making your pasta runny.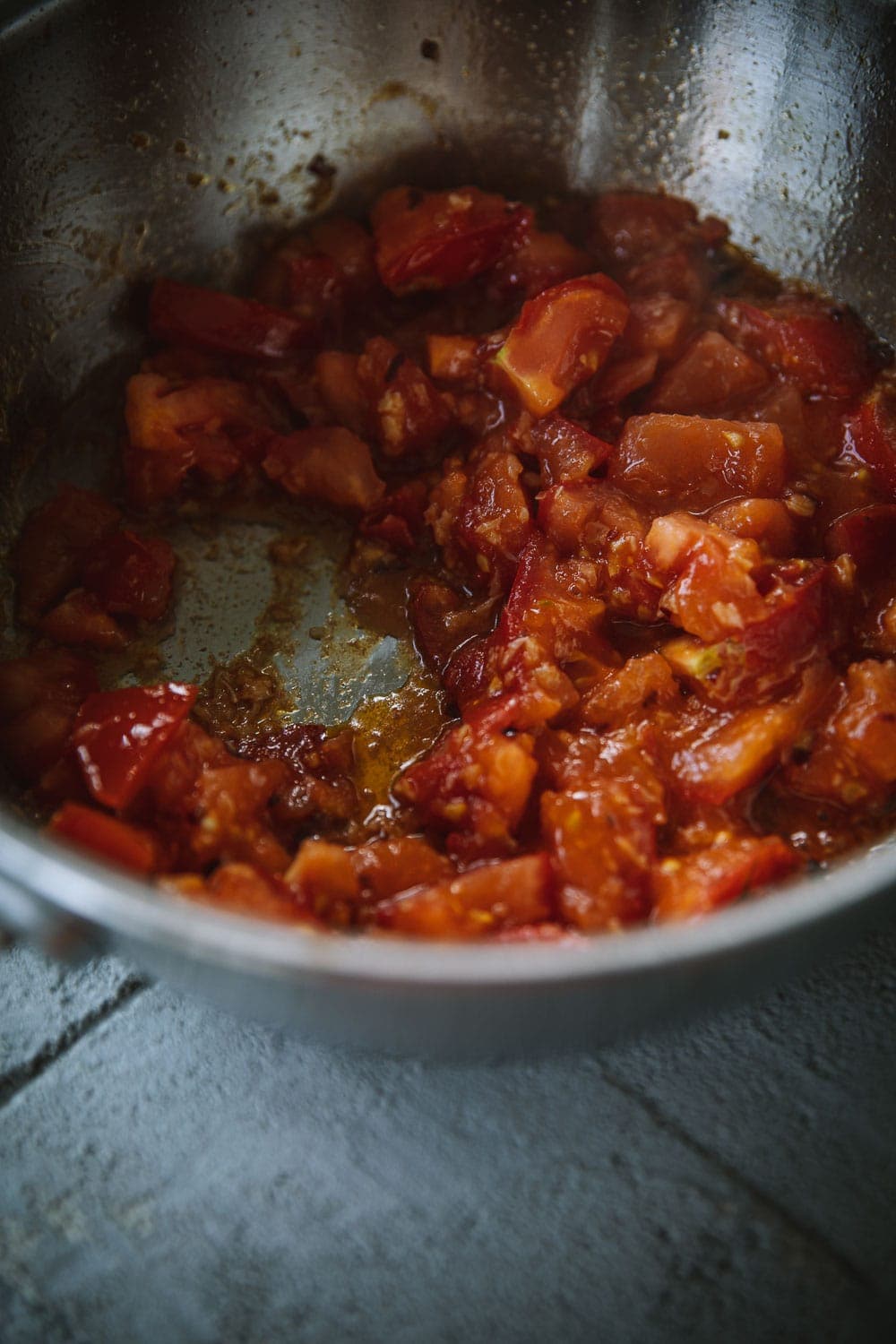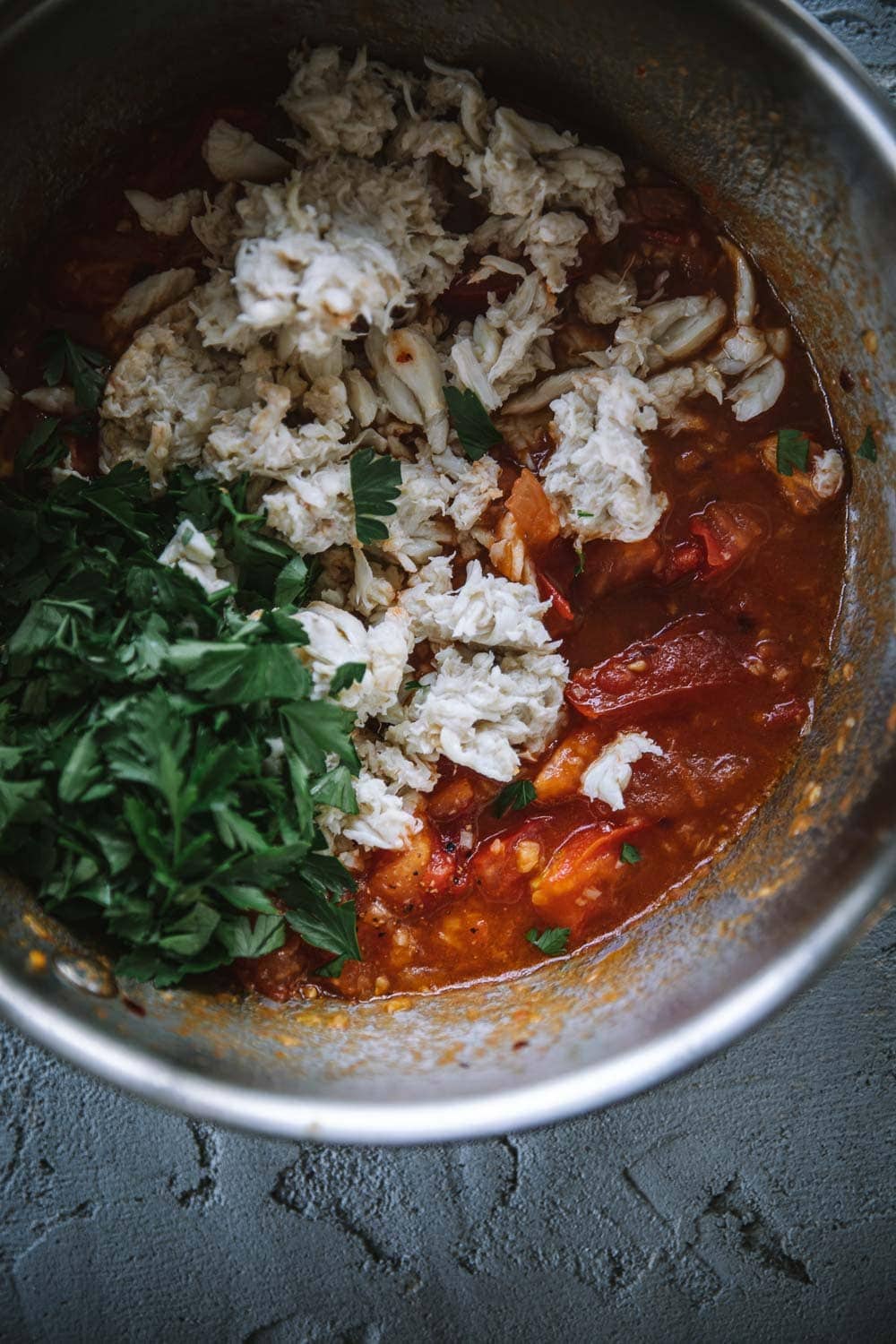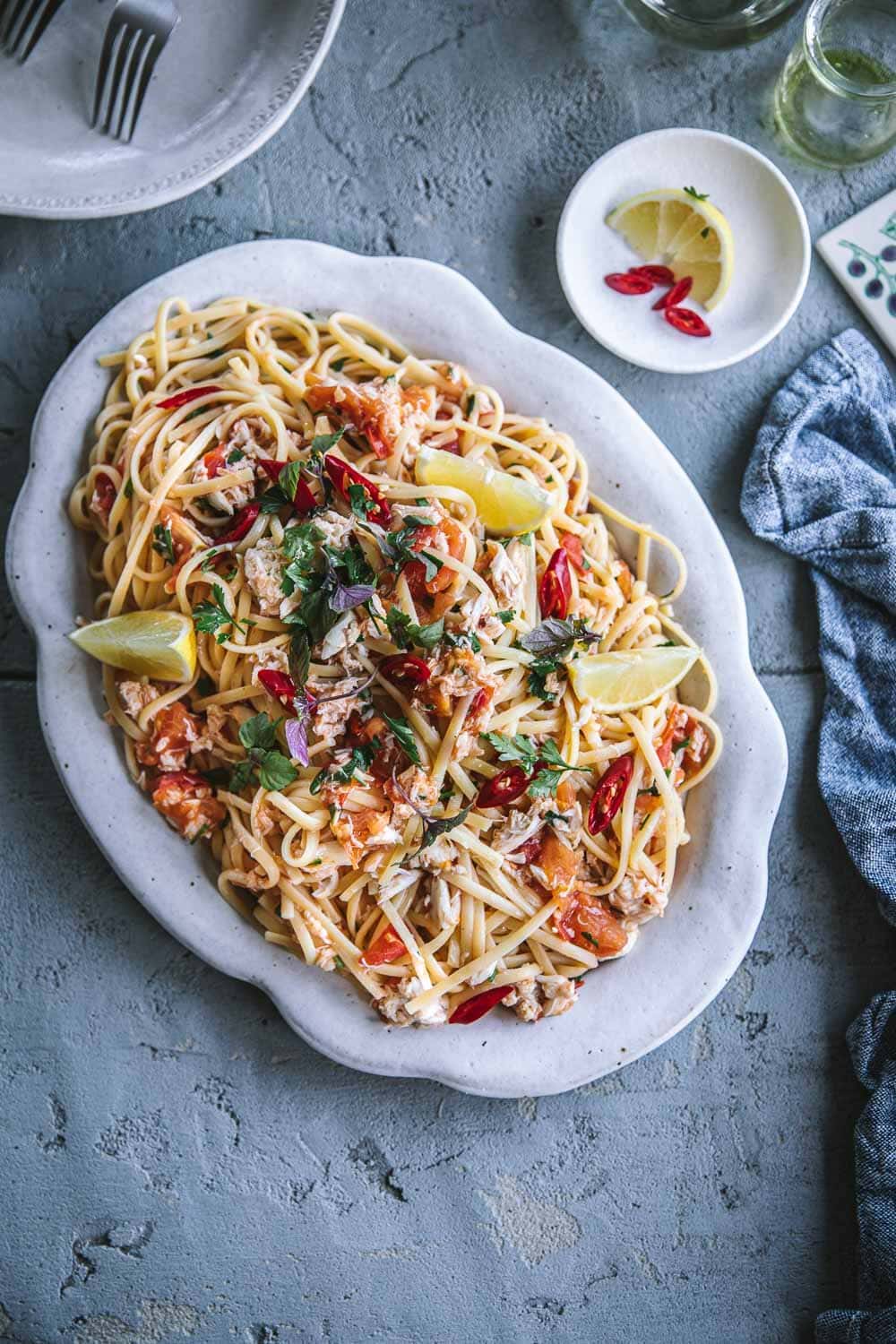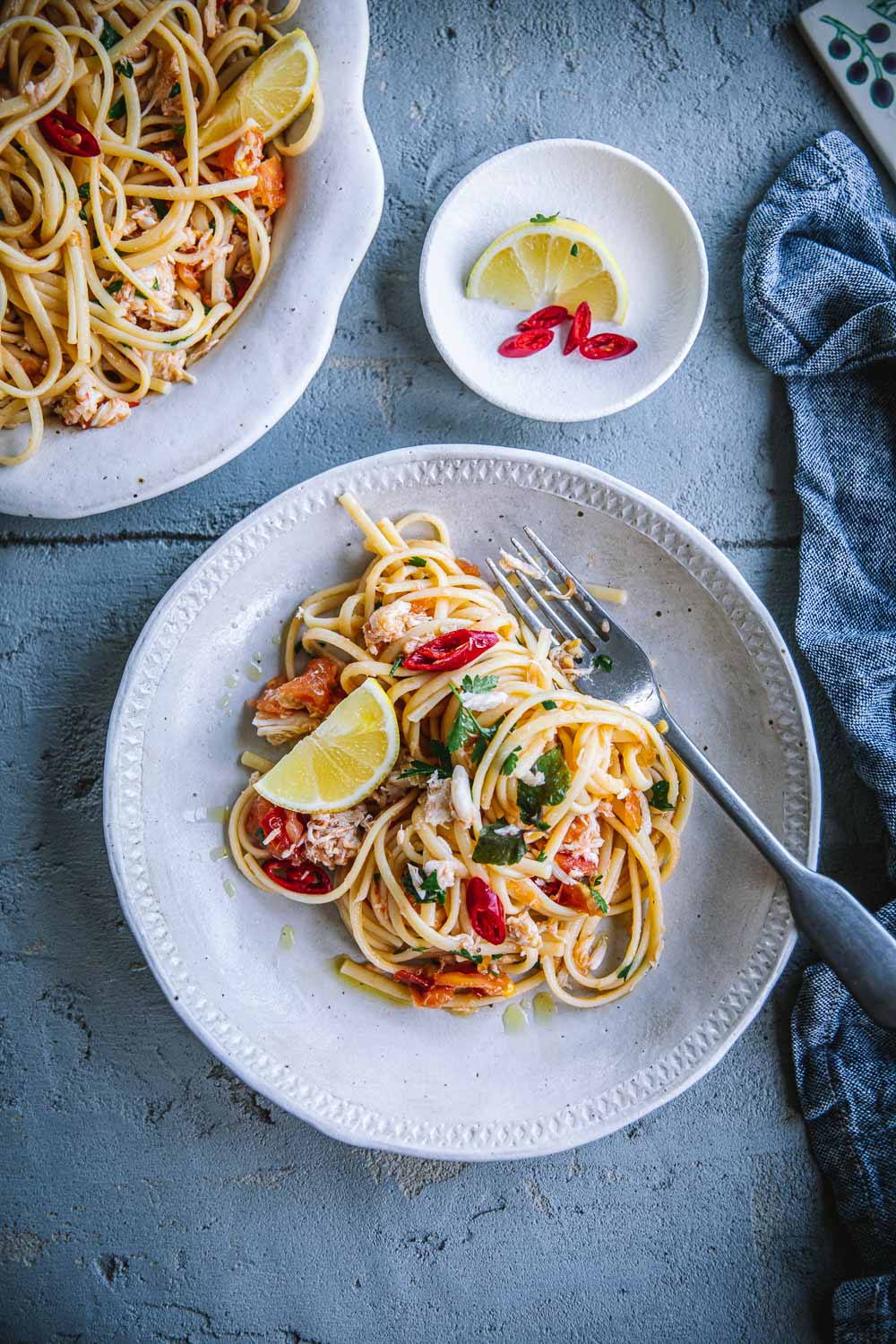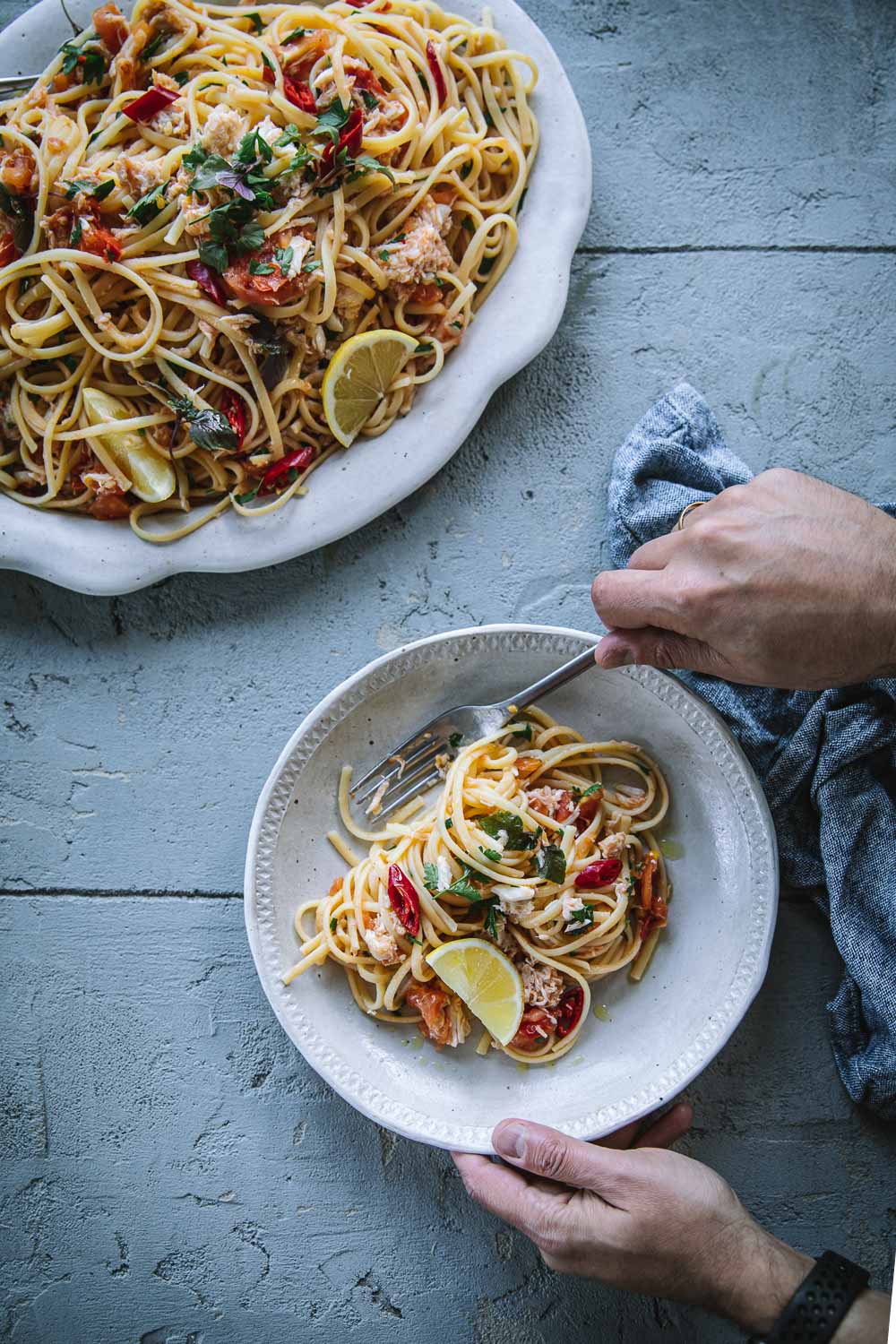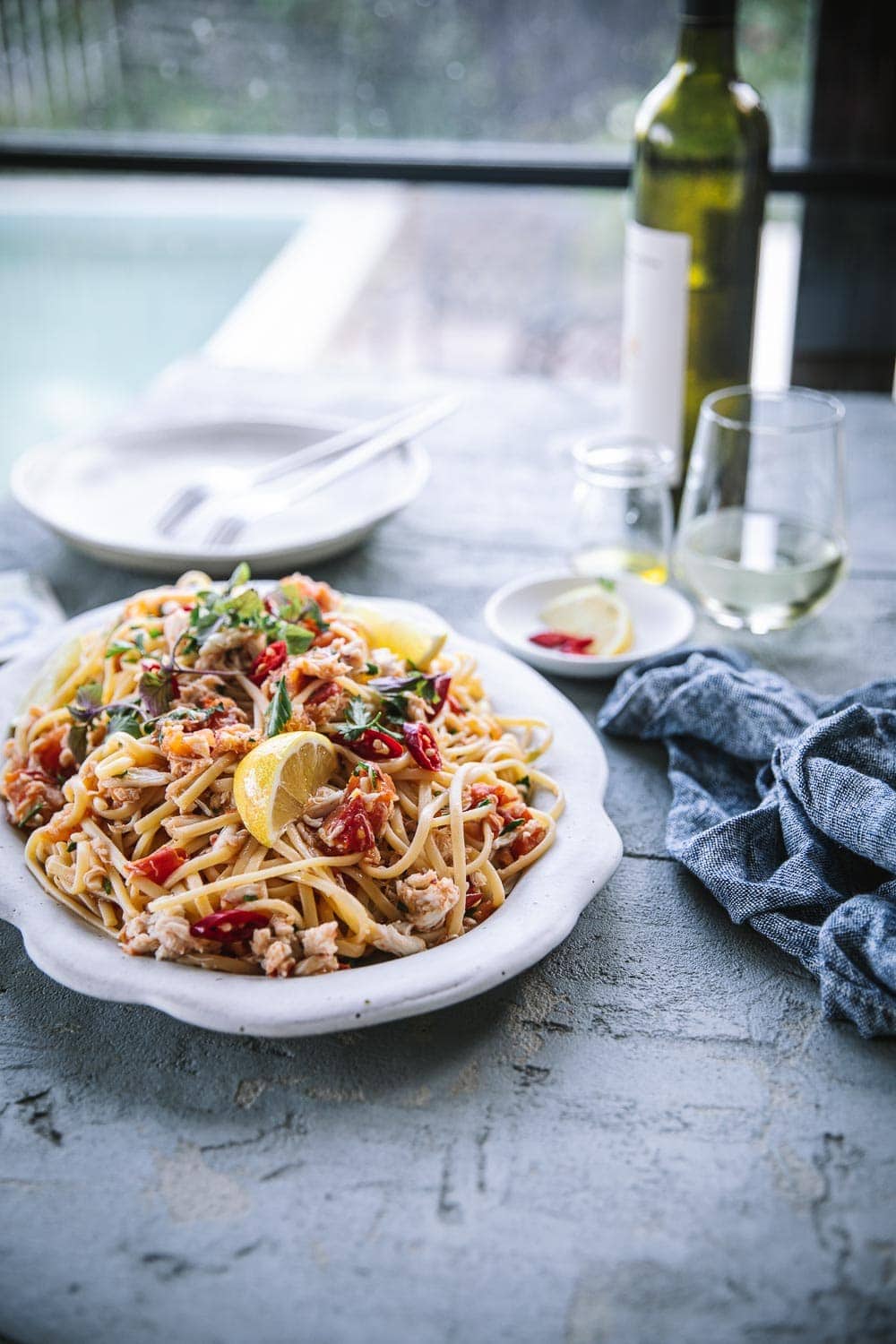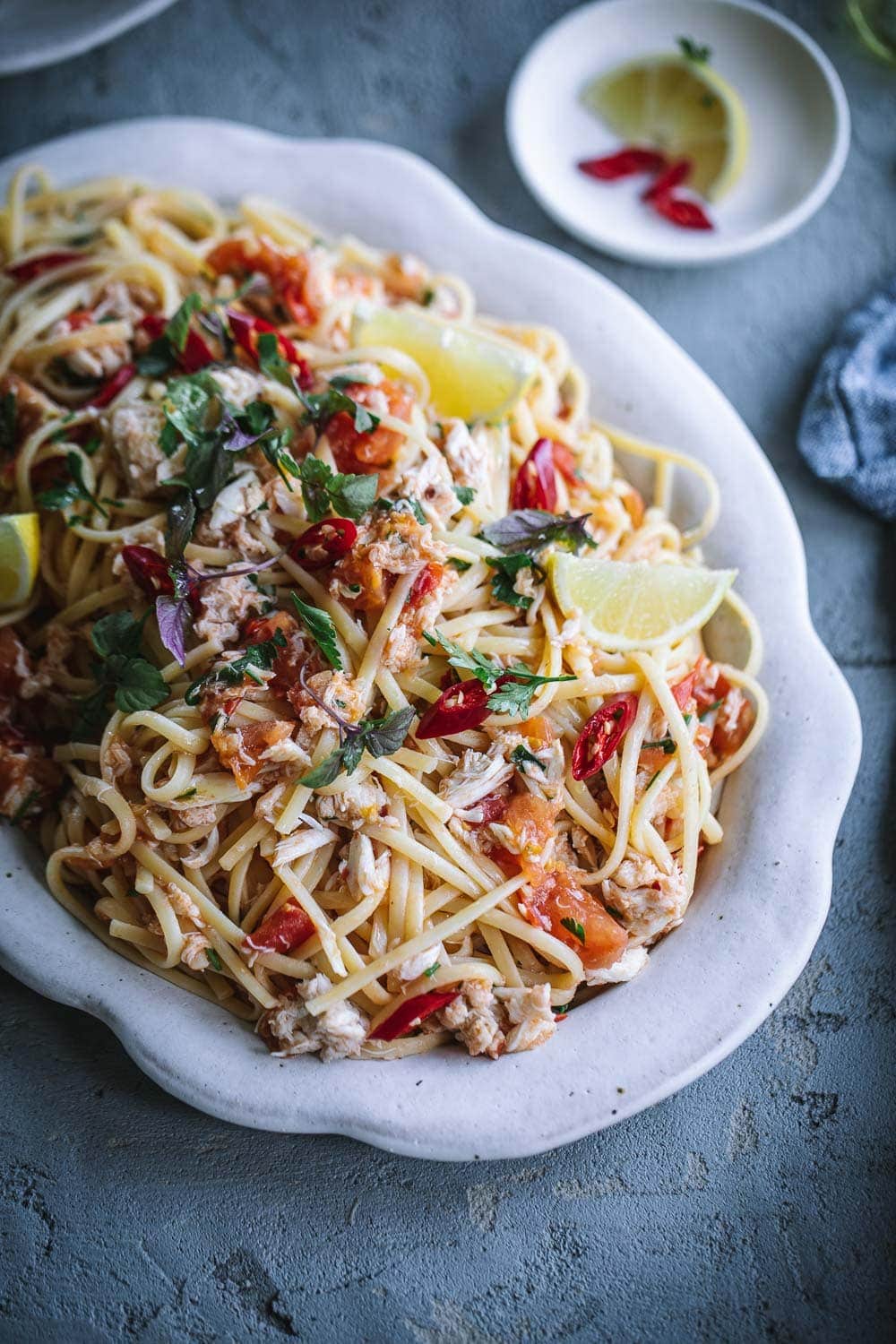 Hungry For More Recipes? Subscribe to my newsletter. Check out Facebook, Instagram and Pinterest to see everything I share! And if you love cooking and new cookbooks, join my free Cooking Club on Facebook!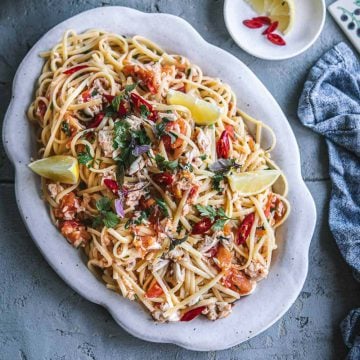 CHILLI CRAB LINGUINI
A simple, flavourful, light pasta meal for any time of the year. Fresh cooked crab, garlic, chilli and juicy tomatoes with the zinging acidity of lemons makes this a delicious recipe for the whole family!
Print Recipe
Rate / Comment
Ingredients
300

g

dry linguini

2

tablespoons

olive oil

3-4

garlic cloves

,

minced

1

teaspoon

red chilli flakes

3

vine-ripened tomatoes

,

chopped

60

ml

white wine

450

g

fresh crab meat

1

teaspoon

sea salt flakes

Freshly crushed black pepper

½

cup

packed

,

chopped fresh parsley

Juice of ½ lemon

Lemon wedges

,

red chilli slices, extra virgin olive oil – to serve
Instructions
Cook linguini in rapidly boiling salted water for 8-10 minutes until al dente. Drain all but half a cup of water. Let the linguini sit in that water until ready to add to the dish.

Heat oil in a large, shallow chef's pan on medium-high. Add garlic and chilli flakes. Sauté for a few seconds until garlic starts browning. Add tomatoes and mix well. Increase heat to high and cook for a couple of minutes until tomatoes have softened and the mixture is starting to dry out and caramelize. Add white wine and deglaze the pan.

Reduce heat to medium. Drain and add the linguini to the pan. Add crab meat, salt, pepper and parsley. Mix well and cook for a couple of minutes until piping hot.

Garnish with red chilli slices, drizzle extra virgin olive oil and serve hot with a lemon wedge on the side.
Did you make my recipe?
I'd love to hear how you went! Tag me on Instagram @cookrepublic