A creamy, luscious, warming dal is just what you need for a quick and nourishing weeknight dinner. This Tomato Garlic Dal cooked with two kinds of quick-cooking lentils, lots of juicy tomatoes and generous amounts of garlic and spices is absolutely delicious. With some brown rice and a chopped salad, it makes a very satisfying meal indeed.
Jump to:
The Allure Of Dal
We make a lot of dal at home. A lot. Growing up in India, a pot of some kind of dal at every meal was de rigueur. A cheap, filling, nourishing meal packed with veggies and spices and different lentils and beans. What was not to love? The only problem was, my mum's otherwise extensive cooking repertoire had only four or five kinds of dal. While two were reserved for special occasions, the remaining three were usually in rotation during the week - for years. So the magic of dal was a bit diminished as I grew up wanting anything but.
When I had the boys and was also working, I finally understood my mum's fascination with dal. It was probably the quickest, most accessible meal from my culture and to a time-poor mum, that was a huge draw. As my boys grew older, I cooked the dals of my childhood for them. A plain old turmeric dal and a creamy Spinach Dal (that was recently published in Peddler journal). It got to a point where when they asked me what I was cooking and I said "Dal", I could see them visibly deflate. And I had flashbacks of my own childhood and forcing myself to have the same couple of dals every week. I didn't want to do that to them. Something had to give.
So, I started an active campaign to cook and experiment with new dals every week. Starting with this amazing Rainbow Veggie Coconut Dal, I created fresh new takes to my everyday dal with this Weeknight Veggie Dal and this beautiful smoky and slow-cooked Vegan Dal Makhani and this delectable Vegan Rajma Masala. With around 40 new dals in my cooking roster, I could sense a shift at dinner times. They were loving it, they were excited and even requested dals which was the most unusual but the best thing of all. The allure of the humble dal was back.
A Yellow And Red Lentil Dal
I love this dal. It came about by accident and those are the best kinds of recipes. When I started creating this, I was drawing inspiration from the west coast of India where I grew up - Mumbai. Home of the Maharashtrian community but a true melting pot if there was ever one. The spices and aromatics used in this region are quite different to the ones you might be used to - the two main regions known worldwide being Northern India (think rich curries characterised by bay leaves, cardamom, cream) and Southern India (lighter coastal cooking featuring lentils, rice, seeds, curry leaves and coconut).
The west coast is characterised by curry leaves, ginger, green chilli, lentils and lots of fresh veggies. I took some of that inspiration and amplified the flavours with lots of garlic (cooking it with the lentils and applying the tarka technique - pan-frying seeds and aromatics in fat/oil/ghee and topping it on the cooked dal). The vine-ripened tomatoes are juicy and sweet and sour. They add an amazing umami flavour to this dal which is only further heightened by all the garlic. It is a fantastic recipe for when you are feeling down and need a pick-me-up. Full of antioxidants and immune-boosting goodness, you'll want to make this easy dal every week. Perfect with some steamed rice or roti and a lovely Indian raita on the side.
More Dal Recipes To Love
Recipe
Hungry For More Recipes? Subscribe to my newsletter. Check out Facebook, Instagram and Pinterest to see everything I share! And if you love cooking and new cookbooks, join my free Cooking Club on Facebook!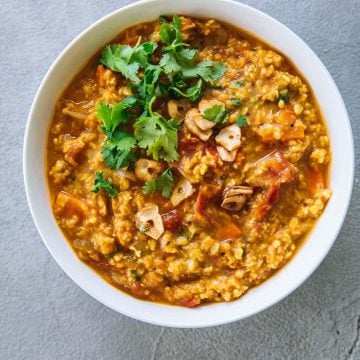 Ingredients
½

cup

yellow moong dal

½

cup

red lentil dal

2

tablespoon

olive oil or ghee

½

teaspoon

mustard seed

½

teaspoon

cumin seed

12

curry leaves

6

garlic cloves

,

minced plus 1 extra clove, sliced thinly

½

long red chilli

,

sliced

1

onion

,

finely diced

1

carrot

,

cut into 1-inch batons

3 to

matoes

,

roughly chopped

1

tablespoon

sea salt flakes

½

teaspoon

ground turmeric

1

teaspoon

garam masala

1

litre water

Coriander leaves

,

to garnish
Instructions
Wash and rinse the yellow and red lentils several times. Drain and set aside.

Heat 1 tablespoon oil/ghee on medium-high in a deep heavy-bottomed saucepan or cooking pot. Add mustard seed, cumin seed, curry leaves, minced garlic and chilli. When the seeds start to crackle, add the onion and carrot. Sauté tossing constantly for a few minutes until the onion starts to caramelize.

Reduce heat to medium-low. Add drained lentils and tomatoes. Mix well. Sauté for 1-2 minutes until lentils appear toasty.

Add salt, turmeric and garam masala. Add water and mix well. Increase heat to medium and bring to a boil. Then reduce heat to medium-low and simmer uncovered for 20-25 minutes until the lentils are almost cooked. Stir occasionally to avoid sticking.

Reduce heat to low, cover and simmer for a further 10 minutes until lentils are completely cooked and dal appears creamy. If dal is too thick for your liking, add 1/4-1/2 cup water till desired consistency is reached.

Remove from heat and set aside. Heat the remaining tablespoon oil/ghee in a small frying pan. Add garlic slices. Cook for a few minutes on medium heat, tossing constantly until garlic is golden brown. Pour the hot oil/ghee along with the garlic very carefully over the cooked dal. Garnish with coriander leaves and serve hot with rice.
Nutrition
Calories:
181
kcal
|
Carbohydrates:
25
g
|
Protein:
9
g
|
Fat:
5
g
|
Saturated Fat:
1
g
|
Polyunsaturated Fat:
1
g
|
Monounsaturated Fat:
4
g
|
Sodium:
1187
mg
|
Potassium:
503
mg
|
Fiber:
11
g
|
Sugar:
3
g
|
Vitamin A:
670
IU
|
Vitamin C:
58
mg
|
Calcium:
45
mg
|
Iron:
3
mg
Did you make my recipe?
I'd love to hear how you went! Tag me on Instagram @cookrepublic