Chilli Paneer is a delightfully tangy and delicious Indo-Chinese dish made of crispy golden paneer cubes in a sweet, sour and spicy sauce. A fast vegetarian stir-fry for an easy weeknight dinner ready in just 15 minutes!
Jump to:
Chilli Paneer - The Vegetarian Cousin of Chilli Chicken
Chilli Chicken is possibly the most popular dish in Indo-Chinese cuisine. The cusine was the result of Chinese immigrants settling in eastern India during the days of the silk trade and their ingenius cooking that used Indian vegetables and spices with Chinese cooking techniques. And Chilli Paneer is a clever adaptation of the famous chicken dish to suit the vegetarian palette.
The dish itself is quite simple but boy is it absolutely delicious. Who wouldn't love golden fried paneer in a sticky, spicy, sweet and sour stir-fry sauce? This dish has few, everyday ingredients. It is what makes it truly special because you would never think of pairing these ingredients together. Traditionally, Chilli Paneer would be served with fried rice or Hakka Noodles. I serve it with simple steamed jasmine rice.
Ingredients & Substitutions
How to make Crispy Paneer

Chilli Paneer - Two Delicious Versions, Dry Or Gravy
In an Indian or Indo-Chinese restaurant, every main dish has two versions. Dry or Gravy. Amazingly, the taste doesn't change at all, just the eating experience. The dry version has very little sauce, just enough to coat the protein so that it can be eaten as a canape alongside a soup or with a nice cocktail to accompany it. There is a lot of heat in the dry version and perfectly chopped spring onion and coriander to roll it in. The Gravy version of the dish has ample Chinese-style sauce that makes it perfect for eating with rice or noodles. It is as fiery and delicious, just with lots more sauce.
My version is created off the back of the dozens of small Indo-Chinese eating shacks I used to frequent during my college days in Mumbai. And it falls between the dry and gravy versions. I find that by cooking it this way, one can enjoy the delectable paneer cubes by itself after swirling them in all the sauce or it becomes a main accompanied by rice.
I reference the green chilli in my recipe notes. Chilli Paneer is meant to be super spicy. It has a combination of green chilli (the Indian one can be deadly!), chilli powder and hot chilli sauce. Restaurants serve versions that can really bring on the chilli sweats. My version is definitely more toned down and has the perfect chilli balance to appeal to everyone. My baseline is my youngest son who can only do a bit of chilli and he loves this. He feels it is a bit spicy but in a good "I can't stop eating" way! So you'll be fine. My Chilli Paneer dish has the mild green cayenne chilli (you can even remove the seeds), just a touch of red chilli powder and a dash of Sriracha.
Hope you enjoy this beautiful, flavour-packed dish! Don't forget to share your Chilli Paneer with me on Instagram by tagging @cookrepublic #cookrepublic. Happy cooking!
Recipe
Hungry For More Recipes? Subscribe to my newsletter. Check out Facebook, Instagram and Pinterest to see everything I share! And if you love cooking and new cookbooks, join my free Cooking Club on Facebook!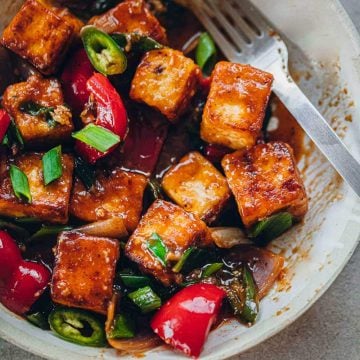 Ingredients
for the paneer
200

g

paneer

,

cut into bite sized cubes

2

tablespoons

cornflour

½

teaspoon

salt

¼

teaspoon

black pepper

1

tablespoon

olive oil
for the stir-fry
1

tablespoon

olive oil

1

small green cayenne chilli*

,

thinly sliced

1

tablespoon

grated ginger

1

tablespoon

minced garlic

1

small red onion

,

halved and thinly sliced

1

small red capsicum

,

trimmed, deseeded and cut into square pieces

2

spring onions

,

thinly sliced (green only)
for the sauce
1

tablespoon

light soy sauce

1

tablespoon

white vinegar

1½

teaspoon

raw sugar

1

teaspoon

hot chilli sauce

,

(Sriracha)

½

teaspoon

red chilli powder

2

teaspoons

cornflour

½

cup

water

Extra spring onion

,

to serve

salt to taste
Instructions
To prepare the paneer, add paneer cubes, cornflour, salt and pepper in a medium bowl. Toss to coat the paneer evenly with the cornflour.

Heat a tablespoon of oil in a frying pan on medium. Add the coated paneer cubes to the pan and fry until each side is golden brown and crispy, turning constantly with a butter knife.

To prepare the sauce, add soy sauce, vinegar, sugar, Sriracha and chilli powder to a bowl. Mix well and set aside.

Heat a tablespoon of oil in a small wok on high. Add green cayenne chilli, ginger, garlic and onion. Stir-fry for a minute or two until onion is glazed. Add the capsicum and spring onion. Stir-fry for another minute.

Add the prepared sauce. Mix well. Mix cornflour with the water and add to the wok. Add the paneer and mix well. Reduce heat to medium-low and cook for 1-2 minutes until the sauce thickens and the paneer is heated through.

Remove from heat. Season with salt if required. Garnish with extra spring onion and serve hot with rice.
Notes
Green Cayenne Chilli - Traditional Indian Chilli Paneer uses small green Indian chillies that are similar to bird's eye chillies and very spicy. I use a Green Cayenne Chilli which is not very spicy. It is a long green chilli with a gentle heat. I slice and add with the seeds and it adds a lovely bite to the dish. If you don't like your food spicy, remove the seeds before slicing and adding to the dish. Make It Gluten Free - Make sure all your sauce are gluten free. Make It Vegan - Swap paneer for tofu.
Did you make my recipe?
I'd love to hear how you went! Tag me on Instagram @cookrepublic