If you love savoury pancakes, these veggie-packed Crispy Semolina Pancakes will make your day! More-ish and absolutely delicious, these wholesome pancakes are fluffy in the middle and oh so crispy on the outside. They are substantial enough to make a satisfying light meal.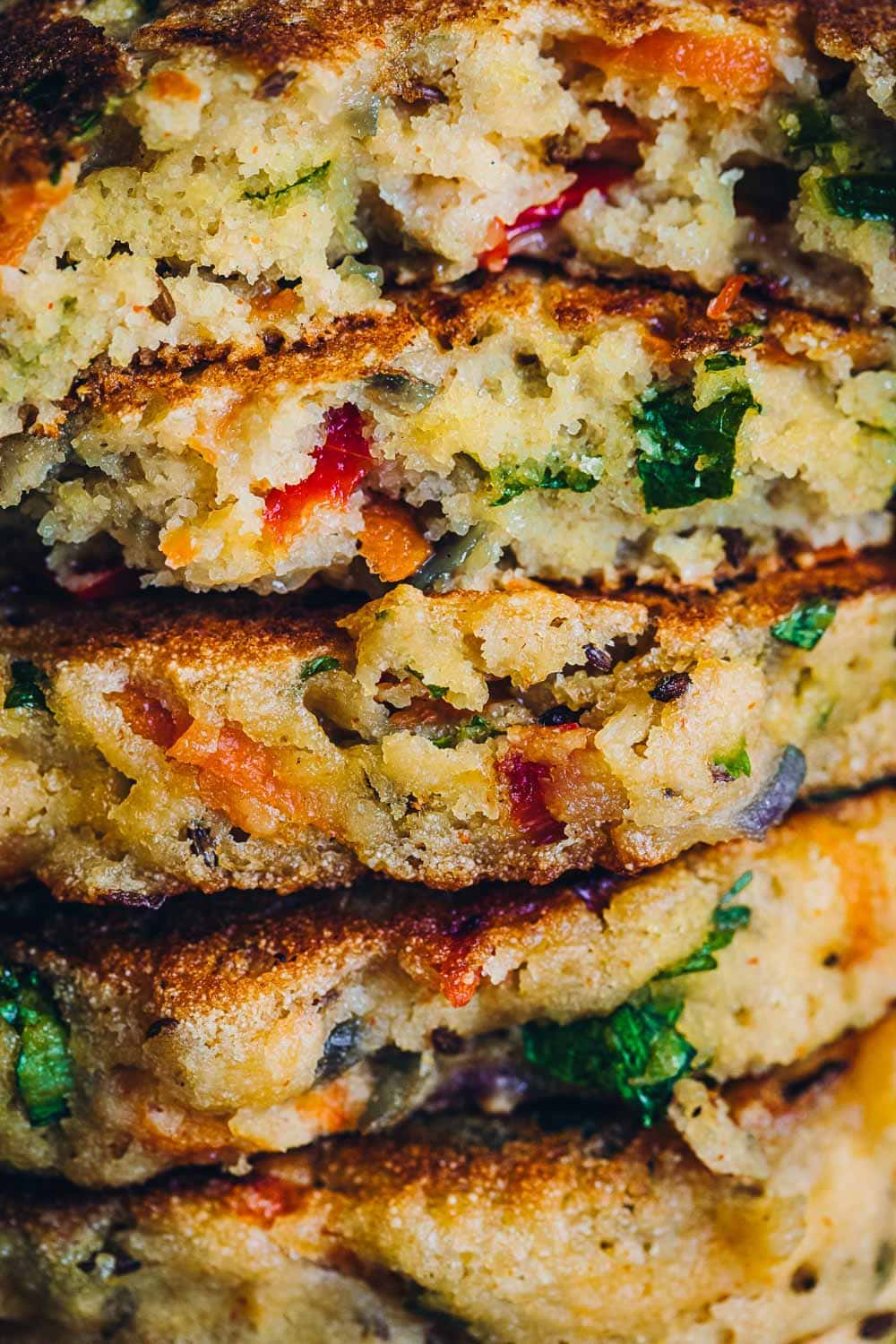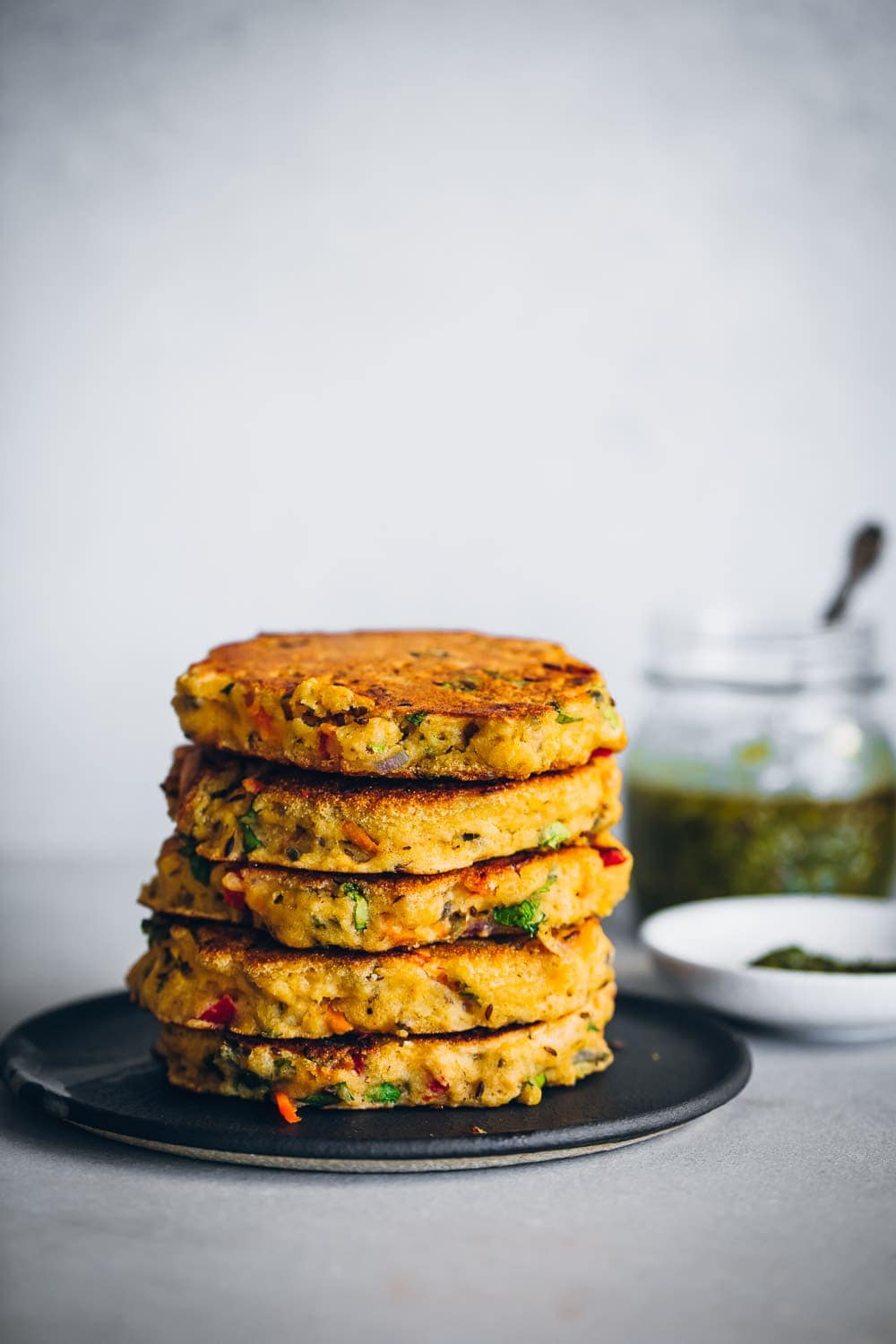 Savoury Pancakes - The Cornerstone Of Indian Breakfasts
Indian cuisine is known for its amazing vegetarian savoury breakfasts. While the rest of the world relies on porridge, eggs, avo toast and sweet pancakes; Indian mums everywhere are whipping up delicious savoury pancakes often with vegetables and lots of spices. In fact, savoury pancakes are such a constant in the Indian breakfast scene that every state has their own speciality and variation. Utilizing all kinds of flours and legumes, these pancakes are always piping hot, crispy on the outside and dotted with herbs and spices.
Besan (chickpea flour), sooji (semolina) and rice flour are the most popular choices for savoury Indian pancakes. Vegetables are either topped on the pancake and cooked/grilled or mixed with the batter. These pancakes are nourishing and filling and make a great light meal or snack no matter what time of the day it is. Often eaten with a green chutney or tomato relish, these can be made ahead and reheated on a hot pan or if they are thick, then in a toaster.
Cooking A Perfectly Fluffy Savoury Pancake
My Crispy Semolina Veggie Pancake is inspired by the South Indian labour of love - Uttapam. A fermented rice pancake topped with caramelized onion, chilli and coriander. Instead of going down the long 20-hour fermentation route, I have come up with a faster equally delicious alternative. The good old lemon and baking soda method!
The vegetables are lightly cooked in oil for a few minutes before being added to the batter. This is a very clever technique to ensure that the vegetables aren't crunchy and raw in the final dish and that they don't sweat while cooking in the pancake batter. Cooking the vegetables first, removes their excess water and dries them a but so when they cook with the batter, they don't release liquid and keep the pancake dry and fluffy.
After the vegetables have been added to the batter and the batter has been mixed well, we incorporate the lemon and baking soda. In India, we used to use Eno (fruit salt) for this step. But lemon juice and baking soda work perfectly and both are easily available. You first sprinkle baking soda all over the batter. You then drizzle the lemon juice over the baking soda to start the chemical reaction of citric acid combining with sodium bicarbonate to release carbon dioxide and create fizz and bubbles. This fizz gets incorporated in the batter as you gently mix it all, making the batter light and fluffy. This in turn creates the perfect fluffy pancake even though it has dense vegetables in it.
When you make the pancakes, please make sure you cook them low and slow and that you don't press them down with a spatula/turner. Pancakes will keep in the fridge for up to 2 days. They can also be frozen wrapped in baking paper and stored in ziplock bags/freezer-safe containers for up to 2 weeks.
Hungry For More Recipes?   Subscribe to my newsletter. Check out  Facebook, Instagram, and Pinterest to see everything I share! I also run a free Cooking Club on Facebook. Come and join as we learn new stuff every week!
Recipe
Hungry For More Recipes? Subscribe to my newsletter. Check out Facebook, Instagram and Pinterest to see everything I share! And if you love cooking and new cookbooks, join my free Cooking Club on Facebook!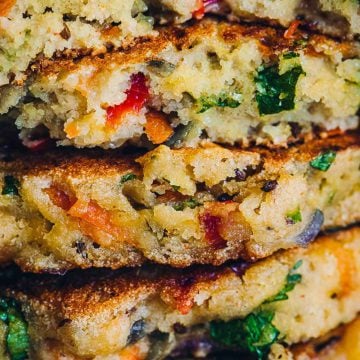 Ingredients
1 ¼

cups

(

250

g

)

semolina

2

tablespoons

(

20

g

)

rice flour

1 ½

teaspoons

sea salt flakes

½

teaspoon

red chilli powder

Freshly ground black pepper

1

tablespoon

oil

½

green cayenne chilli

,

sliced and chopped

2

teaspoons

cumin seeds

½

cup

(

60

g

)

red onion

,

finely chopped

½

cup

(

50

g

)

carrot

,

grated

½

cup

(

70

g

)

capsicum

,

finely diced

¼

coriander leaves

,

chopped

¼

cup

yoghurt

1

cup

water

1

teaspoon

baking soda

3

tablespoons

lemon juice

Oil for pan-frying
Instructions
Add semolina, rice flour, salt, chilli powder and black pepper to a large bowl. Toss to mix.

Heat oil in a small frying pan on medium. Add green chilli and cumin seeds. Sauté for a few seconds until fragrant. Add onion, carrot and capsicum. Toss and sauté for 2 minutes until veggies are glazed. Remove from heat.

Add veggies to the semolina mix in the bowl.

Add coriander, yoghurt and water. Mix well with a wooden spoon to form a loose batter.

Sprinkle the baking soda over the pancake batter. Drizzle the lemon juice over the baking soda till it starts frothing. Wait a few seconds and then using a wooden spoon, lightly mix the batter in a clockwise motion for a few seconds until it feels light and airy.

Drizzle some oil in a frying pan on medium-low heat. Spoon half a cup of the pancake batter over the oil in the pan. Spread it gently to half inch thickness. Cook for 4-6 minutes until the bottom appears golden and crisped while the top is starting to dry out. Gently flip the pancake over and cook the other side for 4-6 minutes or until the pancake appears cooked, fluffy and crispy on the outside. (Do not press the pancake with the spatula. It is important to let it cook on gentle heat without pressing in order to get a fluffy interior and crispy crust). If the pancake starts browning too quickly, reduce the heat.

Repeat with the remaining batter.
Notes
Cooking Heat - It is important to cook the pancakes on medium-low to low heat for a longer period to ensure the middle is cooked to fluffy perfection. Do not press the pancake down with your spatula, pressing down makes the middle stodgy and you will never get a fluffy pancake. Substitutions - If you want to substitute semolina, try subbing it with 3/4 polenta and 1/4 rice flour. It will be quite close to the original recipe texture.
Did you make my recipe?
I'd love to hear how you went! Tag me on Instagram @cookrepublic