A Vegan version of the famous Salt And Pepper Squid, this Chinese Salt And Pepper Chips made from potatoes is super crispy and absolutely delicious! Buttery, creamy potatoes coated in cornflour and wok-fried until very crispy and tossed in fragrant garlic and pepper spice mix. YUM!
What Makes Chinese Salt And Pepper Chips So Special?
Kipfler Potatoes – Also known as Fingerling Potatoes are small, thin, knobbly potatoes with a thin skin and low starch content. They are buttery and creamy when cooked, making them the ideal potato choice for this dish that mimics Salt & Pepper Squid.
Sichuan Pepper – Sichuan Pepper is also known as Szechuan Pepper or Chinese pepper. It is a beautiful pepper with lemon tones that produces a numbing, tingling sensation on the tongue when eaten. Not necessarily hot, it has a complex flavour that is known to create a numb spiciness.
Spice Mix – Crushed Sichuan pepper, white pepper, Chinese 5-spice powder and sea salt flakes create a very special spice mix that is synonymous with Salt And Pepper Squid or Tofu. I like to add whole Sichuan peppercorns to my mortar pestle along with the white pepper, Chinese 5-spice powder and sea salt flakes to grind and create a coarse, fragrant spice mix.
Dusting The Potatoes With Cornflour
One of the key aspects of crispy wok-fried dishes is the dry dusting of the main ingredient with cornflour (see pictures for reference). I must warn you that there is some cornflour wastage but it is essential to getting that beautiful crispy potato that when you bite into makes that delightful shattering crunchy sound.
Using the right potato is key. Kipfler potatoes (fingerling potatoes) have a low starch and high moisture content. They hold their shape very well. And their high water content means that they don't dry out when fried, instead, they are buttery, creamy and perfectly moist after cooking. But potatoes absorb liquids and when fried, they can absorb oil and become limp and greasy. By dusting them in cornflour to create a thick coating produces a barrier that stops them from absorbing the oil.
We use half a cup of cornflour to coat the potatoes. When evenly dusted, more than half the cornflour will remain unused in the bowl. This is okay. When wok-frying, you must use tongs to lift the coated potatoes into the wok. You must not add the unused cornflour into the wok.
Shallow Wok Frying On High Heat
I have tried stir-frying, shallow-frying and deep-frying while testing this recipe. I found this in-between method of shallow frying them produces the crispiest results without wasting oil in the process. I heat one third cup oil on medium-high in a large wok and shallow-fry 500g potatoes. The key is to let the potatoes cook without moving them or agitating them. This ensures that the cornflour coating remains intact to create that beautiful crispy crust on the potato. At the end of the 8-10 minute frying session, almost all the oil will be used up.
This is by no means a healthy recipe but boy is it good? Yes, it is! If you would like a healthier option, please refer to my recipe notes.
And don't forget
Use a large wok so the potatoes are not overcrowded. If you don't have a large wok, use a large chef's pan or saute´ pan. As long as the potatoes have enough space to cook without being piled on top of each other, they will cook beautifully.
Do not toss and stir the potatoes. You only need to handle them minimally using tongs.
Use high heat throughout the process. If they start to brown quickly, then reduce heat to medium-high.
Potatoes will take a total of 10-12 minutes to cook thoroughly. The coating will visibly look crispy and dry (not oily and soggy) with flakey white parts.
Recipe
Hungry For More Recipes? Subscribe to my newsletter. Check out Facebook, Instagram and Pinterest to see everything I share! And if you love cooking and new cookbooks, join my free Cooking Club on Facebook!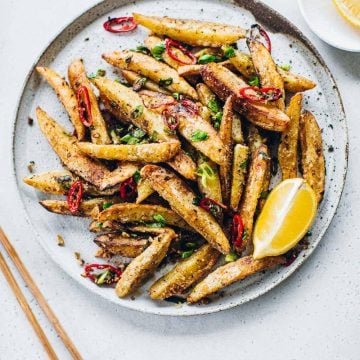 Ingredients
for the potatoes
500

g

kipfler potatoes

½

cup

(

70

g

)

cornflour

1

teaspoon

sea salt flakes

½

teaspoon

crushed black pepper

1/3

cup

grapeseed oil
for the stir-fry
1

tablespoon

grapeseed oil

5

garlic cloves

,

minced

1

red long cayenne chilli

,

deseeded and thinly sliced

2

spring onions

,

thinly sliced

¼

teaspoon

Sichuan pepper

,

ground in a mortar and pestle

¼

teaspoon

Chinese 5-spice powder

¼

teaspoon

ground white pepper

½

teaspoon

sea salt flakes

,

crushed

Lettuce leaves, lemon wedges

,

– to serve
Instructions
Peel the potatoes. Wash the dirt off the potatoes and dry them thoroughly with a paper towel. Cut them lengthways into quarters. Add the cut potatoes to a large, shallow bowl. Add cornflour, salt and pepper. Hold the bowl and move it in an upward motion to toss and coat the potatoes evenly and thickly with cornflour.

Heat 1/3 cup grapeseed oil in a large wok on medium-high. Gently lift the potatoes from the cornflour mix without shaking off the coating and add them to the wok. Increase heat to high and let the potatoes cook in the oil for 3-4 minutes until starting to turn golden and crisp up (do not toss or stir).

Using large tongs, move the potatoes gently in the wok and turn them to cook the other side. (Reduce heat to medium-high if starting to brown too quickly) Cook for another 3-4 minutes. Once the potatoes are completely browned and crispy, shake the wok gently to cook the potatoes more evenly. Cook for another 2-3 minutes. When potatoes are done (test with a toothpick), remove them onto a large plate.

Give the wok a wipe and return to heat on high. Add a tablespoon of grapeseed oil. Add garlic and chilli. Stir-fry for a few seconds until fragrant. Add spring onions, Sichuan pepper, Chinese 5-spice powder, white pepper and sea salt flakes.

Add the cooked potatoes. Toss and move the wok in a swirly motion to coat the potatoes evenly with the seasoning. Stir-fry for a minute until piping hot and remove from heat.

Serve Salt And Pepper Chips immediately on a large platter with lettuce leaves and lemon wedges.
Notes
Potatoes – If you can't find kipfler or fingerling potatoes, use Dutch Cream potatoes. They are similar in taste and texture to kipfler potatoes and hold their shape when wok-fried. They also go crispy on the outside while remaining buttery and creamy on the inside. Sichuan Pepper – If you can't find Sichuan pepper, substitute with black pepper. Cooking Potatoes – I have used a shallow wok-frying technique for this dish. As I mentioned earlier, it is not a healthy option but produces the most authentic result. If you want a lighter version of this dish, add 3 tablespoons cornflour to the potatoes along with salt, pepper and a tablespoon of oil. Mix to coat the potatoes evenly. Air-fry (200°C/ 14 minutes) or Oven Bake (190°C/ 30 minutes). And then stir-fry the cooked potatoes as per the recipe.
Did you make my recipe?
I'd love to hear how you went! Tag me on Instagram @cookrepublic