Everyone must have a classic salad recipe that they can whip up in mere minutes. A fresh salad with loads of crunch and a palate-cleansing tart flavour. Like a Greek Salad! Try my easy 10-minute recipe packed with freshly chopped vegetables, creamy feta cheese, sharp olives and a delicious, lemony dressing.
Jump to:
🥗 Why you'll love my Greek Salad
It is the perfect Picnic Salad! - I might be partial to this Antipasto Couscous Salad when it comes to taking the mantle of the perfect picnic and potluck salad, but my Classic Greek Salad might be winning the race. With its combination of crisp salad veggies like onion, capsicum, cucumber and tomatoes; this Greek Salad and its dressing can be chopped and made ahead. It also travels well. And that is why it is so good for picnics. Imagine having a chilled, non-soggy salad that you mix up fresh when you are sitting on the rug in a lush park somewhere soaking in all the sun. Heaven!
It is extremely easy to make and takes only 10 minutes! - My Greek Salad is so easy that even the kids (very little ones too!) enjoy making it. And the best part is that you can whip it up in merely 10 minutes. I often make it while sipping my morning coffee and pack it in lunchboxes for the boys to take to school.
📝 Ingredients
I must admit I have never been to Greece and my knowledge of the almighty Greek Salad is cursory and comes from deli takeaways. In fact, when the boys were little and we used to take them to a gorgeous local park (with a lake and several country-themed gardens), we always stopped at a local deli. There, we would buy roast chicken and a fabulous Greek Salad. It was fragrant with oregano, tart with big juicy pitted kalamata olives, studded with red cherry tomatoes and packed with creamy sharp feta cheese cubes. It was the perfect accompaniment for the roast chicken. My recipe is based on that salad.
Tomatoes - A lot of Greek salads have whole tomatoes chopped up. I like using cherry tomatoes because they are not only easy to cut but have less seed and liquid content. This helps keep the salad reasonably dry. Use the ripest, sweetest, cherry tomatoes you can find. If you can find big juicy beefsteak or heirloom tomatoes; that is even better. These have a lot of flavour.
Cucumber - Small Lebanese cucumbers are perfect for this salad. The smaller the cucumber, the fewer seeds and liquid it has. If your cucumber is large and very juicy, deseed it first by scooping the seeds out with a spoon. This will prevent the salad from going soggy.
Onion - Red onion has the right pungency and spiciness for this salad. I usually halve them and then slice them into half-moon-shaped slices. This keeps the onion pieces subtle and thin for easy eating. If my onion is especially spicy and I will know this by how much my eyes water when cutting it, I like to add the slices to a bowl of chilled water for 5 minutes before draining and adding to the salad. This gets rid of the pungent, spiciness of the onion.
Capsicum - Any coloured capsicum is good for the salad, but green is my preferred choice. Green capsicum has a herbaceous, savoury taste compared to red and yellow which tend to be sweeter.
Feta Cheese - Use Greek-style sharp feta cheese. This is salty, crumbly and tart and renders really well in the overall mix of the salad. Dutch-style feta cheese is milder and must not be used in this salad.
Olives - Find the best kalamata olives. Often, you can get really meaty big kalamata olives. I love those. Make sure they are pitted.
Olive oil - This salad presents a perfect opportunity to bring out a robust, good-quality olive oil with a strong olive taste. I love using the Cobram Estate Extra Virgin Olive Oil with a robust flavour profile. Floral and fruity versions of olive oils are great too.
I hope you add this simple but delicious salad to your weekly meal preps. It helps cut through the richness of other foods and invokes sunshine! Happy picnicking! x
🥙 What to serve with a Greek Salad?
A traditional Greek Salad is a wonderful fresh side dish. It goes really well with roast chicken or grilled fish. You can serve it alongside homemade green falafels or cauliflower hummus and pita bread. It is also a nice accompaniment for this Zucchini Sweet Potato Slice or these delicious Potato Fish cakes. For a complete salad meal, try adding a can of drained chickpeas to the salad. Or add some crispy roasted chickpeas for added crunch.
Salad FAQs
What does a good Greek Salad taste like?
A good salad has lots of fresh crunch from the veggies. It has a citrusy and herbaceous flavour from the lemon and oregano in the dressing. It has a lot of delicious tartness from olives and feta and bursts of sweetness from the tomato.
Why is my Greek Salad wet and soggy?
You probably used large, juicy tomatoes and thick cucumbers. To prevent your salad from weeping a lot of liquid and becoming wet, use small cherry tomatoes and thin Lebanese cucumbers. If you can't find these and have to use large tomatoes and cucumbers, deseed them first by scooping out the fleshy seeds and then chop them as usual.
What kind of feta cheese should I use in my salad?
The perfect feta cheese for this salad is a Greek-style sharp and crumbly feta. It adds a gorgeous tartness to the finished dish while ensuring that the feta cubes hold their shape.
How long can I store this Greek Salad in the fridge?
Prep and store your ingredients and dressing in separate glass containers. They will keep well in the fridge for up to three days.
Recipe
Hungry For More Recipes? Subscribe to my newsletter. Check out Facebook, Instagram and Pinterest to see everything I share! And if you love cooking and new cookbooks, join my free Cooking Club on Facebook!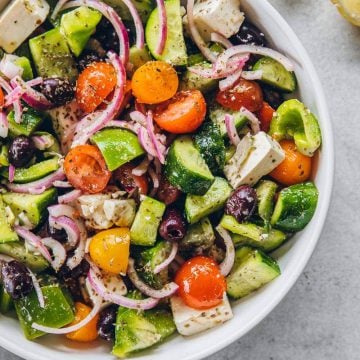 Ingredients
1

red onion

1

green capsicum

2

Lebanese cucumbers

15

cherry tomatoes

½

cup

whole kalamata olives

,

pitted

180

g

feta cheese

,

cut into cubes

¼

cup

extra virgin olive oil

2

garlic cloves

,

minced

2

tablespoons

red wine vinegar

1

tablespoon

lemon juice

2

teaspoons

dried oregano

¼

teaspoon

sea salt flakes

Freshly crushed black pepper
Instructions
Peel the onion. Halve it and cut into thin slices.

Cut the capsicum in half, lengthwise. Remove the stem and seeds. Using a sharp paring knife, remove the membrane. Cut the capsicum into 1-inch pieces.

Trim the ends of the cucumber. Cut the cucumbers in half, lengthways. Cut the halves into ½-inch pieces.

Cut each cherry tomato in half.

Add all prepped veggies to a large bowl. Add olives and feta cheese.

Pour the dressing over the veggies. Mix gently until entire salad is coated with dressing. Serve immediately.

Salad can be prepped ahead by a day by adding the veggies, olives and cheese to a lidded bowl and prepping and storing the dressing in a lidded glass jar. Mix when ready to eat.
Notes
Cherry tomatoes - They can be subbed with regular tomatoes. Deseed the regular tomatoes before cutting them into bite-sized pieces. Cucumber - Thin and small Lebanese cucumbers have very little seed and flesh. Therefore, they don't release much liquid and are perfect for this recipe. If you must use larger cucumbers, make sure you deseed them by scooping out the fleshy seeds with a spoon. Feta Cheese - Use Greek-style sharp feta cheese. This is firm and holds its shape well. It also adds a lovely complex flavour to the salad. You can substitute with Dutch feta cheese but the taste will be much milder. Red Wine Vinegar - This can be substituted with white vinegar. Storage - Salad ingredients and dressing can be both made ahead and stored in separate glass containers in the fridge for up to 3 days. Olive Oil - Use a robust flavoured cold-pressed extra virgin olive oil for a delicious olive taste. Optional Extras - You can add fresh oregano and mint leaves to amplify the freshness in this crunchy salad.
Did you make my recipe?
I'd love to hear how you went! Tag me on Instagram @cookrepublic
The recipe was originally published in October 2021. Updated in August 2022 with ingredient and process shots, faqs and serving suggestions. No change to the recipe.