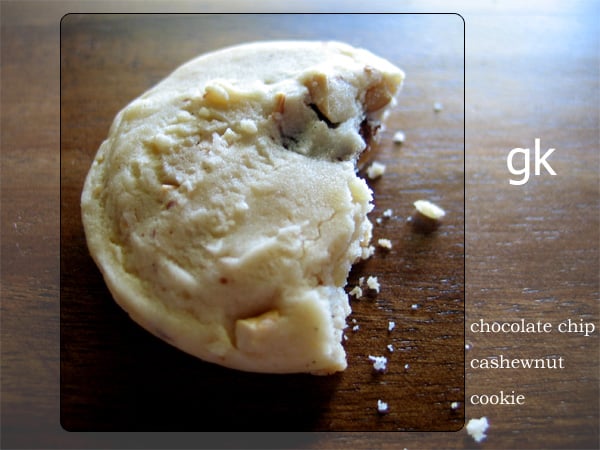 While perusing the Australian Women's Weekly "Cookies" cookbook yesterday, the 'Slice and Bake cookies' caught my eye. Actually it was the photography that drew me to this particular recipe. Who can resist a motley of various shaped glass cookie jars stacked randomly with cookies filled in some, a cute little wooden pinnochio figurine resting in one? On examining the recipe further and assuring myself that I had all the ingredients, I decided to make one of the four variations given along with the recipe. Although interesting I wasn't in the mood for 'orange and poopy seed', 'lemon and craisin', 'pecan and cinnamon' or m&m's. Digging into my baking stash, I came up with a half used bag of dark chocolate chips and a small packet of dry roasted, unsalted cashew nuts which seemed like a great combo. After preparing the cookie dough and chilling it for the said amount of time, I found that it was quite difficult to slice the cookies as the chunky bits of chocolate chip and cashew nuts would interfere and fall of the slice in the process. So I rolled out the dough and cut round shapes with a cookie cutter that sliced through the chocolate bits and cashew nuts around the edges with perfection. What started out as a plain slice and bake cookie eventually became a non-sliced chocolate chip and cashew nut cookie.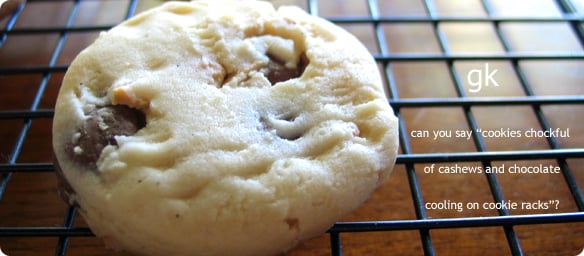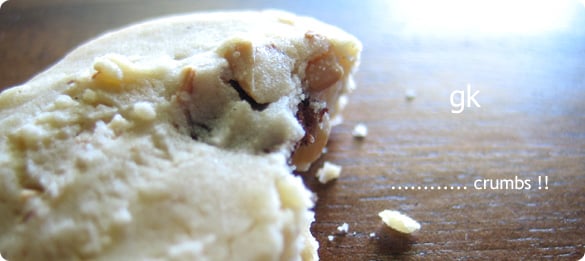 CHUNKY CHOCOLATE CHIP & CASHEW NUT COOKIE
Makes : 24 | Prep Time : 30 mins | Bake Time : 20-25 mins
Ingredients
2 cups plain flour
1/2 cup rice flour
1/3 cup cornflour
1/2 cup dark chocolate chips
1/2 cup coarsely chopped cashew nuts
250g butter softened
1 1/4 cup icing sugar, sifted
1 tsp vanilla extract
2 tbsp milk

Method
Beat butter, sugar and extract in a small bowl until light and fluffy. Transfer to a large bowl. In a separate bowl combine sifted flours, chocolate chips and cashew nuts. Add the butter mixture to the sifted flour in batches, mixing well. Then add milk and mix well. Knead the mixture on a well floured surface until smooth. Wrap in plastic wrap and refrigerate for 1 hour.
Remove from fridge and divide into 4 equal parts. Roll out each part into a 1cm thick disc. Cut out cookie shapes with a round cookie cutter and place them about 3 cm apart on a cookie sheets lined with non-stick baking paper. Bake for 20-25 minutes in a pre-heated oven at 160oC. Cool on wire racks before storing in air-tight containers.