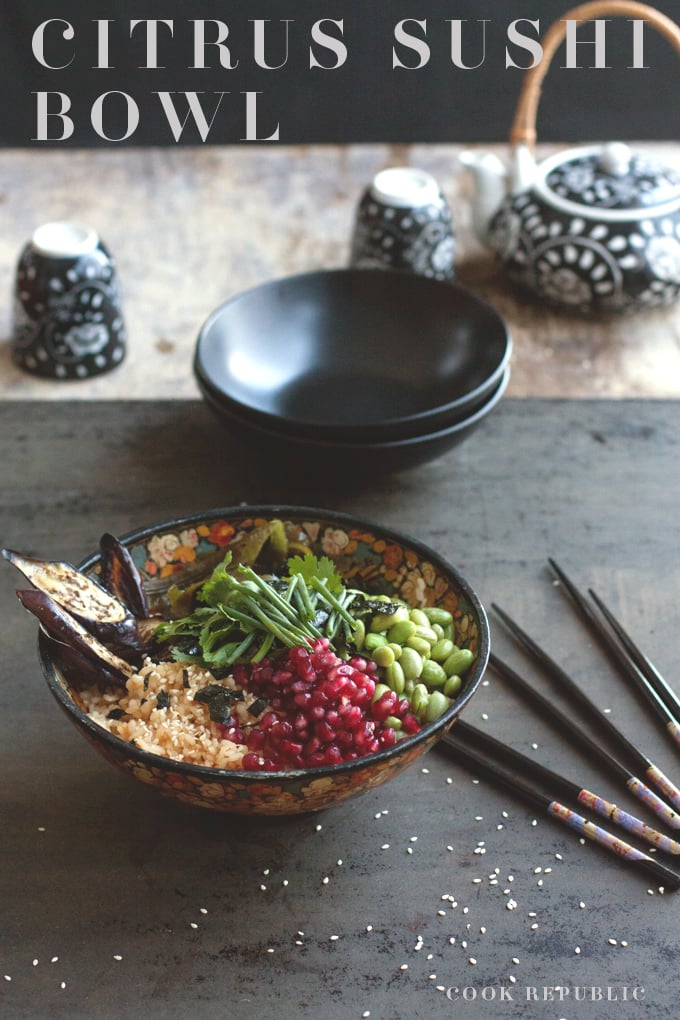 I don't get asked this very often but whenever I am asked what my favourite food is, the answer is always sushi. I first had sushi seven years ago and things have never been the same. There was a time when I first started enjoying sushi that I would eat it everyday - every single day. Diligently. For about six months. The novelty finally started wearing off and I phased that compulsion out eventually. But it still remains my go to lunch when I am too busy to cook or out and about. It makes me happy, wasabi makes me cry but sushi makes me happy!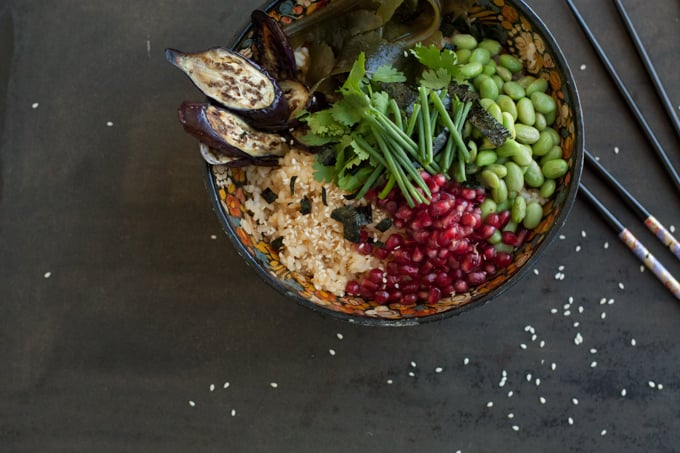 When my boys expressed a love for sushi, I was quick to get a sushi maker and roll out sushi for playdates, parties and after school snacks. One of my biggest frustrations was getting the sushi rice right. Making sushi rice is an art that can be perfected with a little trial and error and some perseverance. The most important thing to remember is that sushi rice is Japanese rice, a short grained rice with a sticky texture. It is also known as shari or uruchimai. It is not arborio rice or glutinous rice. In time, I learned the art of getting sushi rice right and that opened up a whole new world of recipe creation for me.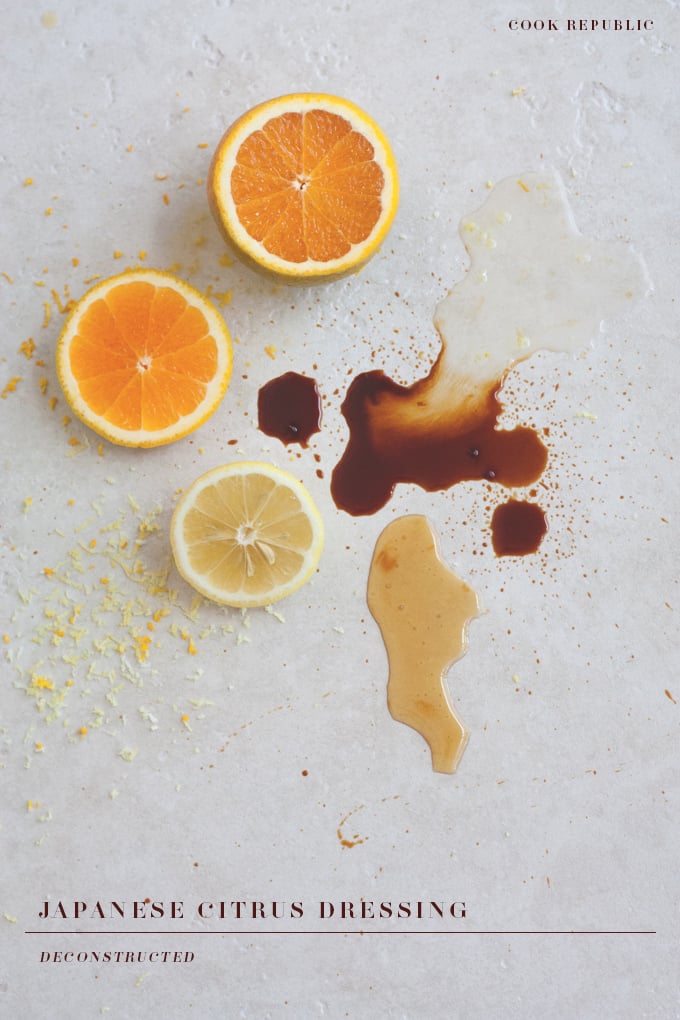 A few months ago Sunrice Australia sent me a sushi pack. Encased in a collapsible shopping basket was a Japanese sashimi knife, some bottles of soy sauce and wasabi, a sushi rolling mat and three packs of microwaveable sushi rice. Microwaveable!! Already cooked and ready to heat!! I felt a tinge of excitement that only comes from discovering a new product that would prove to be of immense value in the kitchen. I set to test it immediately and within minutes I had a bowl of steaming sushi rice ready to be cooled and rolled to my hearts desire. I loved it. The grain was cooked just right, the sticky texture was amazing and it was so easy. I couldn't wait to share it with you because I knew there would be home cooks out there who have braved sushi rice and given up.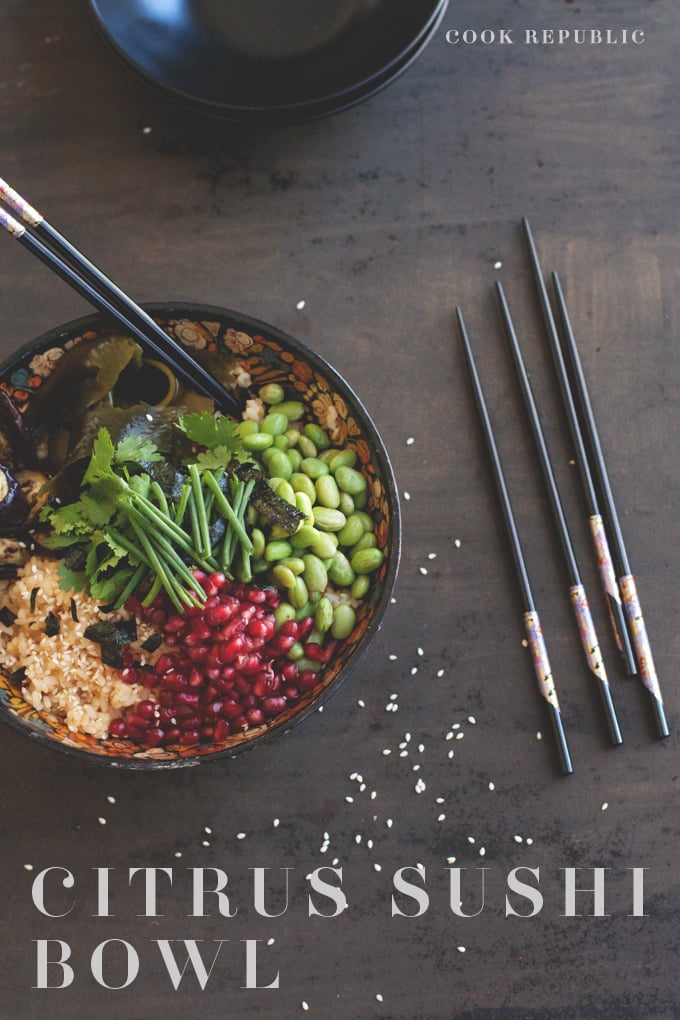 I also wanted to share a recipe that was wholesome, full of colour and texture with the fresh clean flavours of sushi that I love so much. A recipe that required no fancy gadgets or sushi rolling skills. A recipe that I first put together for lunch one slow afternoon many years ago and perfected over time. I called it simply - The Sushi Bowl. My original recipe featured salmon but this is a vegetarian version with pan charred eggplant and very strong citrus notes with the addition of fruit and ponzu sauce. The pomegranate and dressing was something I saw in Jamie magazine and was keen to adapt and try. If you try it, it is a very personal recipe that will reflect your tastes. Adapt it and make it your own with your favourite fresh ingredients.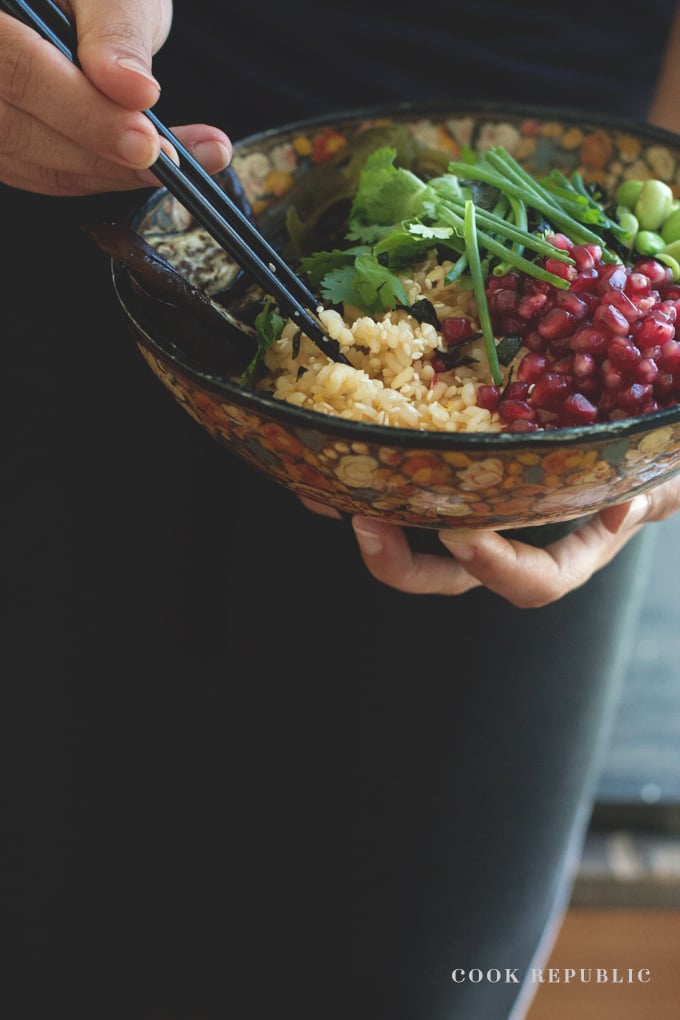 [print_this]
CITRUS SUSHI BOWL
A nourishing and wholesome recipe of fresh and clean ingredients that are put together to celebrate the glorious Japanese flavours of sushi.
Makes - To Serve 3
Ingredients
1 packet Sunrice Microwave Sushi Rice (or 3 cups cooked sushi rice)
1 cup blanched edamame beans
4 strips of dried wakame
1/2 cup pomegranate seeds
1 small eggplant, sliced
1 sheet nori, cut into strips
1 bunch chives, chopped
1/2 cup coriander leaves, chopped
Japanese Citrus Dressing
juice and zest of 1 lemon
juice and zest of 1 orange
2 tablespoons mirin
3 tablespoons rice vinegar
2 tablespoons tamari sauce
1 tablespoon ponzu sauce
1 tablespoon honey
1 tablespoons sesame seeds
Method
To prepare the dressing - Mix all ingredients together in a bowl. Set aside.
To blanch edamame beans - I used frozen edamame beans available at Japanese stores/Asian grocers. I plunged them in boiling water for a minute and refreshed with cold water.
To char eggplant slices - Heat a frying pan on medium-high. When hot, place eggplant slices on the pan and cook each side for 3 to 4 minutes until slightly cooked and charred to liking. Adding a tablespoon of oil might help them cook faster but I like to avoid adding oil as the eggplant can soak it all up and go soggy.
To prepare the wakame - Soak dried wakame in cold water for 10 to 20 minutes. It will swell to about 3 times it's original size and become tender. Drain water and set aside.
To prepare sushi rice - If using the Sunrice microwaveable rice, the instructions to prepare are on the packet. If using dried sushi rice, follow instructions on packet to cook rice. Drain and mix the citrus dressing with the rice.
To prepare sushi bowl - Place rice in three bowls. Arrange edamame beans, eggplant, pomegranate and wakame on the rice. Top with chives, coriander and nori.
My Notes
This recipe can also be made with brown rice, quinoa or couscous. The version with white Japanese sushi rice is the most authentic.
Try chia seeds instead of sesame seeds.
Instead of eggplant, serve with karaage chicken/smoked eel/prawn/salmon/tofu.
Serve with a side of miso soup and green tea for a cleansing sushi party.
[/print_this]
WIN A SASHIMI KNIFE/SUSHI RICE PACK WORTH $95
The lovely people at Sunrice are offering a lucky reader of Cook Republic a Sushi Rice-Sashimi Knife Pack worth $95. The pack will have along with a beautiful Japanese sashimi knife, several packets of Sunrice microwaveable fast and easy sushi rice. To be in the running to win this very useful prize pack, you MUST be in Australia and you MUST COMMENT below starting with the word "Edamame" and tell me what creative delight you will make with the cooked sushi rice! Contest runs until March 20, 2013. Winner will be announced via email and on Cook Republic's Facebook Page, so go follow if you aren't already. Good luck!!
**--------------** WINNER ANNOUNCED **--------------**
Congratulations JJ! I loved the simple but ingenious idea of a sushi sandwich stack. So you have won yourself a beautiful Sashimi Knife & Rice pack. Enjoy!
Note - My sushi pack was sent courtesy of Sunrice Australia via Slingshot Digital.