Kourabiedes - sweet little crescent-shaped Greek Almond Cookies are the most popular Christmas cookies in my Holiday Cookie Box! Baked with orange, cinnamon and brandy, these melt-in-your-mouth butter cookies are absolutely delicious and only take 20 minutes to make!
Jump to:
🇬🇷 What are Kourabiedes?
Kourabiedes, also known as Kourambiethes are traditional Greek shortbread biscuits. They can be crescent or round in shape and served at Christmas time and on many Greek holidays throughout the year. Also called Greek Almond Cookies or Greek Christmas Cookies, Kourabiedes are buttery, crunchy and fragrant cookies are covered in a generous dusting of icing sugar (confectioner's sugar).
💌 Why you'll love my recipe?
Easy - My recipe only has a handful of pantry ingredients and is super easy and quick to make. 20 minutes for a batch of delicious Kourabiedes! You can't beat that!
Festive - This recipe has orange zest and cinnamon. My Greek almond cookies are literally sugar and spice and everything nice. When they are baking, the whole house smells like Christmas. I love that!
Perfect Gourmet Gift - My recipe makes a decent amount of these Greek Christmas cookies - almost 46 little Kourabiedes. This means, there is plenty to wrap into little cellophane bags with festive twine and give away as homemade gourmet gifts over the holiday season.
Delicious treat - Kourabiedes make the most delightful little tea-time treats. I actually make them several times a year for my cookie jar!
📝Ingredients
Traditionally, Kourabiedes are baked with a mix of toasted and crushed almonds and plain flour. They are ambrosial shortbread flavoured with rose water or orange blossom water. Often liqueur like brandy or ouzo is added to the cookies. These are the ingredients I use to make the most delicious batch of Kourabiedes.
Plain flour - Use all-purpose or plain flour for this recipe. It is essential for the light, airy and crunchy texture of the cookie. Do not use wholemeal, spelt or gluten-free flour. Make sure your flour is sifted.
Almonds - Almonds are the base of these Greek almond cookies. Toasting them first in a dry pan enhances the flavour and texture of the cookie. I use whole almonds with their skin. I feel this amplifies the flavour as well as the fibre and adds a bit of colour. You can blanch almonds to remove the skin before toasting them if you prefer.
Butter - Use good quality organic butter when you can. Make sure the butter has been softened completely at room temperature before using it in the recipe.
Eggs - I use organic eggs. Each egg weighs approximately 60g.
Icing Sugar (Confectioner's sugar) - Remember to sift the icing sugar. Do not substitute with granulated sugar.
Liquor - I use brandy for this recipe. You can substitute with the Greek liqueur, ouzo.
Flavour makers - Ground cinnamon and orange zest add a beautiful flavour to these Kourabiedes. You can substitute cinnamon with vanilla and skip the orange zest if you like. Additionally, if you are skipping the orange zest, you can spray the baked cookies lightly with either rosewater or orange blossom water before dusting them with icing sugar.
🥣 How to make Kourabiedes?
Toast almonds in a dry pan on very low heat, tossing constantly until they start turning a shade darker (usually 3-5 minutes). Make sure the heat is very low to prevent burning.
Add toasted almonds to the jug of a small food processor.
3. Process almonds briefly to resemble breadcrumbs. The consistency should be that of a coarse almond meal.
4. Add icing sugar and butter to the bowl of a stand mixer.
5. Beat icing sugar and butter for 3-4 minutes until pale and creamy.
6. Add eggs to the bowl.
7. Beat for a couple of minutes until voluminous and fluffy.
8. Add brandy to the mixture.
9. Add plain flour, processed almonds, ground cinnamon, baking powder and orange zest to the bowl.
10. Mix well with a wooden or silicone spoon to form a firm but pliable cookie dough.
11. To shape Kourabiedes, roll a tablespoon of dough into a ball in the palm of your hand.
12. With your fingertips gently roll that into a log shape.
13. Place your index finger in the middle of the log.
14. Cup your palm to shape the dough into a crescent.
15. Place the crescent on the prepared tray and flatten it slightly with your fingertips.
16. Repeat with the remaining dough and shape 46 Kourabiedes cookies. Place cookies 5cm apart on the baking trays.
17. Bake Kourabiedes cookies and cool them on a wire rack.
18. Dust cookies generously with icing sugar.
✅ Expert Tips For Perfect Kourabiedes
Make sure your butter and eggs are at room temperature.
Always sift your flour and icing sugar for the perfect Kourabiedes texture.
The Kourabiedes dough should be the consistency of playdough - firm but pliable. It shouldn't feel very squishy and buttery. If it does, place the dough in the fridge for 5-10 minutes to firm up. Don't leave it in there for too long as it will then start crumbling while shaping.
You can shape these Kourabiedes as crescents or round balls. When shaping as crescents, make sure you flatten them slightly on the tray. when shaping as round balls, flatten the base of the Kourabiedes in your palm before placing on trays.
When you process the almonds, make sure they are not too coarse with big pieces of almonds. The consistency should be even and that of coarse breadcrumbs.
Always place Kourabiedes at least 5cm apart on the baking tray. The cookies expand while baking and if they are too close together, they will melt into each other.
🙋 Recipe FAQs
Are Kourabiedes and Vanillekipferl the same?
Both Kourabiedes and Vanillekipferl are Christmas cookies and are often both crescent-shaped. But that is where the similarity ends. Kourabiedes are Greek almond cookies punctuated by the use of citrus, spice and egg. Vanillekipferl are Austrian or German cookies made without egg and punctuated by their robust vanilla flavour.
What does Kourabiedes mean?
Kourabiedes (singular kourabies) originated from Turkey, where they are called kurabiye. In Turkish, the word is from the root "kuru" (dry), and "biye" (biscuit). It is a rounded butter cookie with pieces of almond inside, the entire outside covered in powdered sugar.
How do you pronounce Kourabiedes?
They are pronounced kou-rah-bee-EH-thez.
Why are Kourabiedes crescent-shaped?
Legend has it that during the Turkish occupation of Greece, all Kourabiedes had to be made crescent-shaped in honour of the Turkish flag. And that tradition has carried on.
🍪 More Cookies You'll Love
Recipe
Hungry For More Recipes? Subscribe to my newsletter. Check out Facebook, Instagram and Pinterest to see everything I share! And if you love cooking and new cookbooks, join my free Cooking Club on Facebook!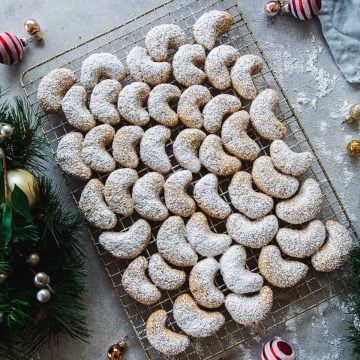 KOURABIEDES - GREEK ALMOND CRESCENT COOKIES
Kourabiedes are Greek Almond Crescent Cookies. Nutty and fragrant, crescent shaped biscuits infused with orange zest and cinnamon. Delicious tea-time treats and perfect Christmas cookies for your Holiday Cookie Box.
Print Recipe
Rate / Comment
Ingredients
200

g

butter

,

softened

125

g

(

1

cups

)

icing sugar

,

sifted

1

teaspoon

finely grated orange zest

1

egg

1

egg yolk

2

tablespoons

brandy

375

g

(

3

cups

)

plain flour

,

sifted

1

teaspoons

baking powder

1

teaspoon

ground cinnamon

155

g

(

1

cups

)

almonds

,

toasted
Instructions
Preheat oven to 160°C (315°F). Line 2 large baking trays with non-stick baking paper.

Add butter and sugar to the bowl of an electric mixer. Beat on medium speed for 3-4 minutes until pale and creamy.

Add egg and egg yolk. Beat for another 2 minutes until fluffy.

Add brandy to the bowl over the egg-butter-sugar mixture.

Add plain flour, baking powder, ground cinnamon, orange zest and ground almonds. Mix thoroughly with a wooden or silicone spoon until it forms a soft and pliable cookie dough. Set aside for 5-10 minutes in a cool spot to firm up.

Take a tablespoon of the cookie dough in the palm of your hands and roll it into a ball.

Using your fingertips, gently roll the ball shape into a log. Place your index finger in the middle of the log while cupping your palm to form a crescent shape.

Place the crescent shaped cookie on the prepared tray and flatten gently with your fingertips.

Repeat with the remaining cookie dough to form approximately 46 Kourabiedes cookies. Place cookies at least 5cm apart.

Bake in the pre-heated oven for 18 minutes until golden, one tray at a time. Remove from the oven and transfer the cookies onto a wire rack to cool for 10 minutes. While still warm, dust heavily with icing sugar. When cooled completely, store in an air tight container. Will keep well in a cool corner of your kitchen for a week or longer in the fridge.
Notes
Flour and sugar - Use plain or all-purpose flour. Make sure to sift both your flour and icing sugar for the perfect Kourabiedes texture.
Eggs and butter - Both should be at room temperature.
Orange zest - This adds a wonderful flavour. If you'd like to skip it, you can spray orange blossom water or rosewater over the baked cookies before dusting with icing sugar.
Cinnamon - Cinnamon adds a very festive aroma and taste to the Kourabiedes. Can be substituted with vanilla in the same quantity.
Brandy - This can be substituted with Greek ouzo.
Almonds - Use whole almonds and toast them on very low heat for 5-6 minutes until they are a shade darker. Process them to a coarse breadcrumb consistency (or coarse almond meal). You can blanch almonds to remove the skin before toating them if you like.  Can be substituted with almond meal but the result won't be the same. 
Nutrition
Calories:
83
kcal
|
Carbohydrates:
10
g
|
Protein:
2
g
|
Fat:
5
g
|
Saturated Fat:
2
g
|
Polyunsaturated Fat:
1
g
|
Monounsaturated Fat:
2
g
|
Trans Fat:
0.1
g
|
Cholesterol:
14
mg
|
Sodium:
38
mg
|
Potassium:
35
mg
|
Fiber:
1
g
|
Sugar:
0.2
g
|
Vitamin A:
115
IU
|
Vitamin C:
0.1
mg
|
Calcium:
18
mg
|
Iron:
1
mg
Did you make my recipe?
I'd love to hear how you went! Tag me on Instagram @cookrepublic