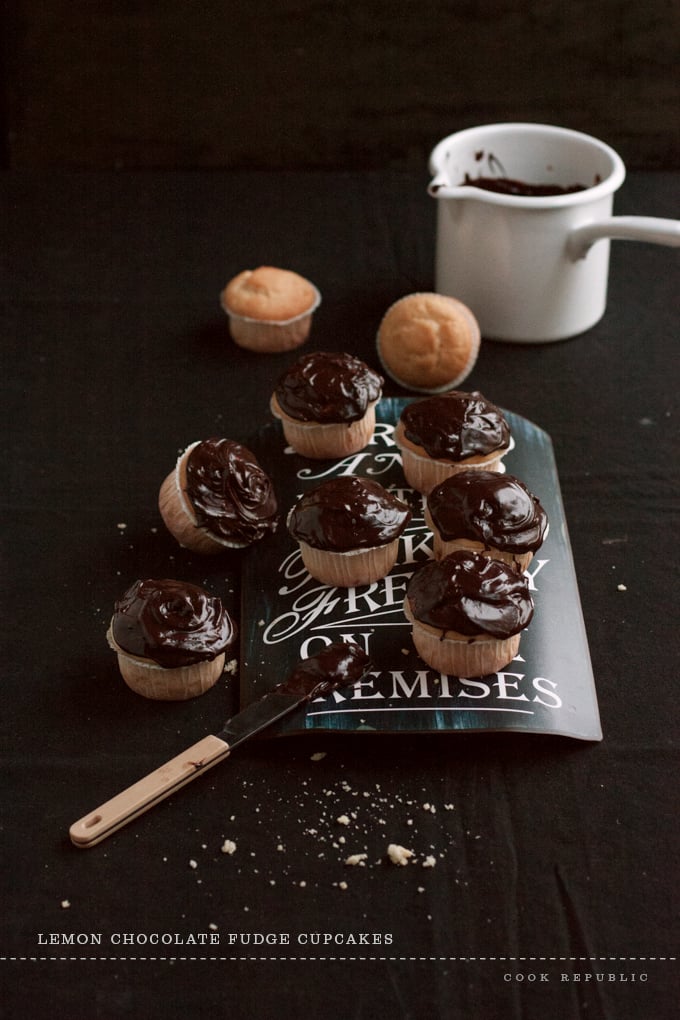 Every morning when I wake up, one of the first things I do is to check whether my site is accessible and not abducted by aliens. It has become second nature, a habit. Something that I have been doing for seven years as of yesterday. Did you see how I slipped that in? My seven year blogging milestone? I bet you did, you smart cookie! Nothing ever gets past you, does it?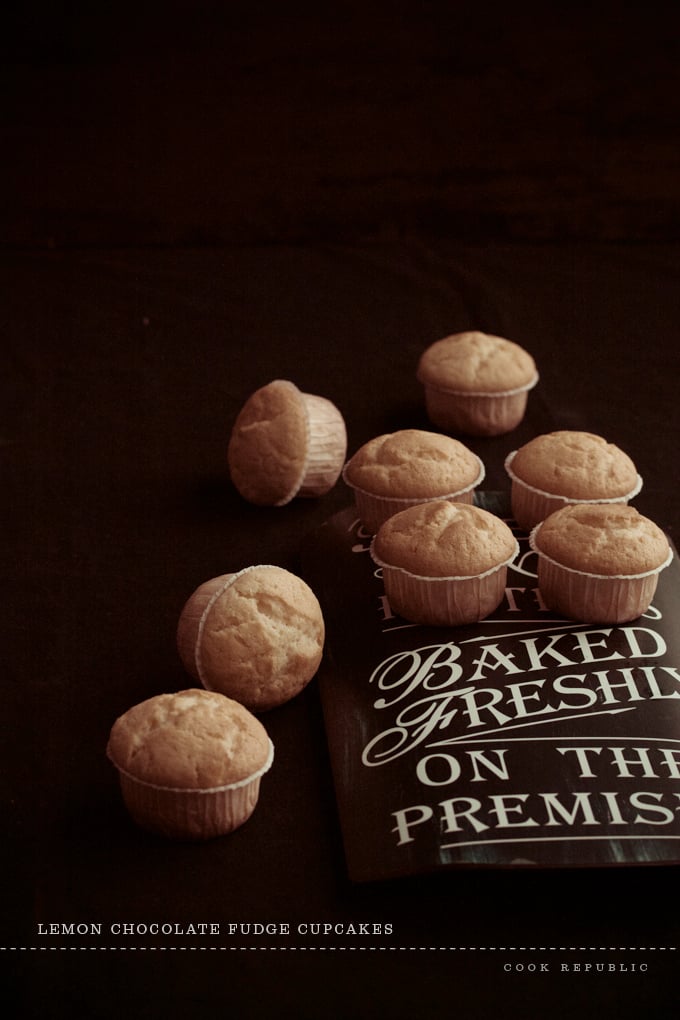 It only seemed like yesterday when I wrote about six years of blogging. Now with one more year behind me, it is probably the second longest thing I have stuck with besides my marriage which gently nudged the twelve year milestone earlier this week. Just like last year, there is no fanfare but a quiet contentment. A little seed of a feeling that randomly blossoms and swells into a gigantic bubble of happiness with the knowledge that I have my blog, that I will never abandon it and that there will be no seven year itch. It is my place, a happy one.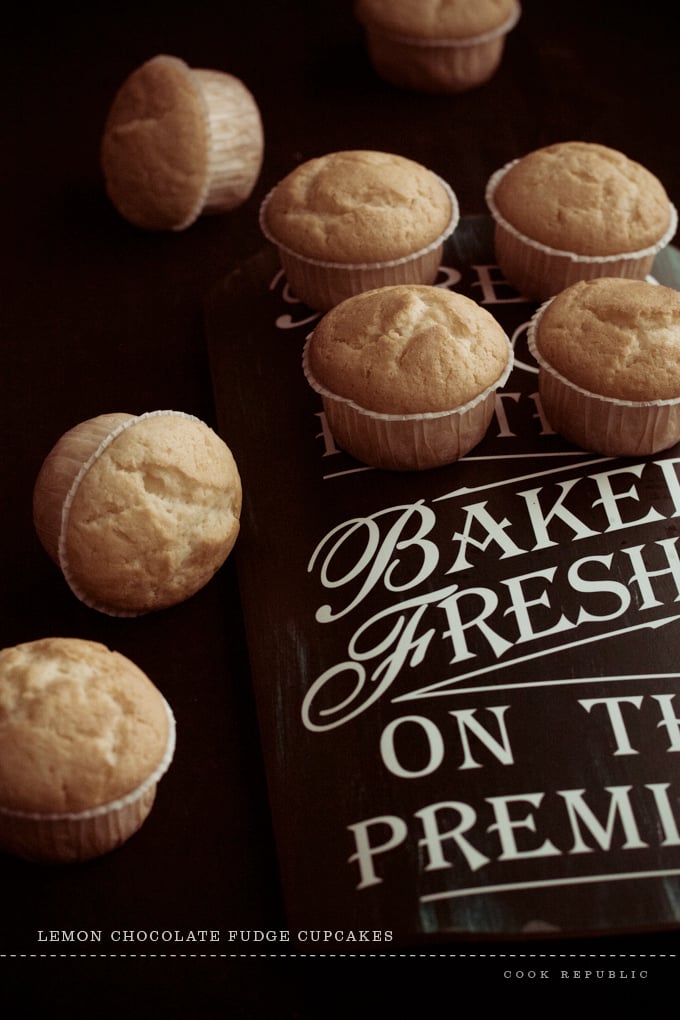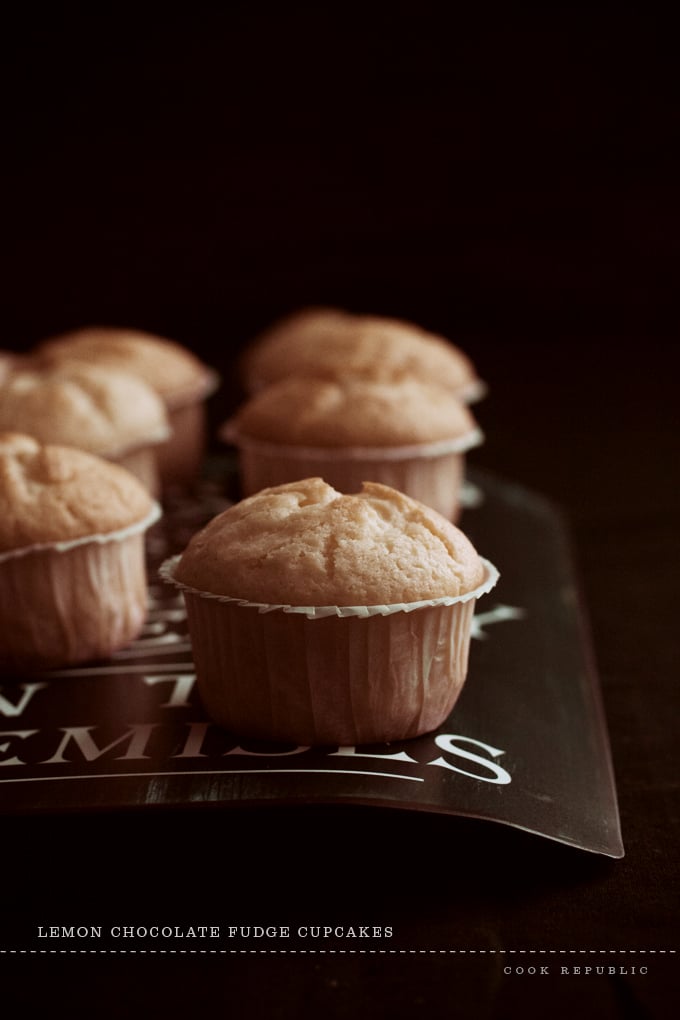 Last year was quieter compared to previous years because believe it or not, I have now finally found my centre, my core, my mojo. (Yes, it is absolutely possible to wander around in the blogging world for a good few years before hitting the sweet spot of your soul.) Now I cook, write, style and shoot. And that is all I do. It completes me. So I won't give you numbers and best of lists because although they are vital to the everyday running of the blog, they are not a factor in why I write here and interact with you - all you lovely people who take a few minutes or even more to be a part of this world I have created. I hope it makes your day better (even if it is a little bit), I hope you find some inspiration or learn something totally random, I hope you see the honesty and the heart in my writing and my photos. Thank you for being there!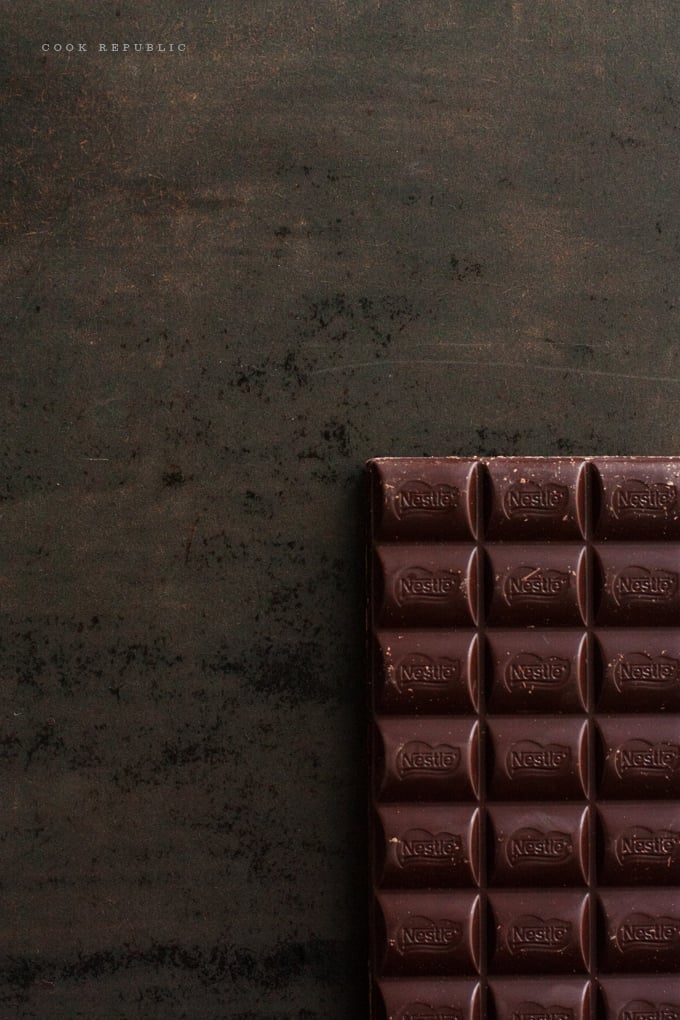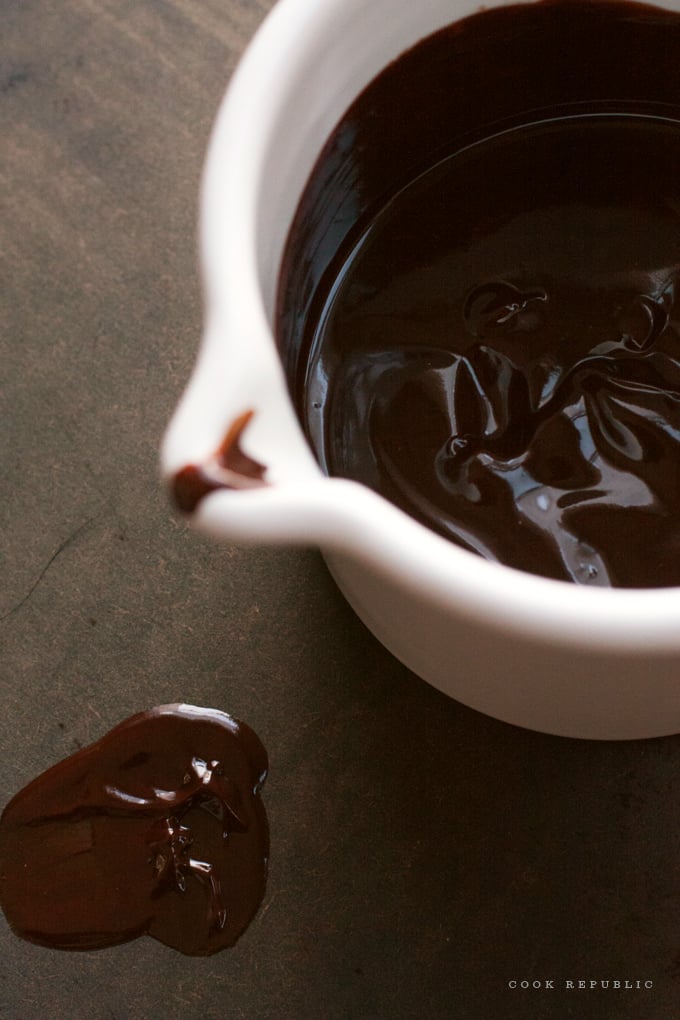 On this day, I wish I had a cake with seven candles. Although the mere thought feels a bit over the top, I would do it if I had the time. (Because hey, baking a cake for an inanimate thing or wearing leopard print pants (guilty!) is something you must do at least once in this short life.) Instead I made some cupcakes that were shot in the dying light and never saw the morning sun. I hope you make them, because they are really good and even if we don't have a candlelit soiree and talk about food and photography and props, I will feel like you were there munching away on these Lemon Chocolate Fudge Cupcakes.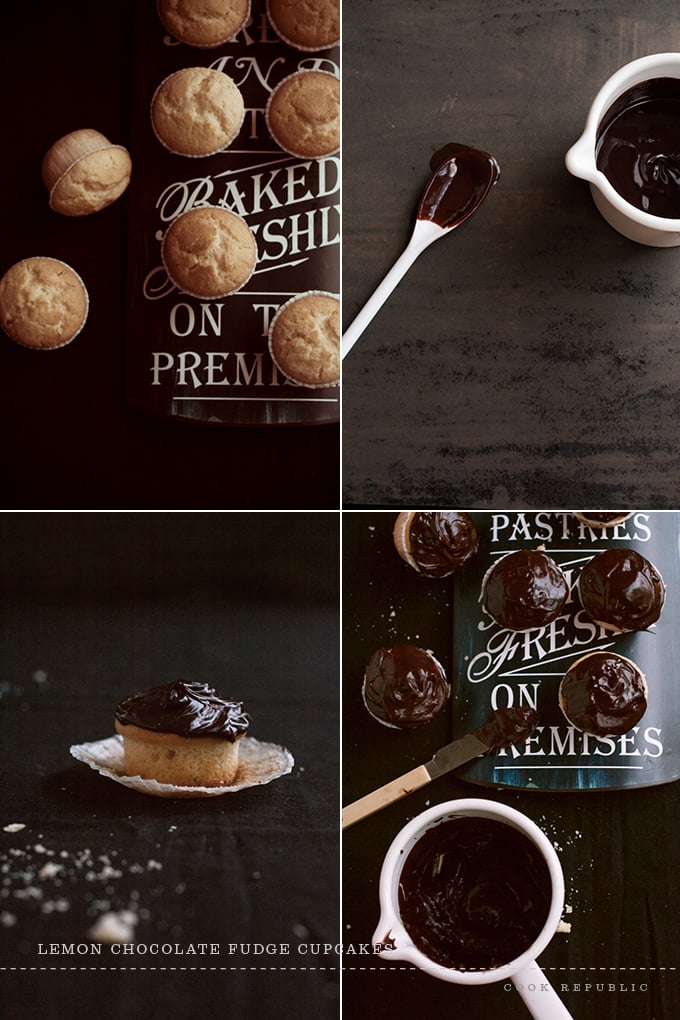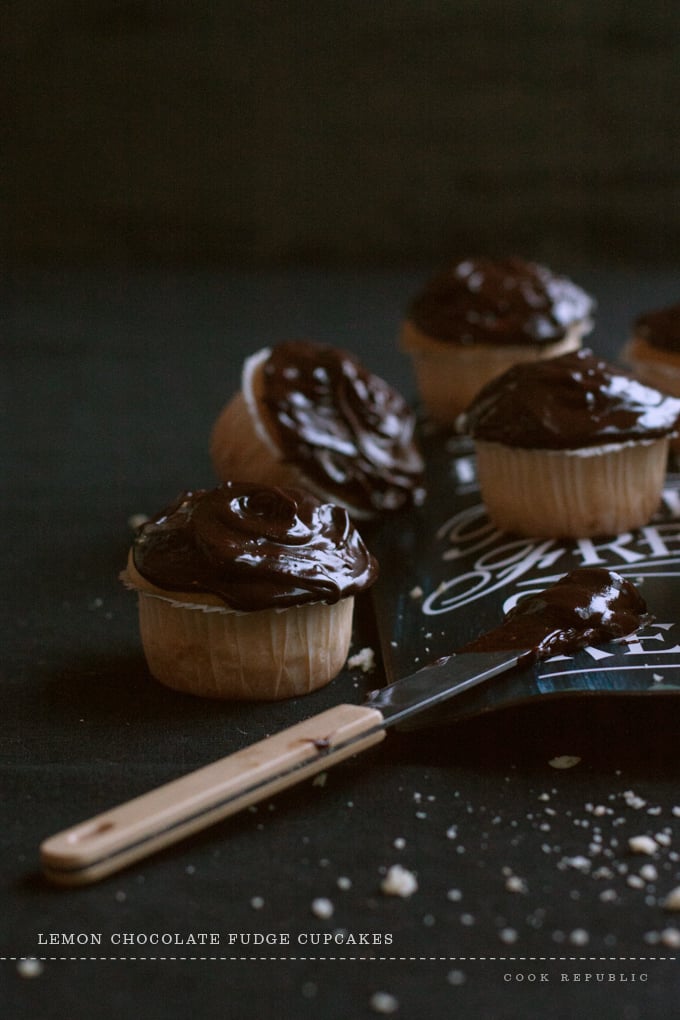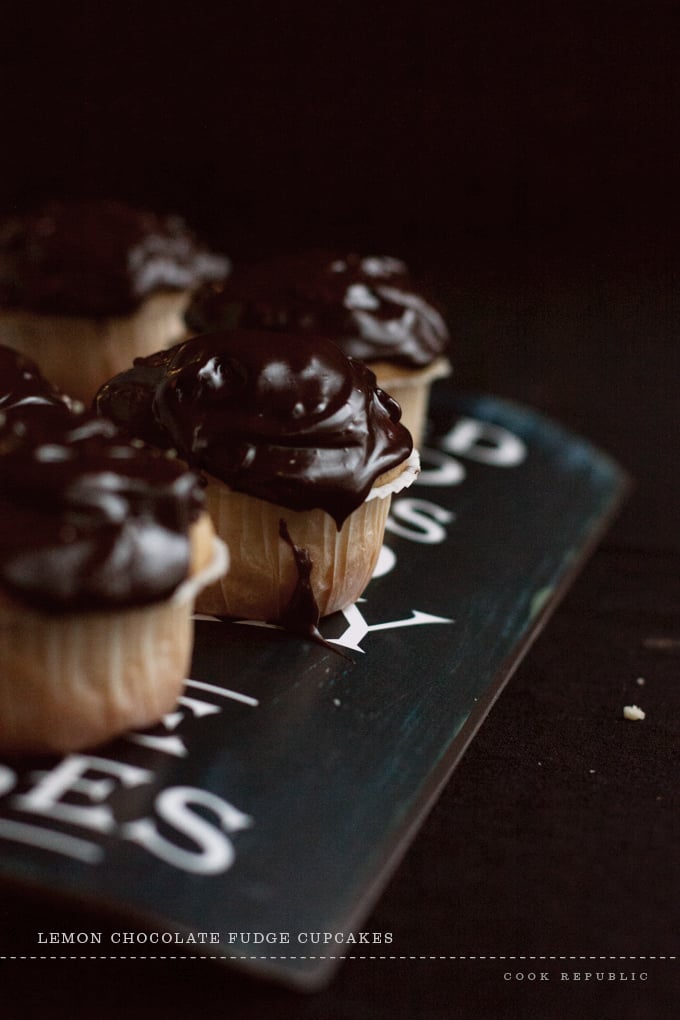 [print_this]
LEMON CHOCOLATE FUDGE CUPCAKES
Moist but incredibly light lemon cupcakes with a delectable dark chocolate fudge frosting are perfect to celebrate a special ocassion.
Makes - 12
Ingredients
for cupcakes
3/4 cup (180ml/6 fl oz) rice bran oil
2 eggs
grated rind of 1 lemon
juice of 1 lemon
3/4 cup (195g/ 6oz) smooth ricotta
1 cup (220g/7oz) caster sugar
2 (300g/ 9 1/2 oz) cups self raising flour
1/2 teaspoon baking powder

for fudge frosting
250g (8oz) dark couverture chocolate
1/2 cup (125ml/4 fl oz) pouring cream
70g (2 1/2 oz) butter
Method
to make the cupcakes
Preheat oven to 180C (350F). Line a 12 hole large muffin pan with cupcake liners.
Combine oil, eggs, lemon juice, lemon rind and caster sugar in a large bowl. Beat with an electric mixer until pale and creamy for a few minutes. Add ricotta, flour and baking powder. Beat until well combined and smooth.
Spoon batter into each cupcake liner until 2/3rds full. Bake in pre-heated oven for 18 to 20 minutes until just cooked and golden on top. Remove from the oven and cool completely in the pan.
to make the frosting
Place chocolate, cream and butter in a heatproof bowl over a saucepan of simmering water. Stir until melted, smooth and glossy. Remove and set aside to cool completely. Beat with electric beaters until thick and fluffy. Spread over cool/chilled cupcakes.
[/print_this]