I've only ever had round coconut macaroons in my lifetime. Recently, while browsing Leila Lindholm's A Piece Of Cake, I came across a recipe for coconut pyramids. The picture showed golden brown tips of what looked like pyramid shaped cookies peeping over the rim of a green vintage biscuit tin lined with white paper doilies.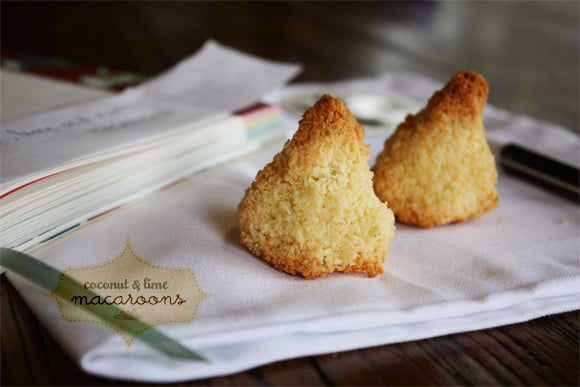 Scanning the ingredient list made me realize that it was actually a recipe for triangular coconut macaroons. It just had six ingredients which made me want to try it instantly as I am a sucker for recipes with a minimal ingredient list that look really simple. I didn't have Amaretto liqueur (almond flavoured liqueur) or rum which the recipe called for. I did have some Triple Sec (orange flavoured liqueuer), so I improvised. I thought that the orange liquer would work well with the citrussy lime zest. The second time around that I baked these in little over a week, I made sure I had rum. I found the version with triple sec to be more delightful.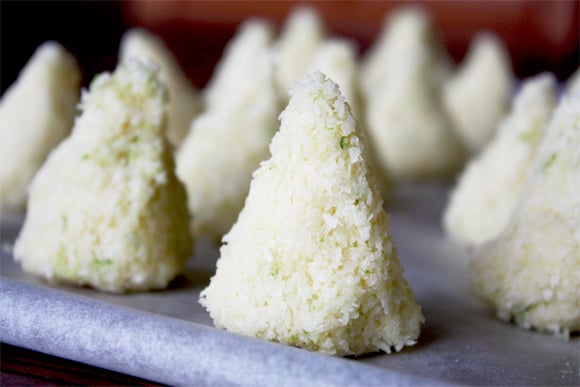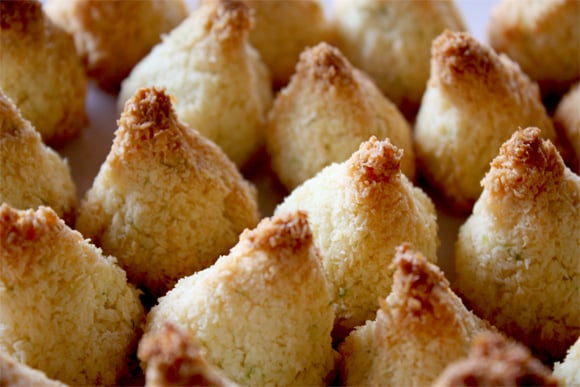 These coconut macaroons are delicate little cookies that require a minimal amount of fuss to bake and are chewy with just the right amount of sweetness. The original recipe had a suggestion where the author said to dip the baked macaroons in chocolate and leave to set on a wire rack or in paper cases. I might try that next time, dipping the tips of these little pyramids in dark chocolate.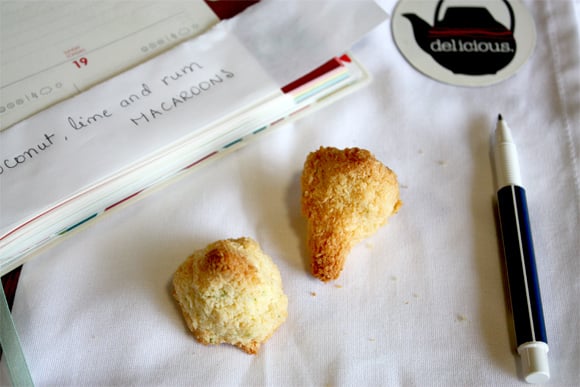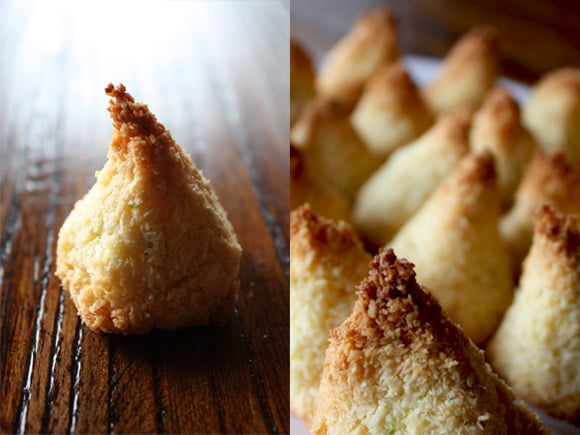 [print_this]
COCONUT LIME AND LIQUEUR MACAROONS
Preparation Time – 10 minutes | Baking Time – 20 minutes | Makes 16
Ingredients
50g unsalted butter
2 organic eggs
90g caster sugar
250g dessicated coconut
zest of 1 lime
1 tablespoon triple sec
Method
Preheat the oven to 175°C.
Melt the butter and mix it with the other ingredients
Let the mixture swell for around 10 minutes.
Shape the mixture into pyramids on a baking sheet lined with baking paper.
Bake in the centre of the oven for about 20 minutes until the tops are golden and evenly browned.
Note
All ovens are different. The outcome of baking also depends on the season and the temperature of your kitchen. I find that keeping an eye on your baking is a good idea to get a feel of your oven and how it bakes so you can easily adjust the temperature and timing to suit your equipment.
[/print_this]