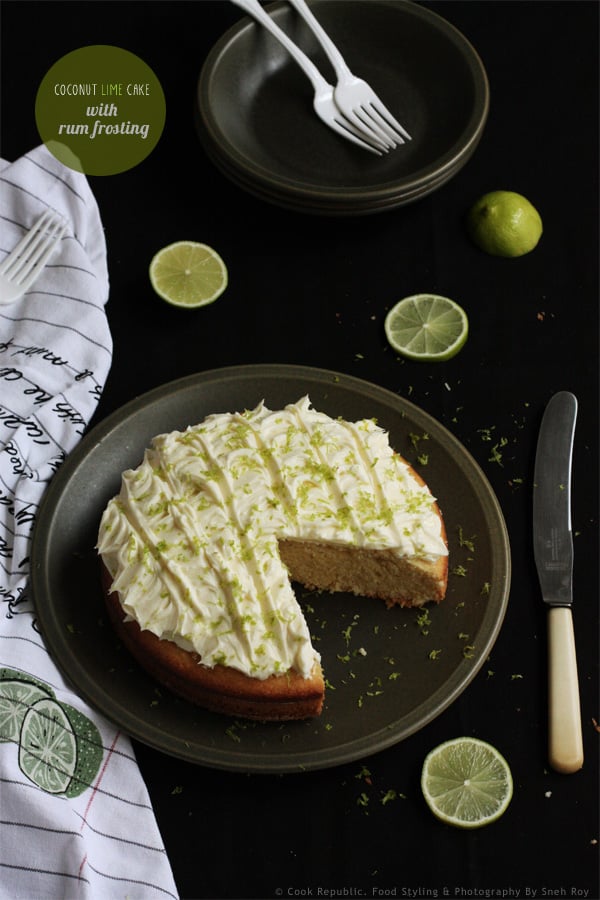 I am not an icing person. That much you know about me. I deliberately seek out
cakes that eliminate
the need for icing
or frosting
of any kind
. Cakes that are robust in their flavour and delicate in their aroma. Cakes that shine without a layer of sugar on top. Cakes that are fun to play with, concoting and marrying complimenting flavours as you whisk them gently like a potion mistress plotting her next spell. This is one such cake.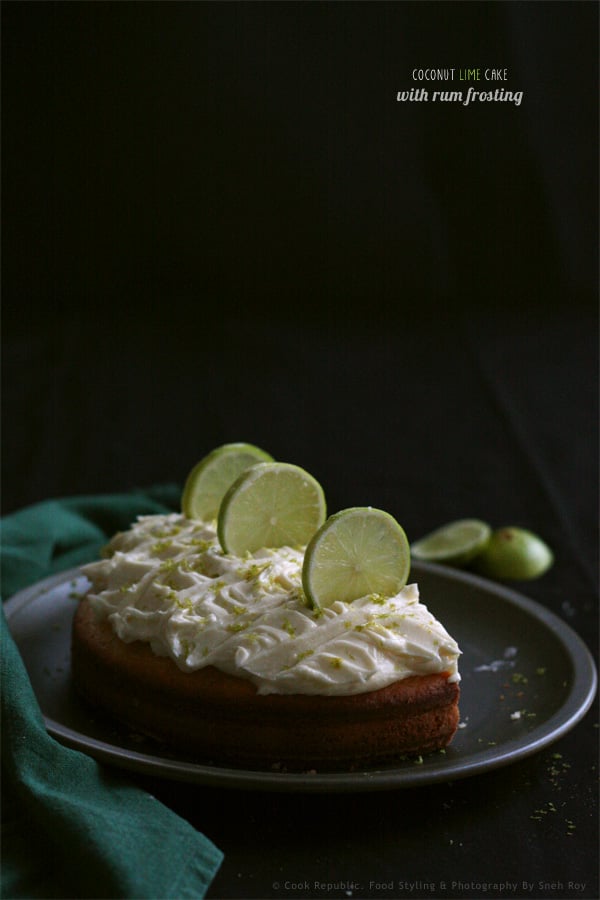 I first came across this cake in the beautiful new cookbook,
Under The Walnut Tree
. Tucked away under the Coconut section of the book, this cake simply said Coconut Cake For Susanne. Skimming through the recipe, I quickly came to the conclusion that Susanne, whoever she was; was a very lucky lady for someone to be baking her a treat so sweet.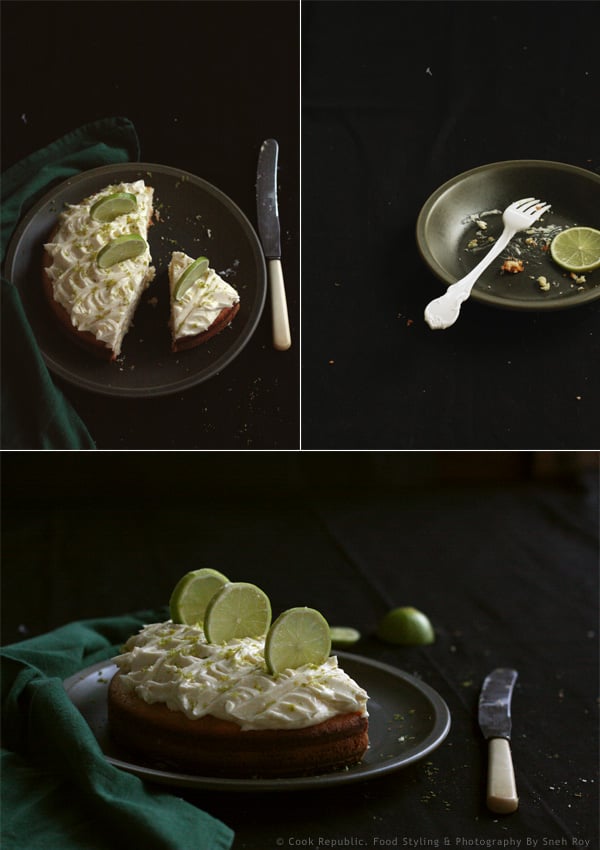 Everything about the cake from the coconut to the lime, screamed Tropical! When the word tropical goes through my mind, I think rum, pineapple, frangipani. In that exact order. The mind is a funny thing. It has the uncanny ability of dredging up memories or bringing up totally wild associations. My mind does that. So I decided to make a more grown up cake, a boozy one that paired rum with all the tropical flavours that were already present. And this cake would have a rum frosting, I decided. I love this frosting because it has a cream cheese base and really scrimps on sugar. Just the way I like it. Plus it is kind to a novice froster like me. There are only so many frosting swirls I can attempt without spraining my wrist and making my cake look pretty.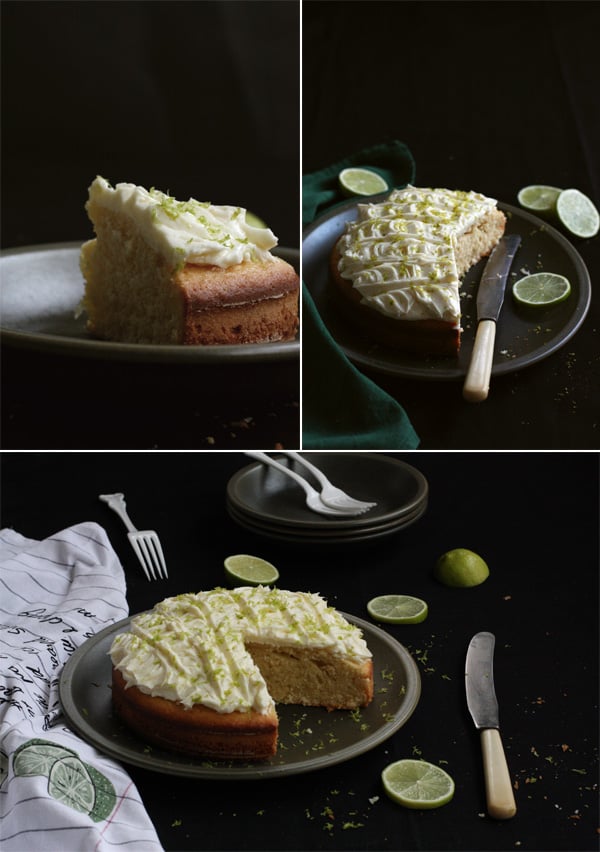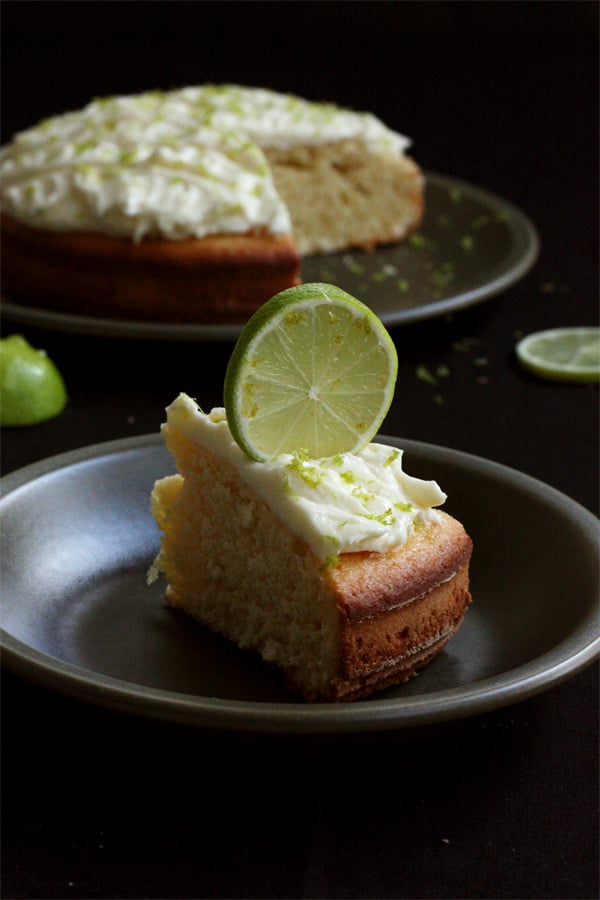 [print_this]
COCONUT LIME CAKE WITH RUM FROSTING
Preparation Time - 15 minutes
Baking Time - 40 minutes
Serves - 8
Ingredients
for the cake
150g butter
1 large lime, zest grated and lime juiced
4 medium eggs
1 tablespoon white rum
150g caster sugar
1 teaspoon vanilla extract
120g desiccated coconut
140g plain flour
1 teaspoon baking powder
for the icing
200g cream cheese
5 tablespoons pure icing sugar, sifted or crushed in a processor
juice of 1 lime
2 tablespoons white rum
grated zest of 1 lime, to decorate
few thin lime slices, to decorate
Method
to make the cake
Preheat oven to 180C. Melt butter in a small saucepan over low heat. Use a teaspoon of melted butter to grease a 20cm round springform cake pan. Dust and coat the insides with flour. Set aside.
Whisk the eggs, sugar, rum and vanilla until fluffy. Stir in the lime juice, lime zest, coconut and butter. Add the flour and baking powder, mix gently. Pour mixture into the prepared tin. Bake for 40 minutes until golden. Remove from the oven and cool completely in the tin. Remove from tin, when cooled and transfer to the serving plate.
to make the icing
Combine all ingredients for icing in a bowl. Whisk with a hand blender for 4 to 5 minutes until mixed and smooth. Scoop all of the frosting on top of the cooled cake and swirl it evenly or unevenly in any pattern or fashion you wish. Make it your own. Grate lime zest on top of the frosting or scatter already grated lime zest on top. Garnish with lime slices.
My Notes
This is not a very sweet cake and is beautiful even without the icing. Omit the rum and you have a kid-friendly cake perfect for tea.
The iced cake must be refrigerated especially in warm weather as the frosting may start getting a tad runny.
After half the cake was eaten, I ended up adding another tablespoon of lime zest on top of the frosting of the remaining cake. The extra zest ups the wow factor of the cake.
The flavour of the rum intensifies as the cake ages and is absolutely amazing eaten when it becomes a day or two old.
**Gluten Free Version Update**
I baked this again to take to a friend's BBQ. I made a gluten free version by omitting the flour in the recipe with 120g almond meal and adding 1 tablespoon plain yogurt to the batter before mixing. This version was even more beautiful and tasted luscious and moist like a French teacake. If you make this recipe, do try the gluten-free version. I highly recommend it.
[/print_this]
Note : Under The Walnut Tree by Anna Bergenstrom & Fanny Bergenstrom is published by Hardie Grant. A review copy of the cookbook was kindly sent to Cook Republic by Hardie Grant.