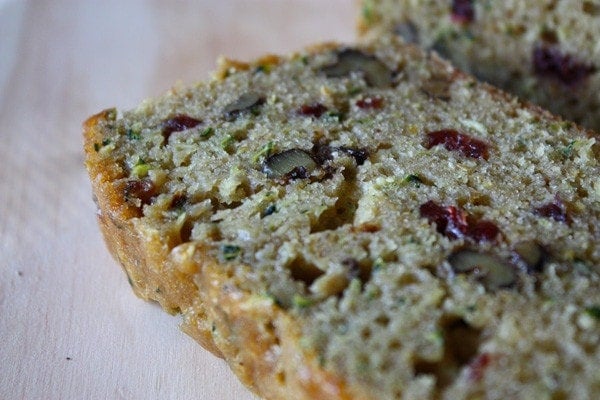 Savoury breads are the new quiche! proclaims an acclaimed food magazine this month as Australia heads into autumn. But this trend is not just limited to our shores, the magazine further explains. Cafes and delis across Europe and the United States are replacing the highly overused quiche with sensational savoury breads that are packed with fruits, nuts and vegetables and baked to a rustic, brown perfection. These breads make excellent brunch ideas and are essentially like tapas, served with an array of cheese, cold meat cuts and salad. I have baked a gorgeous pistachio and raspberry cake in the past and taking inspiration from that recipe and a recipe that appears in Delicious magazine this month, I baked this beautiful loaf studded with tiny red craisins and flecks of green zucchini. It was very moist [I used Baker's flour instead of plain flour this time] and I found that it was quite sweet. So next time I might go easy on the sugar [maybe eliminate the caster sugar completely and slightly increase the quantity of brown sugar?]. Apart from the sweetness issue, this bread was easily the most delicious [yeast-free] bread I have ever tasted.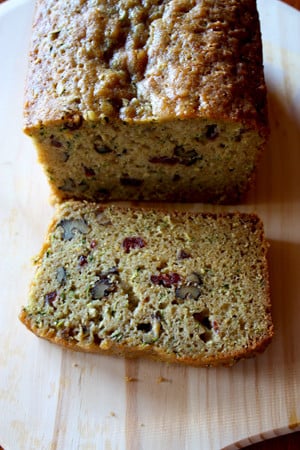 [print_this]
Cranberry, Zucchini & Walnut Bread
[Preparation Time : 20 minutes/ Baking Time : 1 hour/ Serves : 8]
Ingredients
2 large zucchinis, grated
¾ cup walnuts, toasted and coarsely chopped
½ cup dried cranberries
2 2/3 cups plain flour
1 1/3 cups caster sugar
½ cup firmly packed brown sugar
200ml olive oil
3 eggs, beaten
1 tsp bicarbonate of soda
½ tsp baking powder
1 tsp ground cinnamon
¼ tsp mixed spice
2 tsp vanilla extract
a pinch of salt
Method
Preheat oven to 150oC. Grease and line a 2-liter loaf pan. Sift flour, soda, baking powder, spices and salt into a large bowl. Stir in sugars, then add egg, oil, vanilla, zucchini, nuts and cranberries. Stir with a wooden spoon, until well combined. Spread into the prepared pan.
Bake in the oven for 1¼ hours or until a skewer comes out clean. Cool slightly in the pan before turning onto a wire rack to cool completely. Slice and serve with soft cheese and proscuitto.
[/print_this]