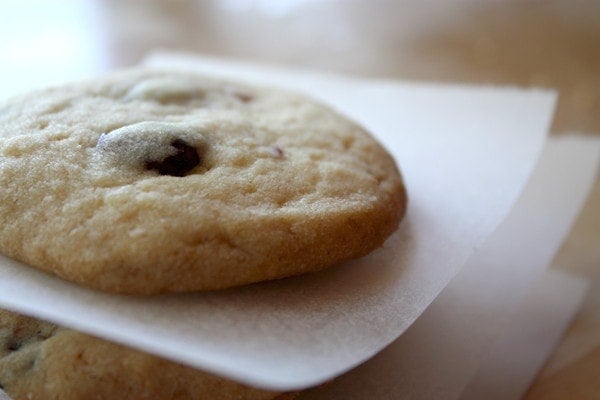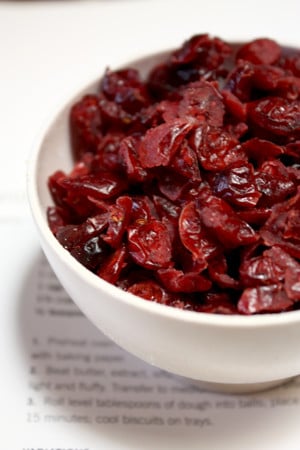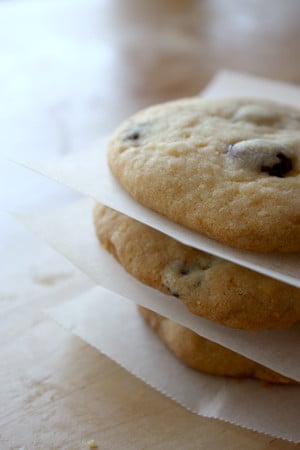 I baked a batch of these simple biscuits last week to replenish my dwindling cookie supply. They were meant to be chewy cookies but I was preoccupied and left out the egg in the recipe. It turned out to be a good thing. The omission of egg actually made these biscuits crunchy and they lasted longer without going soggy. The craisins looked beautiful and the coconut added a lovely texture to the biscuits. Chilling is a must as there is virtually nothing binding the dough together other than the butter and maybe a wee bit of cornstarch present in the icing sugar.
[print_this]
Craisin & Coconut Biscuits
[Preparation Time: 10 mins/Chilling Time: 30 minutes/Baking Time: 15 minutes/Makes 30]
Ingredients
200g butter, softened
½ tsp vanilla extract
1 cup icing sugar, sifted
1 ¾ cups plain flour, sifted
½ tsp bicarbonate of soda
½ cup craisins [dried cranberries]
½ cup dessicated coconut a pinch of salt
Method
Preheat oven to moderately slow 170oC. Grease cookie sheet and line with baking paper.
Beat butter, extract and icing sugar in a small bowl with electric mixer until light and fluffy. Add the craisins and coconut. Mix gently. Stir in the sifted flour, soda and salt.
Chill in the refrigerator for 30 minutes. Roll level tablespoons of the chilled dough into balls; place on the cookie sheet 3 cms apart. Bake for about 15 minutes. Cool biscuits on a wire rack and store in an air-tight container for upto 3 weeks.
[/print_this]