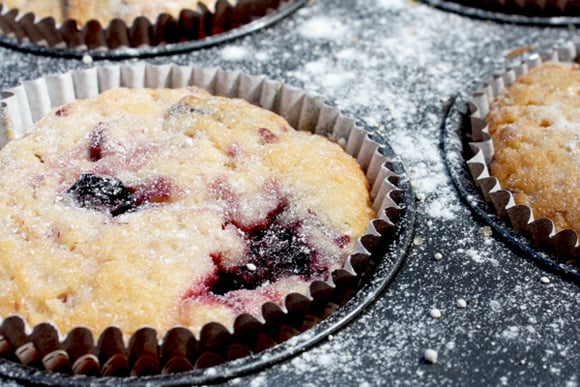 The weather is truly glorious here in Sydney and the bite in the air is becoming more prominent everyday as we head deeper into Autumn. I continue my tryst with the Bourke Street Bakery Cookbook. This time around I am gunning for their bestselling dark chocolate and raspberry muffins. With my heart set on this interesting recipe, I am a bit dejected to discover that I don't actually have any of the fresh raspberries left, nor do I have any frozen ones. I do unearth a large frozen pack of mixed berries. That should tie in nicely with the recipe.
The recipe is straightforward and says that there would be 12 muffins at the end. These muffins being for a bakery, I assume are huge and quite tall. To control portions and make it easier for my boys to enjoy the muffins, I make them the size of regular cupcakes, which results in almost 24 gorgeous muffins oozing dark chocolate and berry juice in delicious pockets of baked goodness.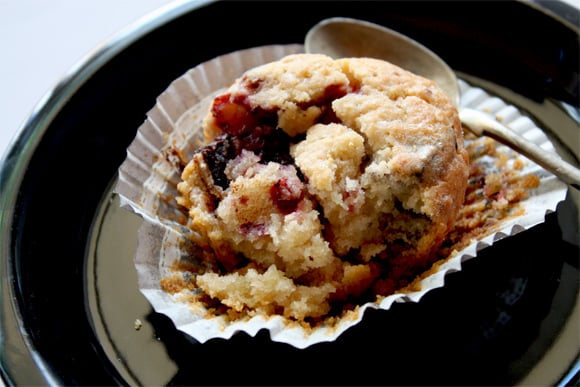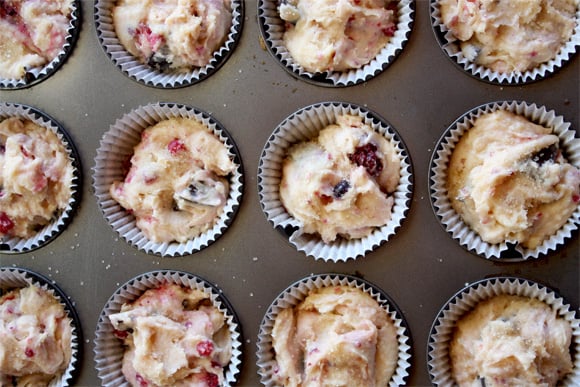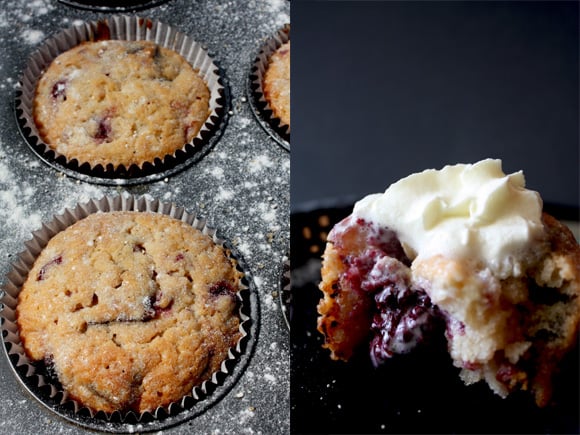 [print_this]
recipe
DARK CHOCOLATE AND MIXED BERRY MUFFINS
Preparation Time : 25 minutes | Baking Time : 35 minutes | Makes 24
Ingredients
2 1/2 cups plain flour
2 teaspoons baking powder
300g caster sugar
300g unsalted butter
480ml buttermilk
3 eggs
250g dark chocolate, roughly chopped [I used Lindt 70% Cocoa bars]
250g frozen mixed berries
1/4 cup raw sugar
icing sugar for dusting
Method
Preheat the oven to 190 degree C (375 degreee F). Lightly grease 2 large 12-hole muffin tins and line with paper cases.
Sift the flour and baking powder together in a large bowl. Add sugar and mix well to combine.
Melt butter in a saucepan over low heat, remove from heat and stir in the buttermilk. Using a whisk, stir in the eggs. Pour over the dry ingredients and whisk to combine. The batter will be lumpy at this stage and this is exactly how you want it to be. Use a large spoon to gently fold in the chocolate shards and mixed berries.
Spoon the mixture into the prepared muffin holes. Sprinkle the tops with raw sugar. Reduce oven temperature to 180 degree C (350 degree F) and bake for 30 minutes. If the muffins start browning, reduce the temperature slightly and continue baking till done. Remove when done and cool in the tins for about 10 minutes. Dust with icing sugar and enjoy, fresh and warm.
[/print_this]