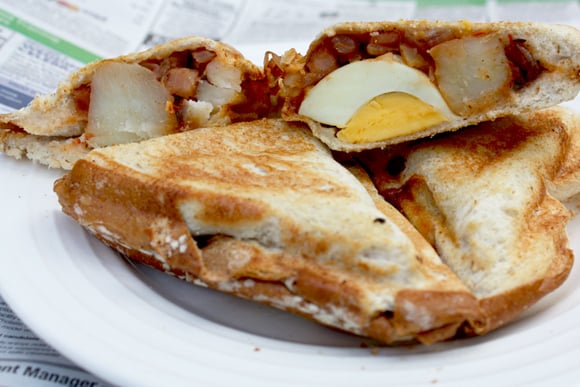 I did a hearty and warm salad for dinner last night. No pasta and no rice, I thought to myself. I whipped up a hot pot of pumpkin and potato soup. Drawing inspiration from a Lyonnaise salad that I make quite often, I decided to make a warm version of it with some meat. I had a pack of bacon bits conveniently sitting in the fridge [everytime I write fridge, I am tempted to hit backspace and change it to refrigerator simply because I feel very guilty about butchering such a proper little word. But today I am going to stick to my guns!]. We all enjoyed the warm salad and it was very more-ish indeed on that chilly evening along with a hot cup of coup.
The next day with plenty of salad leftover, I got my 4-sandwich capacity, grilled sandwich maker out and grilled the salad with some chili sauce. It was a surprisingly delicious meal and was oddly comforting too. Earlier that day I had bought the first issue of the MasterChef Australia magazine and I had an extremely lazy and rlaxing lunch sifting through the pages.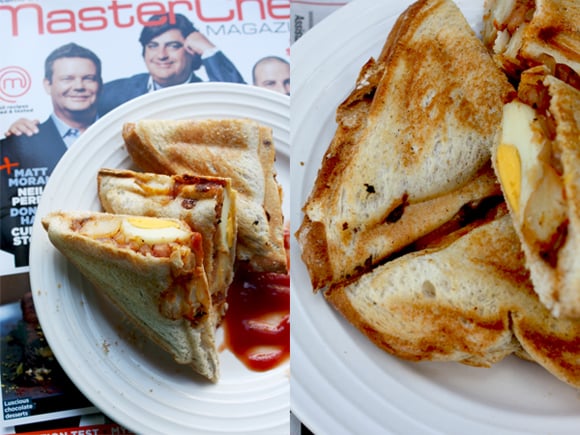 [print_this]
recipe
POTATO BACON EGG GRILL SANDWICH
Preparation Time : 30 minutes | Cooking Time : 30 minutes | Serves a hungry lot of 4
Ingredients
5 large washed potatoes, boiled, peeled and chopped
4 eggs, boiled, shelled and sliced in half
1 cup of diced bacon bits
2 spanish onions, sliced fine
2-3 garlic cloves, finely chopped
1 tablespoon herbs of your choice [I used fresh thyme and oregano]
salt to taste
freshly ground black pepper
2 tablespoons passata
1 tablespoon virgin olive oil
Method
To Make The Salad
Heat oil in a large shallow pan. Fry garlic and onion on medium heat for a minute or two till fragrant and translucent. Add the bacon. Cook for another 2 minutes. Add the potato, increase heat and stir-fry for 2 minutes, browning the potatoes slightly.
Remove from heat, sprinkle with herbs and seasonings. Stir through the passata. Serve warm.
To Make The Sandwiches
With cold leftover salad, heat and grease a sandwich maker/sandwich press/jaffle iron. Place a slice of toast on the hot surface. Heap 1-2 tablespoons of the leftover salad, squeeze some chili sauce over it and top it with another slice of bread. Press the sandwich down. Enjoy hot of the grill!

[/print_this]