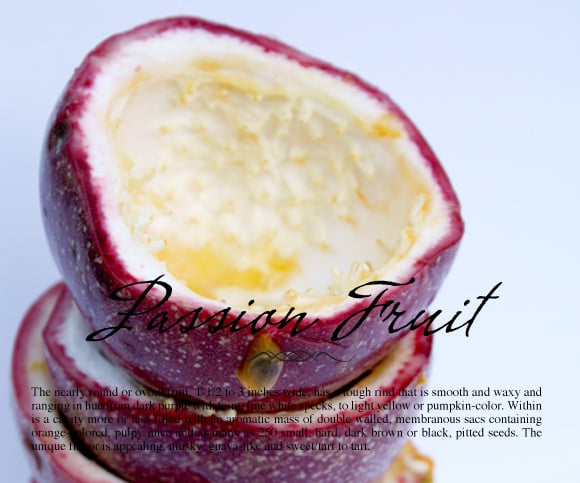 For the first 29 years of my life I had only heard about the passionfruit. It was not until a few years ago that I had a taste of my first passionfruit. I was instantly hooked. It reminded me a lot of the Indian guava in its taste and texture with the crunchy and edible seeds bringing out the sweetness of the fleshy pulp. My first taste of passionfruit was in the form of a dessert sauce. Then last year when my co-op produce basket coughed up a passionfruit, did I realize what a perfectly luxurious fruit it was.
Like a seasoned passionfruit consumer, I started buying them by the dozen, scooping up their sweet pulp in small containers and storing them in the refrigerator till I needed a topping or just a quick taste. Finally, after a few weeks of doing that, as the passionfruit season waned and they started becoming scarce, I decided to cook and create with them. It was still warm here in Sydney and I had been experimenting with all kinds of ice-creams. So I pulled up a recipe for passionfruit ice-cream and made it my own. The ice-cream was a delicious mix of sorbet and sweet churned cream flecked with the crunchy seeds I had so become addicted to. It was sweet and sour and citrusy and tangy and creamy all at once and it was one of the best desserts I had ever had.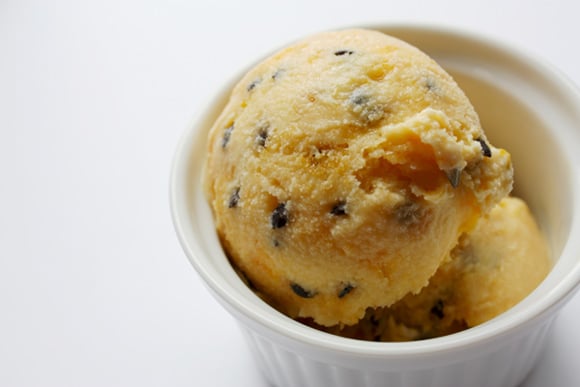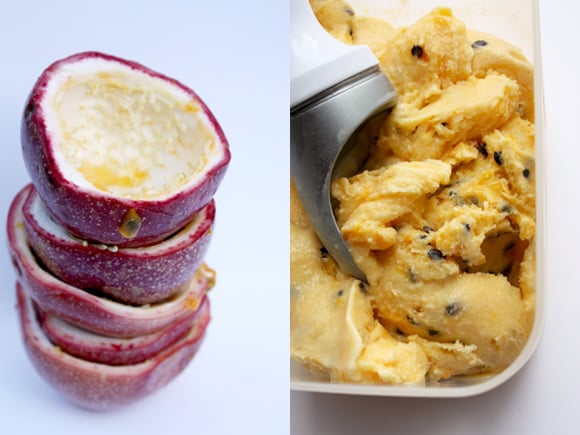 Hungry For More Recipes? Subscribe to my newsletter. Check out Facebook, Instagram and Pinterest to see everything I share! And if you love cooking and new cookbooks, join my free Cooking Club on Facebook!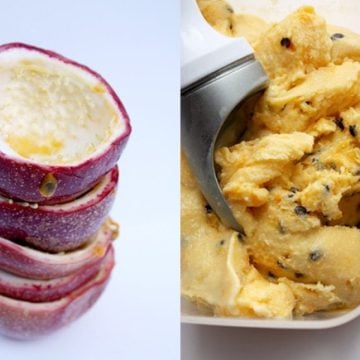 Ingredients
1/2

cup

milk

1 1/2

cups

pouring cream

3/4

cup

caster sugar

6

egg yolks

pulp of 8 passionfruit

extra passionfruit pulp to serve
Instructions
Put the milk, cream and sugar in a saucepan over medium heat. Cook for a few minutes, stirring constantly until the sugar has dissolved completely and the mixture is just about to boil. Remove from heat and set aside.

Whisk the egg yolks in a large bowl. Whisk in 1/4 cup of the hot milk mixture until smooth. Whisk in the remaining mixture then return to a clean saucepan and stir constantly over low to medium heat for approximately 8 minutes. The mixture will thicken and coat the back of the spoon. Remove from heat at this point, cool slightly, cover and refrigerate until cold.

Reserve 1/4 cup of the passionfruit pulp. Put the remainder in a small saucepan. Warm over medium heat for 1-2 minutes. Strain and set aside to cool. Fold the passionfruit juice and reserved passionfruit pulp through the custard mixture.

Transfer to an ice cream machine and freeze according to manufacturer's instructions. Alternatively, transfer to a shallow metal tray and freeze, whisking every couple of hours until creamy and frozen. Freeze overnight or a minimum of 6-8 hours. Soften in the fridge for 30 minutes before serving.

Serve drizzled with extra passionfruit pulp.
Notes
I use a Krups Ice Cream Maker which was gifted to me by my Mum and Dad. It is simple to use and works like a charm every single time.
Did you make my recipe?
I'd love to hear how you went! Tag me on Instagram @cookrepublic