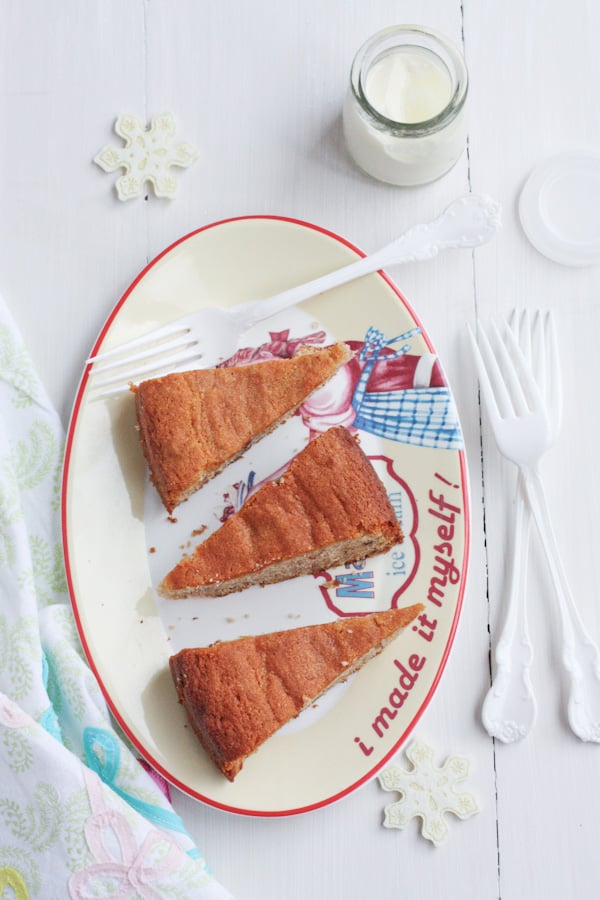 Christmas baking is all about sugar and spice that appeals to both naughty and nice. Okay, I agree. That was cheesy. Even for me. But I love sugar and spice with the fervour of usage increasing dramatically during the festive season. A dash of nutmeg, a sprinkle of cinnamon and a dusting of sugar as fine as snow. That is what smells like Christmas.
I find it wise and light to not indulge much in the weeks leading up to the silly season. Any cakes or cookies I bake are usually plain, unadorned and devoid of any kind of sugary icing. Icing is not a big deal in my house, especially with the kids who won't touch anything that is iced except if it is molten ganache made from the finest quality dark chocolate money can buy. Finicky little buggers, I tell you!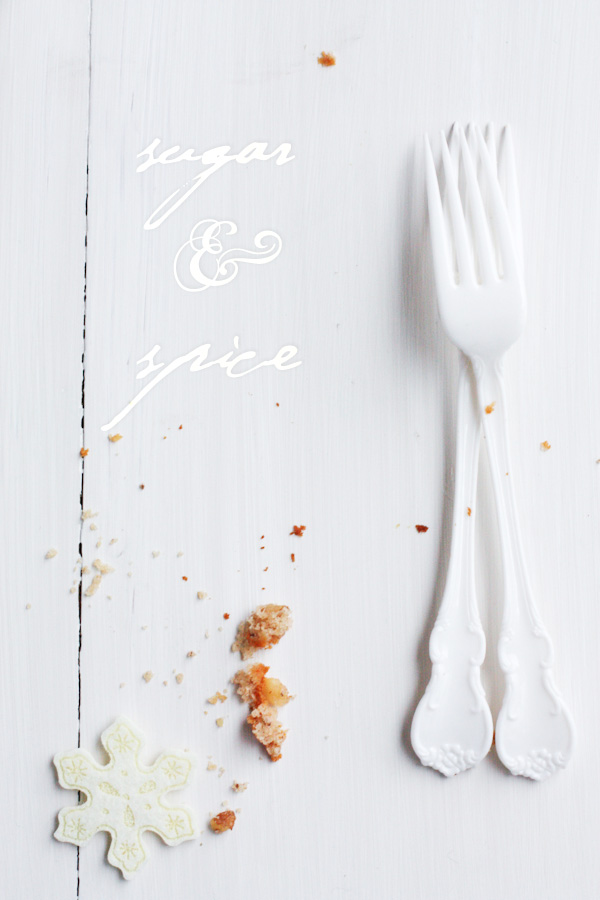 Staying true to the no frills pre-christmas baking mantra, I baked a cake from the High Tea At Victoria Room
cookbook
gifted to me by a friend for my birthday. I amped up the spice content and the whole house smelt like Christmas. In the recipe below, I am sharing the original honey syrup and cream cheese icing details as well, which I skipped in my plain cake. It is beautiful and sweet enough even without the trims.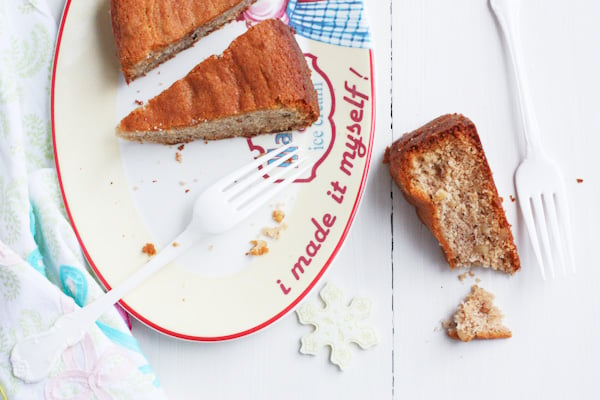 [print_this]
FESTIVE WALNUT BABUSHKA CAKE
Preparation Time - 15 minutes
Baking Time - 50 minutes
Serves - 10 to 12
Ingredients
180g butter, softened
180g (6oz/1cup) caster sugar
65ml (2 fl oz/ 1/4 cup) rice bran oil
100g (3 1/2oz/1cup) crushed walnuts
250g (8oz/2 cups) self-raising flour
65ml (2fl oz/ 1/4 cup) sour cream
1 tablespoon vanilla extract
2 tablespoons honey
1 teaspoon baking powder
1/2 teaspoon ground cloves
1/2 teaspoon ground nutmeg
1/4 teaspoon ground cinnamon
3 eggs
Syrup
1 tablespoon honey
juice of 1 lemon
Icing
200g (7oz/1cup) cream cheese
180g (6oz/1cup) icing sugar, sifted
juice of 1 lemon
Method
Preheat oven to 180C(350F). Grease and line a 20cm round springform tin with baking paper.
Beat together butter, sugar, cloves, nutmeg and cinnamon until light and fluffy. Add eggs, vanilla and oil. Stir in the honey and sour cream. Add the flour and baking powder. Whisk till smooth and free of lumps.
Fold through the crushed walnuts and spoon batter into the prepared tin.
Bake for 40 minutes at 180C(350F). Then reduce heat to 160C(310F) for a further 10 to 15 minutes and bake until a skewer inserted in the centre comes out clean. Remove from oven.
Mix together honey and lemon juice (for syrup). Pour over the top of the cake and leave to cool in the tin.
Beat together cream cheese, icing sugar and lemon juice (for icing). Spread over cooled cake.
Alternatively, skip the syrup and icing steps and enjoy cake warm from the oven.
[/print_this]
Source
High Tea At The Victoria Room - Jill Jones Evans & Joe Gambacorta
Before I go
The lucky winner of the beautiful Noritake Pasta Dinnerware Set valued at $160 is Eha Carr!! Congratulations!! You should have details about your prize in your email soon.
One of my photos has been shortlisted for the Eat Drink Blog 2011 Photo Competition. I am so chuffed. It is so awesome to be up there with some great finalists. I would love it if you headed to this page and cast a vote by Liking the image! Thanks!