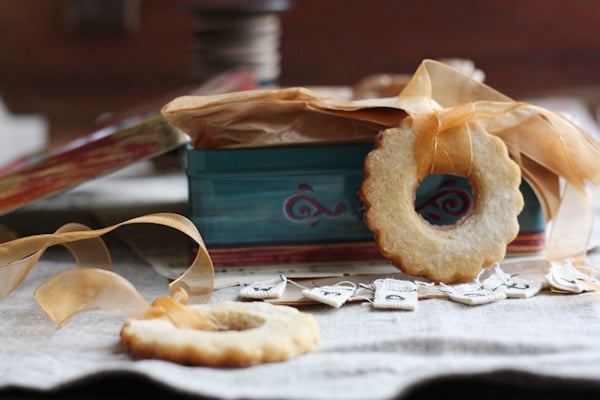 Every year the cookie monster rears its head a few weeks before Christmas. Blame it on commercialism, excessive cooking magazine features or pure peer pressure. The need to bake my own cookie and either eat it, hang it from the Christmas tree or package it for a friend is so great that I just can't bring myself to buy a box of cookies from the cookie shop.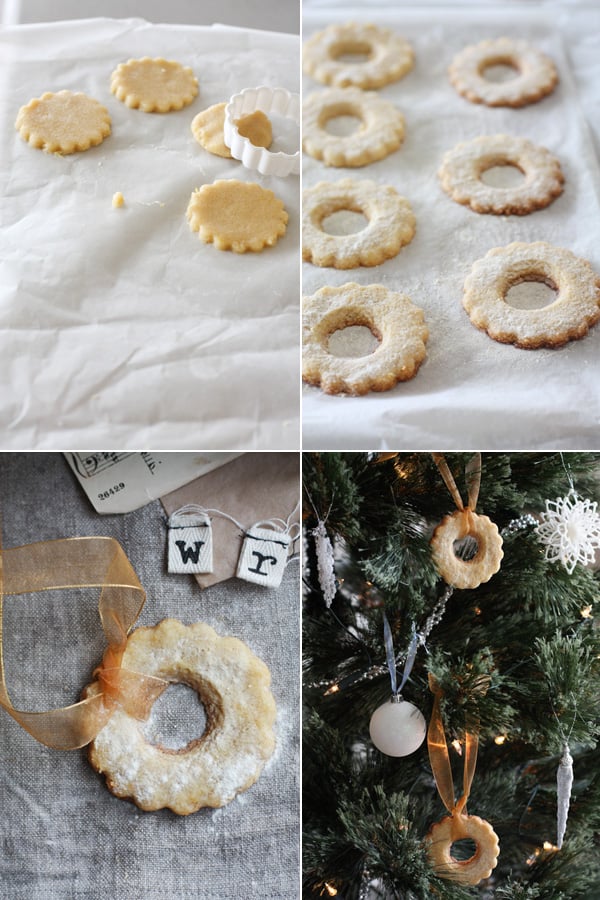 It doesn't matter that for the past several months I have slacked off on my cookie baking and the massive old English cookie jar that I vow to keep filled as part of my new year's resolution, is almost always empty. Christmas brings out the cookie monster in me and there it stays well into April when I start slacking off again. And the cycle continues.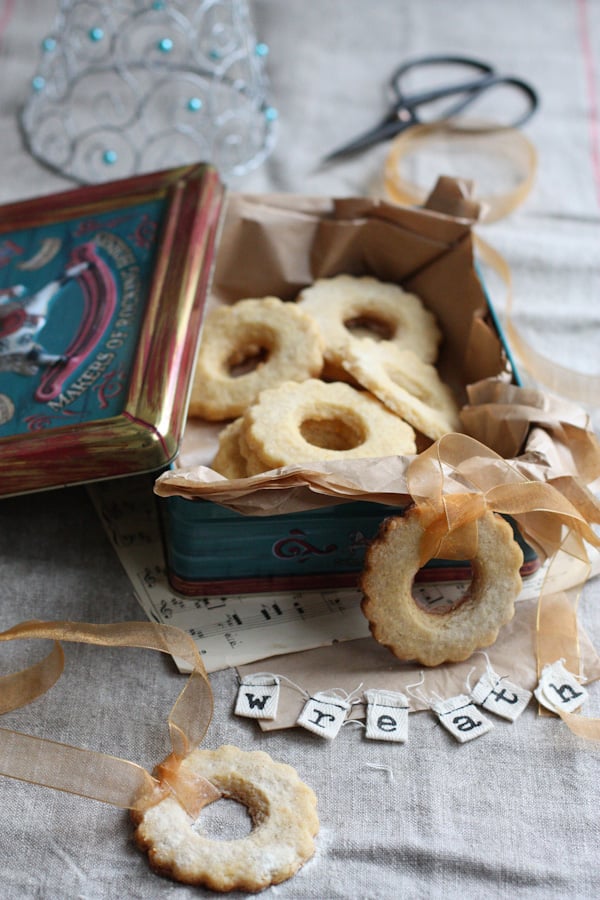 I have hung
gingerbread buttons
on Christmas tree in the past. This year with the freshly painted white room and a tree with only white and red baubles on it, I decided to bake wreath cookies. I have baked these oh so lemony, sugar crusted and chewy wreath cookies from
Donna Hay's latest Celebrate Issue No 60
. I have the print issue as well as the absolutely spectacular Free iPad version. Come to think of it, and I say this oh so casually, I have each and every issue of Donna Hay's beautiful magazine from the past 10 years. Proud of it too. Regarding the cookies, I was a little extra generous with the lemon content and so these beautiful wreaths have a tang that tease your tastebuds to the limit.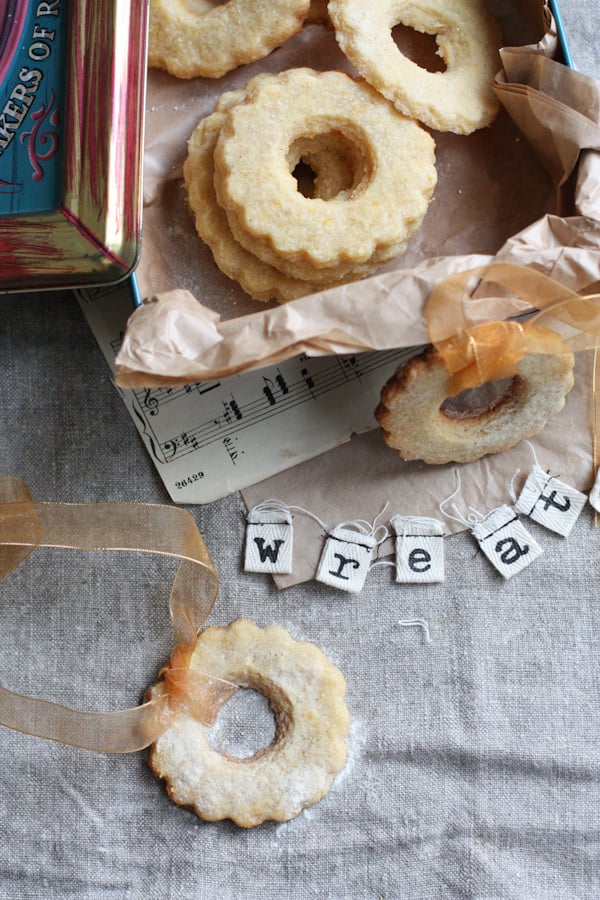 Food Styling & Prop Alert
- Vintage French Mangle Cloth (
$40 Grosgrain Wahroonga
). Golden Gossamer Ribbon (
$6 for 3m on Ebay
). Brown Paper Bag (
$1 for a pack of 50 at Local supermarket
). Vintage music sheet (
$1 at Thrift Store
). Vintage biscuit tin (
$2 at Thrift Store
). French garden scissors (
$12 Grosgrain Wahroonga
). Silver & Blue wire Christmas tree (
$4 at Kmart
). Cookie Cutter (
$2 for set of 4 at The Dollar Shop
). WREATH tags hand stamped on stitched bits of twill ribbon.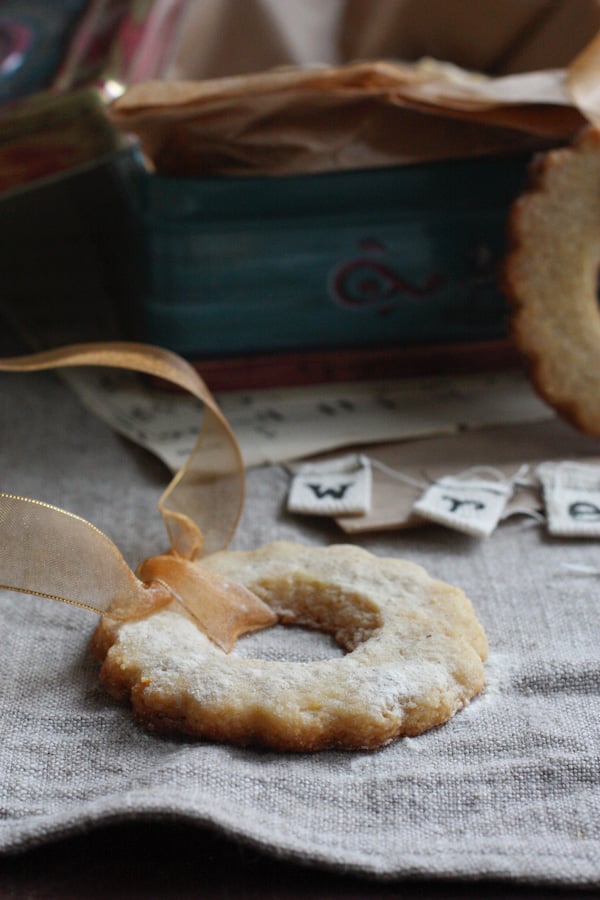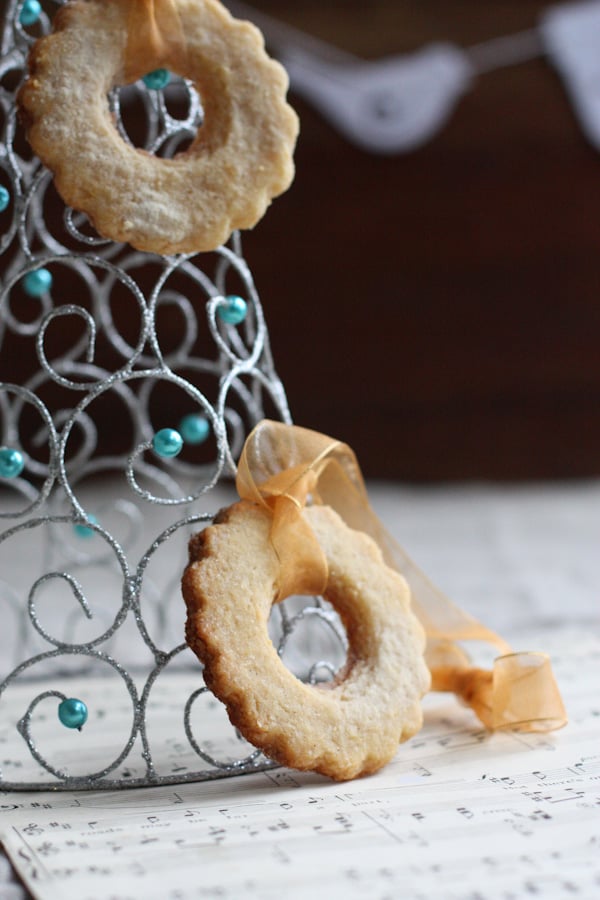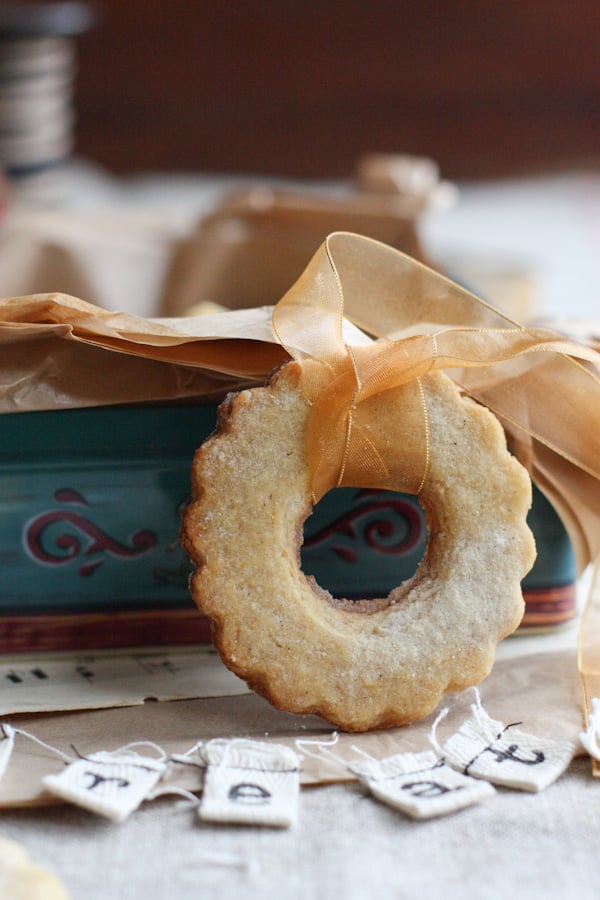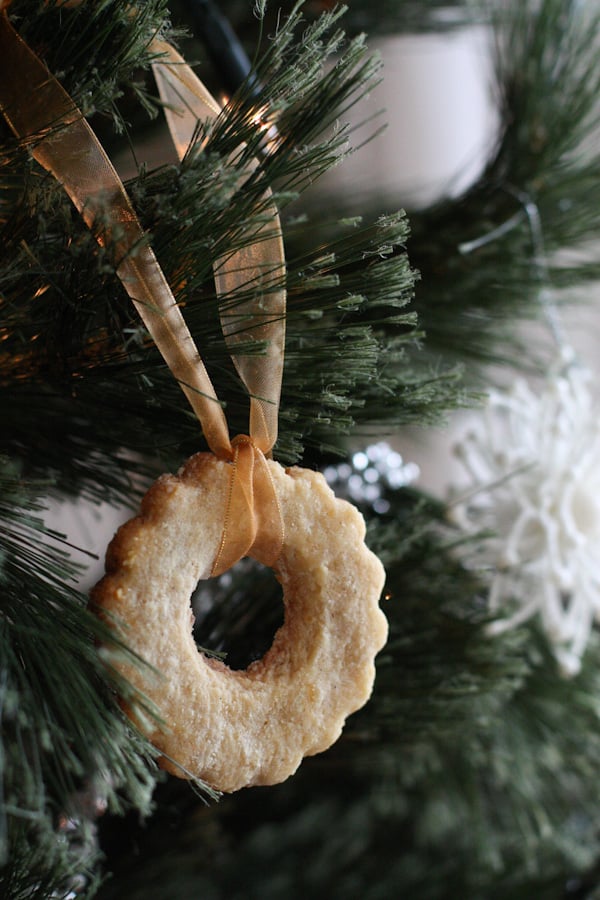 [print_this]
LEMON AND ALMOND COOKIE WREATHS
Preparation Time - 20 minutes + 20 minutes chilling time
Baking Time - 15 to 18 minutes
Makes 16
Ingredients
90g butter, softened
1 cup (220g) raw sugar
1 cups (120g) almond meal or ground almonds
1 cup (150g) plain flour
1/2 teaspoon baking powder
grated rind of 1 large lemon
juice of 1 large lemon
1 teaspoon vanilla extract
pure icing sugar, for dusting
Method
Preheat oven to 160C(325F). Line a cookie tray with baking paper. Place butter and sugar in a large bowl and beat with an electric mixer for about 5 minutes until pale.
Add almond meal, flour, baking powder. lemon juice, lemon rind and vanilla extract. Beat for a further 2 minutes until combined. Refrigerate the dough for 20 minutes.
Roll the dough out between 2 sheets of baking paper to about 5mm thickness. Using an 8.5cm (approximately) fluted cookie cutter, cut 10 rounds from the dough. Place these on the prepared baking tray. Using a 3.5cm (approximately) round cookie cutter, cut a round from the centre of each cookie. Gather the cut out rounds and offcuts of the dough. Roll out again to a 5mm thickness and repeat the process till all dough is used up.
Bake for 15 to 18 minutes until golden. Remove from oven and allow to cool on trays. Dust with icing sugar to serve.
Tie with festive ribbon and hang up on Christmas tree for instant edible decorations.
[/print_this]