A chance visit to a local farmer's market saw me buying a big green cookie from a gluten-free stall that looked and smelled absolutely divine. It was a pistachio cookie and chewy to a fault. It is was so delicious that I couldn't stop thinking about it long after the last crumbs were polished off. This Flourless Pistachio Cake was born out of necessity because I couldn't go back to those markets but I needed my chewy pistachio fix. An incredibly easy, mix and bake cake, if you are a fan of pistachios and chewy Italian cookies then this Flourless Pistachio Cake is a must bake!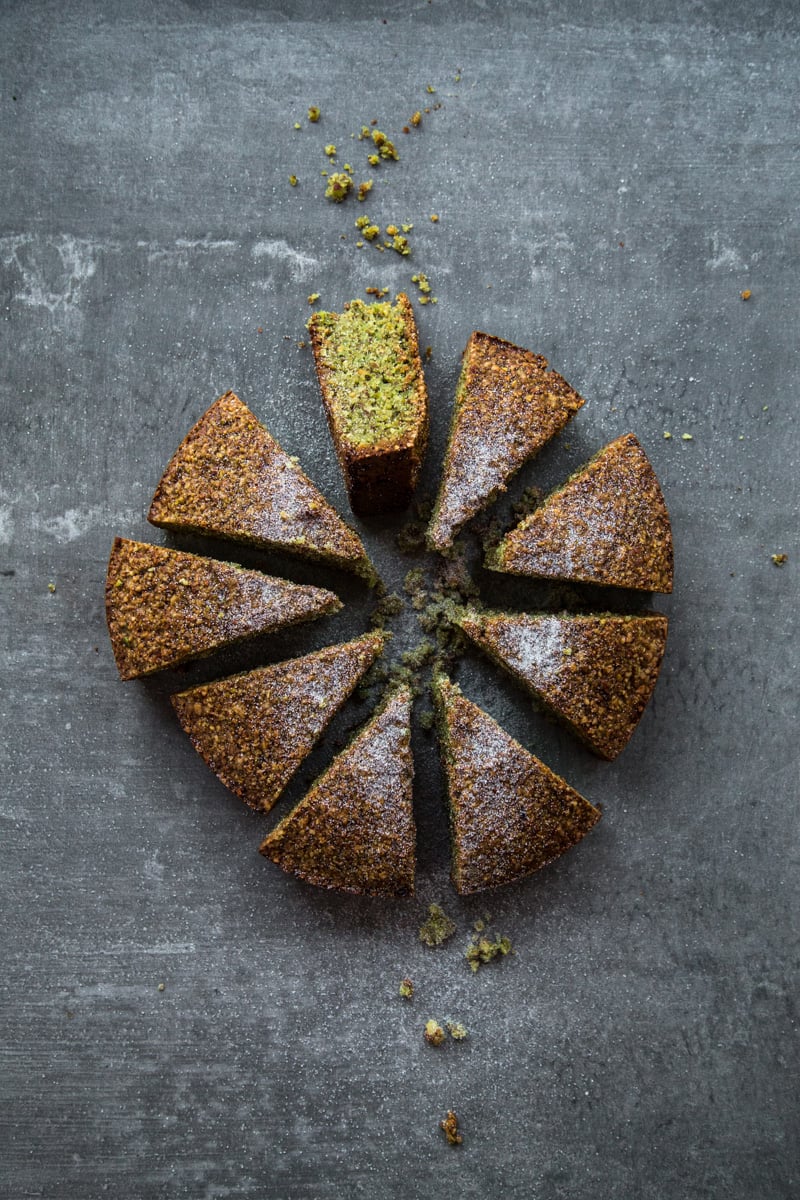 On turning 37 ...
Last Friday I hit the ripe old age of 37. I don't feel 37. I feel 28. In my head. It's true. Age is only a number. Especially when you are getting older. And a birthday feels like any other day. When you are little, birthdays are about presents and cake and more presents. When you are in your teens or just starting out, birthdays are about friends and celebrations and maybe presents.
Then you get even older and financially independent. You rule your roost and have absolute freedom. You buy things for yourself, you bake cakes, you have that occasional glass of wine in the evening, you cook special meals, you get flowers from your partner and you spend all the time in the world with family and friends - and this happens on a regular basis. Suddenly, every day is like a birthday. So then, what do you do to mark the special occasion of your birth? You take time off, right? Because that is something you are not really supposed to do otherwise.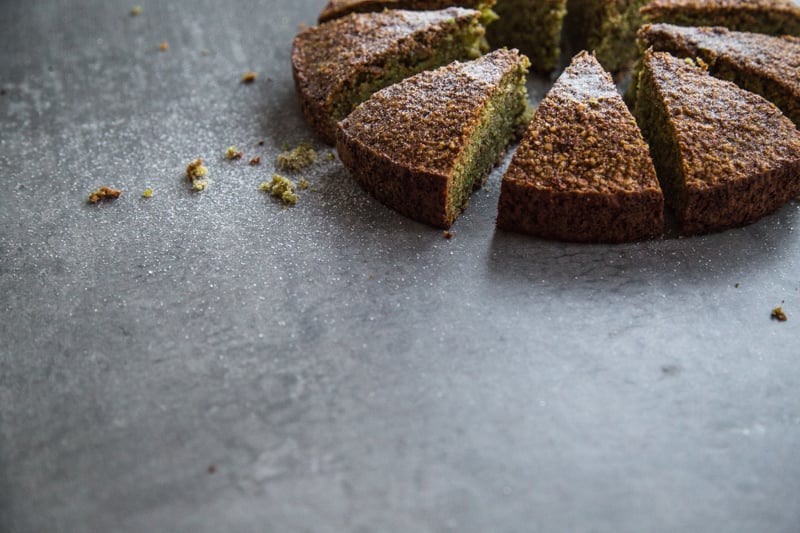 A solo movie date with The Hundred-Foot Journey
So on my birthday this year for the first time in many, I took the day off. I worked extra hours leading up to my birthday but took time off on the day, ironic as it may be. I went and watched The Hundred Foot Journey alongside five dozen senior citizens and I thought about how great it would be to be able to go watch movies during the day in a couple of decades. Life is amazing that way, no matter what stage you are at, there is always something to look forward to.
If you haven't watched the movie, you must. It is every foodie's dream to chance upon an abandoned restaurant in a quaint French village all equipped with cobweb adorned copper pots and vintage bakeware, burgeoning lemon trees dotting an overgrown courtyard where chickens roam free. A place where you hop on a bike and pedal down to the woods to forage for mushrooms while lugging dog-eared, hard-bound copies of Le Cordon Bleu. It hit all the right spots for me with the Indian influence weaving in and out of the movie pairing classic French flavours with exotic spices from the land of a million spices.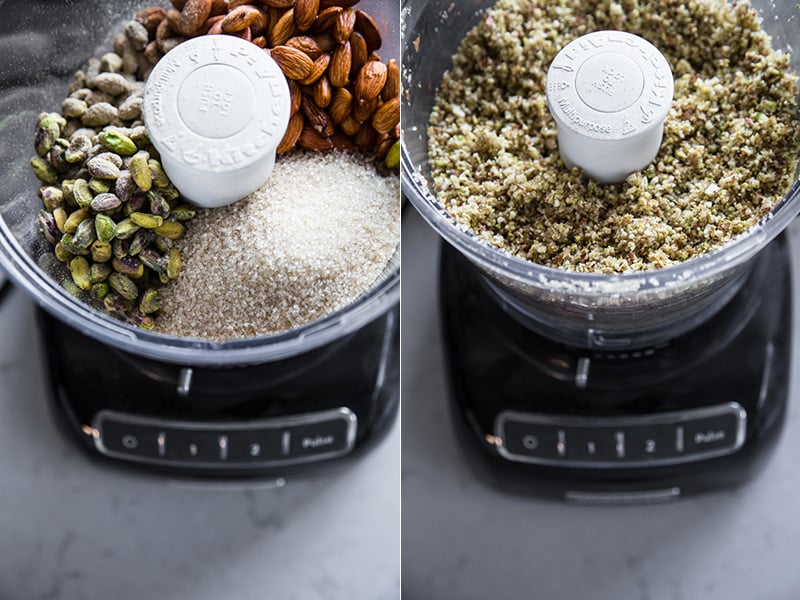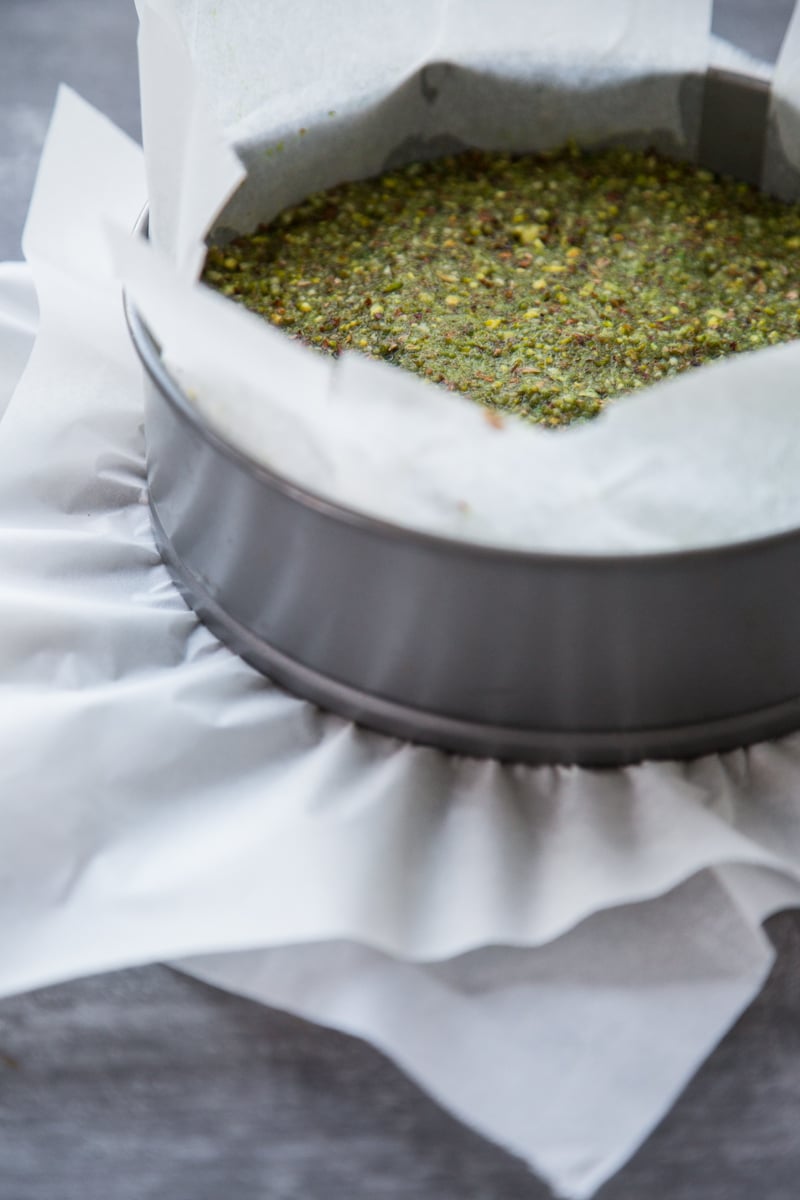 Happy Birthday to me.
I spoke about the movie that day on Instagram. I talked in particular about this scene where Madame Mallory (Helen Mirren) sits down to an Indian style masala omelette that Hassan (Manish Dayal) makes her cook. I loved the old school story and the message. I needed it! So much!! With great success comes great responsibility. With great responsibility comes great burden. With great burden comes the loss of freedom, simplicity and the joy in everyday. Sometimes, it takes a whole lot of courage to refuse great things to return to the grassroots of what makes your heart truly happy, to return to the very start. Because there lies the innocent happiness and wonder of discovery!! There is nothing wrong with a simple life. In fact, that is what makes life worth living!!
My day off was a testament to that very fact. I always knew that simplicity makes me truly happy but realised that even more on the day. After the movie, I spent two blissful hours at Berkelouw cafe browsing cookbooks over a simple lunch of Pumpkin Couscous Salad and Yerba Mate tea with coconut and pineapple. Later celebrated as a family over dinner and I got to spend all evening with my favourite boys in the whole world over good food, hand written cards, a surprise brownie cake and plenty of laughter.
I want to thank each and everyone of you who wrote to me and wished me all over my social media and through emails and messages. You are all absolutely beautiful and make my little world even more special. Thank You!!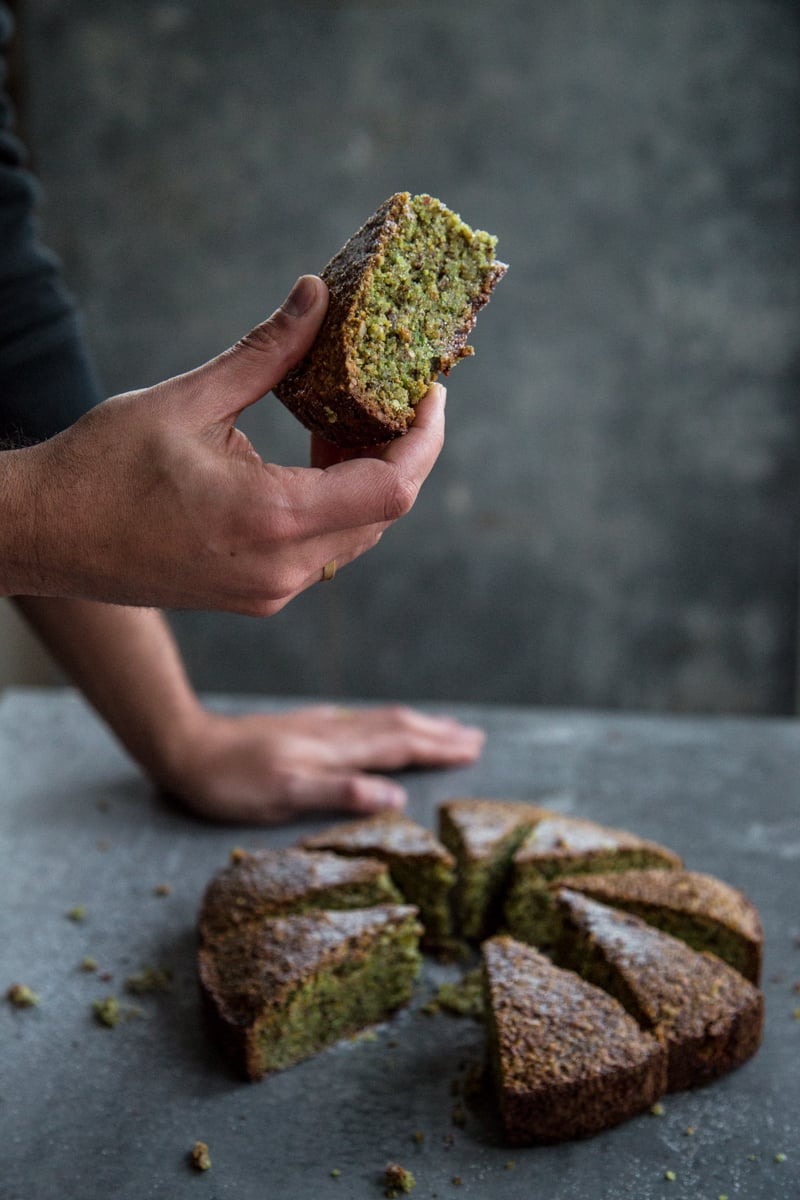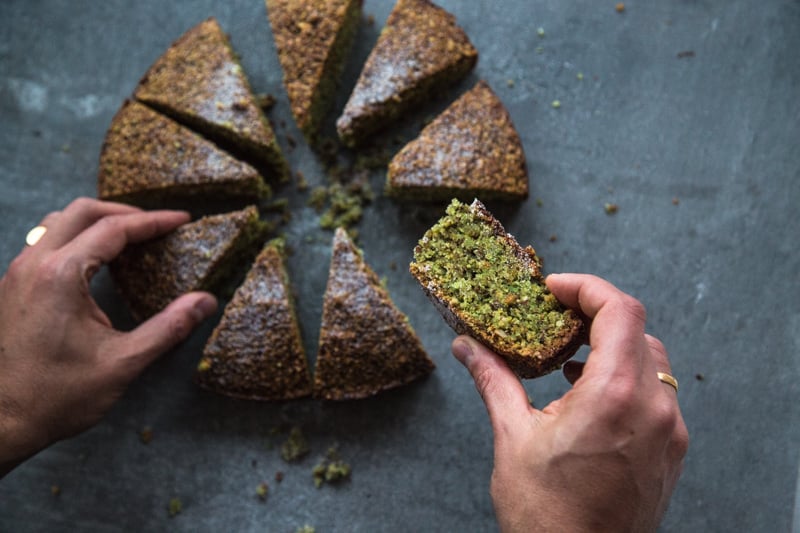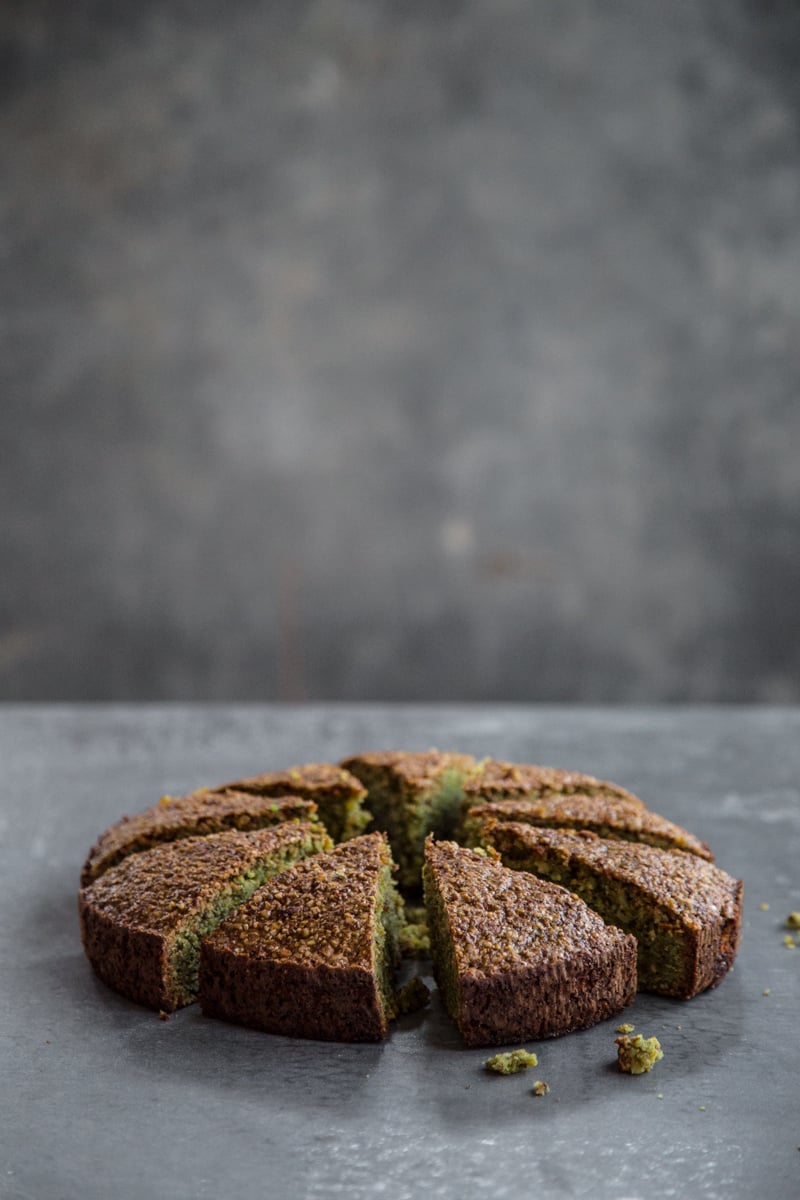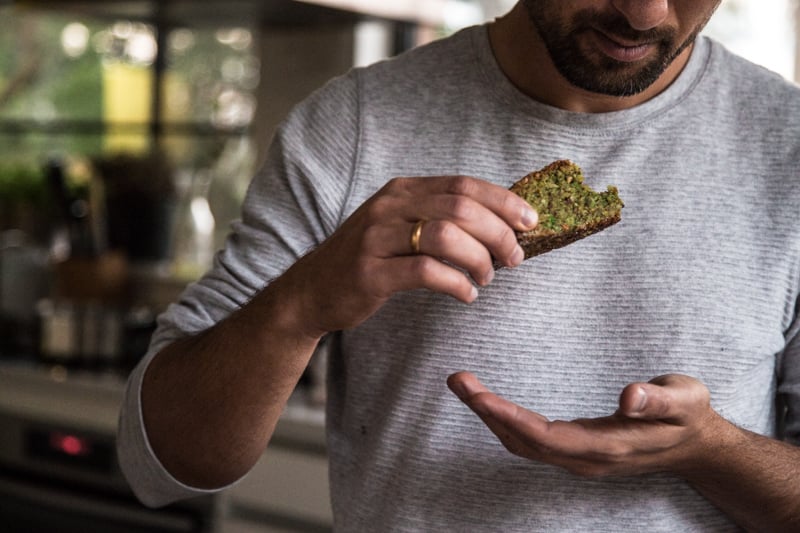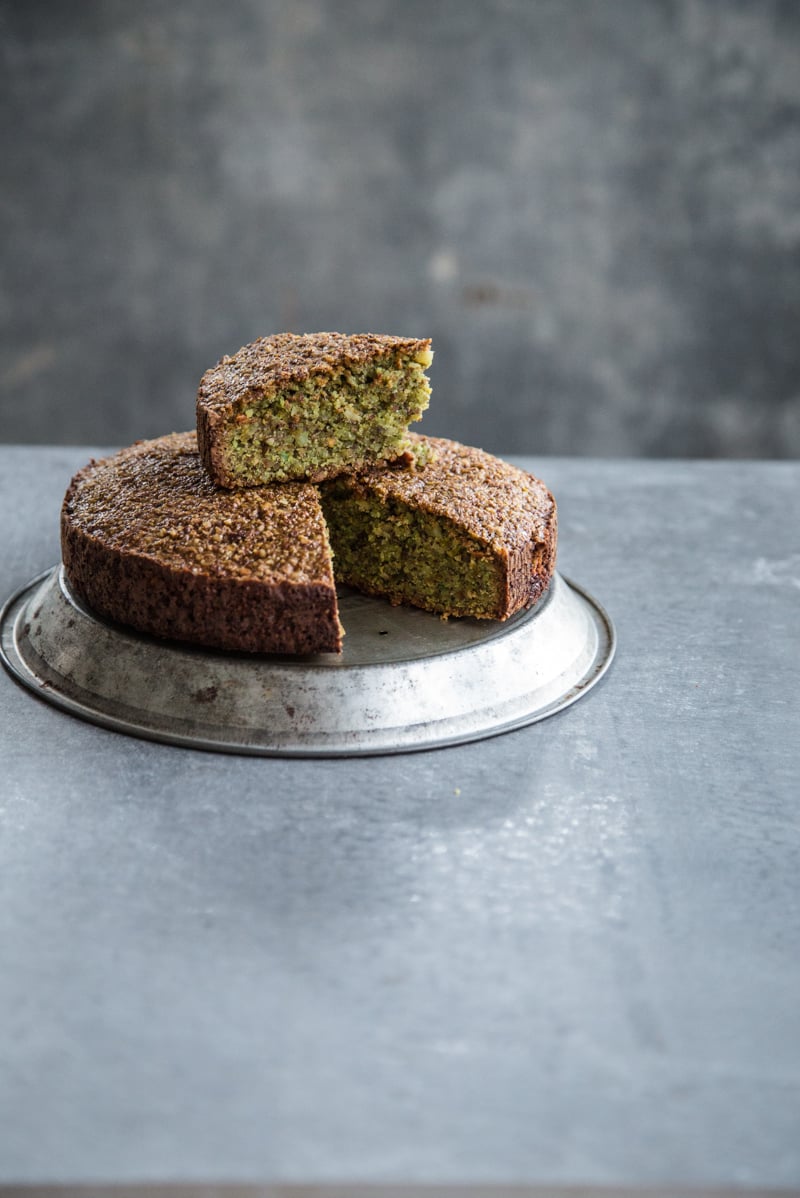 A perfect Flourless Pistachio Cake
And now for this cake! My kind of a cake like a big giant chewy fudgy nut cookie. After having this cookie from a market recently, I wanted to recreate the texture and flavour of the aromatic pistachio treat. This flourless nut cake is absolutely gorgeous. It is dense, textural and utterly delicious. Packed with almost 4 cups of nuts, this cake is gluten-free and refined sugar-free. Yes, my kind of cake! You can bake this as a big cake or petite cakes, it has a very French pastry feel to it. This is going to become my go-to cake for Spring picnics because make no mistake here, the vibrant green pistachio is the star of the show and perfect for the weather of new life!
CATCH UP & UPDATE
To say I have been busy would be an understatement. We are continuing with phase two of our massive renovations. I have begun shooting, with shoots scheduled every week and working on the blog and everything related to it. I am also working on launching the workshops I have been talking about. I am happy to say that the Dutch version of my cookbook has gone to print yayyy! It will be in stores in time for Christmas. I have a brand spanking new author page on Amazon. My book releases in 5 days in US, so make sure you get your copy by ordering it here on my Amazon page with heaps of great editorial reviews and information.
Katrina Meynink, the gorgeous author of Kitchen Coquette and Bistronomy cooked from my book and put up a glowing review of it. So chuffed! Also very happy to be featured on Food52's Blogs We Love. Eat Your Books indexed Tasty Express and featured it on their Recommended New Cookbooks list! Ecstatic to be featured on I Quit Sugar with some generous words and a recipe extract. A lot of love from my alma mater - Shillington College, when they decided to feature me as part of their collaboration with Urban List Sydney. Check out this lovely interview and behind the scenes of my workspace. Good Food interviewed me and shared my insights on making the perfect naan at home along with the naan recipe from my cookbook. The gorgeous Slowpoke Journal featured a recipe from my book - my favourite Kale Daal Fry! Taste magazine ran a 7 page feature on my cookbook in their August 2014 issue.
I bought a lens after cracking open my piggy bank that had been getting fuller and fuller in the past year. I joined the Steller App. My first two stories were featured by Steller and quickly broke into the Top 20 most viewed stories on there. Very exciting! Needless to say, I am micro-blogging over on Instagram. Some of my Instagram photos have content longer than my posts here and daily too. So follow me on Instagram to stay in the loop. Very blessed to have reached 15k followers this week.
WIN SIGNED COPIES OF MY BOOK
To celebrate my birthday, I am giving away two signed copies of my cookbook Tasty Express in Australia & New Zealand!! But there is a catch, this has to be for someone you know would like to have a copy!! A good deed!! So leave me a comment below telling me who this book would be for and why! If you have already entered on Instagram and Facebook, skip it as I will be pooling all entries together and picking the winner on Friday (29th August) night.
Recipe
Hungry For More Recipes? Subscribe to my newsletter. Check out Facebook, Instagram and Pinterest to see everything I share! And if you love cooking and new cookbooks, join my free Cooking Club on Facebook!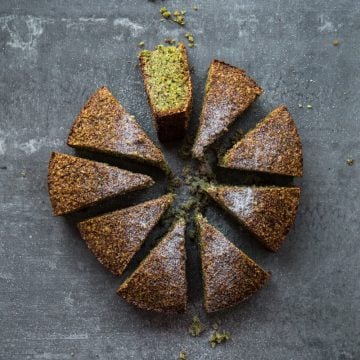 FLOURLESS PISTACHIO CAKE
A lush but deceptively light flour less nut cake with a great crumb and texture, this pistachio beauty is gluten free and dairy free. It is a robust cake that travels well and slices even better! Adapted slightly from Australian Women's Weekly Indulgent Cakes
Print Recipe
Rate / Comment
Ingredients
2

cups

raw almonds

1 1/2

cups

raw pistachios

1

cup

raw sugar

1

teaspoon

ground cardamom

1

tablespoon

finely grated lemon rind

2

eggs

5

egg whites

pinch

of salt
Instructions
Soak almonds in hot water for 30 minutes. Drain.

Pre-heat oven to 160°C. Grease a deep 22cm (9 inch) round springform cake pan and line with baking paper.

Place drained almonds, pistachio, sugar, cardamom and salt in the bowl of a food processor and process until the mixture resembles coarse bread crumbs. Transfer to a large bowl. Add egg, egg white and lemon rind. Mix well either with a wooden spoon or for a minute with an electric mixer until thoroughly combined.

Spread mixture into prepared pan. Smooth the top. Bake in the pre-heated oven for approximately 1 1/4 hours until the top is golden and the cake has started browning around the edges. Remove from the oven and cool cake in the pan.

Serve warm with a dusting of icing sugar if you prefer.
Notes
You may add two drops of green food colouring or a sprinkling of spirulina powder to enhance the green colour of the cake.
The cake can be served with drained yoghurt sweetened with maple/honey.
Saffron poached fruit makes a good accompaniment to the cake.
Nutrition
Calories:
383
kcal
|
Carbohydrates:
34
g
|
Protein:
11
g
|
Fat:
25
g
|
Saturated Fat:
2
g
|
Polyunsaturated Fat:
7
g
|
Monounsaturated Fat:
14
g
|
Trans Fat:
0.01
g
|
Sodium:
8
mg
|
Potassium:
446
mg
|
Fiber:
7
g
|
Sugar:
24
g
|
Vitamin A:
83
IU
|
Vitamin C:
2
mg
|
Calcium:
121
mg
|
Iron:
2
mg
Did you make my recipe?
I'd love to hear how you went! Tag me on Instagram @cookrepublic