With winter starting to wane and the promise of spring soirees and summer afternoons with friends looming in the future, I have created the most perfect fresh burrito bowl for your next Mexican themed lunch party - Crispy Salmon Burrito Bowls. A vibrant and colourful bowl bursting with the most insane flavours - lime and coriander rice, grilled corn and pineapple, fresh bean and avo salsa and perfectly grilled salmon.

If I were to classify myself based on my eating habits, I would say that I am a Pescatarian. Along with lots of fresh vegetables, fruit, grains, nuts and seeds; seafood makes a steady and delicious appearance on my plate every week. It isn't just me. My boys love their seafood too.
Using Low Miles Salmon Fillets For Quick Meal Ideas
I love having salmon fillets on hand. Having a couple of these in my fridge means that I can quickly put together an abundant quinoa and salmon salad on work days for lunch or create fabulous party bowls brimming with flavour for a weekend fiesta with friends.
For this recipe, I have used the salmon fillets with their skin off. I start out by marinating the salmon. Then I like to do most of my prep in advance, mainly the lime and coriander rice, the beans and the caramelised pineapple. When it is time to assemble the bowls, I chop up the avocados, grill the salmon and heat up the rice and beans. It always goes like clockwork and looks absolutely fantastic. The different elements come together beautifully and really lift the flavour of the salmon. Guests at my gatherings always get very excited because every mouthful is like an adventure. Recipe can be easily doubled to serve eight and takes the fuss out of entertaining. Whip up a couple of margaritas or agua frescas and you are good to go.
Components Of A Mexican-Style Crispy Salmon Burrito Bowl
This recipe is a meal prepper's dream. There are a few different elements that can be prepped ahead and readily stored in the fridge for a nutritionally dense complete meal when the hunger strikes.
Lime And Coriander Rice
This easy little recipe for lime and coriander rice is one of my favourite ways to eat basmati rice. During my meal prep sessions, I always cook a batch of basmati rice to turn into fried rice. Often while the rice is cooking, I like to chop and pan-fry some onion, garlic and chilli until soft and caramelized. I add the cooked rice to it along with herbs and spices and lo and behold, a very fragrant and flavourful batch if Mexican-style rice is ready for the base of this burrito bowl.
Black Beans Cooked From Scratch
If you are pressed for time, canned black beans by brands like Goya, Ceres Organics or Macro Organic Beans are great to have in the pantry. But there is something special about black beans cooked from scratch. And it is one of the routine things I do at the start of a meal prep session - pop on a pot of black beans to cook. By the time they are tender and cooked which takes approximately 45 minutes, the rest of my burrito bowl ingredients are ready.
Marinate The Salmon
Marinate the salmon and store in ziplock bags or lidded glass containers in the fridge until ready to grill. You can marinate the salmon a whole day in advance or overnight.
Prep The Fresh Elements
This is probably the only thing you will need to do right before serving, along with grilling the salmon of course. I grill the corn and then the pineapple. While they cool down, I dice the avocado and capsicum and prep my herbs.
Once all the prep is done, putting together the bowl is super easy and fun. I layer the rice at the bottom, line one side of the bowl with fresh lettuce leaves and heap the corn, avo and bean salsa on it. I add the grilled pineapple, lime wedge and herbs. And finally, I top the Crispy Salmon Burrito Bowl with a perfectly grilled piece of salmon. It is such a fun delicious bowl to eat, so much texture and so many complimenting flavours. For added flavours, try topping your Salmon Burrito Bowl with my delicious zingy Texas Caviar.
If you make this delicious Crispy Salmon Burrito Bowl, I'd love to hear your feedback in the comments below. I hope you make this for your next warm weather get together. Happy Grilling!
Recipe
Hungry For More Recipes? Subscribe to my newsletter. Check out Facebook, Instagram and Pinterest to see everything I share! And if you love cooking and new cookbooks, join my free Cooking Club on Facebook!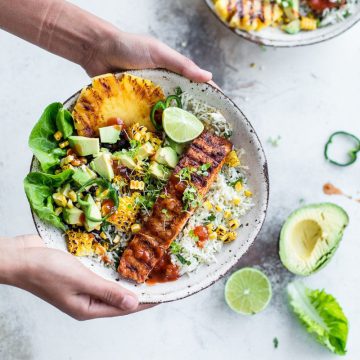 Ingredients
For The Salmon
2

X 300g Tassal Tasmanian Fresh Salmon skin off fillets

1½

teaspoons

sea salt flakes

6

garlic cloves

,

minced

1

tablespoon

ground cumin

1

teaspoon

smoked paprika

2

tablespoons

olive oil

,

plus extra for greasing pan
For The Lime And Coriander Rice
4

cups

cooked basmati rice

,

approximately 2 cups uncooked rice

3

tablespoons

extra virgin olive oil

3

garlic cloves

,

minced

1

small brown onion

,

thinly sliced

1

long green chilli

,

thinly sliced

½

teaspoon

dried oregano

zest and juice of 1 lime

salt to taste

¼

cup

packed fresh coriander leaves

,

chopped
For The Caramelised Pineapple
4

thick slices fresh pineapple

1

tablespoon

melted butter
For The Bowls
1

X 400g can cooked black beans

,

rinsed and drained

1

teaspoon

smoked paprika

juice of half a lime

salt and pepper to taste

2

fresh corn cobs

8

gem lettuce leaves

,

to serve

1

thinly sliced green pepper

,

to serve

2

diced avocados

,

to serve

4

tablespoons

salsa or taco sauce

,

to serve

2

tablespoons

hot chilli sauce

,

to serve

4

lime wedges

,

to serve

micro herbs

,

to serve
Instructions
To Prepare The Salmon
Place all ingredients for the salmon in a large shallow bowl and mix gently to evenly coat the salmon with the spices. Marinate in the fridge for 15 minutes.

Heat a grill pan on medium-high. Brush with some olive oil. Place the salmon fillets on the hot grill pan and cook for approximately 4-5 minutes. Using tongs, carefully turn over the fillets and cook the other side for 4-5 minutes until browned and just cooked down the middle. Remove from heat and set aside.
To Prepare The Rice
Heat oil in a large frying pan or wok on medium. Add garlic, onion and chilli. Sauté for a few minutes until the onion starts to caramelise.

Add the cooked rice, oregano, lime zest, lime juice and salt. Mix well and cook for a few minutes until heated through. Remove from heat and stir in the coriander.
To Prepare The Caramelised Pineapple
Heat a grill pan on high. Place pineapple slices on the hot pan and brush with melted butter. Cook each side for 3-4 minutes, basting with melted butter until starting to char and turn golden. Remove from heat and set aside.
To Assemble The Burrito Bowls
Place cooked black beans, paprika, lime juice, salt and pepper in a small bowl. Mix well. Shuck the corn cobs.

Grill the corn on an open fire for a couple of minutes until it starts charring. Alternatively, place on a barbecue or oven grill and cook until starting to brown. Remove from heat and cool slightly. Using a sharp knife or corn stripper, remove the kernels into a bowl and set aside.

Take 4 shallow rimmed bowls (approximately 20cm). Place 2 lettuce leaves in each bowl. Place a pineapple slice over the lettuce in each bowl. Divide the rice equally between the bowls. Add black beans and charred corn. Place a salmon fillet over the bed of rice, corn and beans. Top with green pepper, avocado, salsa and hot chilli sauce. Garnish with lime wedges and micro herbs.
Did you make my recipe?
I'd love to hear how you went! Tag me on Instagram @cookrepublic