Try my easy, 10-minute Texas Caviar recipe! Whether you call it Cowboy Caviar or Cowboy Salad, it is the most delicious pickled bean dip made with black-eyed peas, pepper, herbs and a zesty dressing made with a secret ingredient. It is all you need for Friday night along with a bag of corn chips and a Mango Margarita!
Jump to:
🥗 What is Texas Caviar?
Texas Caviar, also called Cowboy Caviar is a black-eyed pea dish originating in Texas in the 1930s. It is essentially a chilled salsa or bean salad made by lightly pickling black-eyed peas and lots of pepper (chilli and capsicum) in a zesty, briny vinaigrette. It is often served with corn tortilla chips and is the ultimate crowd-pleasing appetizer or side dish at a Superbowl party or potluck.
Considered soul food in America's southern cuisine, black-eyed peas are considered to bring good luck when eaten on New Year's eve. Legend has it that this bright, pickled salsa looked like caviar on account of all the "eyes" of the black-eyed peas. And hence, got the name Texas Caviar. The term Cowboy Caviar or Cowboy Salad arose from catchy branding by supermarkets selling bottled variations of the original recipe in an ode to Texas.
🇺🇸 The Real Texas Caviar Recipe
Acclaimed New-York chef Helen Corbitt moved to Texas in the 1940s and spent many years working as the culinary director at the acclaimed high-end department store Neiman Marcus. Upon moving to Texas, Helen realized that black-eyed peas were a staple ingredient as well as being popular for bringing prosperity. But according to newspaper interviews, she wasn't a fan of black-eyed peas.
It is rumoured that to make them more palatable, she created a black-eyed pea pickle by soaking them simply in vinegar with onion and garlic. Soon after, when her cookbook was released, her pickled black-eyed pea recipe was christened Texas Caviar. A fancier name appropriate for marketing and promotion.
From there on, this dip really evolved and home cooks and restaurants adapted the base recipe with additions like jalapeno peppers, green bell peppers (capsicum), shallots (spring onions), tomato, avocado, hominy, fresh corn and spices. People started using other beans like black beans, pinto beans or garbanzo (chickpeas) as they were more readily available.

❤️ Reasons To Make This Dip
In recent times, Cowboy Caviar went viral on Tiktok and became the trending dish of summer 2022 after creator Bria Lemirande shared her version with three kinds of beans and feta cheese. But purists would argue that the real Texas Caviar recipe is characterised by these unique things
One bean only - It only has black-eyed peas and no other bean.
Big Flavours - It has a zesty, slightly spicy and piquant dressing that is literally a flavour bomb (pictured below).
And I wholeheartedly agree! My recipe is also
Super easy and quick - It only takes 10 minutes to make from canned black-eyed peas!
Unique taste - It is unlike any salsa or dips you might've had before. It is truly unique and super delicious!
Healthy - It is bright, fresh, gluten-free, vegan, healthy and packed with protein and fiber.
Meal prep - It can be made ahead of time.
You can make this bean dip with black beans, corn and avocado. But it would be more Mexican-inspired. For a truly authentic and delicious take on the Texas Caviar recipe, you MUST try out my well-researched, tried and tested version.
📝 Ingredients
To get a beautiful-looking dip that enhances your eating experience, make sure you chop everything finely. A rule of thumb is to follow the size of the central ingredient in this dip - black-eyed peas. Try and chop onion, tomato, capsicum, chilli and spring onion as close in size to the beans for an even texture.
Black Eyed Peas - The original Texas Caviar recipe and most authentic derivations only have black-eyed peas. You can use canned or easily cook black-eyed peas from scratch.
Tomato - Use firm, ripe tomatoes and chop them into small pieces. You don't need to deseed them.
Chilli/Peppers - Capsicum (bell peppers) and jalapeno are used to add heat to the dip. Use red capsicum if you can find them as they are sweeter and add a lovely balance to the spicy and sour flavours in this dip. Green capsicum tends to be bitter. Deseeded jalapeno chilli is the favourite choice in this dip. It adds a gentle and smoky heat. Poblano peppers are great as well but harder to find. Long green cayenne peppers are a good backup. They tend to be spicier, so make sure you deseed them.
Alliums - Onion and spring onion add crunchy spiciness in this dip. Use red or Spanish onion as they are sweeter and milder.
Herbs - A combination of fresh and dried herbs makes this dip fragrant and flavourful. Use fresh coriander (cilantro) leaves and dried oregano.
Salad Dressing Ingredients
A really good Texas Caviar recipe has a strong zesty, briny, lemony dressing. A lot of people use zesty Italian salad dressing for this bean salad. But you can easily create that beautiful briny taste with ingredients from your pantry. Lots of lemon juice, balsamic vinegar, olive oil, garlic, salt and pepper form the base of the dressing. And two very special ingredients!
My secret ingredients for the best Texas Caviar dressing are Tabasco sauce and Worcestershire sauce. These add a piquant spiciness balanced by a hint of sweet molasses. Absolutely delicious! See my notes for substitutions.
🥭 Salad Variations
Try out these delicious variations for exciting new flavours every time
Replace half the black-eyed peas with black beans.
Add a quarter cup of canned or barbecued corn to the dip.
When in season, dice a small ripe mango and add to the dip.
Add half a cup of pickled shrimp (in brine) to the dip.
Add a finely diced avocado to the dip.
🥣 How To Make Texas Caviar
Make the dressing by adding olive oil, lemon juice, balsamic vinegar, Tabasco sauce, Worcestershire sauce, garlic, oregano, salt and pepper to a small glass jar.
Pop the lid on the glass and shake vigorously for a few seconds until the dressing is thoroughly mixed. Store dressing in the fridge until ready to use. It will keep fresh in the fridge for up to a week.
3. If using canned black-eyed peas, rinse and drain them completely in a colander.
4. If cooking from scratch, follow the instructions to cook black-eyed peas on the stove.
5. Add cooked black-eyed peas to a large bowl.
6. Add onion, tomato, red capsicum, spring onion and green chilli (jalapeno or cayenne pepper) to the bowl.
7. Add the dressing to the bowl.
8. Mix the dip well until everything is evenly coated with the dressing. Chill in the fridge for at least an hour (or a maximum of 8-10 hours/overnight) for the flavours to develop. Serve chilled. Assembled dip will stay fresh in the fridge for up to 4 days.
🔪 Meal Prep
This is the perfect meal prep recipe and a wonderful dish to try adding your home-cooked black-eyed peas. To meal prep this dip, follow these four simple steps
Cook your black-eyed peas and store them in a lidded air-tight glass container. Stays fresh in the fridge for up to 2 days.
Chop your salad veggies and herbs and layer them in an air-tight lidded glass container. These will stay fresh in the fridge for up to 2 days.
Make the dressing in a lidded glass jar and store in the fridge for up to 7 days.
When ready to eat the dip, mix the black-eyed peas, veggies and herbs and dressing in a bowl and serve.
🌮 Serving Suggestions
The best way to serve this delicious dip is with corn tortilla chips. But you can also enjoy Texas Caviar in the following ways,
❓ FAQs
Is Texas Caviar and Cowboy Caviar the same thing?
Texas Caviar is the correct name of this pickled black-eyed pea dip from Texas. But it is also widely called Cowboy Caviar after the catchy term was used by many brands (like Trader Joes) to bottle and sell the dip. The term has also gone viral on social media and websites.
What does Texas Caviar (Cowboy Caviar) taste like?
It tastes fresh, tangy, crunchy and briny with a hint of sweetness and a hit of gentle spice. Super delicious!
Is Texas Caviar (Cowboy Caviar) healthy?
It sure is! It is high in protein and fiber, packed with gut-beneficial veggies and is vegan and gluten-free.
Can Texas Caviar (Cowboy Caviar) be frozen?
It can! Freeze it in a freezer-safe container for up to a month. After thawing use it up right away as the defrosted herbs and greens won't survive after the first thaw.
Does Texas Caviar have actual caviar?
No! This dish gets its name because the black-eyed peas have tiny black eyes that make it look like caviar.
💛 More Recipes You Will Love
Recipe
Hungry For More Recipes? Subscribe to my newsletter. Check out Facebook, Instagram and Pinterest to see everything I share! And if you love cooking and new cookbooks, join my free Cooking Club on Facebook!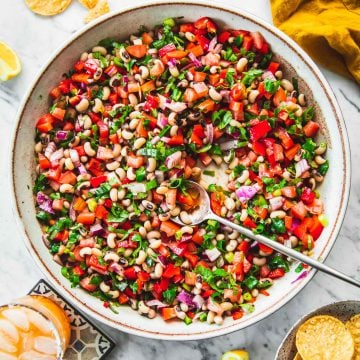 Texas Caviar (Cowboy Caviar) Dip
A fresh, easy, 10-minute delicious salsa dip from the southern region of America. Made with black-eyed peas, veggies, herbs and a delightfullly punchy salad dressing.
Print Recipe
Rate / Comment
Ingredients
2

cups

(

340

g

) cooked black eyed peas

1

cup

(

110

g

)

onion

,

finely diced

1

cup

(

140

g

)

red capsicum

,

finely diced

2

(

150

g

)

medium tomatoes

,

finely diced

1

jalapeno

,

deseeded and finely diced

½

cup

coriander leaves

,

packed and chopped

2

spring onions

,

finely sliced (green only)
Texas Cowboy Caviar Dressing
4

garlic cloves

,

minced

2

tablespoons

olive oil

3

tablespoons

lemon juice

2

teaspoons

balsamic vinegar

2

teaspoons

Tabasco sauce

,

note 4

1

tablespoon

Worcestershire sauce

,

note 5

½

teaspoon

dried oregano

2

teaspoons

sea salt flakes

Freshly ground black pepper
Instructions
Make dressing by mixing all ingredients together.

Add black eyed peas, onion, capsicum, tomato, jalapeno, coriander and spring onion to a large bowl.

Add the dressing and mix well.

Chill in the fridge for at least an hour before serving, to allow the flavours to develop.
Notes
Black-eyed peas - Use canned, rinsed and drained black-eyed peas. You can easily cook black-eyed peas from scratch as well. You can substitute with black beans, borlotti beans or chickpeas.
Onion and Tomato - Use red onion and firm, ripe tomatoes. Chop them finely.
Chilli/ Peppers - Use deseeded jalapeno pepper for gentle heat. Can be substituted with green cayenne chilli or poblano pepper. Use red capsicum for colour and sweetness. Substitute with green or yellow capsicum.
Tabasco sauce - This is the secret to the best Texas Caviar dressing you will ever taste. It adds a piquant sour and spicy flavour to the dip. If you don't have Tabasco, substitute with Sriracha.
Worcestershire sauce - This adds a wonderful sweet and sour tang to the recipe. If you don't have any, substitute with one teaspoon each of ketchup, white vinegar and light soy sauce.
Nutrition
Calories:
219
kcal
|
Carbohydrates:
33
g
|
Protein:
9
g
|
Fat:
7
g
|
Saturated Fat:
1
g
|
Polyunsaturated Fat:
1
g
|
Monounsaturated Fat:
4
g
|
Sodium:
1307
mg
|
Potassium:
638
mg
|
Fiber:
9
g
|
Sugar:
10
g
|
Vitamin A:
1975
IU
|
Vitamin C:
71
mg
|
Calcium:
63
mg
|
Iron:
3
mg
Did you make my recipe?
I'd love to hear how you went! Tag me on Instagram @cookrepublic