A super delicious, quick and vegan recipe for a traditional Nasu Dengaku - Miso Glazed And Roasted Eggplant. If you are a fan of eggplant and especially love it charred with a sweet and salty dressing, this is the only recipe you will ever need!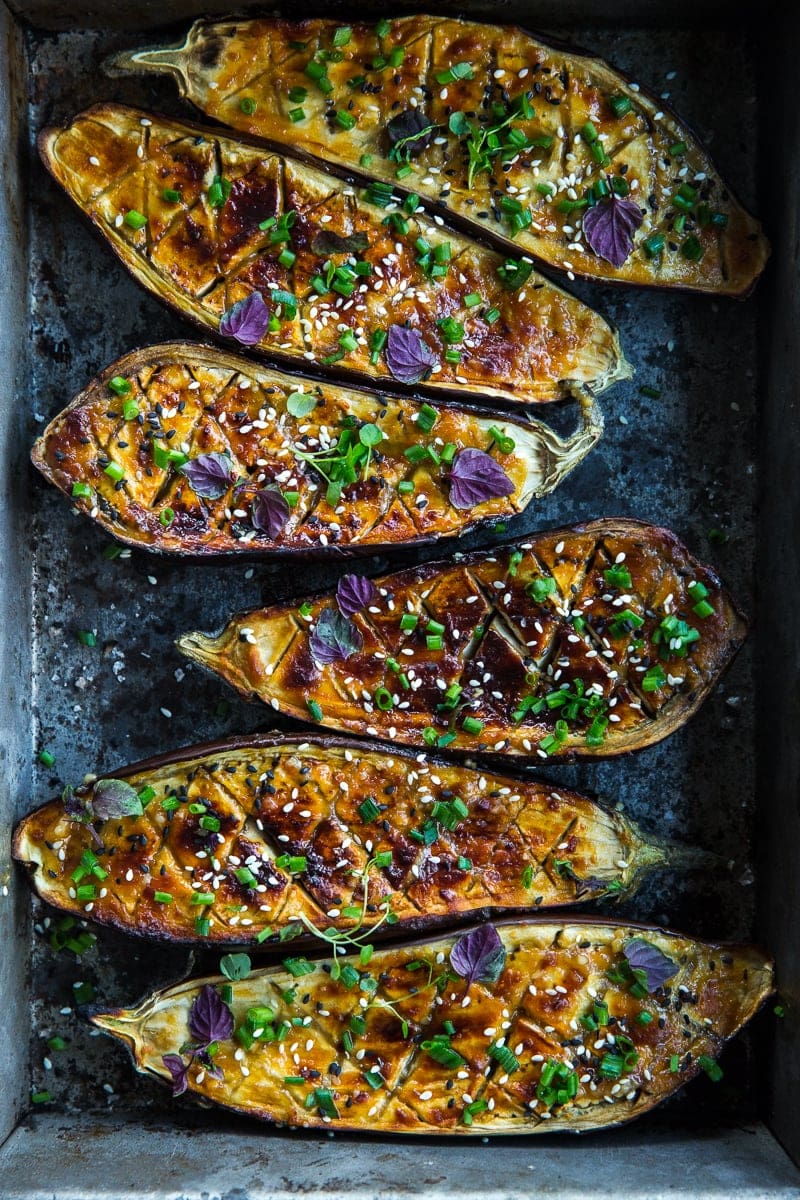 How I got hooked onto eating Miso Glazed Roast Eggplant!
Many years ago when we first moved to Australia from Singapore, I was on a Japanese food bender. I trawled every weekend market for the perfect Okonomiyaki and sat at many sushi trains sampling as many Agedashi Tofus, Sashimis, Inari and Nigiris as I could. But I never tried Nasu Dengaku, until one fine day when Hayden Quinn came over to my (then tiny) kitchen for a cooking and filming session. I cannot remember what I cooked, but the memory of Hayden's Miso Glazed Eggplant that he cooked that day is still fresh in my mind.
It was simply the most divine eggplant dish I had ever had and what affected me the most was how simple it was to cook it. I remember it took nearly an hour and a half to cook in my extremely temperamental, primitive, 20-year-old oven. I remember Hayden checking every few minutes, literally willing it to cook faster. Because it is actually a really quick recipe. So of course when my spunky new kitchen was installed a few years later and a shiny oven awaited, this Miso Glazed Eggplant was one of the first dishes I tested in it. And it only took thirty minutes to cook. Phew!
Miso Glazed Eggplant or Nasu Dengaku as it is traditionally known, is a Japanese eggplant dish made of grilled eggplant glazed with a thick miso sauce. There are many vegan and non-vegan versions out there sporting a myriad of eggplant varieties. But this recipe I share today which I have been cooking for nearly five years is not only the most delicious and flavour packed but also the most good looking.
Some tips on making the best Vegan Miso Glazed Eggplant
If you google Miso Glazed Eggplant, you will find all kinds of pictures. Some really pretty, but most quite unappetising (although I am sure they would taste delicious). Because this is such a fantastic plant-based recipe, vegan and gluten free friendly and possibly a great dinner party dish; I wanted it to look great as well. So after testing with many different sized eggplants and sauces, these were my takeaways -
A. Use medium-sized black plump eggplants. Not the thin Lebanese eggplants or the tiny Thai eggplants but a medium-sized black eggplant that you would use to roast for Baba Ghanoush. These eggplants are often called Black Globe or Black Beauty or as in my supermarket/farmer's market - eggplant.
B. Salt makes eggplant cry. The salting process is very important in eggplant dishes where you want the end result to be firm and delicious, not wet and sloppy. After scoring the eggplant as shown in the pictures, always salt it. You can do this by rubbing a small pinch of salt over the cut side of the eggplants and leaving them for about 30 minutes. The water (which won't be a lot) can be mopped up with paper towels.
C. Temperature and cooking times are very important. So make sure you follow them. The cooked texture of eggplant has to be silky and succulent but still firm.
D. Always glaze the eggplant with the miso sauce again after baking and just before serving. This looks amazing on the browned caramelised eggplant and also adds an extra flavour kick. Serve the leftover sauce on the side for anyone wanting an even more boost on their eggplant.
E. The garnishes really make the eggplant pop. Especially micro herbs (the purple of shiso) and the white sesame seeds.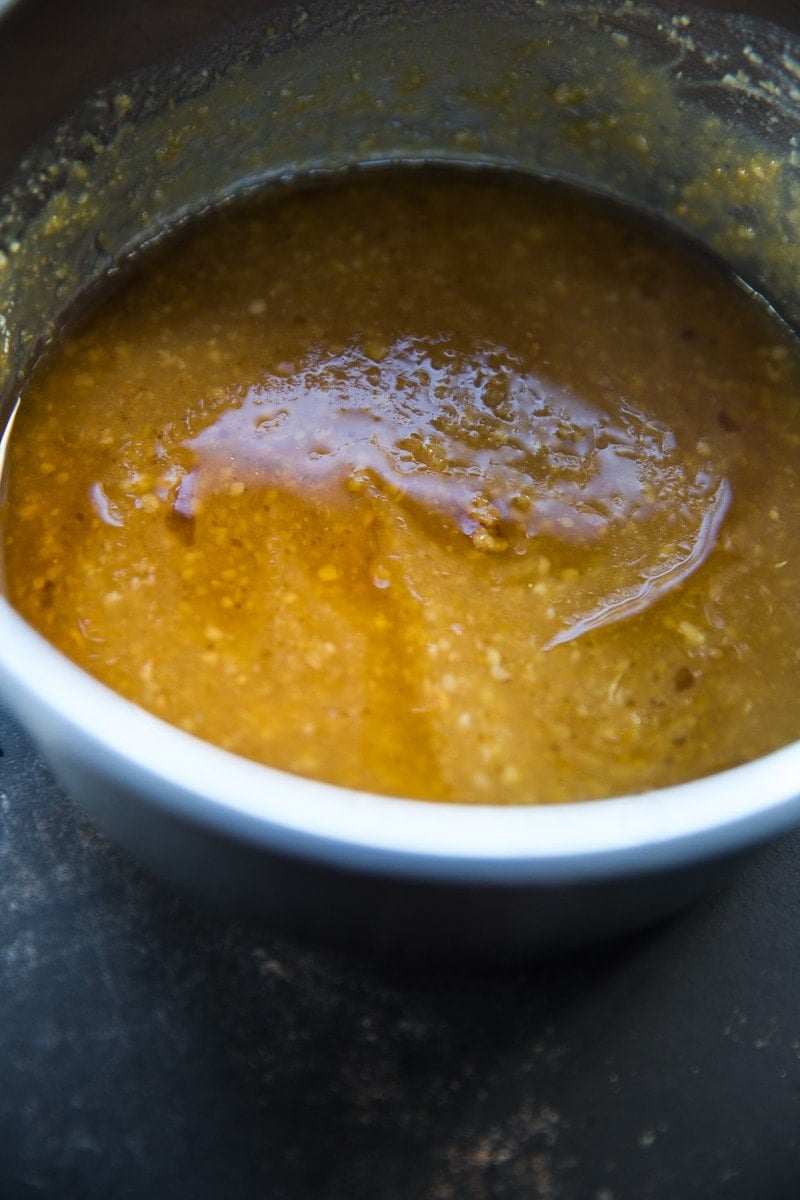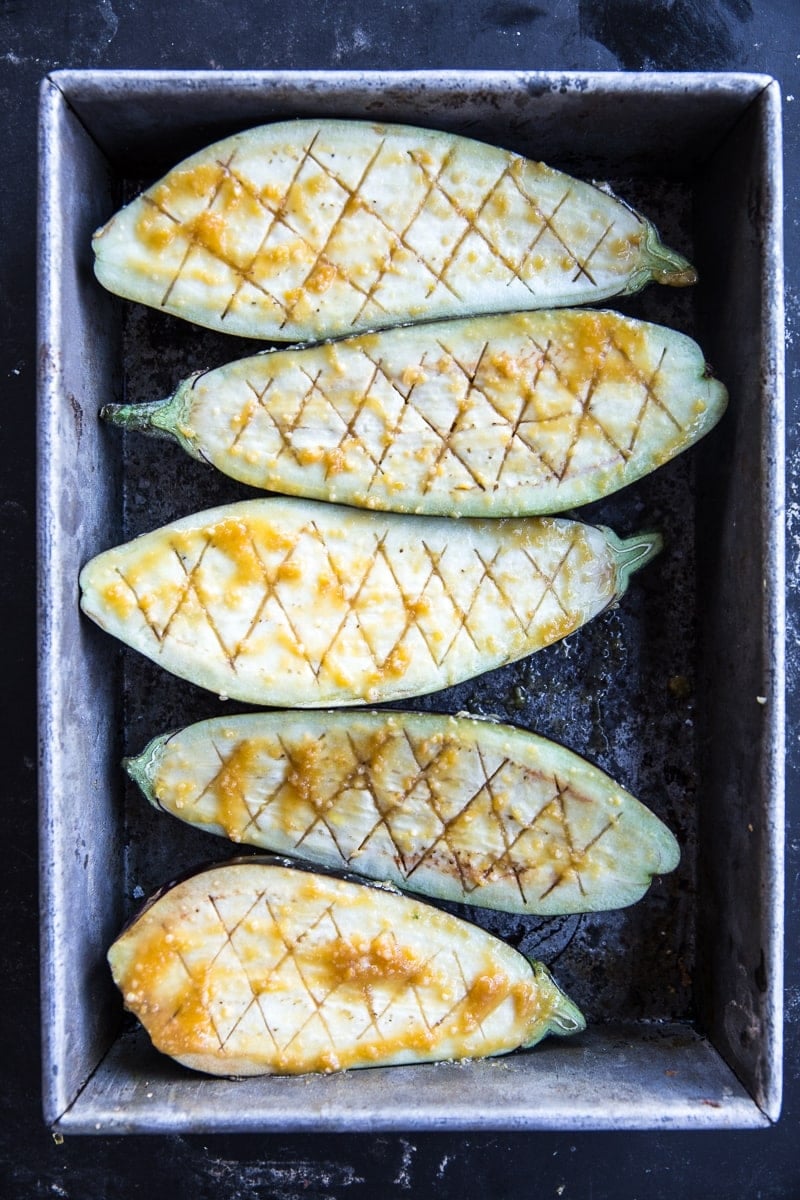 This dish is a great starter before dinner. Alternatively, with the addition of coconut-matcha rice, some quick pickled radishes and greens; it becomes a very satisfying lunch. If you make this recipe, I would love to see your feedback and rating in the comments below. Share your eggplant pictures with me on Instagram using #cookrepublic
Recipe
Hungry For More Recipes? Subscribe to my newsletter. Check out Facebook, Instagram and Pinterest to see everything I share! And if you love cooking and new cookbooks, join my free Cooking Club on Facebook!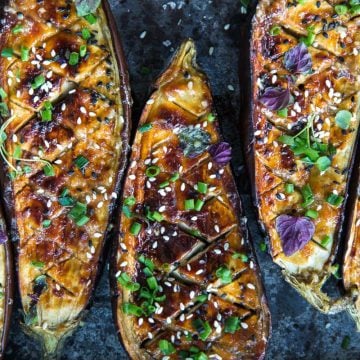 Ingredients
4

medium sized black eggplants

generous pinch of sea salt flakes

2

tablespoons

mirin

2

tablespoons

cooking sake

2

tablespoons

raw sugar

1

tablespoon

Shiaoxing wine

1

tablespoon

sesame oil

1

teaspoon

finely grated ginger

80

g

white miso paste

white and black sesame seeds

,

finely sliced chives, micro herb - to garnish
Instructions
Pre-heat oven to 200°C (convection)/180°C (fan-forced).

Wash the eggplants and pat dry. Cut the eggplants in half, length wise.

Using a sharp knife, score a diamond pattern in the flesh of the eggplant as shown in the pictures.

Place the eggplants cut side up in a shallow rimmed baking tray.

Sprinkle with salt and gently rub the salt over the flesh.

Rest for 30 minutes.

Using a paper towel, pat the flesh of the eggplant and blot the water droplets that have formed on the surface. Brush off any salt flakes that remain.

Place mirin, sake, Shiaoxing wine, sugar, sesame oil, ginger and miso paste in a small heavy bottomed saucepan on medium. Bring to a gentle boil, stirring constantly. Remove from heat.

Using a pastry brush, generously brush the miso sauce over the cut side of the eggplants.

Bake in the pre-heated oven for 30-35 minutes until starting to brown and tender.

Remove from the oven. Brush more miso sauce to glaze the eggplants. Scatter chives and micro herbs. Sprinkle with sesame seeds and serve hot with coconut rice and radish pickles.
Did you make my recipe?
I'd love to hear how you went! Tag me on Instagram @cookrepublic