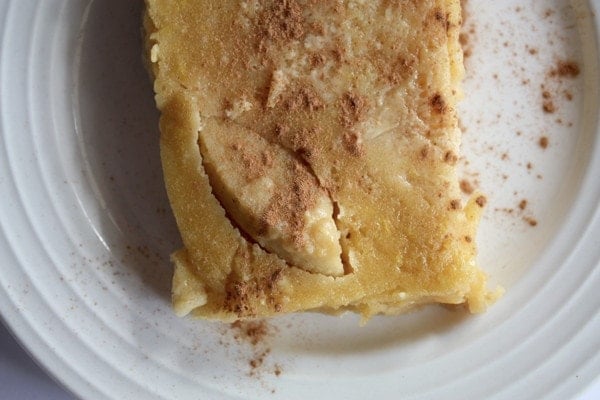 I was inspired to make this fabulous and fast dessert recipe from one of Bill Granger's breakfast recipes. He cooked an apple pancake in a skillet and suggested dousing it with a generous helping of maple syrup for a rib-sticking breakfast. Why follow the norm and have pancakes only for breakfast, I thought to myself. What if I took a deliciously thick pancake recipe and gave it a healthy twist for a light dessert? Since the theme for the April 2009 NTTC Challenge was dessert and one that made the use of a fruit, a granny smith pancake pudding was the perfect thing to make.
I improvised as I went alongwith the original recipe, substituting the more luxurious ingredients with healthier options. It took me about 5 minutes to prepare and 15 minutes to bake in the oven. The result was a light but hearty dessert that was gorgeous just eaten by itself with a smattering of vanilla infused sugar and ground cinnamon.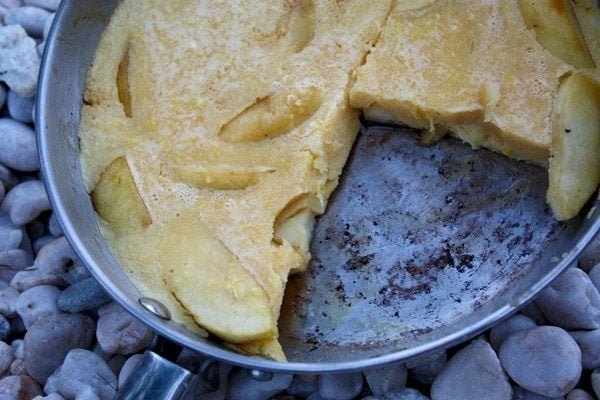 GREEN APPLE PANCAKE PUDDING
[Preparation Time : 5 minutes/ Baking Time : 15 minutes/ Serves : 4]
Ingredients
2 granny smith apples, peeled, cored and cut into eights
1 tbsp extra virgin, olive oil
3 tbsp demerara sugar
1 tsp vanilla extract
2 tbsp lemon juice
1 cup self-raising flour
a pinch of salt
1 tsp grated lemon rind
1 cup skim milk
3 eggs
Method
Preheat oven to 220oC. Heat oil in a wide, shallow frying pan on medium-high. Add the apples, 2 tbsp demerara sugar, vanilla extract and lemon juice. Cook for 2 minutes, stirring constantly. Remove from heat.
In a large bowl whisk together the flour, salt, 1 tbsp sugar, lemon rind, eggs and milk till it is mooth. Pour gently over the apples in the pan. Place the pan in the oven to bake for 15 minutes. Remove, sprinkle with vanillin sugar and ground cinnamon. Serve hot with ice cream or whipped cream.