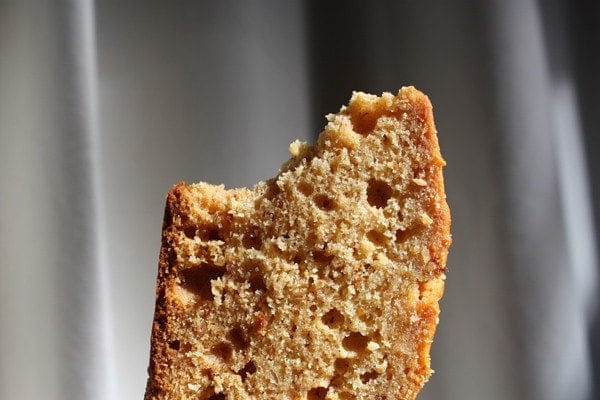 Easter is a sugar trap, quite literally. With its scores of hot cross buns, easter cookies, spring cakes and easter eggs in all sizes and shapes stuffed with candies and what nots, Easter is enough to provide you your year's supply of sugar. But the pressure to bake something special for Easter is always hovering around the corner. So what does a conscious baker do? She bakes something sweet that has no sugar in it.
For the past two days I have been on a mission to rescue some bananas dying a slow death in my fruit bowl. I didn't just want to make a regular banana bread, so I started thinking up of how I could make it interesting. A quick pantry check revealed 2 bottle of pohutakawa honey and 1 bottle of mango honey. The golden light reflecting off the mango honey bottle was like divine intervention. I knew I could make it the star of my banana bread. After I mixed it in the batter, I tasted it. It was perfect, no sugar needed. I resisted the urge to add some lovely pecans, because the boys would just fuss and not eat it. But next time, I am going to try this bread with wholemeal flour, nuts, wheatgerm and maple syrup. That would really jazz up autumn with all the rustic brown textures and flavors. So now I am 1 banana down and 5 more to go.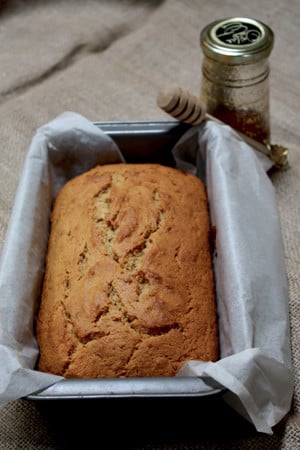 [print_this]
MANGO HONEY AND BANANA BREAD
[Preparation Time : 15 minutes/ Baking Time : 40 minutes/ Makes 10 slices]
Ingredients
2 cups plain flour
2 tbsp baking powder
1/4 cup dessicated coconut
175ml mango honey [or any other kind]
3 eggs
1 large overripe banana
1 tsp grated lemon rind
1/4 cup unsalted butter
a pinch of salt
Method
Preheat oven to 180C. Grease and line a 7-inch loaf pan with baking paper.
In a large bowl combine flour, baking powder, salt, coconut, honey, lemon rind, butter and eggs. Beat with an electric beater until well combined. Mix in the mashed banana. Pour into the prepared pan and bake for approximately 40 minutes till a skewer inserted comes out clean. Cool in the pan. Slice and serve warm with butter or plain toasted.
[/print_this]