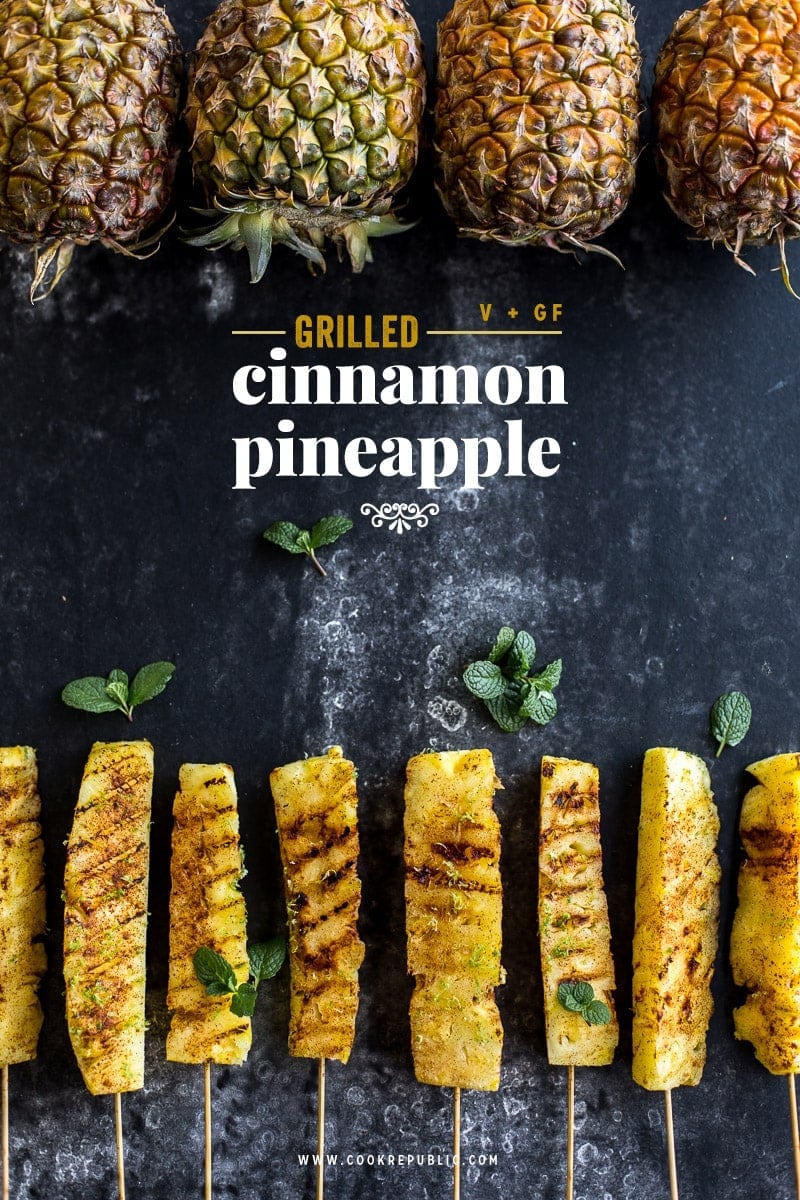 Last year for my birthday, we went to the snow at Thredbo. Ironically, my birthday dinner was at a Churrasco Brasserie. Me, the non meat-eater. The place looked fabulous. Smokey aromas wafted out every time the door opened and closed as we stood in the little village square debating where to eat while snow flurries settled on our eyelashes. It was enough to drive us in. I was very excited about all the grilled veggies and seafood that they brought to the table. But the star of the evening was the Brazilian Grilled Cinnamon Pineapple. Boy, was it good! I don't think I have ever eaten so much pineapple in my life before. When we got back, I re-created a healthier low sugar version of the cinnamon grilled pineapple and it was as glorious as I remembered it to be. And so easy!
It is that time of the year again. We just got back from an amazing week in the Snowy mountains a few weeks ago (and a long two-month break from working and blogging to spend time with family that I hadn't seen in five years!). As in the past, I was equal parts excited about the snow and the food. Because Alpine food is out of this world, truly! Although I didn't have this grilled cinnamon pineapple in the mountains this year, I tried many more delightful things that I am itching to re-create. But the minute we got back, I had to make the grilled pineapple again. I just had to!
It has been a colder than usual winter here in Sydney, yet pineapples abound a plenty at the markets and grocers. We have our good old friend summer to thank for. A hotter than usual summer resulted in so many pineapples that Instagram is having a meltdown. Pineapple boats, pineapple bowls, pineapple platters and just people holding up a pineapple in general against a peeling coral wall, reflective sunglasses on and wishing summer was here already. For me, it is time to bring out the dehydrator from the dungeon that is my garage (probably the only time it sees any action) and make pretty dehydrated pineapple. But besides that, this Grilled Cinnamon Pineapple inspired by my birthday dessert from last year is the most delicious way to eat a pineapple. Especially with chilled coconut yoghurt, just absolutely refreshing!
It is a welcome change to a fruit platter or a light dessert to finish off a Mexican meal. If you make this, show me your pineapple skewers using #cookrepublic and tagging me on Instagram. And don't forget to leave your comments and ratings below.
Recipe
Hungry For More Recipes? Subscribe to my newsletter. Check out Facebook, Instagram and Pinterest to see everything I share! And if you love cooking and new cookbooks, join my free Cooking Club on Facebook!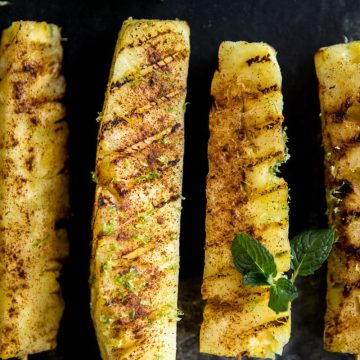 Ingredients
1

large pineapple

1

tablespoon

maple syrup

2

teaspoons

ground cinnamon

generous pinch of salt

freshly chopped mint leaves and grated lime zest

,

to serve
Instructions
Slice the top and bottom off a large pineapple. Stand the pineapple on one of the sliced surfaces. Using a sharp knife, carefully trim the peel off the pineapple to create eight edges. Make sure you get the thorny bits. Using the eight edges as a guide, slice the pineapple vertically in eight long chunky pieces (kind of like slicing a pizza). Trim the hard core bits off the pieces if required.

Skewer the pieces lengthwise with bamboo skewers to get eight pineapple lollipops. Place the pieces in a large bowl.

Mix maple syrup, cinnamon and salt in a small bowl.

Drizzle the syrup mix over the pineapple pieces. Rub the syrup over the pieces to coat thoroughly.

Heat a chargrill pan or grill plate on the barbecue or cooktop on high. Place a couple pineapple pieces on the hot grill and cook for 3-4 minutes on each side until golden and grill marks appear. Repeat with the remaining pieces. You can cook 3-4 pieces together if your pan/plate is large enough.

Garnish with freshly grated lime zest and mint leaves.

Serve hot with coconut yoghurt or ice cream on the side.
Nutrition
Calories:
65
kcal
|
Carbohydrates:
17
g
|
Protein:
1
g
|
Fat:
0.1
g
|
Saturated Fat:
0.01
g
|
Polyunsaturated Fat:
0.04
g
|
Monounsaturated Fat:
0.02
g
|
Sodium:
1
mg
|
Potassium:
131
mg
|
Fiber:
2
g
|
Sugar:
13
g
|
Vitamin A:
67
IU
|
Vitamin C:
54
mg
|
Calcium:
23
mg
|
Iron:
0.4
mg
Did you make my recipe?
I'd love to hear how you went! Tag me on Instagram @cookrepublic