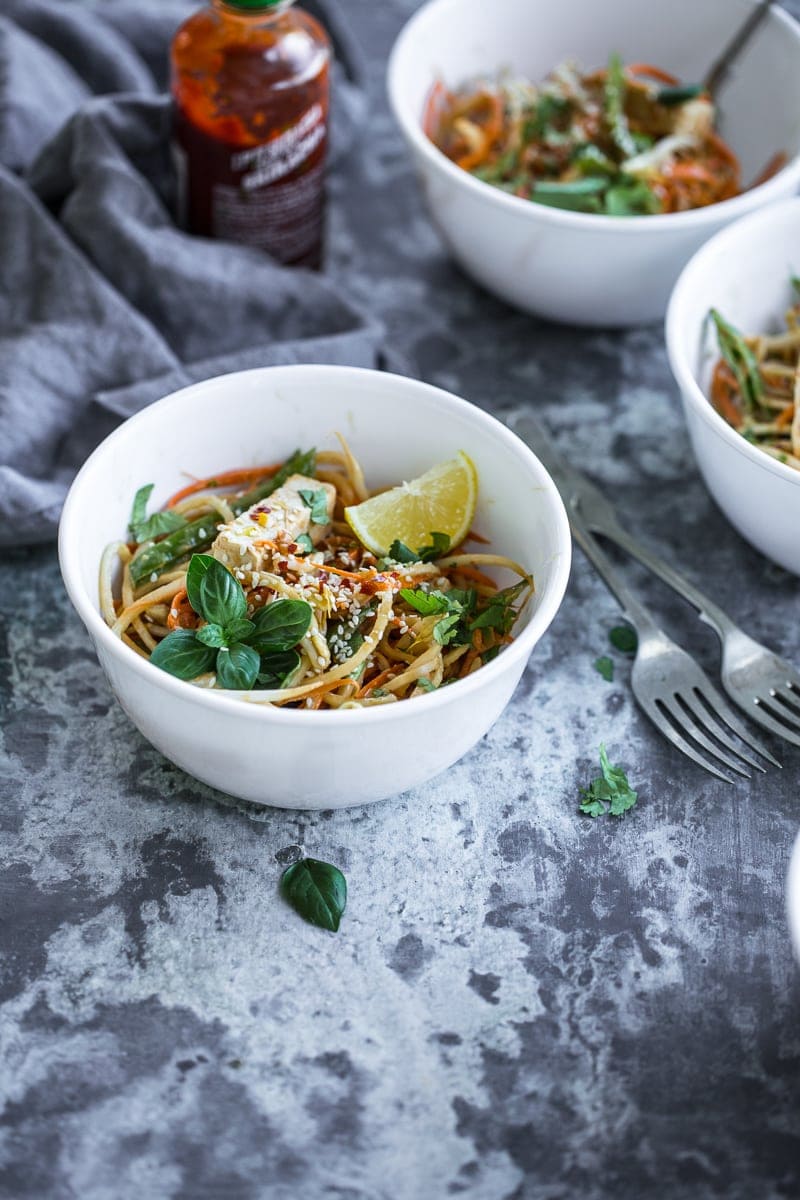 A traditional pad thai is one of my favourite things to eat. But it does take a bit of work. And needs to be enjoyed straight away as it has a tendency to get gluggy and sticky because of the rice noodles. Now imagine if there was a pad thai recipe that had all those nutty, sweet, sour, salty and spicy flavours but was extremely fresh and crisp and required absolutely no cooking. A noodle free pad thai! A healthy meal prep dream! Are you excited?
I discovered a recipe for one such noodle free pad thai in one of the Green Kitchen cookbooks a couple of years ago. I tweaked it to suit our tastes and added more punch and flavour (because we love our garlic and chilli too much!) and introduced it in my weekly meal prep menu every couple of months. I love this for many reasons. But the number one reason would be the use of daikon radish.
It is a gorgeous vegetable, this little Japanese radish. It is extremely under utilised and the only way in which I use it is in this kimchi recipe. So when a recipe calls for this radish, it makes me very happy. This radish is much sweeter and a lot less spicier than the long white Indian radish that I grew up eating. And when spiralized, it almost looks like rice noodles and holds its shape well. Genius!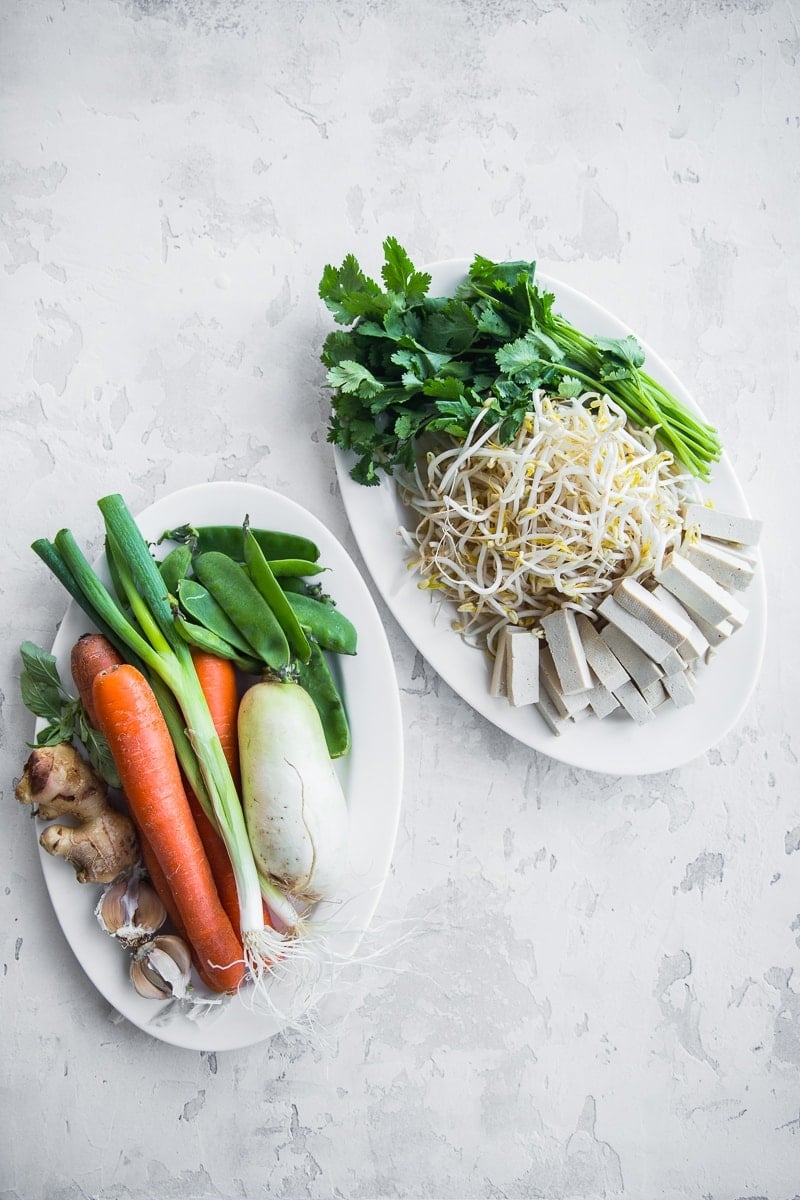 I use a Paderno spiralizer to spiralize my vegetables. Often I will use a julienne peeler when I can't be bothered to drag the spiralizer out of the kitchen cupboard. But one thing I have realized (the hard way) is that a carrot cannot be spiralized (it is too hard!). So while I use the spiralizer for daikon radish, zucchini, sweet potatoes and potatoes; carrots are always julienned using a julienne peeler.
I love using a lot of fragrant Thai Basil in this recipe. It really lifts it to new heights. When I don't have Thai basil on hand, I will use Laksa leaves (or Vietnamese mint) which grow wild in my backyard. If you can't find any, just good old regular sweet basil will do the trick. The dressing is divine and is great for spooning over everything. Finally, I love adding a generous squeeze of Sriracha on my finished plate. Because Sriracha makes everything better.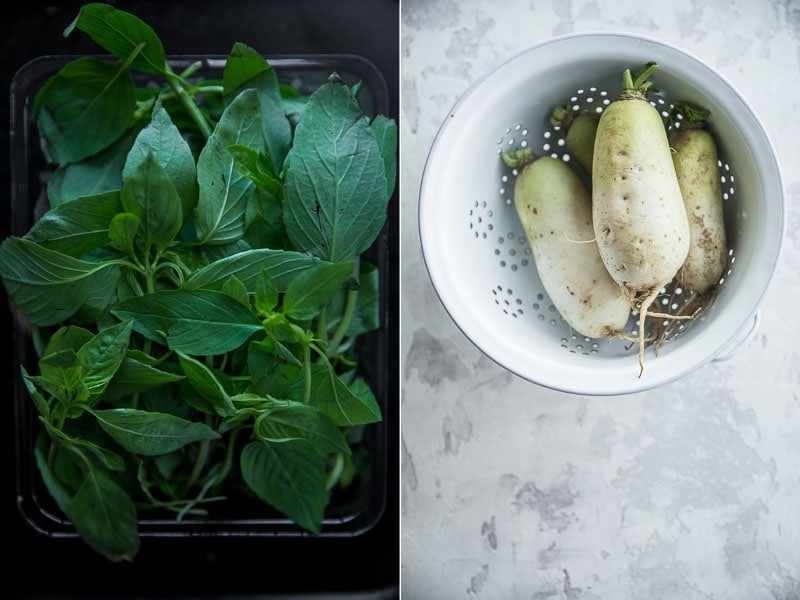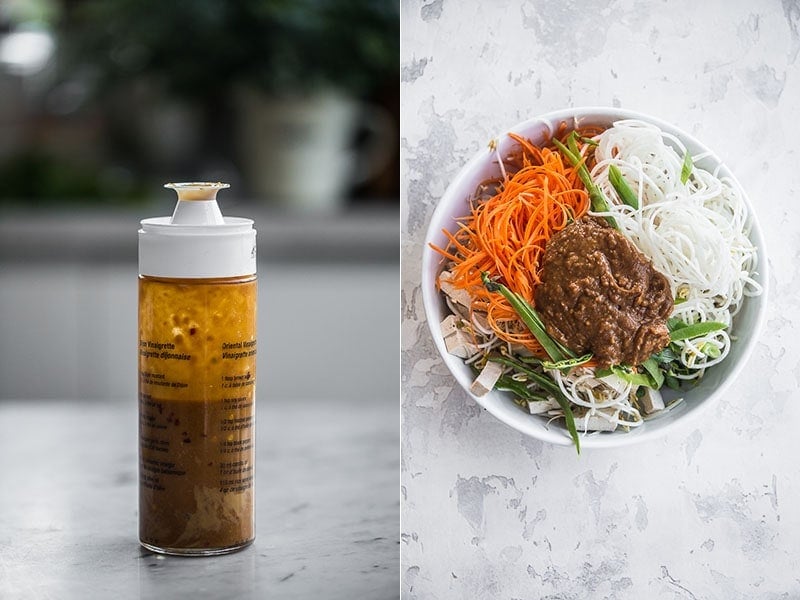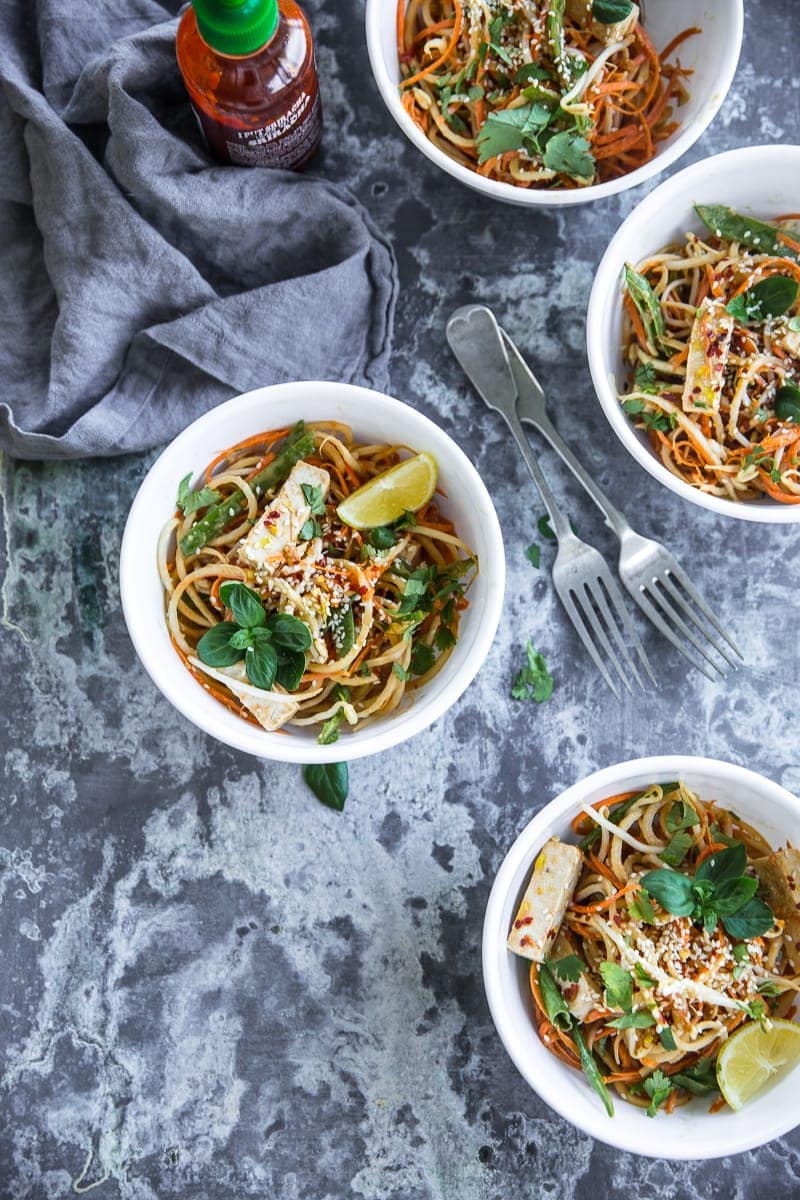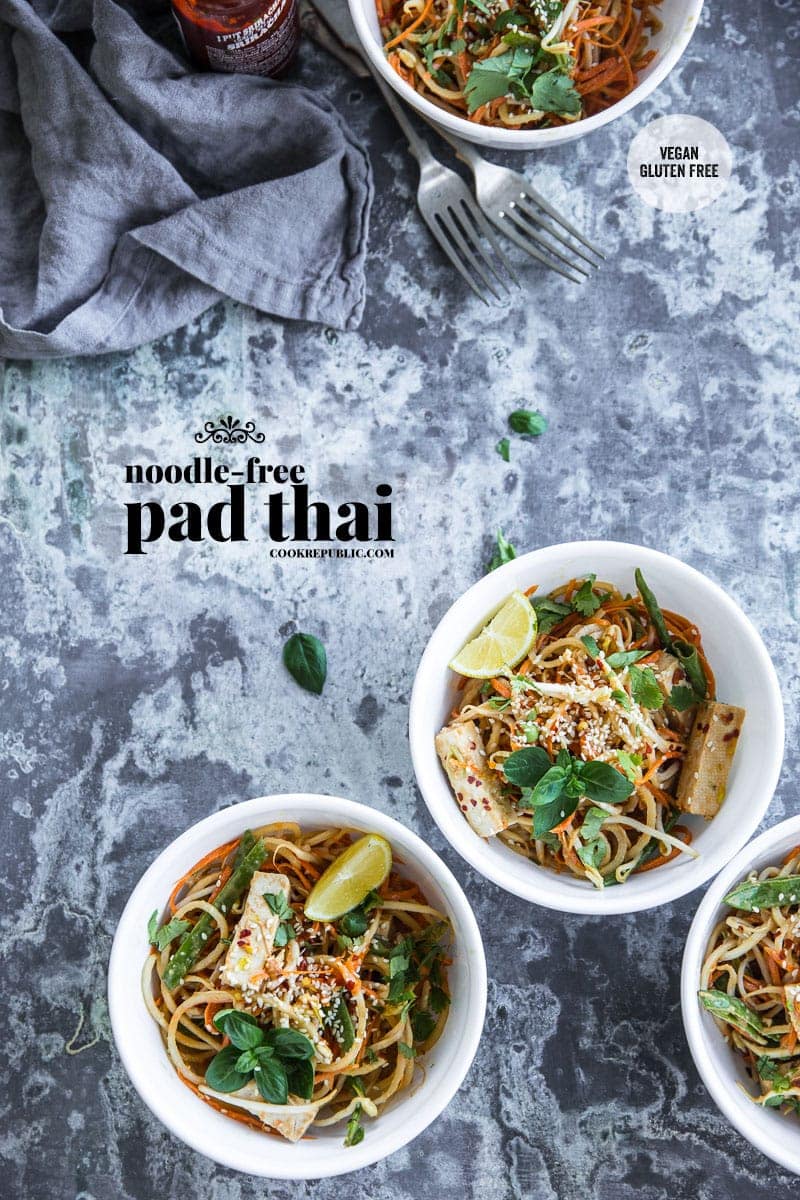 This is a great recipe to add to your meal prep rotation because it is truly a lifesaver. Imagine having a big box of prepped veggie noodles, tofu and sprouts sitting in your fridge along with a jar of this creamy delicious dressing. Then when you are running late for work, or have nothing to eat for lunch or are too tired to cook dinner - all you have to do is mix it all up and enjoy a huge bowl with some microwaved instant miso soup on the side. Yum!
If you make this, please share your feedback and rating in the comments below. If you have any questions at all, please also share in the comments below. I hope you make this and love it as much as we do! Enjoy! x
Recipe
Hungry For More Recipes? Subscribe to my newsletter. Check out Facebook, Instagram and Pinterest to see everything I share! And if you love cooking and new cookbooks, join my free Cooking Club on Facebook!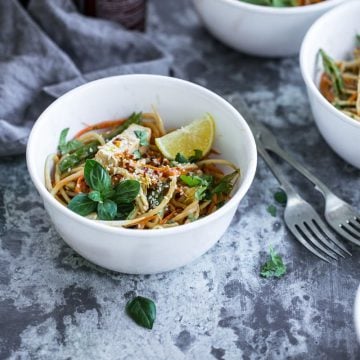 NOODLE FREE PAD THAI
adapted from Green Kitchen Travels by David Frenkiel & Luise Vindahl tested - 3 times
Print Recipe
Rate / Comment
Ingredients
For The Noodles
1

daikon radish

3

medium carrots

3

cups

(

300

g

)

bean sprouts

250

g

snow peas

,

sliced lengthways

300

g

firm tofu

,

sliced in rectangles

3

spring onions

,

chopped (green only)

1

handful fresh coriander leaves

15

Thai basil leaves

,

roughly chopped
For The Peanut Sauce Dressing
1/4

cup

(

60

g

)

smooth or chunky peanut butter

4

tablespoons

lime juice

2

tablespoons

tamari

,

or light soy sauce

2

tablespoons

maple syrup

1

tablespoon

freshly grated ginger

3

garlic cloves

,

minced

1

teaspoon

red chilli flakes

1/4

cup

(

62.5

ml

)

water
To Serve
lemon wedges

,

sesame seeds, extra chilli flakes, Thai basil and coriander leaves.
Instructions
Wash and peel the daikon and carrots. Spiralize them using a spiralizer or julienne them using a julienne peeler. Alternatively if you don't have either gadget, use a potato peeler to shave thin strips off the daikon and carrots. Place vegetable noodles in a large bowl.

Add bean sprouts, snow peas, tofu, spring onion, coriander and Thai basil. Toss gently with your hands.

Place all ingredients for the dressing in a glass bottle. Pop the lid on and shake until smooth and creamy.

Pour over the noodle mixture in the bowl. Mix using your hands while ensuring that everything gets coated evenly with the dressing.

Divide equally in 4 or 6 bowls. Top with sesame seeds, chilli flakes, herbs and serve with a lemon wedge.
Notes
The veggie noodle, tofu and herb mix can be prepped and stored in an air tight container in the fridge for up to 3 days.
The dressing can be prepped and stored in the fridge for up to 5 days.
Did you make my recipe?
I'd love to hear how you went! Tag me on Instagram @cookrepublic