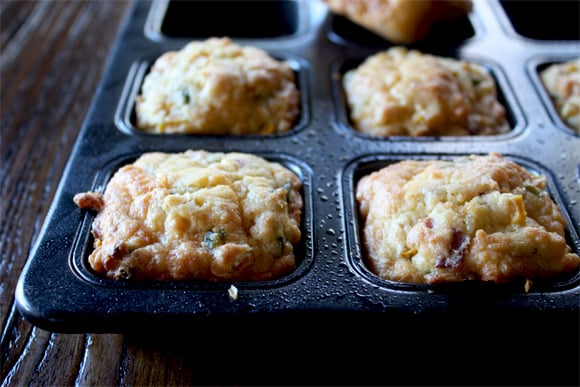 I had never had a crab muffin till insanity struck earlier today as I prepared to make cheese, corn and bacon muffins like my friend Petra makes. The story behind those muffins is a long one but to sum it up, Petra made these delicious savoury muffins for a toy-clean up session at our local playgroup a couple of years ago. It was the first time I had met her and she stuck in my head, mainly because she is a lovely lady but also because she introduced me to the wonderful world of savoury muffins. Believe it or not, I had only sampled sweet and gooey muffins right up till that day.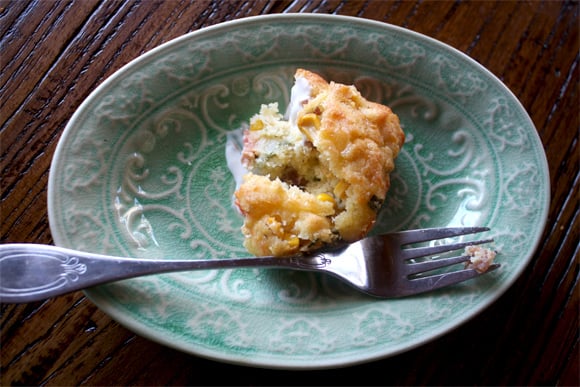 After I got back home that day, I had to try the muffins out. I just had to. So I did and began a month long obsession of whipping up savoury muffins of all kinds. A few years passed and every time I made a savoury muffin, I thought of Petra. I find it amazing how some people touch your lives by the simplest acts and gestures and never realise it. Earlier this year, I regrouped with her because both our first borns go to school together and we remnicised about her corn muffins. Turned out, we had both stopped making them as everyday life took over. Today, after discovering can after can of creamed corn and corn kernels in the pantry [It clearly showed my intention to make those muffins week after week], I decided to make them. After whipping up a huge pot of sweetcorn chowder for dinner, it was revealed that I didn't have enough corn for the muffins. But I was determined to make them. Rummaging in my pantry, I came across a can of crab meat and the rest is history.
I don't believe I have ever come across a recipe of a crab muffin in any book or magazine, so I thought I'd share this one. It also gave me a chance to test out my square muffin pan and the muffins were just delicious.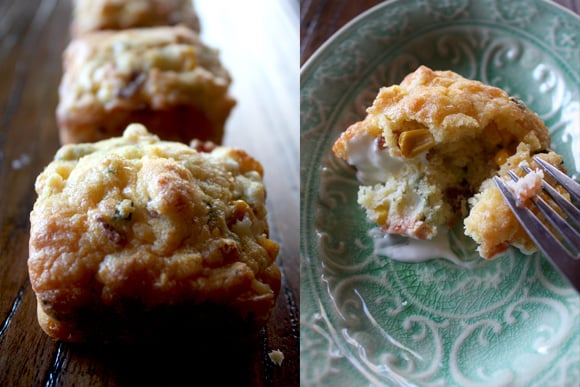 [print_this]
recipe
CRAB MUFFINS
Preparation Time - 20 minutes | Baking Time - 20 minutes | Makes 12 large muffins
Ingredients
1/2 cup polenta
1/2 cup milk
4 bacon rashers, rind removed, chopped fine
4 green onions, chopped fine
1 1/2 cups self-raising flour
1 tablespoon caster sugar
250g can corn kernels, drained
170g crab meat, drained
100g butter, melted
2 eggs, beaten lightly
1/4 cup coarsely grated cheddar cheese
a pinch of salt
1 tsp dill
1 tsp olive oil
Method
Place polenta in a large bowl and top up with milk. Set aside for 10-15 minutes. Preheat oven to 200°C. Spray a 12-hole muffin pan with oil and set aside.
Cook bacon in a teaspoon of olive oil on medium heat for 5 minutes until brown and crispy. Remove from heat and stir in the onions.
On top of the polenta mixture, add the flour, sugar, salt, corn kernels, crab meat, butter, eggs, bacon mixture, cheese and dill. With a wooden spoon and a light hand, gently mix till lumpy and just combined.
Spoon batter in the prepared muffin pan. Bake for 20 minutes until risen and golden. Serve with sauce of your choice and salad. Best eaten straight from the oven.
[/print_this]