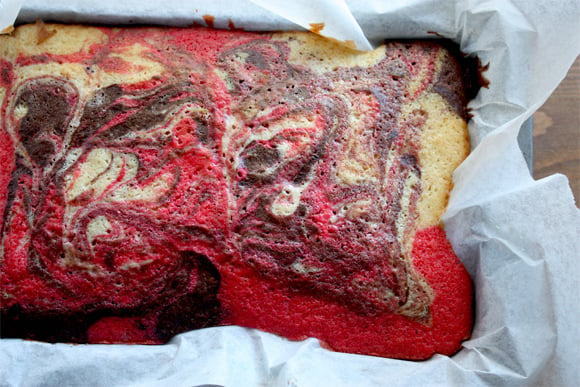 A couple of weeks ago I was rushing to meet my project deadline before picking my son up from school and driving him to a play date. I had 40 minutes at best after I wrapped up my final logo presentation before leaving home. Overcome with a sudden urge to bake [I really wish I wasn't hit by those at the most inopportune times], I picked up a recipe for a marble cake, tweaked the quantities so it would cook faster and baked this little masterpiece which was a hit with the kids and the mums, but especially the kids.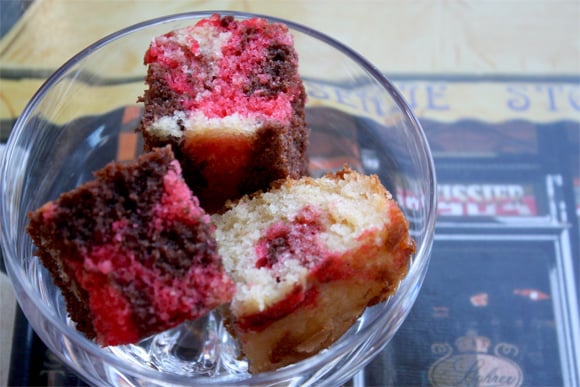 I bake marble cakes all the time. I had baked a massive one for my dad's birthday and sent it with my mum to take it home to him. Who doesn't like a little bit of color and adventure in their food that makes them feel like little kids scoring delicious looking treats? I certainly do. This recipe slices perfectly, is enough to feed 8-10 people, looks gorgeous with its swirls of chocolate and pink, doesn't need icing, is moist while retaining the perfect crumb texture I've seen in a cake.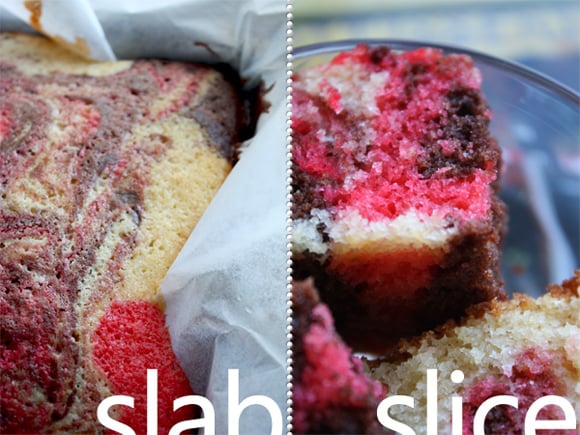 Recipe
Hungry For More Recipes? Subscribe to my newsletter. Check out Facebook, Instagram and Pinterest to see everything I share! And if you love cooking and new cookbooks, join my free Cooking Club on Facebook!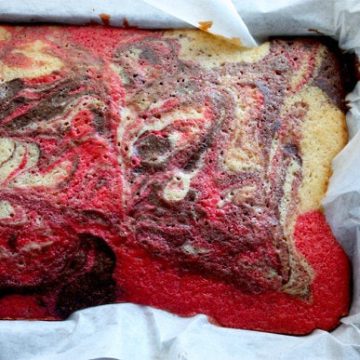 Ingredients
180

g

butter

,

at room temperature

2/3

cup

caster sugar

1

teaspoon

vanilla extract

1/2

teaspoon

strawberry essence

2

eggs

1 3/4

cups

self raising flour

3/4

cup

milk

few drops of pink liquid food colouring

3

tablespoons

cocoa powder
Instructions
Preheat oven to 180°C. Spray an 18 x 28cm slab [slice] pan with oil [any kind]. Line the base and sides with baking paper, allowing the paper to hang over the edges of the pan.

Use an electric beater to beat the butter, caster sugar, strawberry essence and vanilla extract in a bowl for a few minutes until pale and creamy. Add eggs, beat some more.Add the flour and milk. Stir with a wooden spoon until mixed thoroughly.

Divide the mixture into 3 bowls. Add the pink food colouring to one of the bowls and mix well. Add the cocoa powder to the mixture in the other bowl and mix well. Drop dollops of plain, pink and chocolate batter into the prepared pan, alternating as you please. Once all the batter is in the pan, use a fork to gently swirl the tops of the batter and blending into each other.

Bake for 20-25 minutes in the pre-heated oven. Wait for it to cool completely before cutting into slices. Serve dusted with icing sugar.
Did you make my recipe?
I'd love to hear how you went! Tag me on Instagram @cookrepublic