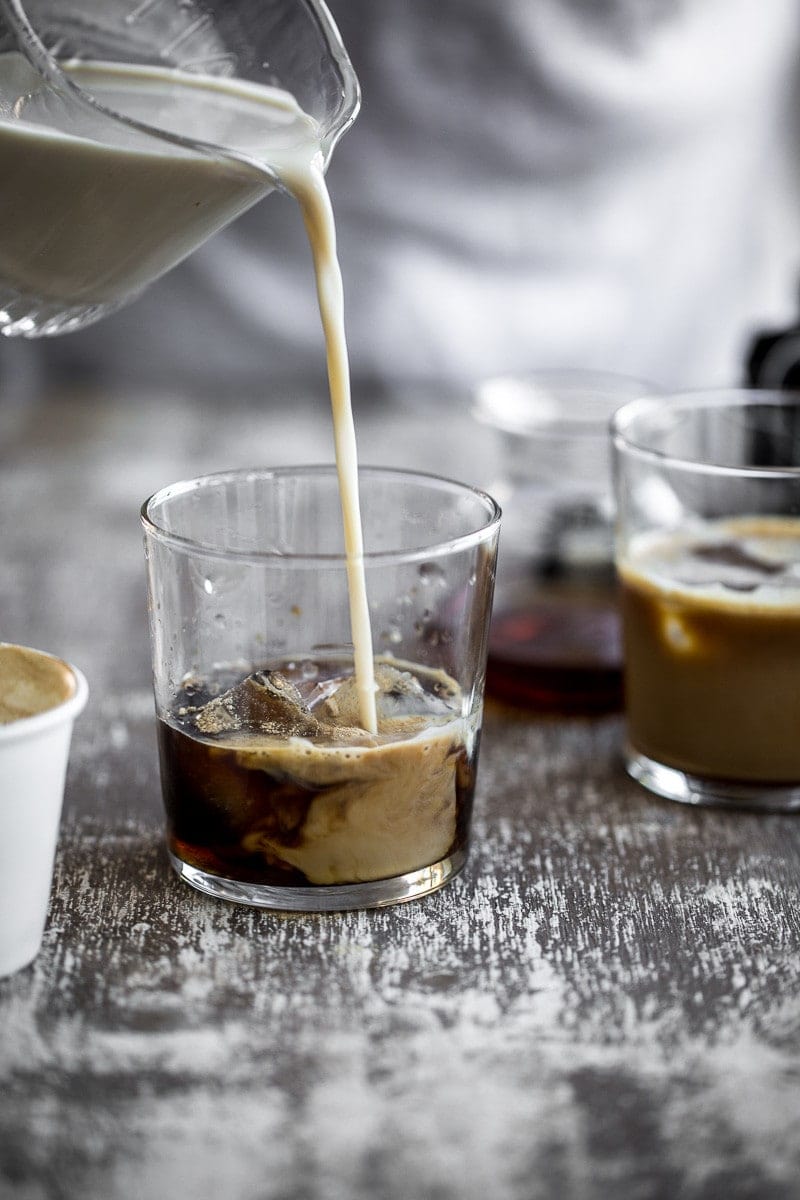 Happy New Year folks! What a scorcher it has been over the past few days here in Sydney. With temperatures soaring during peak summer, a much needed afternoon cup of coffee may only wake you up but not necessarily cool you down. And that is why my dear friends, the iced coffee was invented. It is my favourite drink of choice on hot summer days and some hot summer nights as well – with a generous dollop of home-made vanilla ice cream of course!
As much as I love a tall glass of iced coffee with a scoop of ice cream after dinner (it was a treat we really looked forward to as children and one that was reserved for very special occasions!), I am now an adult and have to be sensible about things like this. I also feel my palate is more refined than when I was a child and craves cleaner tastes and textures. A sophisticated cold coffee poured on ice with a dash of sweetener and soy milk cools my hot afternoons very nicely. Inspired by coffees in Southern India, I have been spiking my iced coffee with cardamom on occasion and it is truly divine.
I love the ease and convenience of having a Nespresso coffee machine when creating an iced coffee. It means that I can extract the hot coffee directly into my serving glass and instantly cool it down with ice cubes rather than spend more time, effort and utensils brewing and cooling coffee. The coffee itself is a beautiful thing. I have been exclusively using Nespresso coffee for about 5 years now and every single extraction is a revelation. Perfectly balanced and rich with that glorious crema on top. Something that is of utmost importance when you want a good iced coffee that has a depth of coffee flavour and not watered down by all the ice and milk. The Nespresso Ristretto Grand Cru has to be my most prized and frequently used capsule. It is intense and has subtle fruity tones which I love. When these flavours pair with cardamom in an iced coffee, it feels right!
What are your favourite iced coffee flavours? Do you have a special twist, a special ingredient that changes the game? I would love to know, one coffee lover to another; so please do tell! And stay cool. x
Recipe
Hungry For More Recipes? Subscribe to my newsletter. Check out Facebook, Instagram and Pinterest to see everything I share! And if you love cooking and new cookbooks, join my free Cooking Club on Facebook!

Ingredients
40

ml

Nespresso Ristretto

4

ice cubes

¼

teaspoon

ground cardamom

1

tablespoons

maple syrup

125

ml

chilled milk of choice
Instructions
Place ice cubes in a 350ml capacity tumbler. Pour Nespresso over the ice cubes. Sprinkle cardamom and add maple syrup. Stir gently until combined.

Pour over the milk slowly. Enjoy chilled.
Did you make my recipe?
I'd love to hear how you went! Tag me on Instagram @cookrepublic
disclaimer - This post was created in collaboration with Nespresso. Recipe and musings are my own.