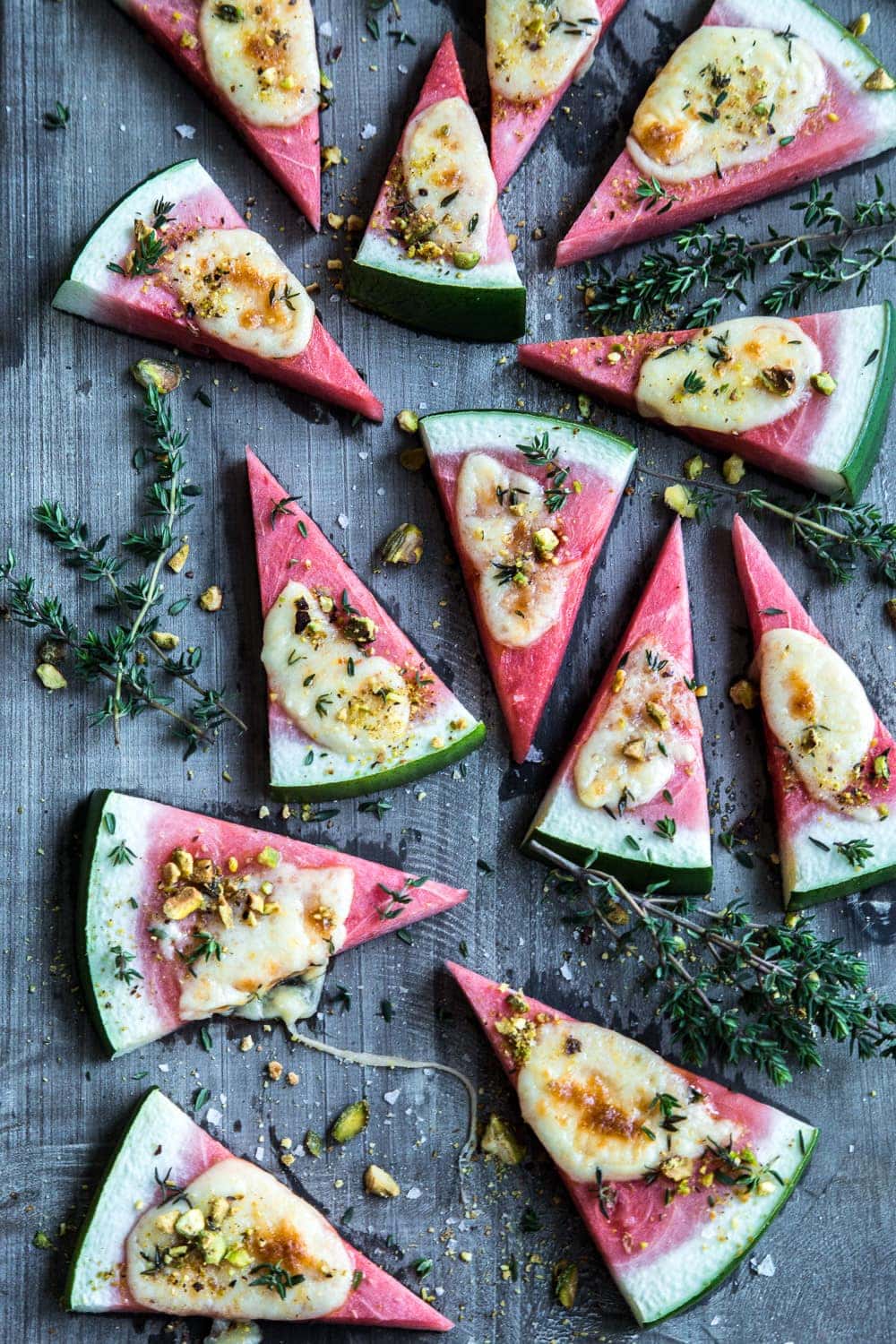 Watermelon is the essence of summer. Bright, juicy, sweet and cooling - it is the whole enchilada. The quickest way to eat it would be to slice it into giant wedges and go to town on the red flesh as juice streams down your elbows. But we are humans and we love to evolve. It is our thing. A watermelon eaten as just a watermelon is not going to cut it forever. So we invent chocolate dipped melon popsicles and watermelon cakes and watermelon salad bowls and jellies and juices. Inspired by the brilliant combination of feta and melon in a salad, I invented this fun recipe for watermelon grilled cheese pizza wedges a few years ago and it has become a summer favourite in our home. It is the quickest, most delicious snack you can put together in a matter of minutes when you are hopping in and out of the pool on a hot day.
This recipe is basically a play on flavours. I wanted something salty and savoury to balance the sweetness of watermelon. So I went with a smokey sharp cheddar cheese. This brand is my favourite, I could eat chunks of it all day long. The pan toasted nuts, the fresh thyme and hint of pepper all add to the party that makes the watermelon truly shine. If you have a kitchen blowtorch, I suggest using that to melt and grill the cheese. If not, placing the wedges under a hot grill for a few minutes until the cheese melts is a good idea too, although this tends to warm the watermelon a bit. The blowtorch method keeps the watermelon cool, crisp and crunchy with the oozy cheese on top. Heaven!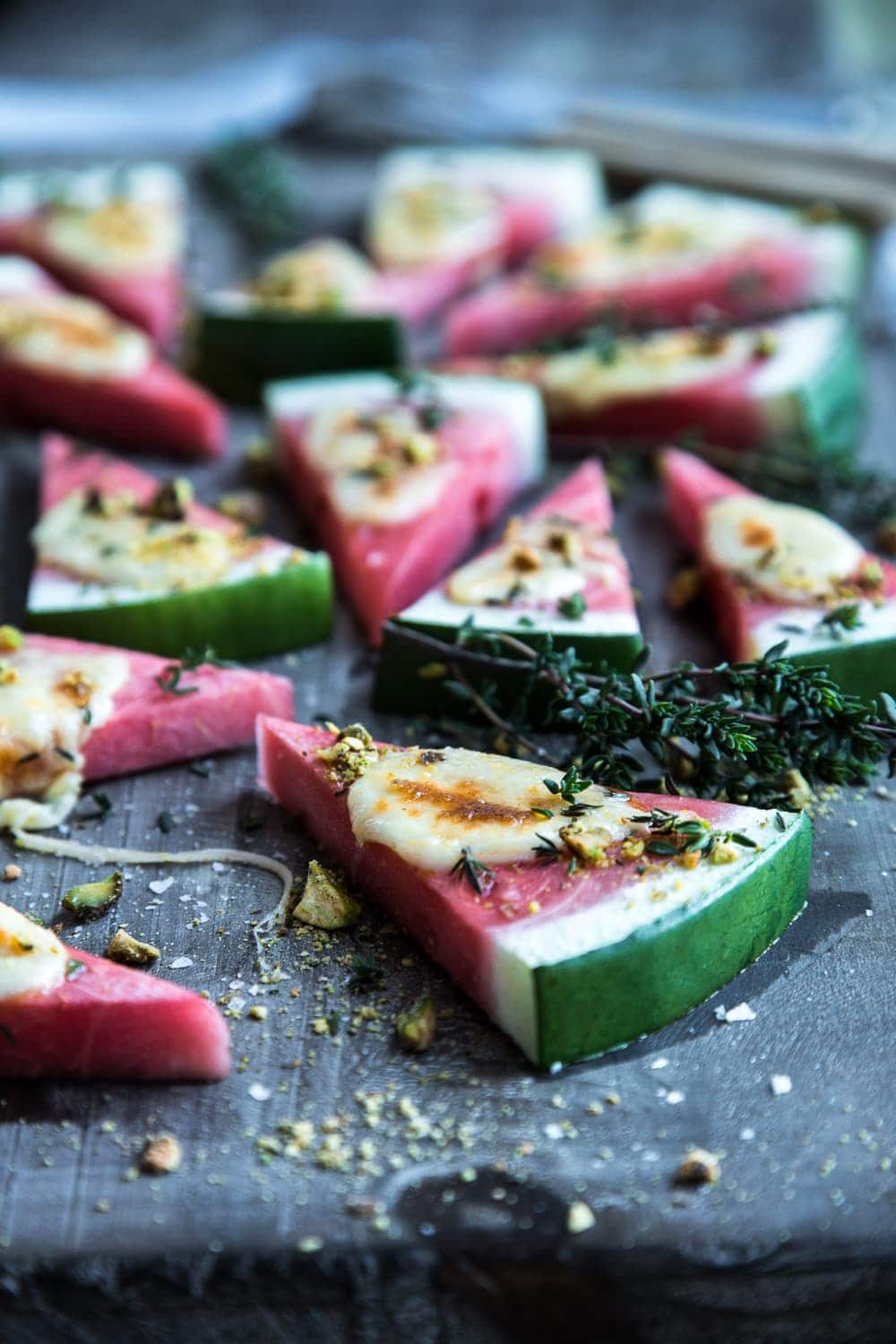 Make it and share your creation with me on Instagram #cookrepublic. This is one pretty party pleaser!
Recipe
Hungry For More Recipes? Subscribe to my newsletter. Check out Facebook, Instagram and Pinterest to see everything I share! And if you love cooking and new cookbooks, join my free Cooking Club on Facebook!

Ingredients
12

watermelon wedges

,

approximately 1/2 inch thick

fresh smoked cheddar cheese shavings

fresh thyme leaves and sprigs

½

cup

pistachio

salt and freshly ground black pepper
Instructions
Toast pistachios in a frying pan over low-medium heat for a few minutes. Remove from heat and crush in a mortar and pestle. Set aside.

Place watermelon wedges on a baking sheet. Top each wedge with cheese shavings and thyme leaves. Place under a hot grill for about 5-8 minutes until cheese melts and starts to turn golden. Alternatively, toast cheese with a kitchen blowtorch.

Sprinkle the nut crumble over the watermelon triangles. Season with salt and pepper. Serve on a cheese board with sprigs of thyme.
Notes
Make sure you use a perfectly ripe watermelon, red and sweet.
If stronger cheese is not to your liking, mozzarella cheese or bocconcini balls work well for grilling/melting.
Did you make my recipe?
I'd love to hear how you went! Tag me on Instagram @cookrepublic