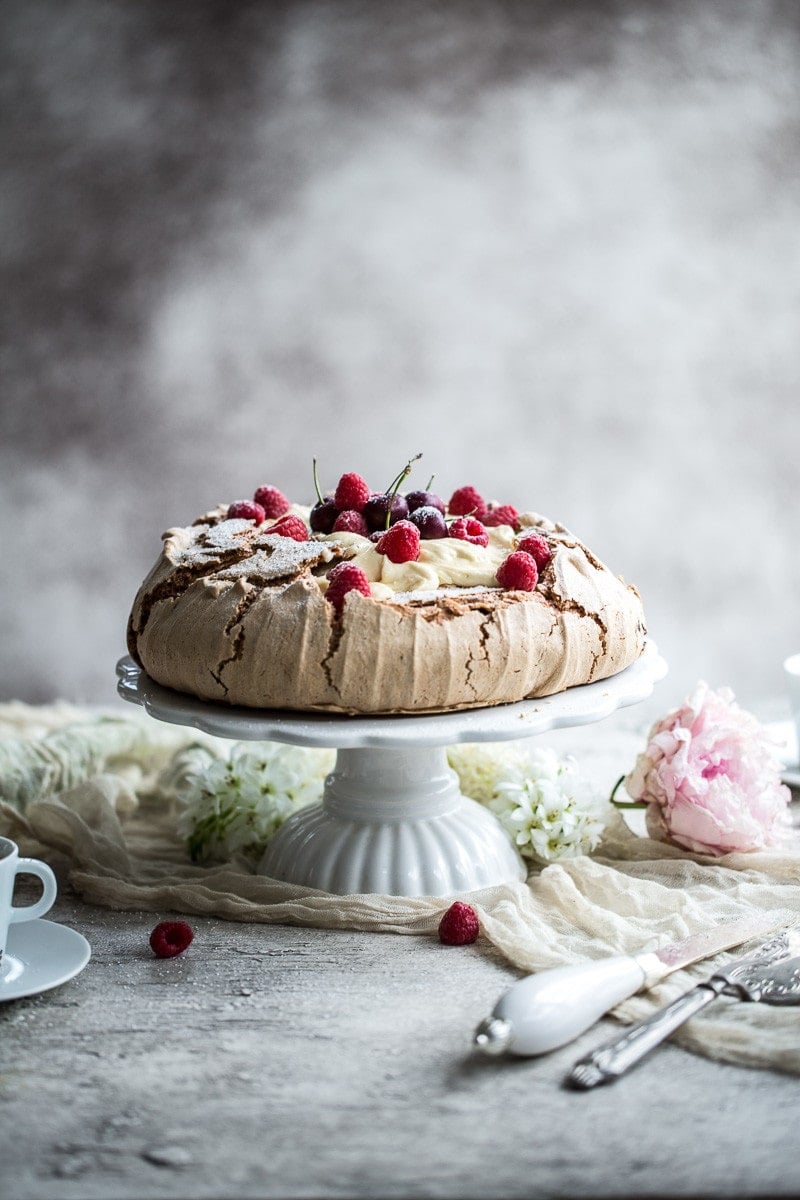 It is that time of the year when a lot of us who love to entertain go on the hunt for the perfect show-stopping dessert. Because come on, a glorious dessert is worth much more at a gathering than any dish you create, isn't it? I obsess a lot about what to cook and serve my guests at a dinner party but more so for the dessert. I like to get my dessert sorted early on especially because desserts can be made ahead. It always makes me feel more prepared for the big day.
So every year, I try to create something reasonably spectacular according to my standards. And by that I mean, that it would not only be amazing to look at but require minimal effort, not be overly sweet and be as appealing to kids as it would be to adults. Two birds, one stone and all.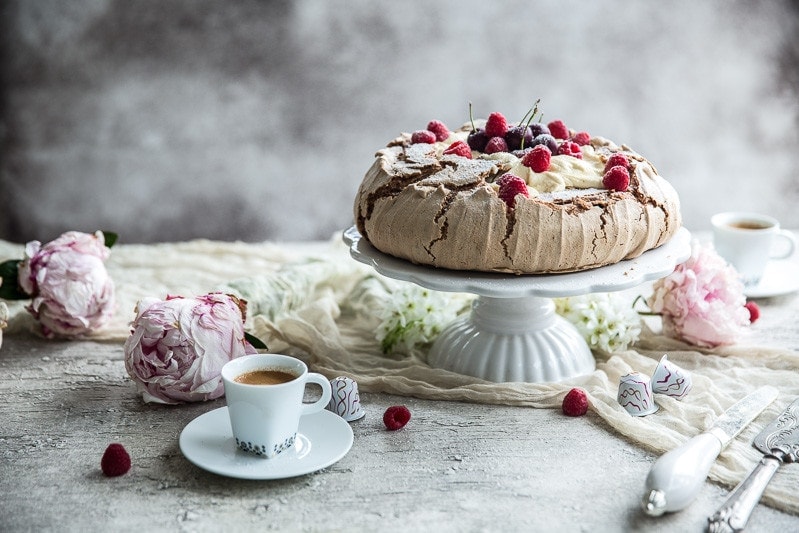 Coffee seems to be an underlying theme for my Christmas desserts. And this year was no different. It is really a no-brainer especially because Nespresso comes out with their Limited Edition Variations before Christmas and the flavours are always exciting and complimentary to desserts. This year they have released three Grand Crus that are an ode to famous Viennese desserts – Linzertorte, Sachertorte and Apfelstrudel. I have always loved the famous Austrian Linzertorte – a red currant tart with the signature lattice top. The Nespresso Linzertorte captures the essence of this dessert beautifully with red fruit and spiced dough notes.
I decided to create a truly Aussie dessert with this beautiful coffee – a pavlova. It was about time too because after 11 years of living here in Australia it was a crying shame that I had neither baked nor tasted a pavlova even once. The sugar and spice notes in the coffee were soft and delicate in the dessert and complimented the crisp texture and lush red fruit.
Pavlovas strike the fear of the baking Gods in most home bakers and the ones who master it seem to relish terrifying the noobs with horror stories of collapsed middles and cracked shells. To that I say – what a load of rubbish! It is actually one of the easiest desserts to make and one of the most forgiving. So you have a collapsed middle? Well fill it right up with cream and heap with berries and it will be a visual feast! So it cracked around the sides? Place big strawberries on the inside propping up the cracked shell, then fill with cream and heap with berries! You see where I am going with this? Just fill with cream and top with berries should be your pavlova mantra.
But before you begin, it is imperative that you read through the points below at least three times and follow them. Just simple things I have put together from reading a million different recipes and then learning from baking my own Pavlova twice.
Pavlova 101
Eggs must be at room temperature. (Cold eggs don't whisk well to create volume)
Whisk eggs in a large bowl to prevent spillage.
Whisk in a metal or glass bowl.
Make sure bowls are completely clean AND dry.
Make sure egg whites are pure egg whites. (No stray yolk bits)
Caster sugar works best. I used raw caster sugar as I wanted a slightly coffee coloured tone to the pavlova.
Whisk in sugar 1 tablespoon at a time. Do not over beat after adding sugar otherwise the pavlova will crack after baking. (But if it does crack, you know what to do!) Check to see if sugar has almost dissolved by rubbing mixture between fingertips. It should be just glossy and almost smooth.
Only beat for a few seconds after adding cornflour and vinegar. Cornflour and vinegar make the insides gooey like a marshmallow and the outside crisp. If you want crispness overall, don't add these two ingredients. Your pavlova will be more like a true meringue.
REMEMBER to reduce oven temperature the minute you put in your pavlova. (I forgot to do this on my first run. I did everything perfectly but then forgot to reduce oven temperature and it baked on high until the end. It was still okay, great in fact! Remember all you need to do is fill with cream and heap with berries!)
Cool pavlova completely in oven, better if it sits there overnight. So the best time to bake a pavlova would be in the evening when you know your oven can be safely out of commission for a few hours without interfering with your cooking plans. Cooling in oven is essential as it will make the pavlova crisp up nicely on the outside thereby making it easy to just lift off the tray and place on the serving plate.
If you make this decadent treat, please share your experience and rating in the comments below. Don't forget to tag me on Instagram using #cookrepublic with pictures of your creations. And feel free to share your pavlova tips and tricks! Thanks lovelies! x
Recipe
Hungry For More Recipes? Subscribe to my newsletter. Check out Facebook, Instagram and Pinterest to see everything I share! And if you love cooking and new cookbooks, join my free Cooking Club on Facebook!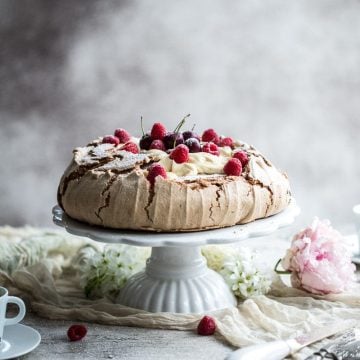 Ingredients
6

egg whites at room temperature

1 ½

cups

(

315

g

)

raw caster sugar

2

teaspoons

cornflour

,

sifted

1

teaspoon

white vinegar

1

teaspoon

vanilla extract

100

g

melted dark chocolate

40

ml

Nespresso Linzer Torte

300

ml

double cream

300

ml

pouring cream

60

g

icing sugar

,

sifted
Instructions
Preheat oven to 150°C. Line a baking sheet with baking paper. Draw a 20cm circle on the baking paper. Set aside.

Whisk egg whites in an electric mixer until fluffy and voluminous (Make sure you use a large bowl for this job as the egg whites will expand). Add sugar 1 tablespoon at a time while whisking for a couple of minutes until it turns glossy, forms stiff peaks and sugar is melted (Test this by turning the bowl upside down. The mixture should stay put. Also try rubbing the mixture between your fingertips, you should hardly feel the sugar).

Add cornflour, vinegar and vanilla. Mix very briefly for 2-3 seconds (Do not overmix as this can later cause the pavlova to crack).

Mix melted chocolate and 20ml of the coffee in a small bowl. Pour this into the egg white mixture and swirl once or twice gently with a wooden spoon.

Dollop the pavlova mixture in the middle of the circle on the baking sheet. Using a wooden spoon, spread until you just reach the edges of the circle. Using a flat blade knife, structure your pavlova by drawing the knife up in furrows around the edges. Flatten the top slightly. If you'd like to fill the pavlova, make sure you create a little crater on top.

Place pavlova in the hot oven. Reduce temperature to 120°C and bake in the oven for 70 minutes. Turn off the oven and allow the pavlova to cool in it completely for a couple of hours or overnight.

Prepare the coffee cream by whisking cream and icing sugar along with 20ml of the coffee in a small bowl with an electric beater. Whisk only for about 30 seconds at which point the cream will become thick and of spreadable consistency.

Fill or top the cooled pavlova with the cream. Garnish with red berries and stone fruit. Dust with icing sugar and serve immediately.
Did you make my recipe?
I'd love to hear how you went! Tag me on Instagram @cookrepublic
Note - This post is in collaboration with Nespresso and sponsored by them. Recipe and musings are my own.