A robust carrot cake for afternoon tea, inspired by the famous Indian dessert Gajar Ka Halwa (Sweet Carrot Pudding). My Indian Carrot Cake is baked with macadamia oil, lots of spices, sultanas and toasted pecans. A delightful cake that tastes even better the next day after the spices have developed in flavour.
2012 / Death Of A Beloved Oven
A few weeks ago my oven caught on fire, literally. Gone, departed, finished! I turned the switch off to stop the sparking and flames. I felt nothing. That night I ordered a replacement to fill the hole in my rather primitive kitchen - same model, nothing fancy. I felt nothing. The next day I started getting grumpy. I chalked it off to withdrawal from baking and cooking. After all, it had been 24 hours and I hadn't done either. The day after that my chest started hurting and I was a tiny bit alarmed. I was alone at home and not getting any younger. Minor heart attack? Nahh, I thought as I went back to the kitchen and stared at the now dead oven just sitting there, covered in oil splatters and scratches, looking well, - dead! I had this terrible urge to punch something - anything!
I am a very "hug everyone", "smile all the time" kind of a person, so this feeling was even more alarming than my chest pain. On the third day, I was walking around the house moping, sulking, procrastinating. The new oven would only get home the following week and meanwhile, the old one just sat there being useless. At this point, I was like an addict without the means to feed my addiction. Nothing to cook and bake with. In a desperate attempt to feel useful, I cranked up my slow cooker and chucked in a cherry cake and some potatoes to roast. Then as an afterthought, I started cleaning my dead oven. Five minutes into cleaning it, I felt incredibly sad. Before I knew it, the tears came and I was glad to be alone at home because I wailed.
Just like that in three days, I had been through the three stages of grief without knowing it. Denial, anger and finally acceptance. I had used my old oven every single day since we bought our home nearly seven years ago. It was a tiny little thing but it fed hoards. It kept us nourished and content. It saw us through family dinners, a wedding, birthday parties, annual barbecues, and Christmas celebrations. It was a friend and it had served us well. But just like spring, it was time for new beginnings. A new chapter with a new companion. The new oven is the exact same model as my old one and after 2 weeks of cooking and baking, it feels like I am spending time with my old friend. Like nothing has changed.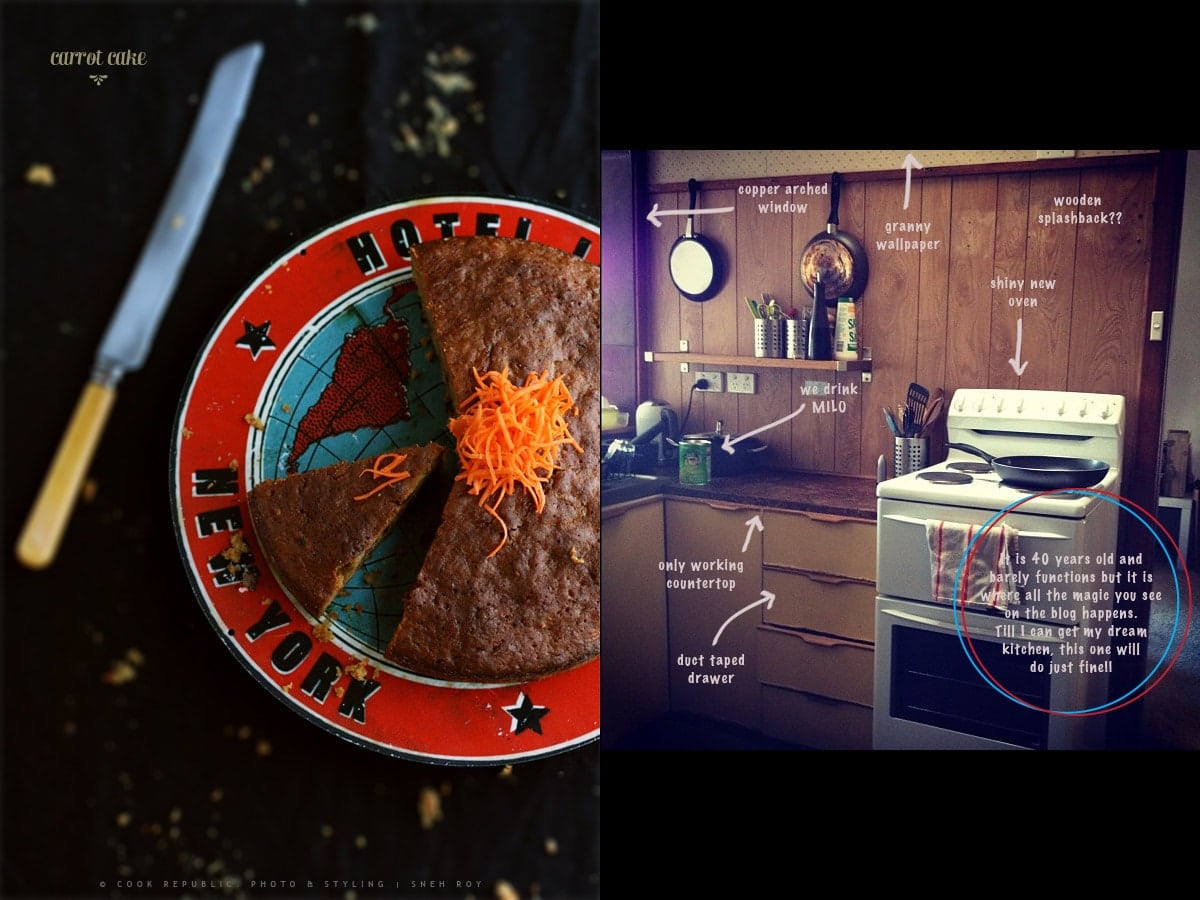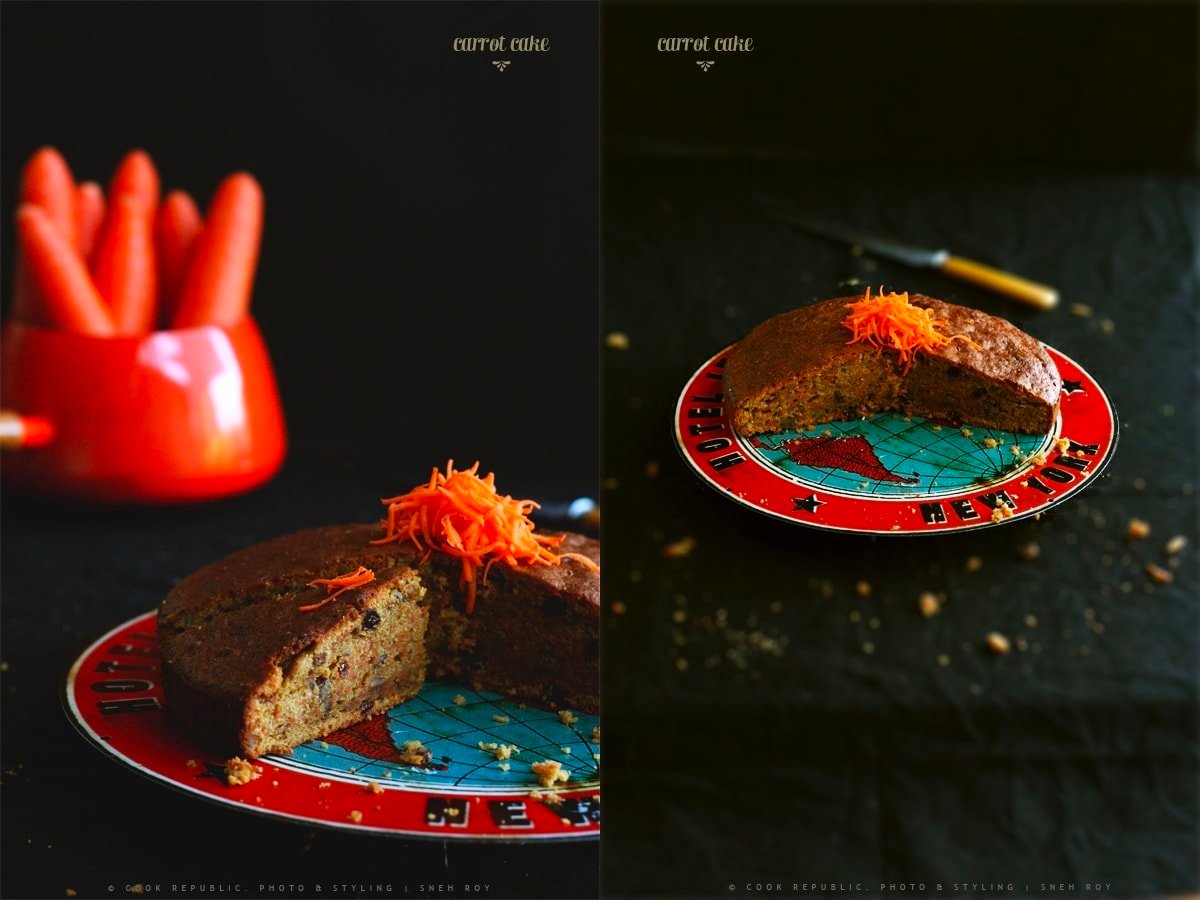 The Challenges Of A 40-Year-Old Kitchen And My Solution
Now don't you look at that kitchen and feel sorry for me yet, I have created a cooking and photography workspace in our family room and here is what it looks like! That little wooden crate against those big doors at the back is where I shoot all my photos. This steel bench bought from a hospitality and catering supply company has been a Godsend. Finally, a flat surface to roll my pizza dough or prevent my chopping board from rocking like a boat. It doesn't matter that the floor is usually covered with toys most of the time, and little boys are pushing their choo -choo trains and their hot wheel cars around my legs as I try and circumvent them to get that hero shot. We have all learned to coexist and make the most of the space and the situation.
And now I have a new oven! This carrot cake was the first thing I baked in it. It is a family favourite and is inspired by my beloved Indian dessert Gajar Ka Halwa which is a sweet spice and nut-laden slow-cooked Carrot Pudding. This delightful cake is unbelievably light, packed with flavour and super moist. When I am feeling incredibly festive, I frost it with some simple lemon-infused cream cheese frosting. But for the most bit, we love it plain with a smattering of icing sugar. Toasts like a dream and freezes well too.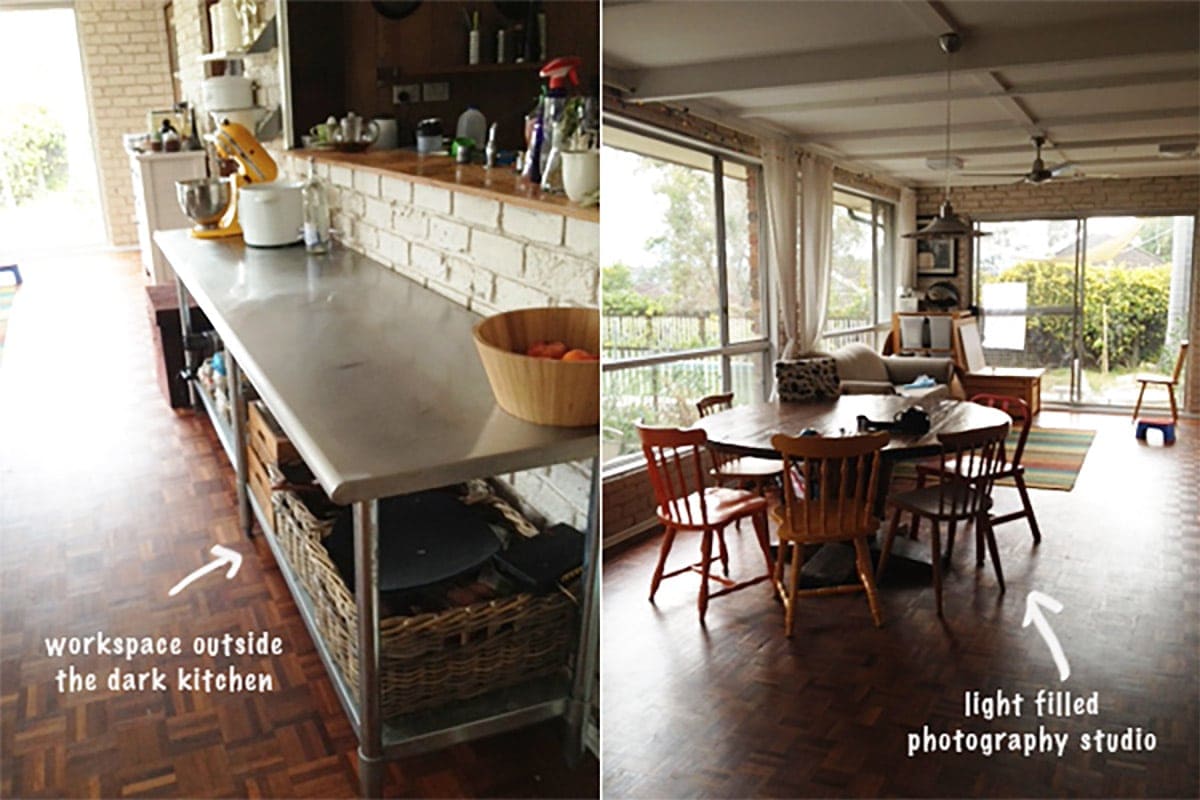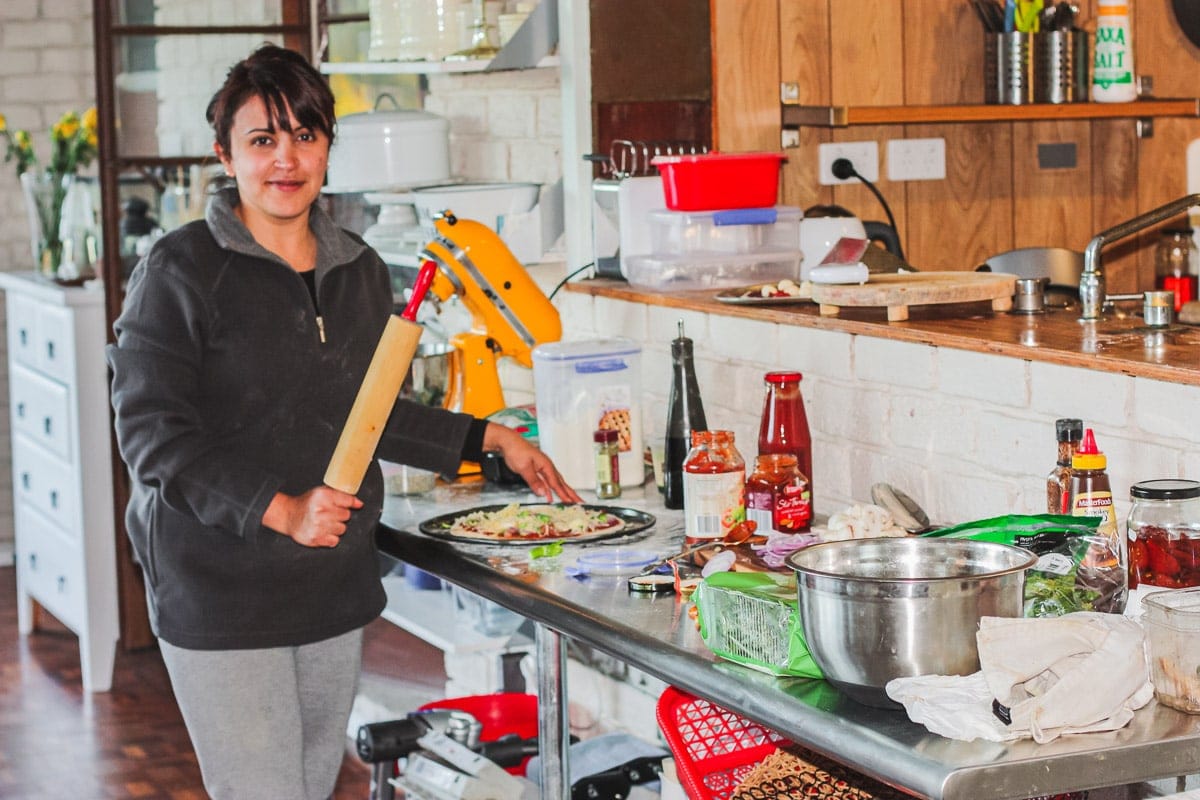 2022 / A Kitchen Update And A Spiced Indian Carrot Cake
Its 2022 and I am writing to you from a new kitchen, well sort of. Back in 2012 when I shared my original kitchen, so many of you couldn't believe that I actually cooked, worked and ran a food blog from that limited, primitive space. What is more amazing to me now is that I actually tested, wrote, shot and created my cookbook Tasty Express in that old kitchen. But even back then with its numerous limitations, I loved it. It was my space and it was where my creativity and love for cooking and feeding people thrived.
In 2014, a mere two years after sharing my old kitchen photos, I had written a cookbook and won a national blogging and writer's competition. It was time to renovate the kitchen space. So we demolished the kitchen and family room/shooting area and created the kitchen of my dreams. And this is what it looks like now. A space that feed
Recipe
Hungry For More Recipes? Subscribe to my newsletter. Check out Facebook, Instagram and Pinterest to see everything I share! And if you love cooking and new cookbooks, join my free Cooking Club on Facebook!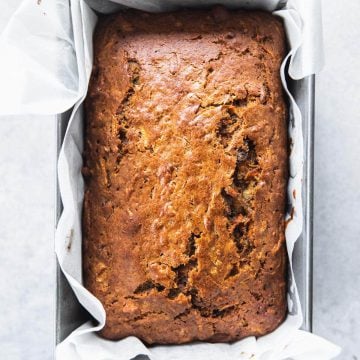 INDIAN CARROT CAKE
A classic healthy carrot cake baked with fragrant cardamom, macadamia oil and pecan nuts. Inspired by the Indian dessert Gajar Ka Halwa, this beautiful cake makes a great afternoon dairy-free treat!
Print Recipe
Rate / Comment
Ingredients
3/4

cup

(

115

g

)

rapadura sugar

,

Note 1

3/4

cup

(

160

ml

)

macadamia oil

,

Note 2

3

eggs

1 1/2

cups

(

225

g

)

spelt flour

,

Note 3

1

teaspoon

baking powder

1

teaspoon

bicarbonate of soda

1/2

teaspoon

salt

1

teaspoon

ground cardamom

1

teaspoon

ground cinnamon

1/2

teaspoon

ground nutmeg

1/2

cup

(

60

g

)

pecan nuts

,

toasted and chopped, Note 4

1/2

cup

(

75

g

)

sultanas

3

cups

(

350

g

)

grated carrot
Instructions
Preheat oven to 180°C (350°F). Grease and line a 9-inch round springform tin (or a 23cm X 14cm loaf tin) with baking paper.

Place the sugar and oil in the bowl of an electric mixer and beat for 2 to 3 minutes. Add the eggs and beat for another few minutes. Sift flour, baking powder, bicarbonate of soda, salt, cinnamon, cardamom and nutmeg over the sugar mixture. Add carrot, pecan nuts and sultanas. Mix with a silicone spoon until well combined.

Pour cake batter into the prepared tin. Bake in the preheated oven for approximately 55-60 minutes until golden and cooked through the middle when tested with a skewer. (If the cake is still a bit wet in the middle, cover it with foil and continue baking for another 5-8 minutes.) When done, turn off the oven and allow the cake to rest in the oven for 5 minutes before pulling it out and cooling completely in the tin.

Slice and serve. Great toasted for breakfast or warmed in microwave and served with a dollop of ice cream for dessert. Cake slices freezes well wrapped in baking paper and packed in freezer safe bags/container. Will keep at room temperature in a cool corner of your kitchen for 2 days (upto a week if stored in the fridge).
Notes
Rapadura Sugar - Rapadura sugar is unrefined palm sugar. It is brown and has a rich caramel tone and flavour. It can be replaced with coconut sugar or regular brown sugar.
Macadamia Oil - This is a beautiful nutty oil that is great for baking. Can be substituted with rice bran oil or light-flavoured olive oil.
Spelt Flour - Bleached or unbleached spelt flour renders a rustic quality to the bake. Can be substituted with regular flour.
Pecan Nuts - These go really well in this cake along with the spices. Other good nut substitutes are almonds, pistachios or brazil nuts.
 Troubleshooting An Undercooked Cake - With this cake, because the fat and liquid content is quite high, sometimes when the carrots are extremely fresh or the eggs are larger, I find the cake to be a tiny bit wet in the middle at the 55-min mark. In this case, I continue baking it for another 10 minutes by covering the top with foil to avoid it from getting too brown. If you have baked for the said amount (55 minutes) and pulled out the cake, checked for doneness, let it cool and it still had a wet spot; don't worry. Slice the cake up, pop it back in the tin with the baking paper and bake for 5-10 minutes with a foil on top to even out the wet spots. Works like a charm every time!
Did you make my recipe?
I'd love to hear how you went! Tag me on Instagram @cookrepublic