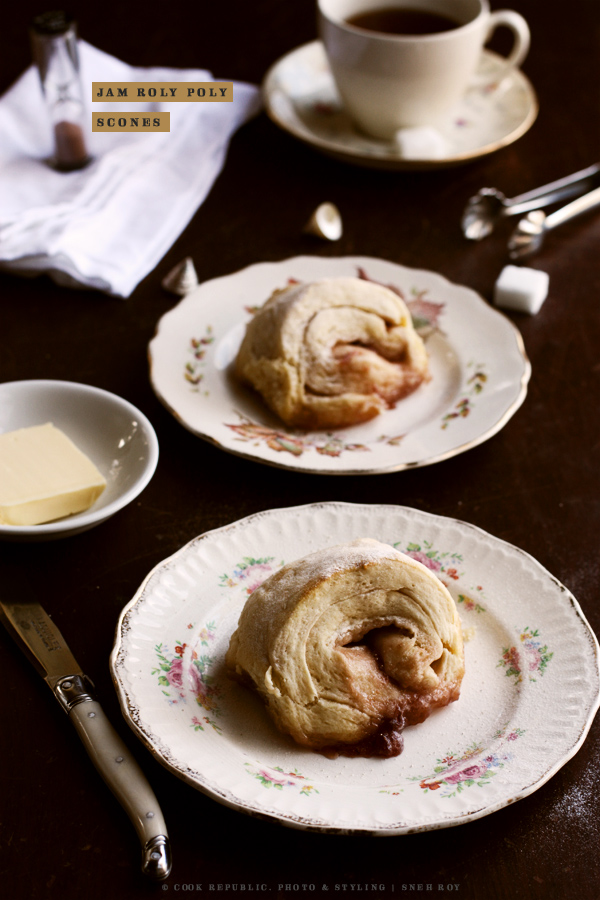 It is picnic weather and even when we can't get to any gorgeous parks that we seem to be surrounded by, we fling out our rattan picnic rug on our lawn and take turns carrying out food and drink for an impromptu Saturday morning alfresco breakfast.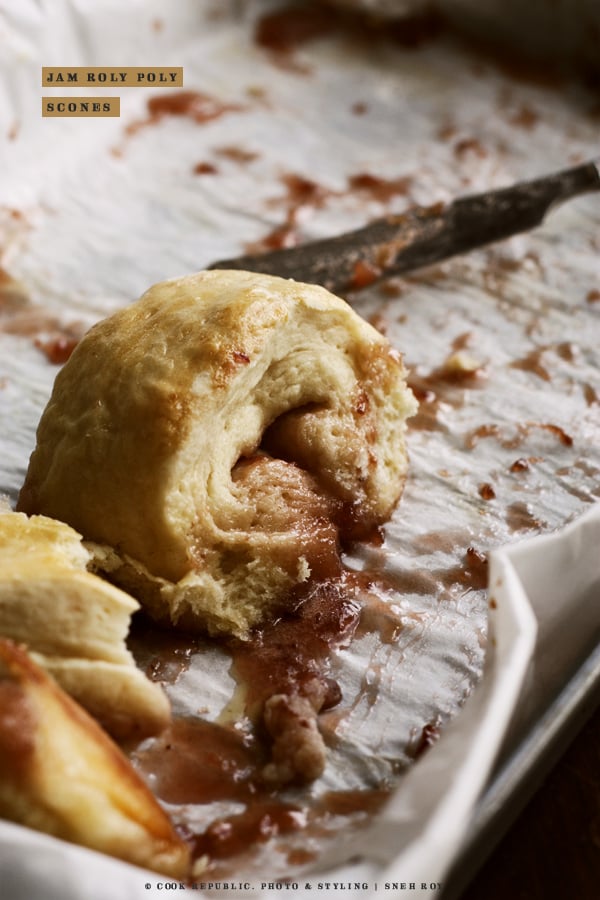 These pillow soft scones are perfect for digging in and best eaten warm from the oven. You roll the scone dough out, spread it with your favourite jam and roll it back up into a log. You then cut thick scones out, arrange neatly in a plate and bake them. As the scones bake, the jam oozes out from the middle and renders the bottom of the scones soft, oozy and sticky while the top gets golden and crunchy. They taste amazing and long after they are gone, you will be still licking your fingers. These are perfect sticky finger scones and are made to share.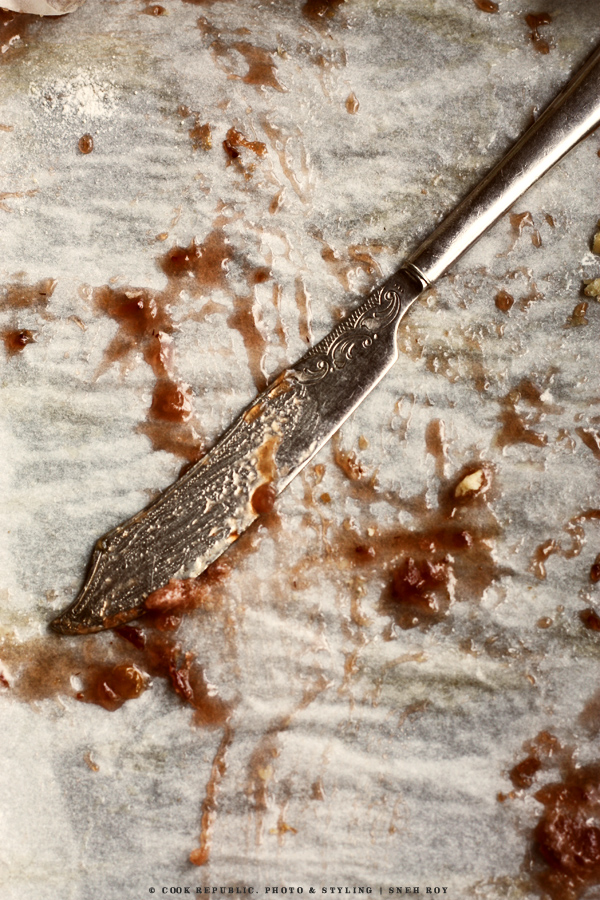 Do it this weekend, take your cup of coffee and toast outdoors, even if it is a covered balcony. Eating your breakfast somewhere other than at the breakfast table is something that ought to be done every now and then. It is fun and liberating! What is the most fun place you have had your breakfast in?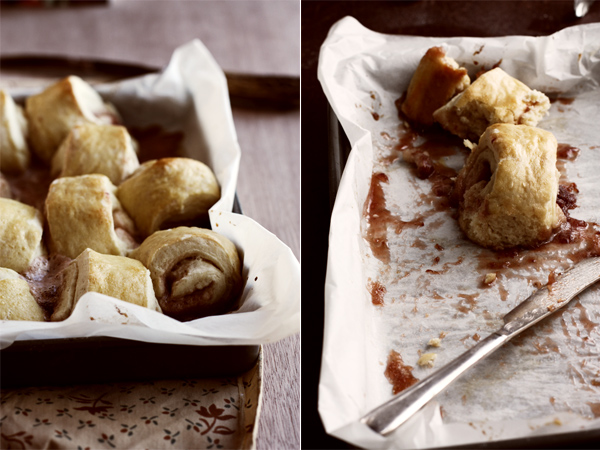 [print_this]
JAM ROLY POLY SCONES
adapted from Belinda Jeffery's Mix & Bake. Buy Amazon
Jam filled pinwheel scones are delightfully crusty on top and soft and gooey in the middle. All you need is a cup of fresh cream!
Preparation Time - 20 Minutes
Cooking Time - 20 Minutes
Makes - 8 to 10

Ingredients
300g (2 cups) self-raising flour
1 tablespoon caster sugar
80g cold salted butter, cut into small cubes
180ml (3/4 cup) milk
1 egg yold whisked with 2 teaspoons of milk
60g unsalted butter, at room temperature
80g (1/4 cup) jam (I used homemade strawberry jam)
Method
Preheat oven to 200C (400F).
Put the sugar and flour in a food processor and whiz to combine. Add butter (80g cold butter). Whiz until mixture resembles breadcrumbs. This step can also be done without a food processor by mixing sugar, flour and butter in a bowl with your fingertips until the mixture resembles breadcrumbs.
Pour in the milk and mix it lightly with a fork. Add more milk if mixture is dry. You need enough to make a soft, light and flaky dough.
Turn the dough out onto a floured work surface. Knead it gently with floured hands until smooth for about 2 to 3 minutes. Roll the dough out or stretch/pat it in a roughly shaped rectangle about 30cm x 20cm and 1cm in thickness.
Put butter (60g) and jam in a food processor and mix until they are well combined. Spread this jam butter evenly over the dough. Starting at the longer side nearest you, roll the dough up like a jam roll. Gently press the seam on the roll so that the roll doesn't open up.
Use a sharp, serrated, lightly floured knife to gently cut 3cm thick slices from the roll. Line a rimmed baking sheet with baking paper. Arrange the scone slices, seam side down on the baking sheet. Leave a gap between the scones to allow them to spread during baking. (If time permits, chill the scones for an hour before baking)
Glaze the scones with the egg mixture and bake for 15 to 20 minutes until golden.
Dust cooked scones with icing sugar and serve with fresh cream and fruit.
[/print_this]