As a child, I lived in a tiny bustling suburb of Bombay. It was called Thane. We had a market. The market was an all encompassing term for a massive area that housed row after row of fresh fruits, vegetables and flowers under a tin shed. There was a fish market in a dark dungeon-like structure a few skips away. And there was a beehive of a spice market between the fresh produce and the fish vendors that made your nose prickle a mile away.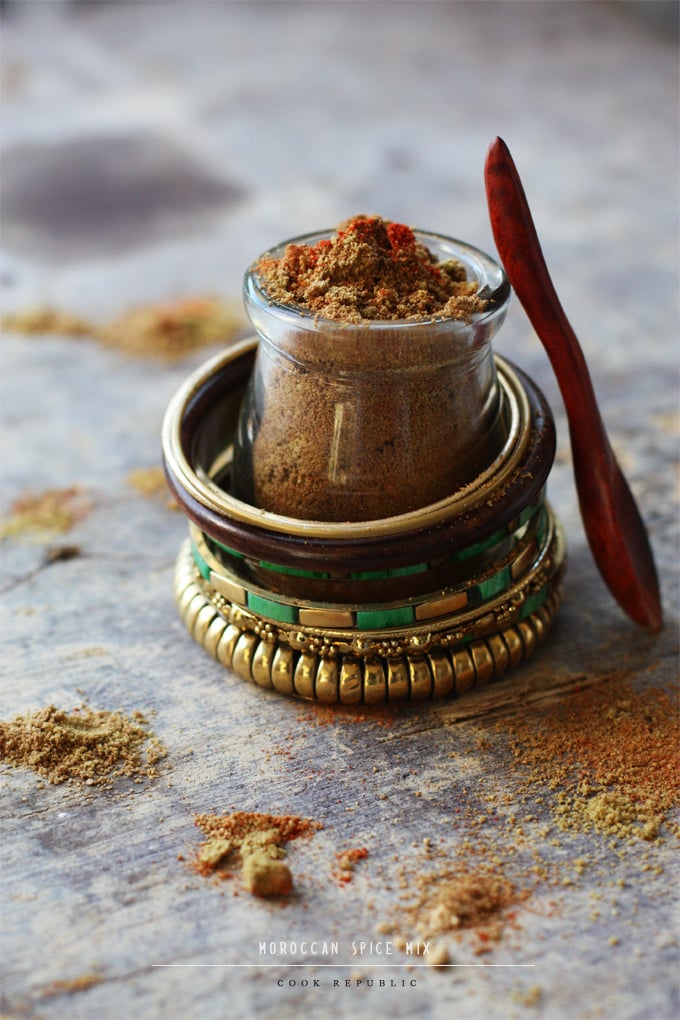 All paths snaking through these three hubs were lined with street vendors selling their wares on wooden carts, from massive woven baskets and entire shops balanced precariously on vintage bicycles. Once a year, my mum used to laboriously roast several large containers of whole spices. We used to then carry them to the spice market weaving our way through colourful mountains of ground spices on display. I was too short to reach the garland of whole spices suspended from wooden beams all along the paths, garlands that all grown ups ducked around as they walked.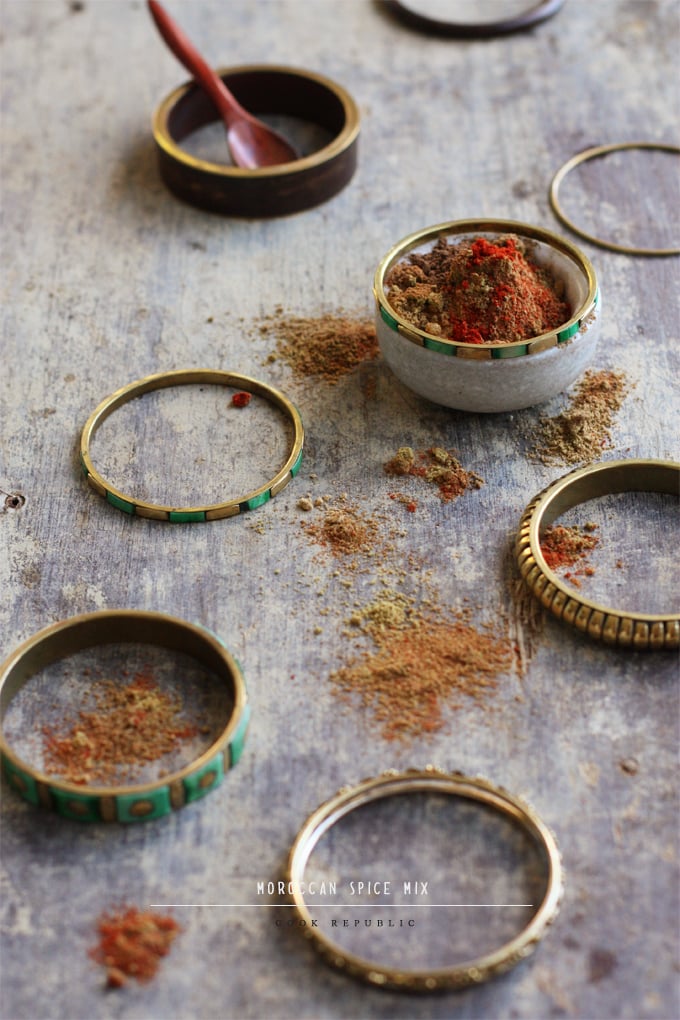 The gentle grating of the giant stone spice mill would become increasingly loud as we neared the spice mill. The extreme prickle in my nostrils and the urge to cough were indicators that we had reached our destination. The garam masala was the key to our everyday culinary escapades and the spice man would get a set of specific instructions from mum, so he dare not take the task of grinding our blend lightly. We would hand over the precious big spice jars like babies being dropped off at nanna's and head off to browse exotic bangles and tea leaves and mosquito nets (oh the adventures we had every day!).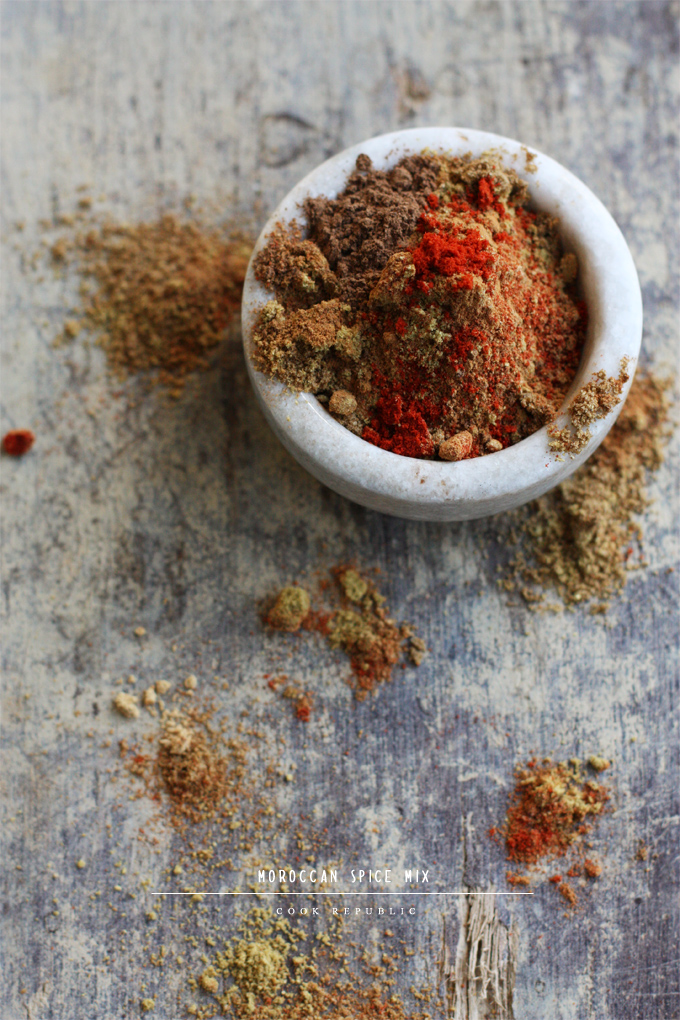 If garam masala had a long lost cousin from Africa, it would be the Moroccan spice mix. Also known as Ras-el-hanout, this famous blend originating in North Africa is a complex blend of over 30 spices, herbs and roots ground together in a mesmerising mix. It is great for elevating meats and robust vegetarian dishes. In today's power packed recipe, I have drawn out the flavour of chickpea and spinach using a simple homemade Morrocan spice blend that would have rivalled the old spice mill from my childhood. It is very basic and absolutely fuss free.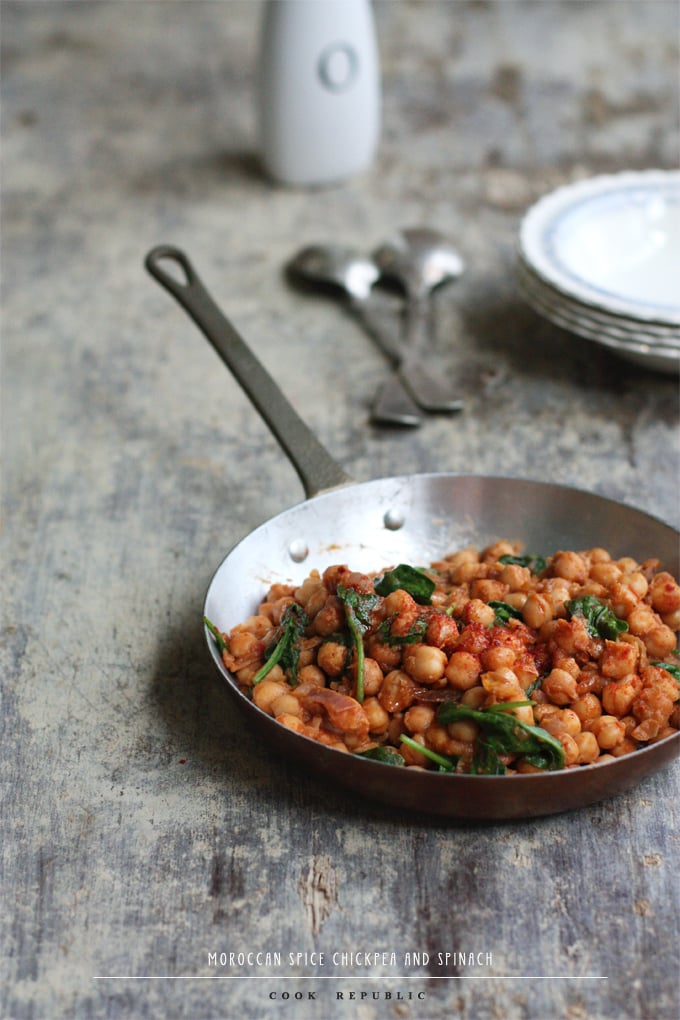 The Moroccan spice mix is easy to make from store bought spice grounds. I love the abundance of cumin in my North Indian and Morrocan dishes, but you can make this blend your own by varying the amounts of different spices to your liking. The quantity below fills up a small jar which is so handy to have in the pantry. And what do you know, it would make a great gift too!
[print_this]
MOROCCAN SPICE CHICKPEA AND SPINACH
Spinach and chickpea come together beautifully in this quick spiced Moroccan-inspired curry for a high energy, nutrient filled lunch.
Makes - To Serve 2
Ingredients
2 tablespoons olive oil
1 brown onion, finely chopped
3 garlic cloves, finely chopped
1 small red chili, seeded and finely chopped
2 tablespoons Moroccan Spice (see below)
salt and pepper to taste
1/2 cup tomato paste
2 cups spinach leaves, coarsely chopped
400g can chickpeas, rinsed and drained
juice of half a lemon
handful of coriander leaves to garnish
Method
Heat oil in a large frying pan over medium heat. Cook onion, garlic and chili for about 5 minutes until soft. Add Moroccan spice. Mix well.
Add tomato paste. Cook for a minute. Add the spinach and chickpeas. Cook, stirring occasionally until spinach has wilted (about 3 to 4 minutes). Remove from heat.
Stir in the lemon juice. Season with salt and pepper. Garnish with coriander. Serve hot with Turkish bread and a dollop of yoghurt.
My Notes
Add chopped pancetta or bacon when you stir fry the onion for a lovely variation.
Reduce tomato paste to just 1 tablespoon and stir through toasted pine nuts and cranberries for a robust salad.
[/print_this]
[print_this]
Moroccan Spice (Makes approximately 10 tablespoons)
5 tablespoons ground cumin
5 tablespoons ground coriander
1 tablespoon ground cinnamon
1 tablespoon allspice
1 tablespoon ground paprika
1 teaspoon ground ginger
1/2 teaspoon ground nutmeg
1/4 teaspoon ground turmeric

Combine all ingredients in a dry bowl. Mix well. Store in air tight container in a cool corner of your pantry for a month or two. Use as required.
[/print_this]