Christmas is a time of sharing. A sharing of moments filled with laughter and carefree abandon that comes from knowing that you don't have to go back to work the next day, the kids are home from school, friends and family that you haven't seen in ages is all around you. Adults band together to cook, drink and have a jolly good time. But there are so many fantastic things you can share and do with kids too. Like gingerbread men! Countless kitchens over countless years have seen mums and dads churn out entire villages of gingerbread people and kids sitting on tables, icing guns in hand, ready to give them a personality.
This year for Christmas, I brought out my trusty gingerbread recipe, a recipe that needs a good amount of chilling that results in hard, crispy, gingery treats that stay fresh for days. "No Icing and the mess associated with it, this year!", I announced. Instead, we made cute buttons, big ones too. And some Christmas trees. And with red twill, we decorated our Christmas tree with our edible creations. How fun!
Wish you all a very HAPPY NEW YEAR! 🙂
Recipe
Hungry For More Recipes? Subscribe to my newsletter. Check out Facebook, Instagram and Pinterest to see everything I share! And if you love cooking and new cookbooks, join my free Cooking Club on Facebook!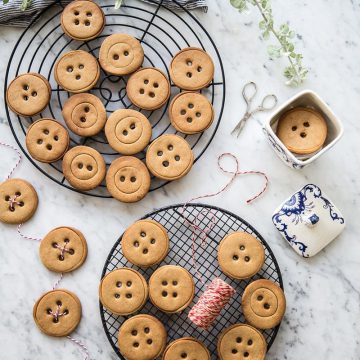 Ingredients
125

g

butter

,

softened

2 1/2

cups

plain flour

,

sifted

2

tsp

ground ginger

1/2

cup

brown sugar

1/2

cup

golden syrup

1

tsp

bicarbonate of soda
Instructions
Preheat oven to 190C/375F. Place butter and sugar in a bowl and beat with a hand blender till well combined, light and fluffy. Add golden syrup, flour, ginger and bicarbonate of soda. Mix to form a smooth dough. Wrap in cling wrap/plastic wrap and chill for an hour.

Roll out the dough between sheets of baking paper to 4-5mm in thickness. Using a round cookie cutter, cut out round shapes. Using a smaller round cookie cutter, lightly make an indentation in the cookie. Using a steel icing nozzle [the small, round kind], punch out four tiny holes in the middle to resemble a button and then one towards the rim [this is where the twill will pass through after the biscuits are baked].

Bake for 8-12 minutes in the preheated oven until golden brown. Remove immediately and cool on a wire rack. Don't worry if they seem floppy at this stage, just make sure they are flat and straight. The more they cool, the more they will harden and you want them nice and flat when they are hard.
Did you make my recipe?
I'd love to hear how you went! Tag me on Instagram @cookrepublic