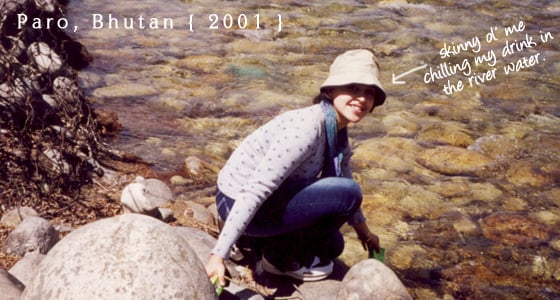 Today I am doing something different. I am sharing with you my ten fondest food memories. Just ten? Well, I do have so many, but these are my fondest by far and I go back to them every now and then. My inspiration for this post comes from Caitlin of Food Nerd who is hosting Top Ten Food-Related Memories this month. It's a lovely idea and I think you would enjoy heading on over to her blog and checking out what people have to say. Here are my ten.
My earliest food memory goes back to the time when I was 4 years old. It was my first time kneading dough for wheat flatbreads (chapatis). I was fascinated by how water worked itself into the flour to make this dough that got smoother and tighter as you kneaded it. I still remember the smell of the flour and the high I got as I molded and shaped and reshaped the dough as I fancied.
Another memory that I remember fondly triggers everytime I smell fresh chapatis being roasted on the pan. My mum used to make hot chapatis when I got back from school, each puffing up into a golden ball speckled with delicate browns. She used to butter them, sprinkle them with sugar and roll them up nice. One of the yummiest things I have ever eaten.
On my honeymoon in Bhutan, Nick and I used to trek alongside the Paro river with a box full of eggs hard-boiled in our hotel room using a water-filled container and a coil heater. After a leisurely breakfast sitting on the white rocks, watching the river flow with not a soul in sight, we used to hold our cans of lemon tea in the ice-cold running water, instant chilled drinks!
Hunting for a reasonable sized frozen turkey in Singapore for Thanksgiving. Finding only a 5kg one. Buying and stuffing and roasting it. Then since it was only Nick and me, eating it for the next one month [after freezing large portions of course!]
A few years ago I iced my first cupcake and it was love at first ice. I still remember going nuts with the sprinkles and colors. I loved it! So when Nick threw me a baby shower, I insisted on making 30 gorgeous cupcakes, each one unique with a different frosting and sprinkles, candies and all the bells and whistles. It took me 4 hours and I had a blast!
Buying Fish & Chips off a nice little eatery along Bondi's beach stretch and feeding the whole thing to the seagulls flocking around us begging for more, over one hour on the beach!
Nick and Rivs baking their first ever chocolate cake with ganache, specially for my birthday last year. It was sinful and delicious. I still remember watching them potter around the kitchen, making a mess, asking me where things were and everything covered in chocolate. Priceless!
Discovering Rotiboy in the food court of Singapore's Parkway Parade Mall. Oh boy, do I miss Rotiboy!
The omelette bar at a resort in Indonesia had this brilliant showman of a cook who made custom omelettes on the fly and you could pick your stuffings and toppings. It was quite an experience.
Dinner on the beach with sand sifting through our toes, candles flickering in glass domes, the waves lapping right upto our table and music and chatter drifting off this fantastic Grill restaurant a little further up from us as we watched the stars and the cargo ships lit up like christmas trees on the horizon. The food was fantastic, the charred aroma of meat being barbecued the most tantalising thing I have ever sniffed, Nick and my last meal as non-parents, utterly romantic and one of the reasons why I get teary-eyed everytime I think of Singapore.