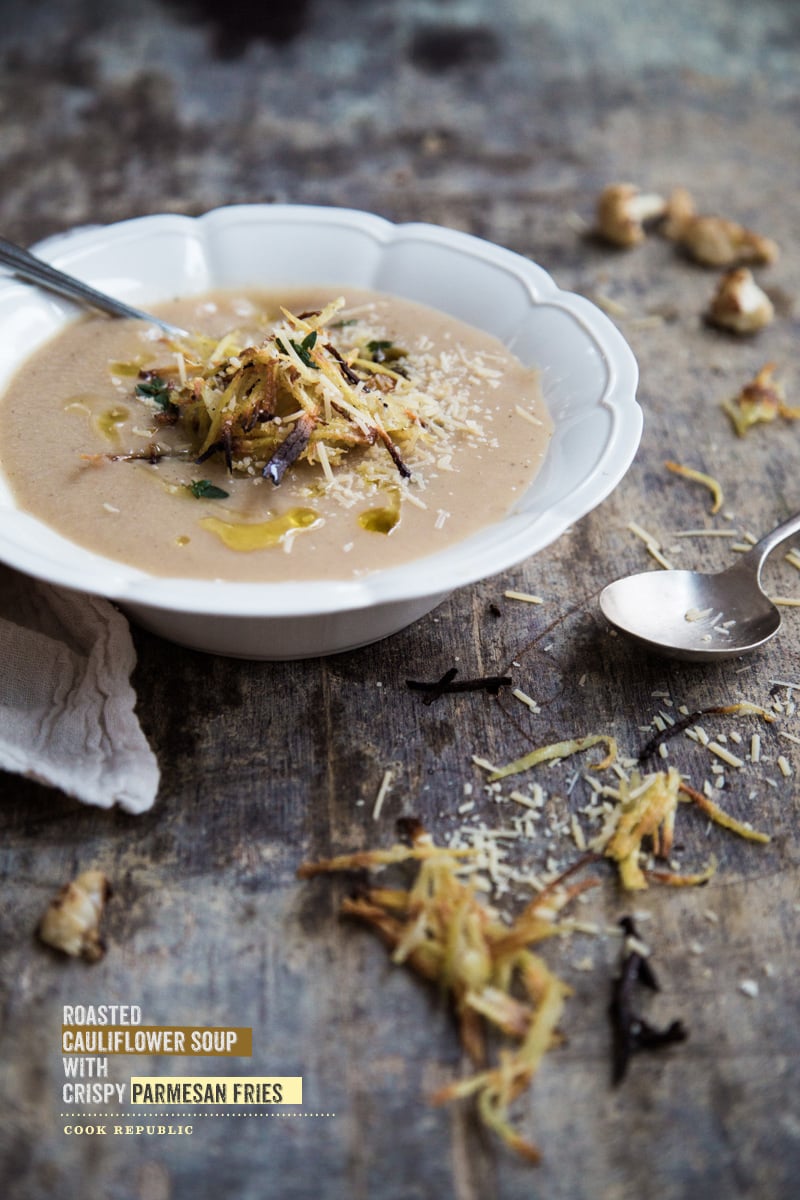 On a recent trip to the Barossa valley crammed in a car with four other foodies and food writers, I asked everyone what their favourite vegetable was. I resort to questions like that when I spot a lull in conversation and because I am a mum and it is the most fun kind of question to ask kids. Same applies for adults. Everyone loves talking about their favourites. And because I am a mum, I don't have a very good memory to recollect what everyone's anwer was when it is time to write about it here on the blog. I remember references to eggplant (oh yes, food bloggers love eggplant!), snow peas and spinach. I remember chiming in even when no one asked, that mine was "Cauliflower!". Again a trait I have picked up from children. Announce your thoughts to everyone, even when no one wants to know.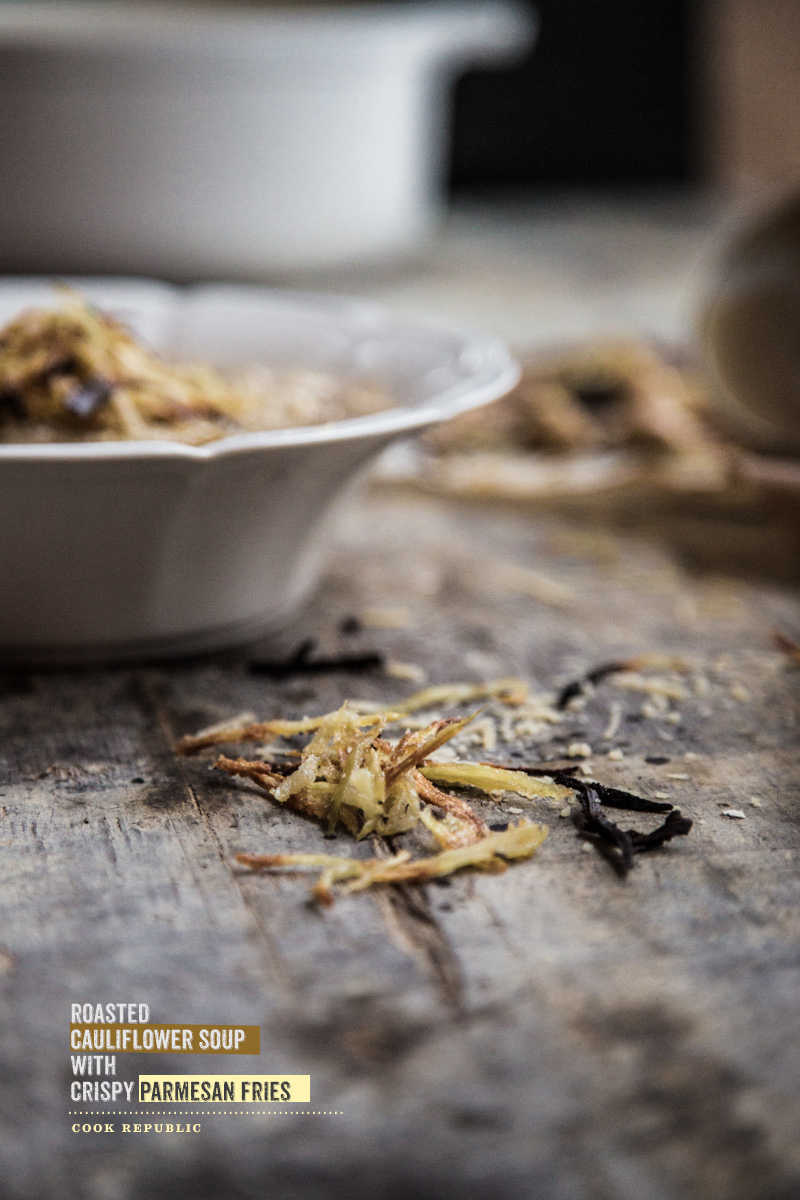 I always have a head of cauliflower in the fridge. No matter the time of the year. It is like that back up tube of toothpaste or bottle of dishwashing liquid. Be prepared because you might need one. So I got the cauliflower out of hibernation, snapped the green leaves at the base and put them in our chicken feed tray (they love it too!). I pulled out big florets and proceeded to roast them on an open pan with lots of garlic while a simple recipe took root in my head. That night for dinner we had a hearty meal of roasted cauliflower soup with crispy baked parmesan shoestrings and a crusty bread.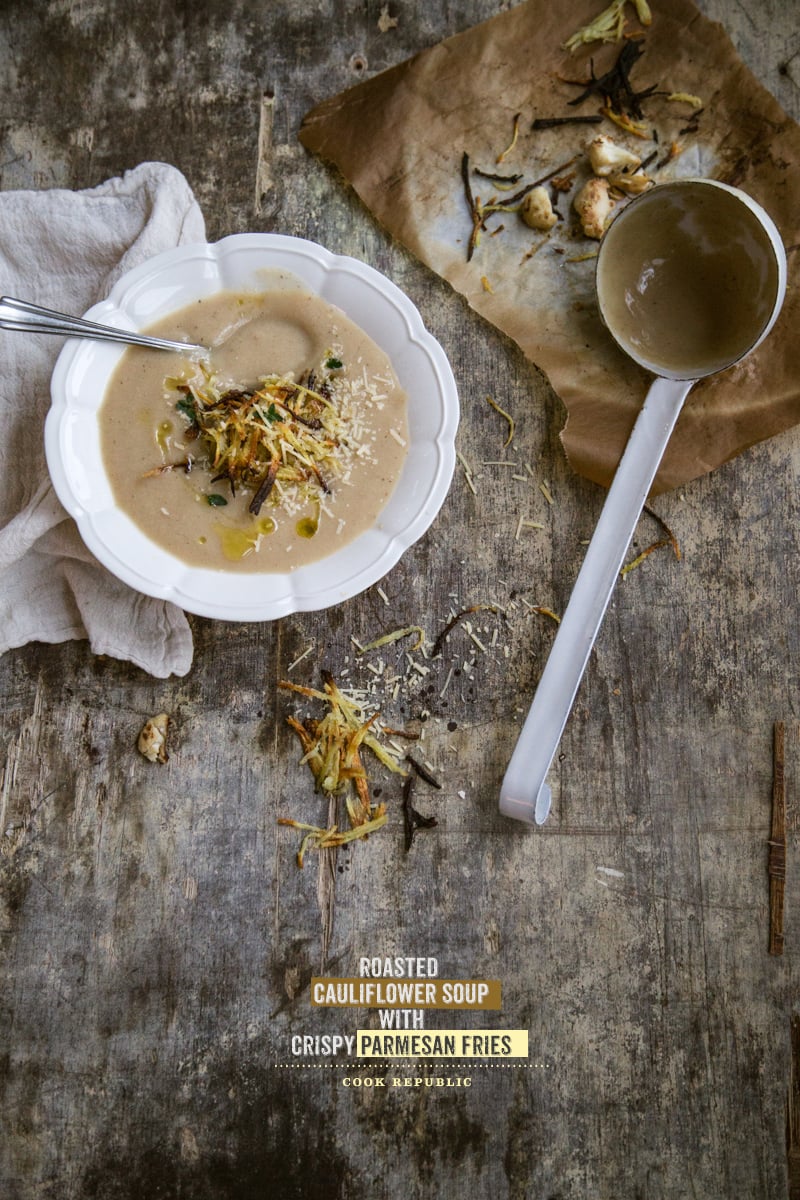 I have cooked so many things with cauliflower but never a creamy soup. "Yuck!" said Gummi Bear, which was a bit harsh I think. He even managed to surprise himself because he never expresses distaste so openly. Usually he makes excuses and is kinder to his mum's feelings (He must've really not liked it!). But then he is only five and there is room to grow. It was really delicious and everyone else enjoyed it, most of all Nick because he loves big bowls of soup and adores cauliflower like I do. I have to now keep making this till Gummi Bear comes around and realizes that he just needed to challenge his tastebuds a bit more like his now adventurous older brother.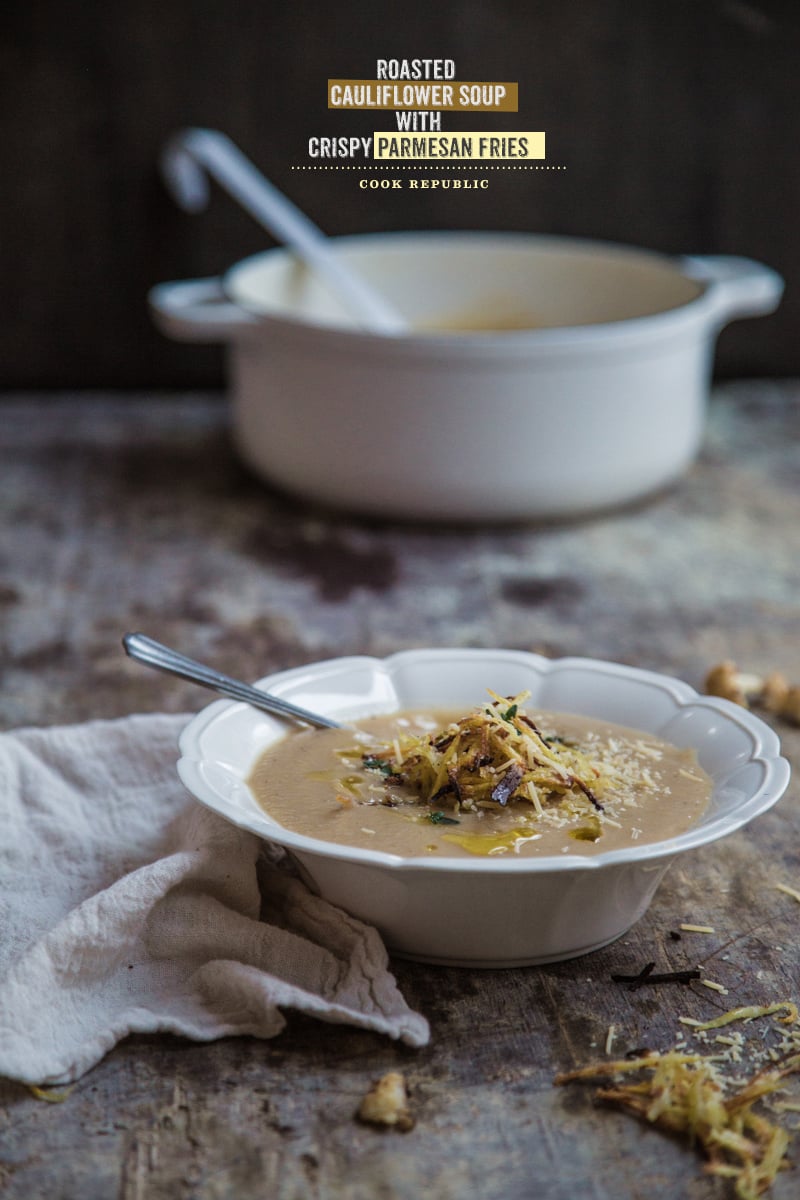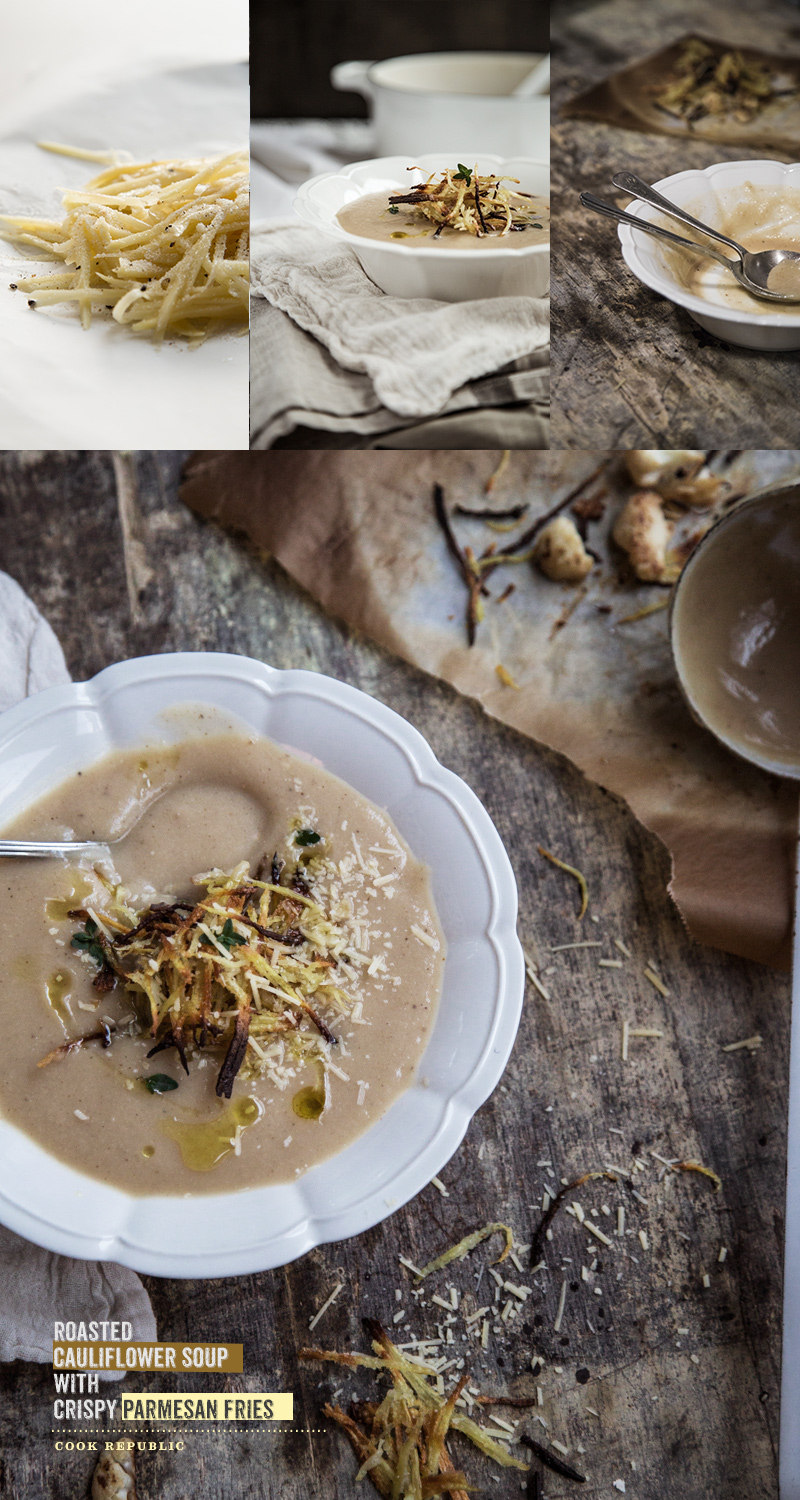 So tell me, what is your favourite vegetable? Have you cooked something that was utterly delicious, but someone found it inedible?
[print_this]
ROASTED CAULIFLOWER SOUP WITH CRISPY PARMESAN FRIES
A heart warming soup with robust flavours roasted cauliflower and garlic, topped with oven baked parmesan crusted potato fries. Perfect as a complete meal with crusty bread or entrée servings in little cups.
Ingredients
1 whole medium sized cauliflower, greens removed and florets separated
3-4 garlic cloves
1 small brown onion, finely chopped
2 purple potatoes, scrubbed and chopped
4 cups vegetable stock
1 small potato, peeled and finely julienned (I used a julienne peeler)
salt and pepper to taste
1/4 cup parmesan, finely grated
a few sprigs of fresh thyme
2 tablespoons olive oil + a dash for the fries
truffle oil to serve (optional)
Method
Combine julienned potato, salt, pepper, half of the parmesan and a dash of olive oil in a small bowl. Toss to coat. Spread on a baking sheet lined with baking paper. Bake in the oven at 180C for about 15-20 minutes until crisp and browned. Remove from oven and cool completely. Toss through the remaining parmesan and set aside.
In a big saucepan, heat olive oil on medium. Add cauliflower and garlic. Sauté for 15 minutes, tossing constantly to roast the cauliflower evenly. Add onion. Sauté for a few minutes until starting to brown. Add chopped potatoes and vegetable stock. Cover and simmer on medium heat for 20 minutes until cooked through.
Remove soup from heat. Using a hand blender, purée the soup in the saucepan until smooth. Return to heat and cook for another 5 minutes. You may also optionally add a dash of cream. Season soup with salt and pepper (according to taste).
Serve hot topped with crispy parmesan fries, thyme sprigs and truffle oil.
[/print_this]