This Tomato Egg Drop Soup is an Indo-Chinese take on the famous Chinese Tomato Egg Drop Soup. A delicious vegetarian bowl of comfort, ready in just 10 minutes recipe and bursting with umami flavour! A nourishing, light meal when you are looking for quick dinner inspiration.
Jump to:
🍲 What is Egg Drop Soup?
Egg Drop Soup is a Chinese soup made by dropping streams of beaten raw egg into a hot broth. This creates silky egg ribbons and makes the soup thick. A more accurate description in Chinese is "Egg Flower Soup" as the cooked streams of eggs form small wispy patterns that look like flowers.
A basic egg drop soup recipe usually consists of egg, chicken broth, cornstarch and spring onions. Chicken Egg Drop Soup is one of the most popular versions of egg drop soup.
My Tomato Egg Drop Soup is utterly delicious too and here is why you must try my recipe
It is perfect for vegetarians and is filled with rich, umami flavour.
It is super easy and quick to make - only 10 minutes!
It is nourishing and filling.
It can be made ahead, reheats well and is great for thermos lunches on cold days.
🍅 Why Salt Tomatoes Before Cooking?
When I first started researching the Chinese version of this Tomato Egg Drop Soup, I came across countless recipes that first started by salting tomatoes. Why salt tomatoes if you were going to add salt/soy sauce to the soup later, I wondered. A deep dive on Instagram and a thorough read of cooking compendiums like Salt, Fat, Acid & Heat taught me that when you salt a tomato, science happens!
When you salt a tomato, it starts the process of osmosis that draws out the inner concentrated tomato liquid/flavour through the cell membranes into the outer layer (probably the reason why you see tomatoes sweating in your salad after you have seasoned them!). Not only does it make the tomato, less watery and more concentrated in flavour, but it also activates your salivary glands causing saliva to distribute flavour in the far reaches of your mouth. The minute the salted tomato touches your lips, your brain explodes with the flavour and it tastes even sweeter. This probably explains why a chopped Indian salad of tomato and onion rings is always salted and sprinkled with pepper (try it, it is divine!)
📝 Ingredients
My Indo-Chinese Egg Drop Soup has a few more extra aromatics than the traditional Chinese Egg Drop Soup. Here is what you will need
Tomatoes - Use the freshest, biggest, ripest tomatoes you can find. I use big, red truss tomatoes. These are ripened on the vine and are incredibly sweet and complex in flavour.
Stock - For my vegetarian recipe, I always use good vegetable stock. You can always substitute with chicken bone broth or chicken stock.
Eggs - Fresh eggs are perfect for this recipe. You can check for freshness by dropping whole eggs in a jug of water. If they sink to the bottom, they are super fresh.
Cornstarch - Also known as cornflour here in Australia, cornstarch is the fine white powder you will find in the baking section. It is widely used for thickening sauces and is a staple in Chinese cuisine.
Aromatics - You will need fresh ginger, garlic and spring onion.
Soy sauce - Use thin, light soy sauce. This can be substituted with tamari.
Vinegar - Use plain white vinegar for this recipe. Do not use rice wine vinegar or cooking sake, the taste will be very different.
Oil - Use a neutral oil like grapeseed oil or a very light-flavoured olive oil.
👩🏻‍🍳 How To Make Tomato Egg Drop Soup
Place tomato wedges in a wide, shallow bowl. Sprinkle with salt and pepper. Set aside for 10 minutes for the flavours to develop (Skip this step if you are pressed for time).
Heat oil in a medium, deep, heavy saucepan.
Add ginger, garlic and tomatoes. Sauté for a few minutes.
Add stock, tamari, vinegar and white pepper.
Bring to a boil.
Add cornstarch slurry to the saucepan.
Mix and cook for a few minutes until soup thickens and coats the back of a spoon.
Stir your ladle in the soup in a circular motion to create a whirlpool. Gently, pour the egg in a thin stream in the middle of the whirlpool as you continue stirring the soup.
Cook for a couple of minutes until heated through. Garnish with spring onions.
This soup is all kinds of salty and mouthy and umami. And I absolutely love the big chunks of perfectly cooked tomato swimming in an almost creamy cornstarch-based soup speckled with just-cooked ribbons of whipped egg. As with all Indo-Chinese Soups, you would be remiss if you didn't add some sort of chilli, spring onion and coriander - the hallmarks of Indo-Chinese Cuisine.
🧡 More Delicious Soup Recipes
Recipe
Hungry For More Recipes? Subscribe to my newsletter. Check out Facebook, Instagram and Pinterest to see everything I share! And if you love cooking and new cookbooks, join my free Cooking Club on Facebook!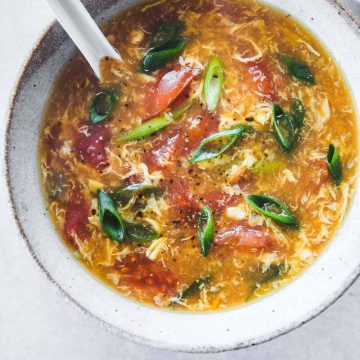 Ingredients
3

ripe tomatoes

,

each cut into 8 wedges

sea salt flakes

,

large pinch

black pepper

,

freshly cracked

1

tablespoon

extra virgin olive oil

2

garlic cloves

,

minced

1

teaspoon

grated ginger

2

tablespoons

tamari

1

tablespoon

white vinegar

1/8

tsp

white pepper

4

cups

(

1000

ml

)

vegetable stock

2

eggs

,

whisked

3

tablespoons

cornflour

2

tablespoons

water

¼

cup

sliced spring onions

,

(green only)
Instructions
Place tomato wedges in a shallow bowl. Sprinkle with sea salt flakes and black pepper. Set aside.

Heat oil in a 2-litre heavy-bottomed saucepan on medium-high heat. Add garlic, ginger and tomatoes. Sauté for 3-4 minutes until tomatoes are starting to soften.

Add stock, tamari, vinegar and white pepper.  Adjust seasoning if needed. Bring to a rapid boil.

Prepare your cornstarch slurry by mixing cornstarch and water in a small bowl until it is smooth and lump free. Have your whisked eggs ready in a bowl.

Reduce heat to medium. Add the cornstarch slurry and stir and mix. Allow to cook for 2 minutes until the soup starts to thicken.

Using a wooden spoon stir the middle to create a vortex. Pour the egg in a thin stream down the center of this vortex, moving outward in a circular fashion. After you finish pouring, wait a few seconds for the egg to set and gently stir and mix thoroughly.

Simmer for another minute or two on medium-low heat until the soup is piping hot. Add spring onion and serve hot.
Nutrition
Calories:
119
kcal
|
Carbohydrates:
15
g
|
Protein:
3
g
|
Fat:
6
g
|
Saturated Fat:
1
g
|
Polyunsaturated Fat:
2
g
|
Monounsaturated Fat:
3
g
|
Trans Fat:
0.01
g
|
Sodium:
1458
mg
|
Potassium:
303
mg
|
Fiber:
4
g
|
Sugar:
5
g
|
Vitamin A:
1335
IU
|
Vitamin C:
14
mg
|
Calcium:
64
mg
|
Iron:
1
mg
Did you make my recipe?
I'd love to hear how you went! Tag me on Instagram @cookrepublic