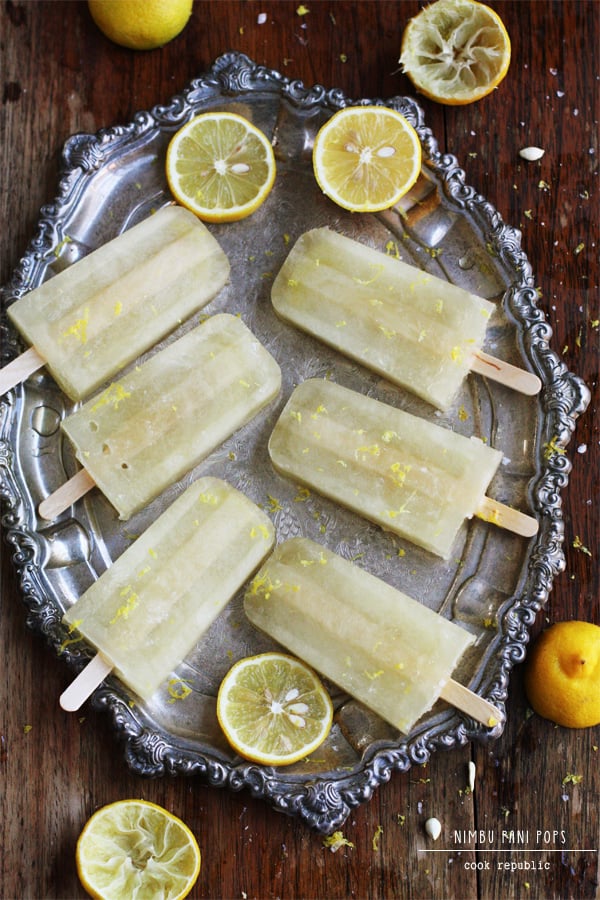 Summer in Mumbai can be quite brutal. Although not so bad as more parched parts of India, the heat and humidity is ten folds due to the throngs of crowds always in close quarter wherever you go. This is what I remember from my time there over a decade ago.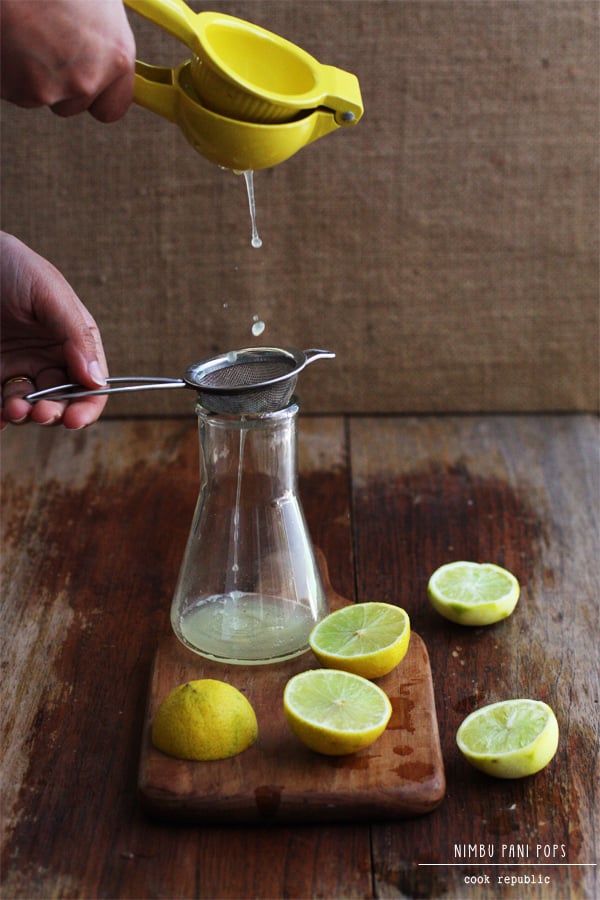 There are many things people do to beat the heat. Ever resourceful street vendors set up mobile hand carts within the hour to peddle their thirst quenchers. Nimbu Pani meaning lemon water is what runs in the veins of weary, hot and thirsty commuters during summer. You can smell a nimbu pani cart a mile away. Decked up with garlands of dried lemons strung up around a highly colourful typographic sign, a man chopping and squeezing lemons at record speed and a steady crowd of locals and tourists greedily gulping down the sweet nectar from huge beer mugs, the nimbu pani cart is hard to miss. A lemon sherbet of sorts, nimbu pani is India's version of the proverbial lemonade and is distinguished by the addition of salt. In some cases, black salt also know as kaala namak. The body craves that welcome hit of salt or the pungency of black salt after having depleted most of it through sweat.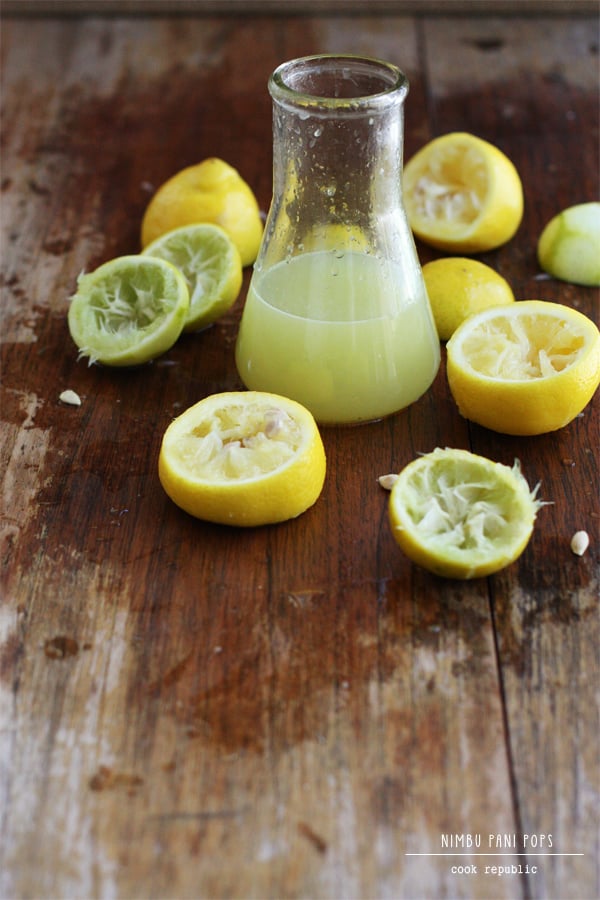 With the early summer heat in Australia, I thought it was perfect timing to make one of my favourite summer drinks into an ice pop. The pops have less water and more sugar while the traditional nimbu pani has a higher water content.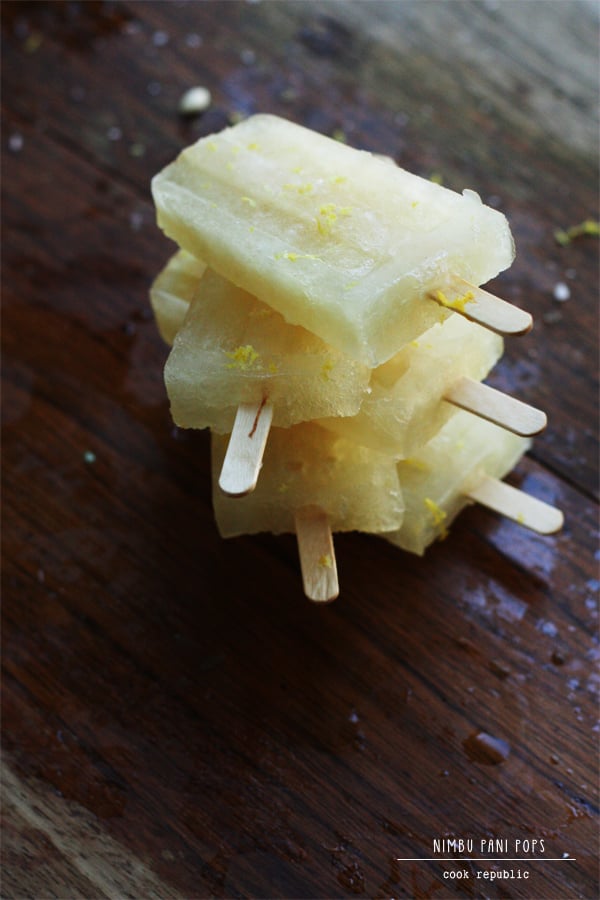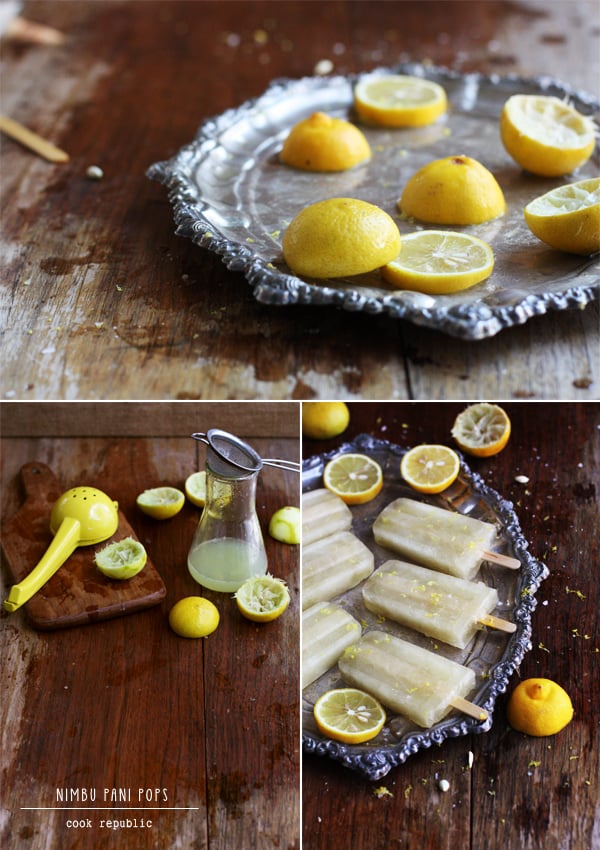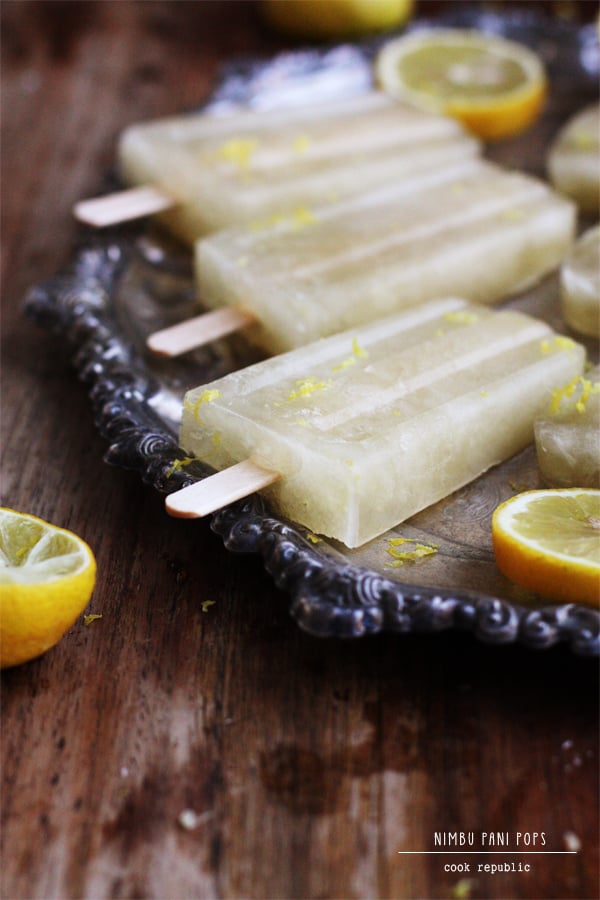 [print_this]
NIMBU PANI POPS (LEMON LIME SHERBET POPS)
India's favourite street drink and summer quencher is turned into an icy tangy treat.
Ingredients
juice of 5 large lemons and 2 small limes
2 cups water
3/4 cup raw sugar
1/4 cup caster sugar
1 teaspoon salt
grated zest of 1 lime
Method
Combine water, sugar, salt and lime zest in a saucepan over medium heat. Bring to boil.
Remove from heat. Add the lemon and lime juice. Cool to room temperature.
Fill pop molds and freeze for 10 to 12 hours.
My Notes
I have used this pop mold that comes with a lid to keep the pop sticks in place.
If you are using glasses to make the pops, freeze the liquid for an hour before inserting your pop stick.
Always have your pop sticks soaked in warm water for half an hour before putting them in the molds.
I have mixed lemons and limes, but you can make them with just lemon which is the traditional recipe. Add lemons till you are happy with the tang and sour flavour.
[/print_this]