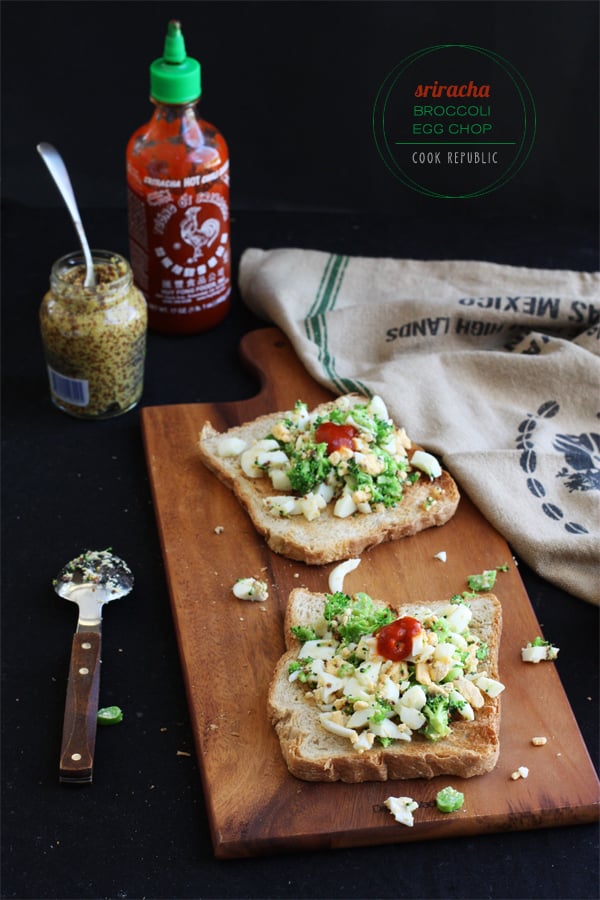 Are you getting caught up in the end of the year madness yet? I have been wooed and waltzed right into it like a princess at the royal ball. I am doing a bit of housekeeping - notice the new header up top? It is the Cook Republic food truck and it is here to stay, strictly online of course. Calendars, dates, appointments, catch-ups, parties, work commitments, new ventures have depleted my time but I am trying to do the right thing and still not skip lunch. An egg chop goes a long way in sustaining those hunger pangs when there is so much else going on.
The recipe I am sharing today sounds more like a kung-fu movie and less like a protein packed speedy lunch dish. It is kind of like both in some ways. Speedy lunch - check! Packs a wallop (especially if you heap the Sriracha) - check! The best things in life are either free or amazingly simple. It doesn't get any simpler than this mix of flavours on a slice of homemade bread. And in the spirit of simplicity, hope you make it this week and enjoy it as much as I do.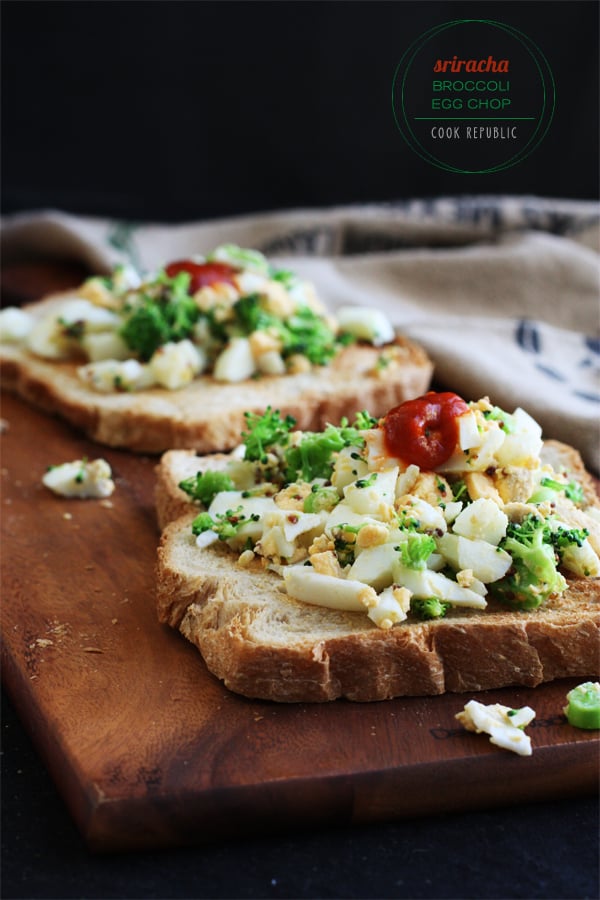 [print_this]
SRIRACHA BROCCOLI EGG CHOP
A speedy protein packed brunch idea for a mid morning pick-me-up.
Makes - To serve 2
Ingredients
4 boiled eggs, roughly chopped
8 small broccoli florets, steamed for 2 minutes in the microwave and roughly chopped
1 tablespoon wholegrain mustard
salt to taste
freshly ground black pepper
big squeezes of Sriracha sauce (preferably Huy Fong Rooster brand)
Method
Combine all ingredients except Sriracha sauce in a large bowl and toss gently. Serve with a squeeze of Sriracha sauce.
My Notes
You can add toasted slivered almonds to the mix and give it some crunch.
Can be served as a salad, open sandwich topping or stuffing for calzones, croquettes and pies.
I often just stir through the Sriracha instead of squeezing some on top when I am by myself, because I am kind of addicted to it.
[/print_this]