What's better than a quiet, moody, rainy afternoon at home? One that has a delicious dark and sticky Chocolate Orange Marmalade Loaf sitting on your kitchen counter, waiting to be enjoyed with a cup of hot coffee.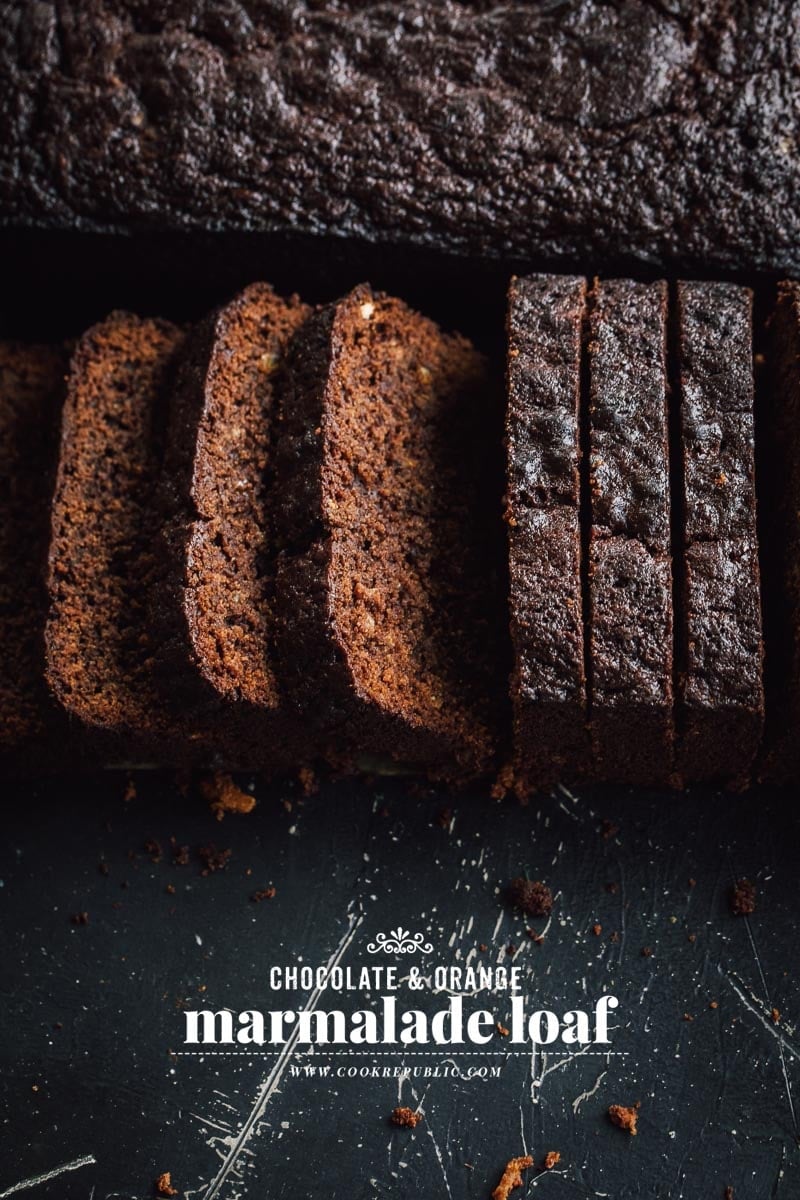 Chocolate And Orange, a flavour match made in heaven!
I have always been a huge fan of robust cakes. It is the country-loving side of my personality. Sturdy, sensible but utterly delicious cakes that travel well for picnics and potlucks and even snow trips up in the mountains. Simple cakes spiked with seasonal fruit and nuts and clever crumbles. Cakes so rich in flavour that they don't need any icing or frosting or even a dusting of sugar. That taste even better when baked as a loaf, because they slice up real well and look absolutely beautiful. This Chocolate Orange Marmalade Loaf is all that and more.
Last night I baked two of these Chocolate Orange Marmalade Loaves and one has made its way to a friend today. The recipe is an ode to Nigella Lawson's famous Store-Cupboard Chocolate Orange Cake (from the classic cookbook - How To Be A Domestic Goddess) but has undergone the Cook Republic treatment. Unrefined sugar and much less in quantity, more dark cocoa and a very special local marmalade.
A very good local Australian orange marmalade
Not all marmalades are created equal and for this recipe, I ALWAYS use Beerenberg's Australian Orange Marmalade. In fact, that is the only marmalade I use at home. It is a sticky, not-too-sweet marmalade that has a delightfully subtle bitterness that I love. It is probably because they use the whole fruit - juice, pulp and rind.  That citrusy sweetness and bitterness cuts through the darkness of the chocolate like a dream. What I love about this Chocolate Orange Marmalade Loaf is that you can mix it all in one saucepan with your hand (no mixers or fancy gadgets required!). The recipe is straightforward and is easily doubled or tripled. I usually have two saucepans going when I double the recipe so I get two loaves in pretty much the same time it would take me to bake a loaf.
Cakes look and taste better when baked in loaf tins
Another one of my mantras this year is to cook or bake something nice for someone every week or every other week. For absolutely no reason at all but just to brighten their day. Loaf cakes are the best kind of day-brighteners. And to facilitate that, I have invested in a variety of sturdy loaf pans in all kinds of sizes.
I have regular loaf pans, mini loaf pans (these are so cute!) and large loaf pans. I have got good brands like William Sonoma, Chicago Metallic and USA Pan. These don't really require lining with paper as a good greasing with butter is usually enough to turn out the cakes cleanly. But because I am all kinds of paranoid, I add a strip of baking paper (as pictured) to easily lift my can out of the pan while still getting those neat sharp corners that I always admire in bakery loaves.
The loaf is perfect to bake on meal prep days, slices can be wrapped in baking paper and then Ziploc bags to be frozen for breakfasts on the go. They are great in lunchboxes and amazing when warmed up at night with a drizzle of Christmas gin for the adults or scoop of coconut ice cream for the kids. This Chocolate Orange Marmalade Loaf is a feel-good loaf. The dark chocolate and orange also make it amazingly rich in antioxidants. It is like a chocolatey plum cake and you MUST bake it this week or you are seriously missing out. Tastes even better the next day! If you bake it, please leave me your feedback in the comment/rating below and don't forget to show me your loaves on Instagram by tagging me @cookrepublic. Happy Baking!
Hungry For More Recipes?   Subscribe to my newsletter and check out my Facebook, Instagram and Pinterest to see everything I share! I also run a free Cooking Club on Facebook. Come and join as we learn new stuff every week!
Recipe
Hungry For More Recipes? Subscribe to my newsletter. Check out Facebook, Instagram and Pinterest to see everything I share! And if you love cooking and new cookbooks, join my free Cooking Club on Facebook!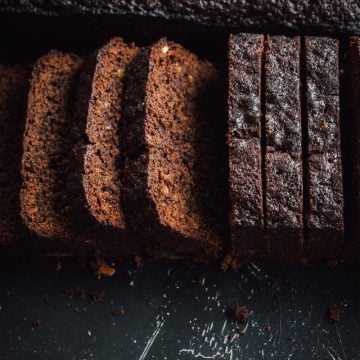 CHOCOLATE ORANGE MARMALADE LOAF
A deliciously rich dark and plummy Chocolate Orange Marmalade Loaf that only requires mixing in one bowl. Bakes like a charm, freezes well and can be doubled easily!
Print Recipe
Rate / Comment
Ingredients
125

g

butter

100

g

dark chocolate

,

chopped

40

g

rapadura (or coconut) sugar

300

g

orange marmalade

pinch

of salt

2

tablespoons

dark cocoa powder

,

or cacao powder

150

g

self-raising flour

1

teaspoon

baking powder

2

eggs

,

lightly beaten
Instructions
Preheat oven to 180°C (convention) OR 160°C (fan-forced/convection).

Grease a standard 21cm X 11cm loaf tin with butter. Cut a 1ocm wide long strip of baking paper and line the tin lengthwise so that the extra bits hang over the shorter sides of the tin (as pictured).

Melt butter, chocolate and sugar in a medium-sized, heavy-bottomed saucepan on low heat. When the butter has pooled and chocolate just melted, remove from heat and mix well. Add marmalade and salt. Mix well and allow to cool for 10 minutes.

Add cocoa powder, flour and baking powder. Pour the whisked eggs on top. Using a wooden spoon, mix gently and quickly until just combined (do not overmix).

Pour the batter in the prepared tin, smooth the top with the spoon. Bake in the pre-heated oven for approximately 42-45 minutes.

Remove from oven and allow to cool on a wire rack. When completely cool, cut into 12 slices using a serrated knife or bread knife. Store in an air-tight container in a cool part of your kitchen for upto 3 days.
Notes
If you are using a fan-forced oven, remember that it should be baked at 160°C otherwise your cake will burn around the edges. For a regular oven (non-fan-forced), use a temperature of 180°C. Watch the cake at around the 42nd-minute mark and if you feel it is too dark around the edges for your liking, then stop baking otherwise continue to bake until the 45th-minute mark. Remove from oven once baked, otherwise it will continue browning.
Did you make my recipe?
I'd love to hear how you went! Tag me on Instagram @cookrepublic