Have you ever tried 15-minute oven baked paneer? It is golden, crispy on the outside and gooey-soft on the inside. It is a game-changer. And it is the star of the show in my delicious Paneer Fried Rice recipe, a 30 minute meatless-Monday-worthy vegetarian dish that is full of flavour.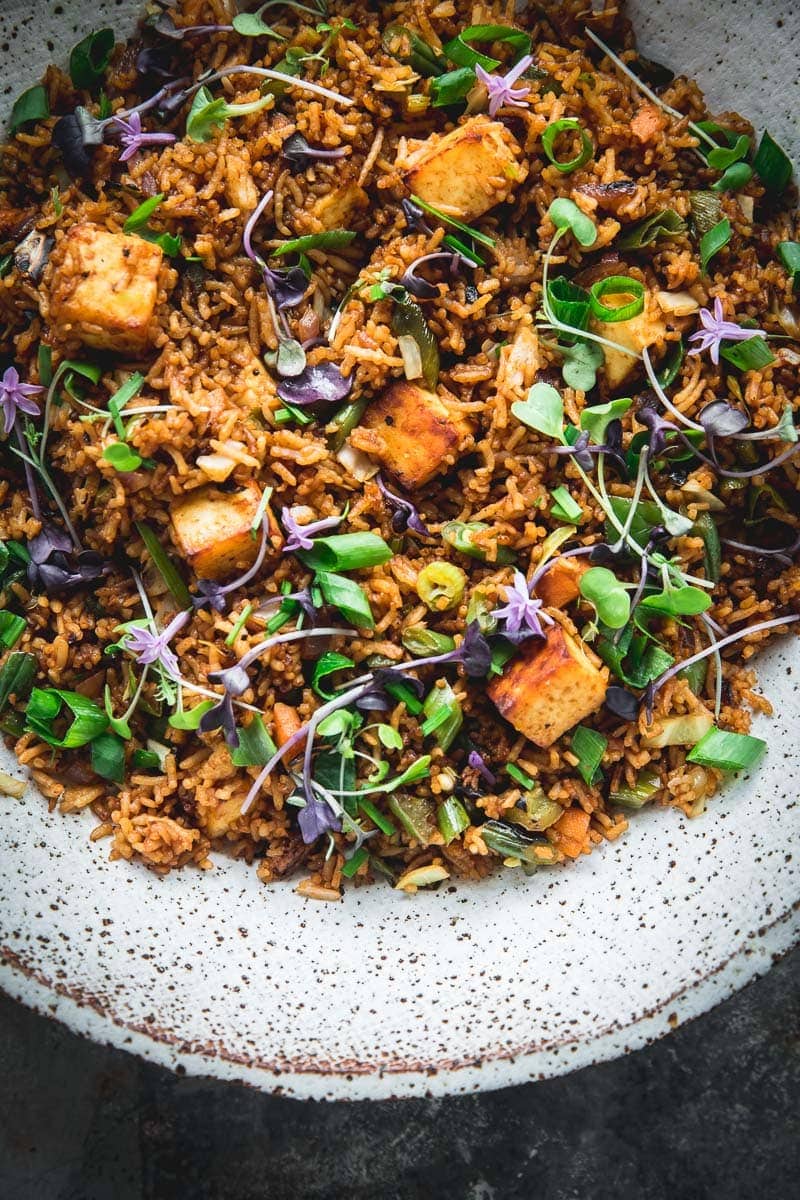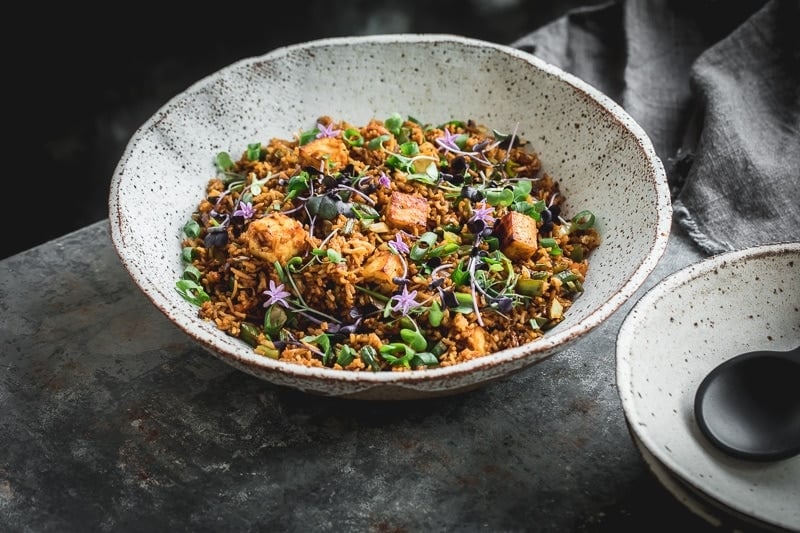 Paneer - the only form of cheese in India
India, the land of cows and dairy is surprisingly not known for a cheese culture. For most of my life, paneer (cottage cheese) was the only form of cheese available. A fresh unaged, soft-cheese, it was easy to make at home with just a pot of milk and some freshly squeezed lemon juice. And so, naturally, it was used extensively in cooking and desserts. The most widespread method of cooking paneer was to either pan-fry or deep-fry it till it was golden and then add these delicious golden cubes to everyday curries and some special curries.
For my Paneer Fried Rice today, I have adopted a slightly less sinful method. Instead of deep-frying it, I have tossed the paneer cubes in a ginger-garlic marinade with some oil and baked them to golden perfection in the oven. Preparing paneer in this form is super-easy and can be done in advance. It also ensures that your paneer isn't overcooked and rubbery (which it can be if you pan-fry or deep-fry it longer than you should). The paneer can be stored in the fridge and then later added to salads, curries or stir-fries. Put that on your meal-plan list for the day.
Indo Chinese - A whole new world of delicious fusion cuisine
Indo-Chinese is a whole new world of culinary delights. A fusion genre of cooking introduced to the eastern part of the Indian subcontinent by the migrating Chinese community. Chinese dishes with an Indian flair. If you haven't yet tried it, you are really missing out. It is one of the most exciting and delicious set of flavours I have ever tasted. This kind of cuisine is very popular amongst young students especially in Indian cities. Needless to say, back in college Nick and I have had our fair share of Hot & Sour Soup, Schezwan Fried Rice, Cauliflower Manchurian, Chilli Chicken, Hakka Noodles, American Chopsuey and Paneer 65.
This Indo-Chinese style of cooking has a few key ingredients – ginger, garlic, green chilli and coriander. And a touch of tomato ketchup to shake things up in the sweet and sour department. This Paneer Fried Rice is a delicious variation of the plain old Indo Chinese Fried Rice. It bulks up the vegetarian weeknight meal option with a good dose of protein in the form of perfect oven-baked paneer cubes.
Importance of Prep for the most perfect fried rice
As with all my stir-fry dishes, I like to prep all ingredients in advance and have them ready when I start stir-frying. This is because high heat and speed is the key to good stir-fries to ensure they are not soggy and wet. I take 5 minutes to read through the recipe and measure out ingredients for the sauce in a bowl. I have my chopped ingredients ready on a board in the order in which they go into the wok. I ensure my wok is seasoned and smoking hot on high heat before I start. In the recipe below, I also share my fool-proof method of cooking the most perfect pot of fluffy Basmati rice without the need for rice cookers or fancy gadgets.
This recipe for Paneer Fried Rice is a good recipe for meal prep days as the paneer and sauce can be both made in advance. Leftovers are even more delicious the next day and versatile as work lunch or after school snack. A true allrounder of a dish!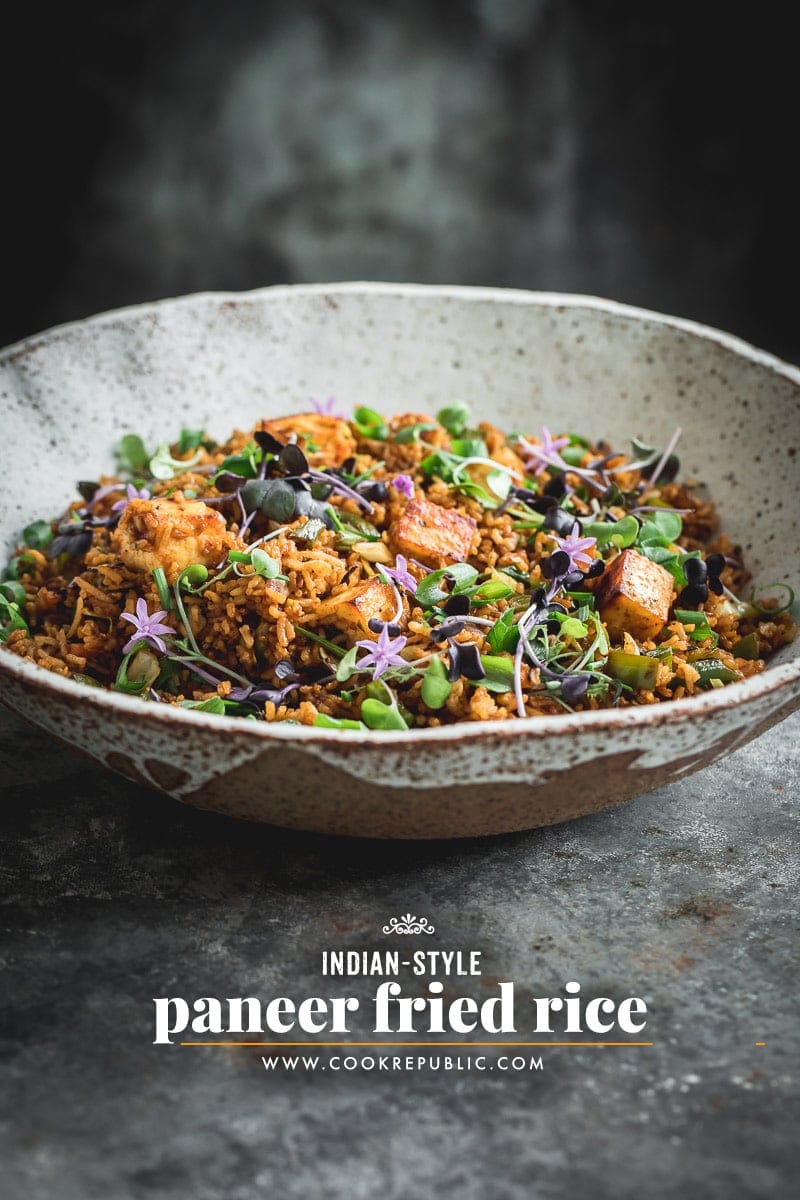 If you make this Paneer Fried Rice, please share your feedback in the comments below. And do tag me in your photos on Instagram @cookrepublic #cookrepublic
Recipe
Hungry For More Recipes? Subscribe to my newsletter. Check out Facebook, Instagram and Pinterest to see everything I share! And if you love cooking and new cookbooks, join my free Cooking Club on Facebook!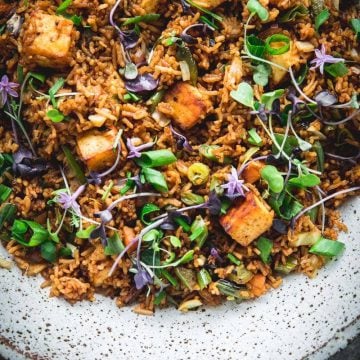 INDIAN STYLE PANEER FRIED RICE
A delicious variation to the classic Indo Chinese Vegetarian Fried Rice, this Paneer Fried Rice is made with oven-baked paneer and a fusion of Indian and Chines flavours. A quick gluten-free, meatless weeknight dinner option.
Print Recipe
Rate / Comment
Ingredients
for the paneer
400

g

paneer

,

cubed

1

tablespoon

ginger

,

grated

1

tablespoon

garlic

,

minced

freshly cracked black pepper

1

tablespoon

olive oil
for the sauce
3

tablespoons

tomato ketchup

1

tablespoon

dark soy sauce

1

tablespoon

vinegar

1

tablespoon

chilli sauce or Sriracha

1/2

teaspoon

sea salt flakes

1/4

teaspoon

white pepper
for the fried rice
2

tablespoons

olive oil

1

tablespoon

grated ginger

1/2

small red onion

,

finely diced

1

small carrot

,

diced

1

tablespoon

coriander root and leaves

,

chopped

12

green beans

,

chopped in 2cm pieces

1/2

small green capsicum

,

diced

1/2

cup

cabbage

,

shredded

2

spring onions

,

thinly sliced (green and white parts)

4

cups

cooked Basmati rice

,

* see footnote

fresh coriander or micro herbs and extra spring onions

,

- to garnish
Instructions
Pre-heat oven to 200°C (convection)/ 180°C (fan-forced). Place paneer, ginger, garlic, pepper and oil in a small bowl. Toss gently to coat the paneer evenly. Line a rimmed baking sheet with baking paper. Spread paneer cubes on the prepared tray. Bake in the oven for 15 minutes, turning the cubes halfway through cooking.

Prepare the sauce, by mixing all ingredients for the sauce in a small bowl or glass jar.

Heat a carbon-steel wok oil on high. Add oil, ginger, onion and carrot. Stir-fry for a minute until onion is glazed.

Add coriander root, beans, capsicum and cabbage. Stir-fry for another minute until veggies are glossy.

Add the spring onion, cooked Basmati rice, paneer and sauce to the wok. Using a flat turner (or potato masher), quickly break up the rice and toss and stir-fry until everything is evely coated with the sauce and piping hot (about 2-3 minutes).

Remove from heat. Garnish with micro-herbs/coriander and extra spring onions. Serve hot.
Notes
*

To Cook The Basmati Rice

- Place uncooked rice in a medium bowl. Rinse and drain with cold water several times until the water runs clear (I save this rinsing water in a larger bowl and use it to water houseplants). Soak rice in cold water for 30 minutes. Drain the rice and add it to a sieve. Briefly rinse the rice again, a couple of times. Add rice and water to a heavy bottomed saucepan in a 1:2 ratio (1 cup rice + 2 cups water) along with some salt. For THIS recipe, I cooked 1.5 cups rice and 3 cups water with 1 teaspoon sea salt flakes. Bring the water to a boil. Reduce heat to low. Cover with a lid and simmer for 10 minutes. Turn off heat at the end of 10 minutes and set aside (still covered) for 5 minutes. Now, open the lid and fluff up the rice with a fork. The rice is now ready to eat or be used in a stir-fry.
Did you make my recipe?
I'd love to hear how you went! Tag me on Instagram @cookrepublic