We are in the middle of the first week of February. This means that the kids have been at school for roughly about a week and I am already running out of lunchbox and after school snack ideas. To fix that, I have come up with a very fun idea. Every morning I meal prep just one thing for about 5-10 minutes. And today, it is a gorgeous and green Chimichurri sauce.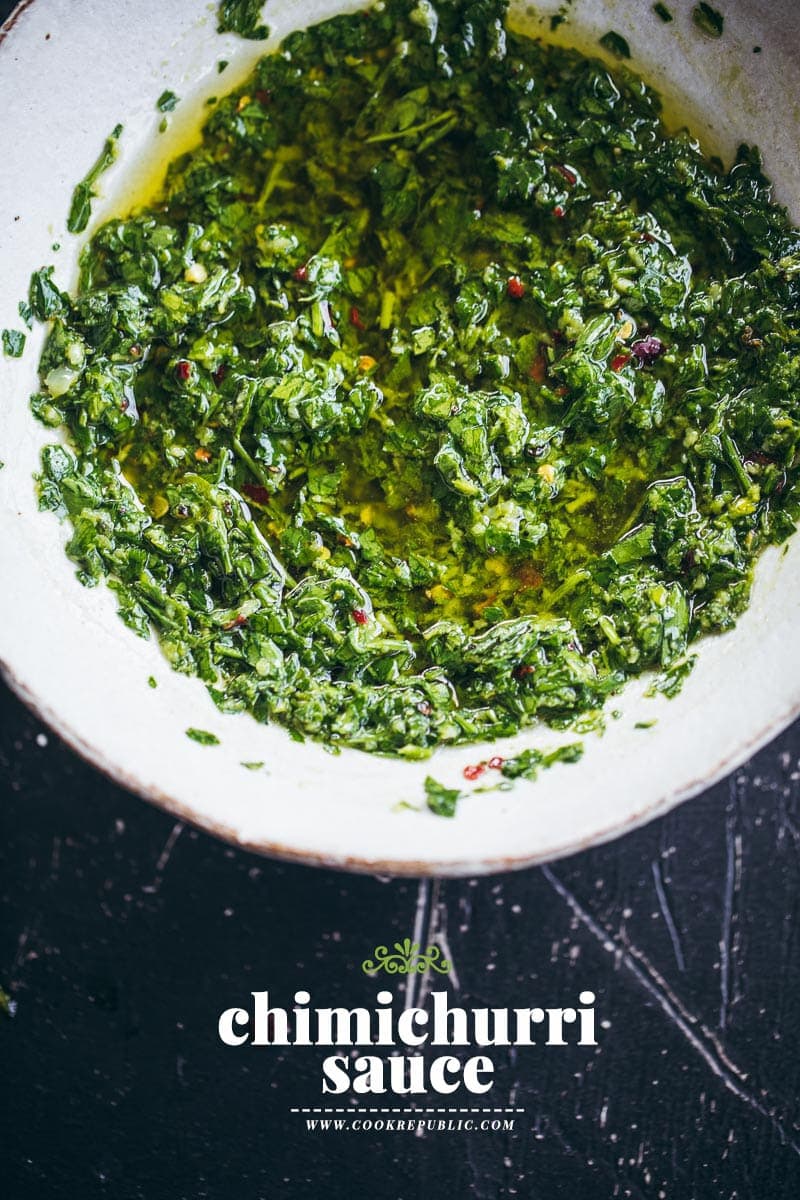 Meal Prep Just One Thing.
I have been meal prepping now for about 3-4 years and it has seriously changed my life. I am an advanced meal prepper (yes, it is a self-proclaimed title after spending a few hundred hours meal prepping). But when I started, I was a total amateur. I was also uninspired with a tendency to wander in my head. If I had come up with the "Meal Prep Just One Thing" idea back then, my life would have been a lot easier.
The principle of Meal Prep Just One Thing is simple. It is also quite literal. Every day at a time that suits you, meal prep just one thing. It could be chopping up a whole head of cabbage and storing in boxes or cooking a batch of quinoa or spiralizing/grating a bag full of zucchinis or sweet potato or mixing a batch of overnight oats and popping in the fridge. When you meal prep just one thing every day, you build up a steady supply of delicious sauces, condiments, chopped veggies, chia puddings, smoothie packs and ready-to-go breakfasts that will make healthy eating much easier.
A Good Green Chimichurri Sauce That Goes With Everything!
The most rewarding meal prep is making something in a little food processor. Like pesto or chutney or sauce. The meal prep should take you a maximum of 10 minutes and no more. And that is why this Chimichurri Sauce is perfect for budding meal preppers or just anyone really. You can either make it in a small food processor or just chop and mix by hand. It is easy, brimming with green goodness and promises big punchy flavours.
I love this Chimichurri sauce on so many things. It is a refreshing change from pesto and can be pretty much used like a pesto would be used. Argentinian in origin and traditionally used to spoon over grilled or roasted meat, a chimichurri sauce would be absolutely delicious on roasted veggies. Think perfectly roasted cauliflower or sweet potato with a generous dousing of this super green textural sauce. Or crispy smashed roasted potatoes drizzled with this green goodness. YUM!
Same same but different.
There are two ways of making this Chimichurri sauce. The traditional and more textural version (the recipe below) or a feeling-lazy version (see footnotes). In the traditional version, you would roughly chop the herbs and mince/chop the garlic and ONLY pulse a few times in the food processor before scooping into a bowl and adding the oil. In this version, the finely chopped bits of the herbs literally swim in the olive oil. This is great as a dip. In the feeling-lazy version of the chimichurri sauce, you would add everything to the food processor (reducing the oil to 1/3rd cup) and blitz it all into a smooth sauce. This is great for drizzling over things or for creating salad dressings.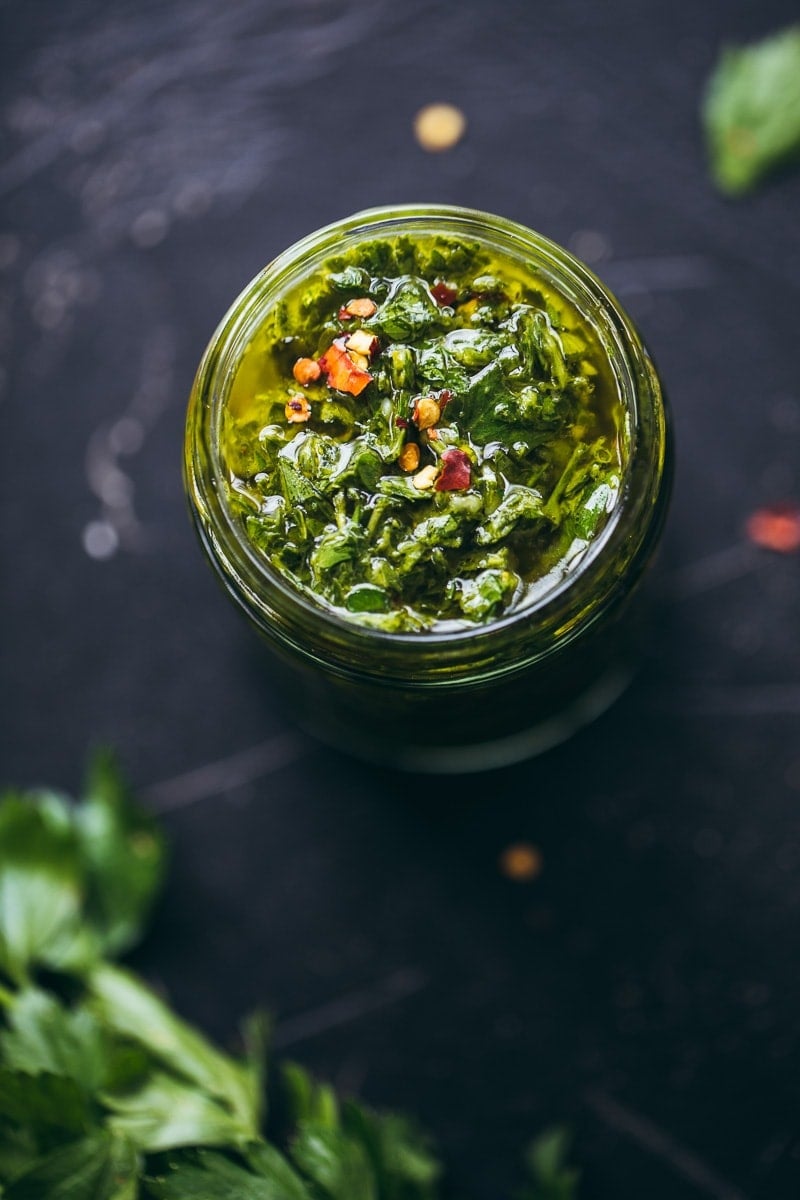 So although today's recipe is not technically a vegetarian main or side, it will definitely inspire you to eat more veggies! In the coming days, I will show you all the wonderful vegetarian recipes you can use this sauce in. Make this chimichurri sauce and if you love it, please leave me your feedback in the comments and ratings below. Don't forget to tag me on Instagram @cookrepublic when you share pictures of your chimichurri sauce.
Recipe
Hungry For More Recipes? Subscribe to my newsletter. Check out Facebook, Instagram and Pinterest to see everything I share! And if you love cooking and new cookbooks, join my free Cooking Club on Facebook!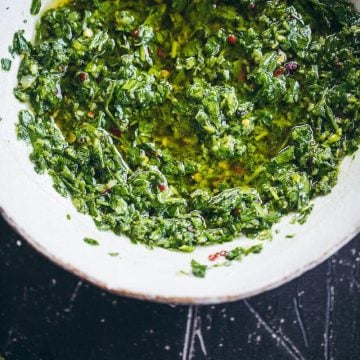 Ingredients
1

cup

fresh parsley

,

(1 bunch)

1/4

cup

fresh oregano leaves

,

(or 1 tablespoon dried oregano)

3

garlic cloves

,

minced

2

tablespoons

apple cider vinegar

1

teaspoon

sea salt flakes

1

teaspoon

dried red chilli flakes

Freshly ground black pepper

1/2

cup

(

125

ml

)

extra virgin olive oil
Instructions
Place parsley, oregano, garlic, apple cider vinegar and chilli flakes in the bowl of a small food processor with 2 tablespoons of the oil.

Pulse 8-10 times until coarsely chopped. Scoop into a bowl. Add salt, pepper and remaining oil. Mix well. Serve immediately or store in an air-tight glass jar in the fridge for up to a week.
Notes
The chimichurri sauce can be prepped ahead and stored in the fridge for up to 4-5 days.
You can substitute apple cider vinegar with red wine vinegar.
If you don't have a food processor, just chop everything finely and mix with oil.
For the

Traditional version

, follow the recipe above. This is the textural chimichurri sauce that is great as a dip and marinade.
For The

Feeling Lazy version

, reduce olive oil to 1/3rd cup. Add all ingredients to a food processor and process until you get a smooth sauce. This is great for drizzling and making salad dressings.
Did you make my recipe?
I'd love to hear how you went! Tag me on Instagram @cookrepublic