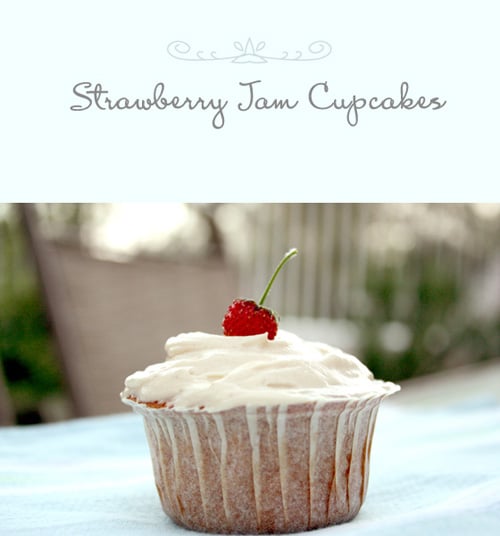 I have made strawberry cupcakes with fresh strawberries in the past and there is a very delicate quality about their texture and taste. This is the first time I have made cupcakes with fresh, organic strawberry jam and only word comes to mind, "childhood". For some reason, these cupcakes took me back to when I was little and used to often stick my fingers in the jam jar, unabashedly smearing it on my face as I licked the sweet, cheeky goodness of the jam. These cupcakes are oh so soft and delightful, you just can't stop at one. They are quite light and the strawberry cream cheese frosting is chic and to die for.
[print_this]
recipe
STRAWBERRY JAM CUPCAKES
Preparation Time : 15 minutes | Baking Time : 20 minutes | Makes : 16
Ingredients
For The Cupcakes
1 cup self raising flour
2 eggs
1/2 cup caster sugar
90g butter, softened
1/2 tsp vanilla extract
2 tbsp milk
2 tbsp organic strawberry jam
For The Cream Cheese Frosting
1 cup light cream cheese
1/2 cup caster sugar
2 tbsp strawberry jam
Method
To Make The Cupcakes
Preheat oven to 180C. Line a standard muffin pan with cupcake cases.
Beat butter, sugar, extract, eggs, flour, jam and milk in a bowl until well combined.
Divide mixture among cases. Bake for approximately 20-25 minutes in the pre-heated oven. Turn onto wire racks to cool.
To Make The Frosting
Combine all ingredients in a bowl and beat with a hand blender until smooth and combined. Chill in the refrigerator for 30 minutes. Using an icing spatula, ice the cupcakes in a swirly motion. Garnish with fresh strawberries and sink your teeth in the soft, delectable little treats.
[/print_this]