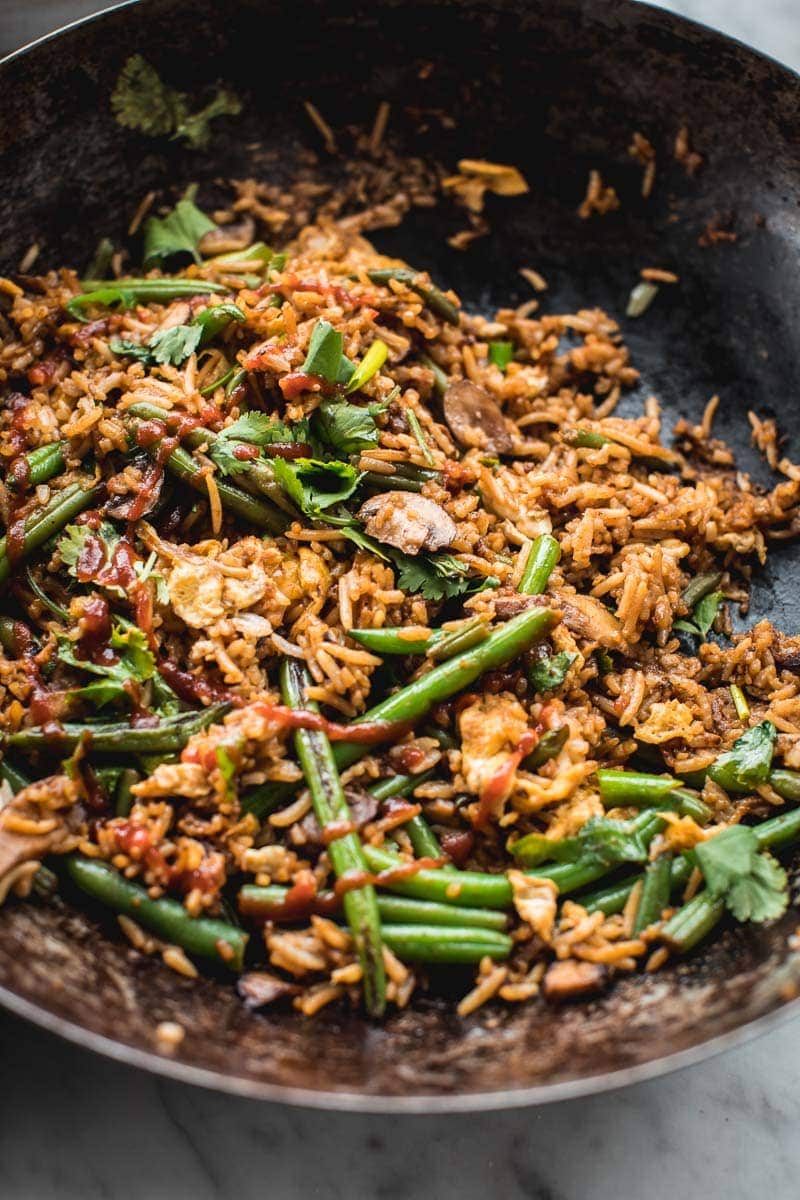 I often get asked about my fridge and pantry staples. But no one really asks me about what is always in my freezer. Frozen veggies! As a working mum and someone who is also obsessed with meal prepping, frozen veggies are the saving grace of all my after-school snacks and quick work lunches. They are especially great because they are picked and frozen when they are the best at the height of their season.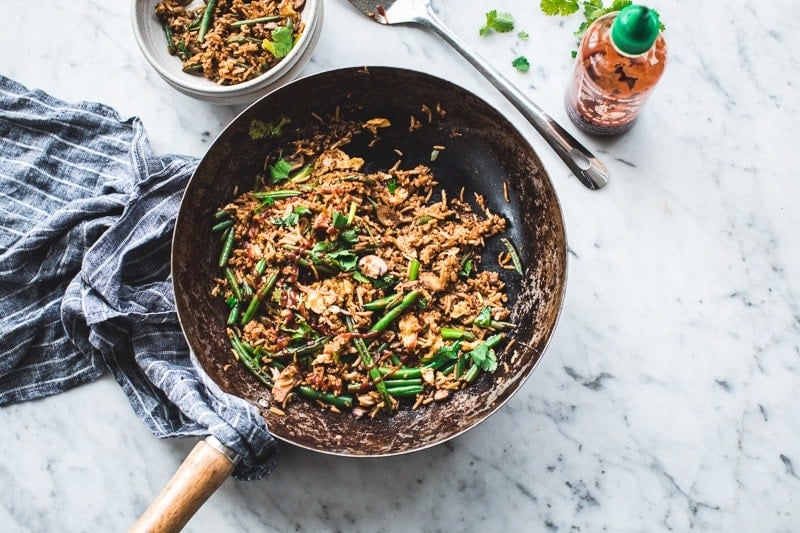 I am blessed with a freezer as large as my fridge. Where half of my freezer is packed with home cooked frozen meals, the other half is always packed with frozen veggies and fruit. I love Mccain for all the different frozen veggie options they have and have been stocking them in my freezer for a decade.
Most recently, Mccain have launched the Oh My Veg range of mixed frozen vegetables. There are many packs to choose from and they can be bought at any Woolworths store in Australia. These packs are totally fun and there is so much you can do with them. Here are some recipe ideas for some of the packs I found at my local Woolworths,
+ Brussels Sprouts With Balsamic Glaze And Red Onion
Flash fry these in a pan with some cooked pasta and your favourite pasta sauce!
+ Garlic Butter Beans And Mushroom – Baby Beans & Roasted Cremini Mushrooms
Flash fry these in a pan with some fresh basil and thyme. Top with a fried or poached egg!
+ Mexican Street Corn – Corn, Capsicum & Black Beans With Chilli Lime Aioli
Make a fresh guacamole and top with this Mexican Street Corn mix!
+ Tuscan Pesto Beans With Peas And Roasted Tomatoes
Warm these and spoon all over hot, toasted sourdough!
+ Szechuan Beans – Baby Beans Glazed With Spicy Pepper Sauce
Sauté some firm tofu and cooked prawns in a wok on high heat and stir through these spicy beans!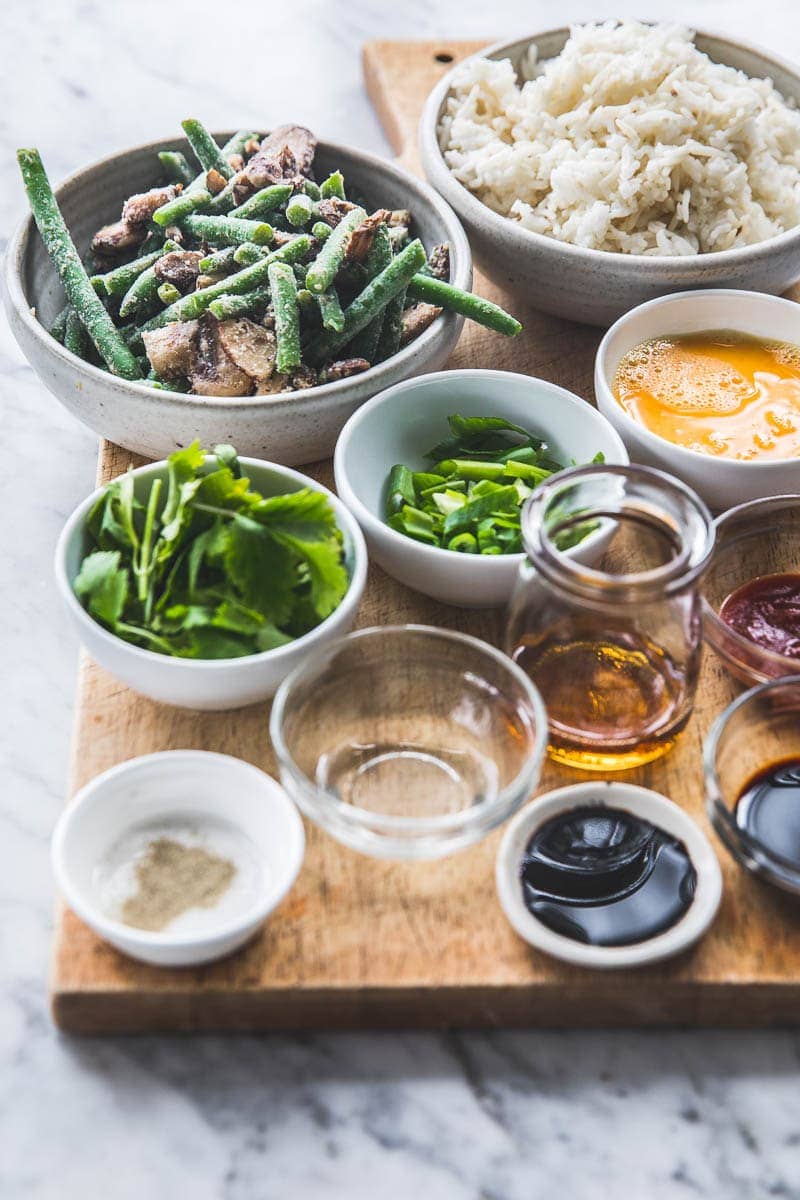 The fun factor is amped by the fact that even kids can fix themselves a delicious serve of veggies by just microwaving these packs for a few minutes. I love them all but the Garlic Butter Beans And Cremini Mushroom pack is my favourite. In Australia, you probably know cremini mushrooms by their more common name – Swiss Brown mushrooms. These mushrooms are firm in texture and have a lower moisture content. They are deep flavoured, earthier and hold their shape well when cooked. Combined with the tender baby beans, these make an ideal addition to a stir fry.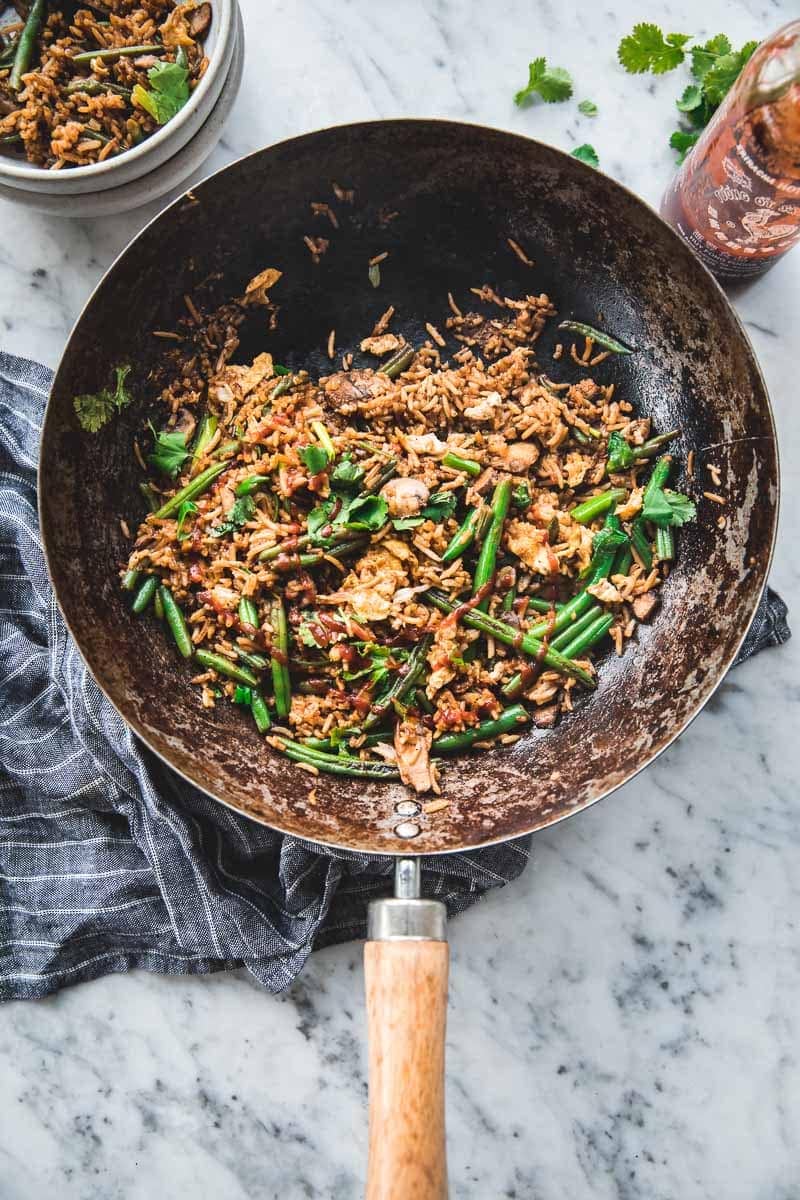 One of my favourite go-to dishes is a quick veggie fried rice bursting with crunchy veggies and fresh herbs. We always have leftover cooked rice on hand (love our daals and curries!) and a fried rice is the most logical use of the rice. Often when I am busy working during the day, I'll take a short break and fix myself a nourishing fried rice and make extra so the boys can have it after-school. The Oh My Veg Baby Bean And Cremini Mushroom pack, coupled with spring onions, coriander and an egg or two gives me a boost of energy and fires me up for the rest of the afternoon. My boys prefer a light meal as opposed to just a snack after school and they love their Asian flavours, so this dish is perfect to curb those post-soccer hunger pangs.
I hope you cook this and share it with me on Instagram by tagging @cookrepublic #cookrepublic. Don't forget to leave your feedback in the comments and ratings below. Bon Appetite! x
Recipe
Hungry For More Recipes? Subscribe to my newsletter. Check out Facebook, Instagram and Pinterest to see everything I share! And if you love cooking and new cookbooks, join my free Cooking Club on Facebook!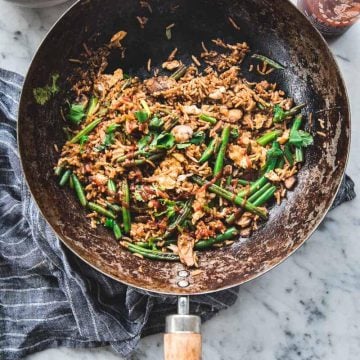 Ingredients
2

tablespoons

sesame oil

1

egg

,

lightly whisked

1

X 200g pack Oh My Veg Garlic Butter Beans And Mushroom

2

cups

cooked Basmati or short grain rice

1

tablespoon

light soy sauce

1/2

teaspoon

dark soy sauce

1

tablespoon

rice wine vinegar

1

tablespoon

Sriracha

½

teaspoon

white pepper

2

spring onions

,

thinly sliced

Handful of fresh coriander leaves

,

chopped
Instructions
Heat 1 tablespoon oil in a wok on high. Add the egg, give the wok a quick swirl to spread the egg. Cook for a few seconds, then scramble the egg slightly and remove into a bowl.

Heat the remaining oil in the wok on high. Add the beans and mushroom. Stir fry for 20-30 seconds until glazed. Add the rice, light soy sauce, dark soy sauce, rice wine vinegar, Sriracha, white pepper and spring onions.

Stir fry for a minute until rice is evenly coated and everything is warmed through. Remove on to serving plate and garnish with coriander leaves.

Serve hot with extra Sriracha.
Notes
We love our Asian flavours and our spicy food. But if you are serving this dish to younger kids or people not used to spice then please skip the extra Sriracha at the end.
Did you make my recipe?
I'd love to hear how you went! Tag me on Instagram @cookrepublic
Disclaimer - This post is sponsored by McCain. I have been a regular consumer of McCain frozen veggies for over a decade. Musings and opinion are my own.